Malaysia's Mountains and Northwest States
After cycling Malaysia's east coast, we crossed the Central Forest Spine via Kenyir Lake and Gua Musang, then continued to George Town, Penang. After a week off in the historic city, we rode through the states of Kedah and Perlis toward the Thailand border. This section featured some of our favorite riding in Malaysia – from the mountainous jungle to the peaceful rice paddies, we finally found some quiet roads and really enjoyed the rest of our time in the country!
Catch up on Part One and Part Two of our tour through Malaysia if you missed it.
Route
Download the GPX track of the third section of our tour through Malaysia. NOTE: This is not a polished route and is intended for research and planning purposes only.
The Central Forest Spine
Once we reached Kenyir Lake, traffic dropped off significantly. We stayed at a basic guesthouse right on the lake, and we wound up cooking on our balcony since there weren't any restaurants around. When we left the next morning, we stopped at a bridge and saw some elephant tracks in the stream bed below. We were really excited – we knew that elephants were in the area, but seeing actual evidence of them made them seem much more real. That also made us a little nervous though, as we'd heard they can be territorial and unpredictable.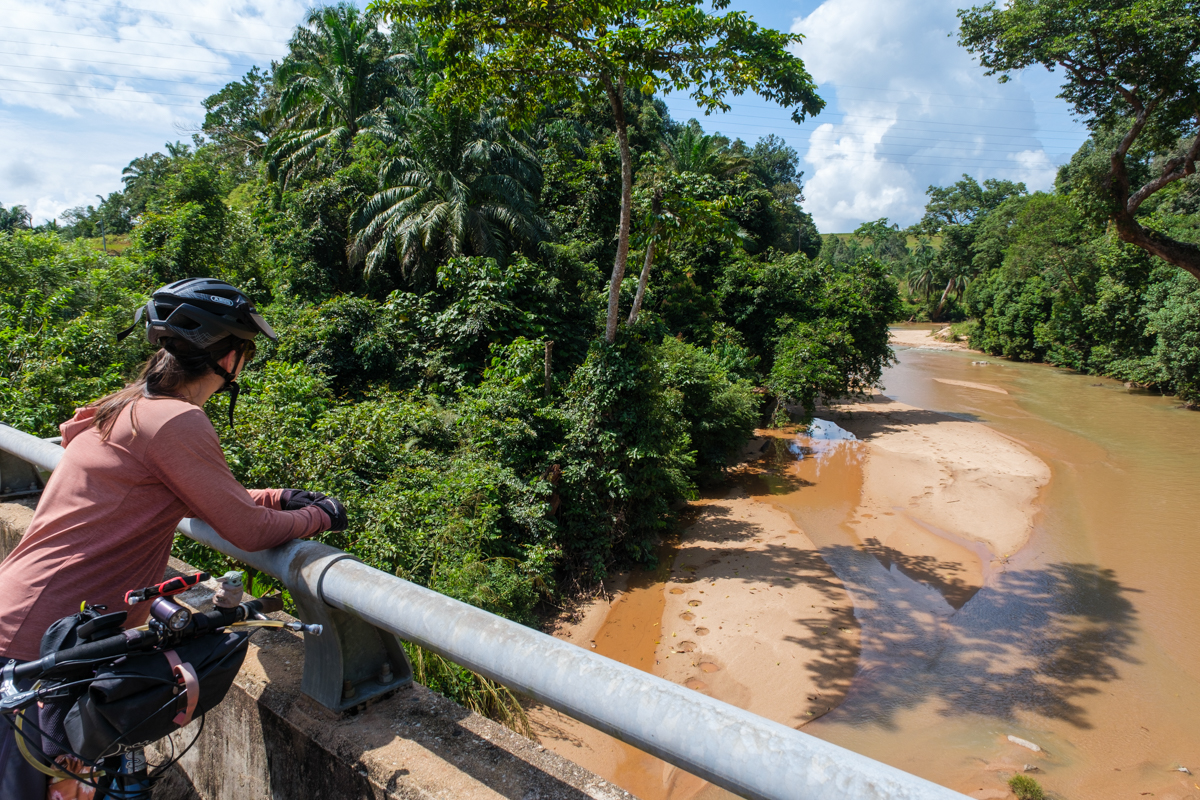 Cycling in the tropical mountains was difficult due to the increased humidity, and the sustained grades were very challenging after getting used to the flat coastal riding. There were hardly any cars though, so we stayed in good spirits despite the pouring sweat and relentless sun. We also saw a group of about 20 Malaysian cycle tourists going the opposite direction – the first cycle tourists we'd encountered in the country.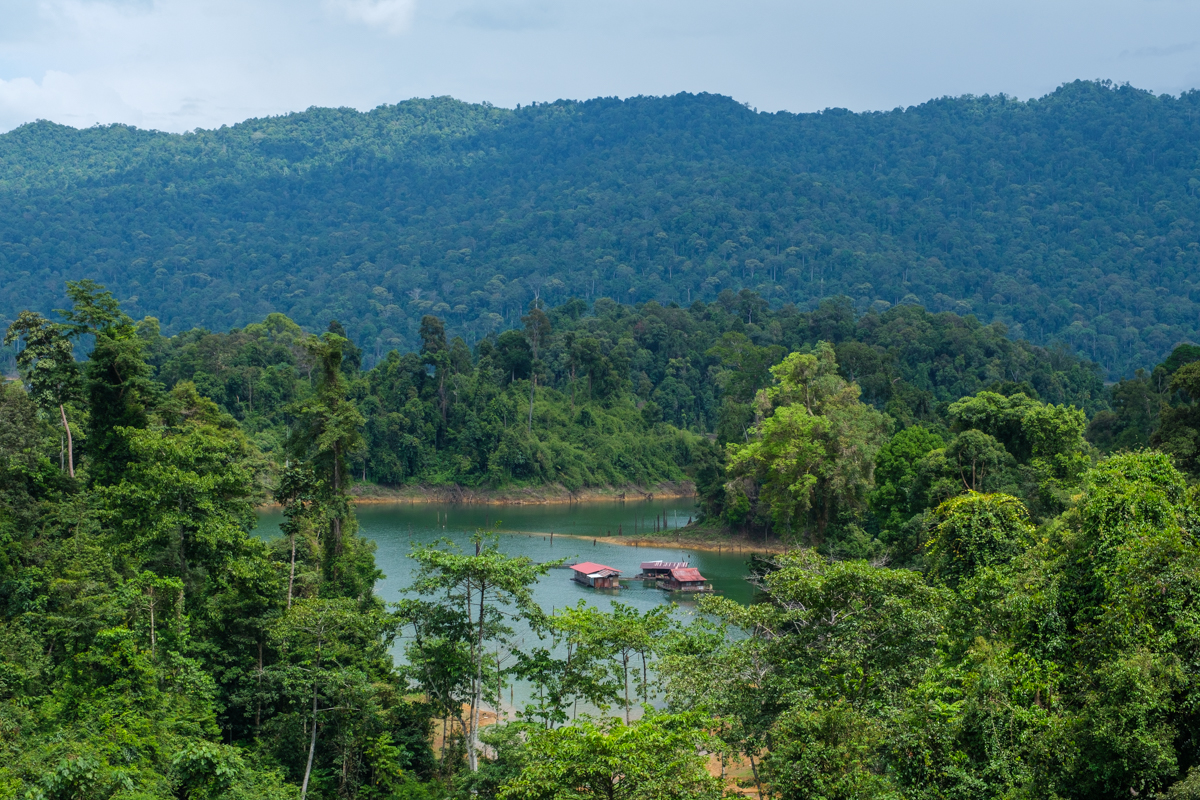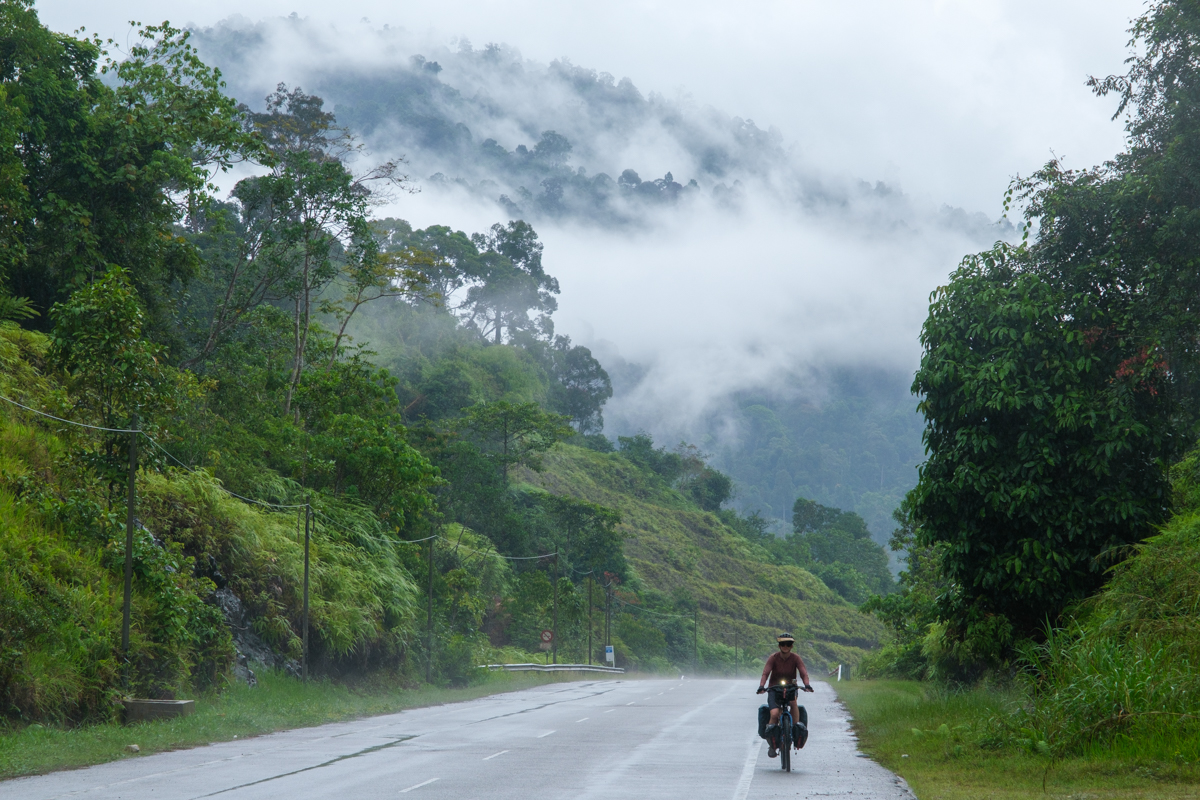 First (And Only) Wild Camp in Malaysia
The remoteness of this section necessitated some wild camping, since there weren't any hotels or towns for a long stretch. We were a bit worried about this because of the daily monsoon rains – if we got caught in a storm without any shelter, it would be next to impossible to set up our tent in such a torrential downpour.
A storm rolled in late in the afternoon, and we stopped at an abandoned restaurant to see if it would calm down. The rain continued, and the restaurant seemed long deserted and didn't have any houses around, so we decided to utilize the shelter rather than biking any further.
We were glad we stopped, because it continued raining through the night and was hot enough in our tent without the rain fly on. However, the next morning as we were getting ready to leave, a couple guys pulled up on a motorbike and told us not to stop there long because a tiger had killed their cow last night. This made us considerably nervous, and we got out of there as quickly as possible.
Afterward, we started Googling tiger attacks near Gua Musang and learned that they happened way more often than we realized. We were extra careful to stay together the rest of the way into town!
Gua Musang to Jeli
Gua Musang is surrounded by limestone karst formations, and the whole area was very scenic. Traffic definitely picked up between Dabong and Jeli, and there wasn't much of a shoulder during this section. When we arrived in Jeli, the only hotel we could find was a couple miles outside of town. To reach the only restaurants that were open, we had to walk along the dark highway for awhile, which was hair-raising to say the least due to the many trucks that were still on the road.
The restaurant we found was fairly busy but we're pretty sure this is where we got food poisoning, which hit Jenny the next day in the middle of our longest day of cycling in Malaysia.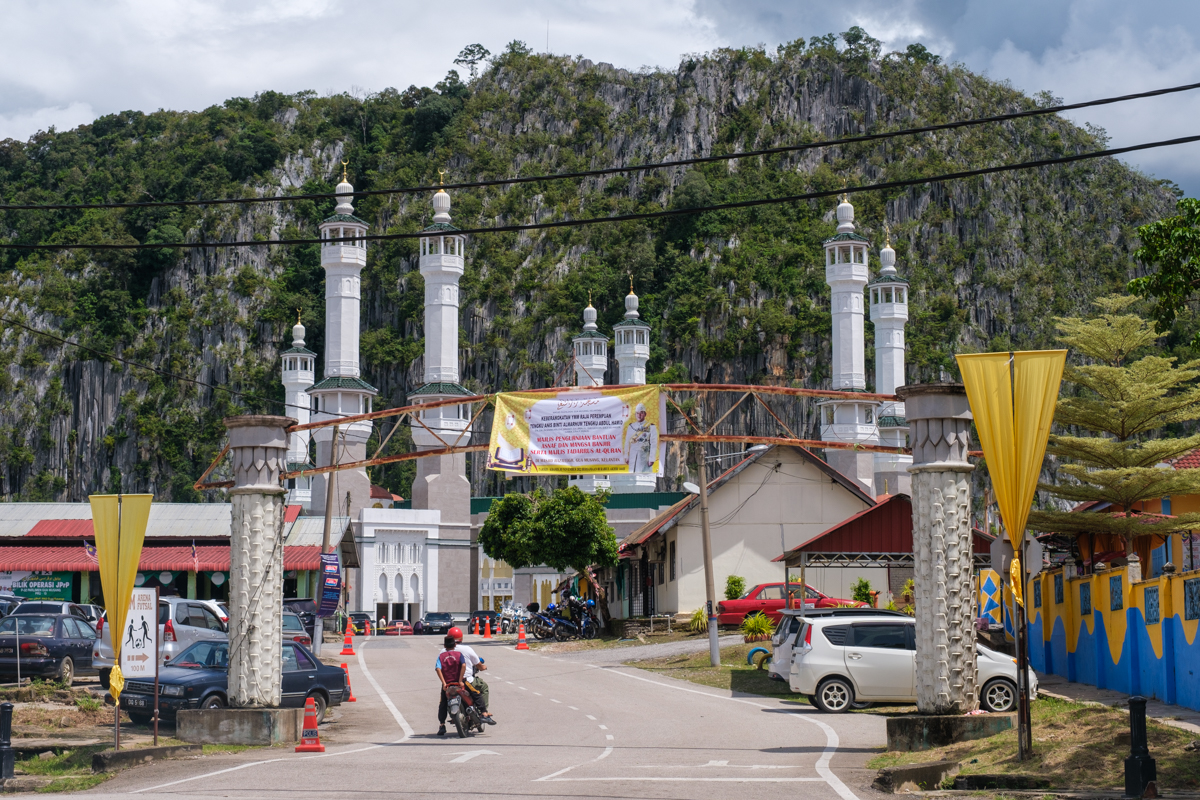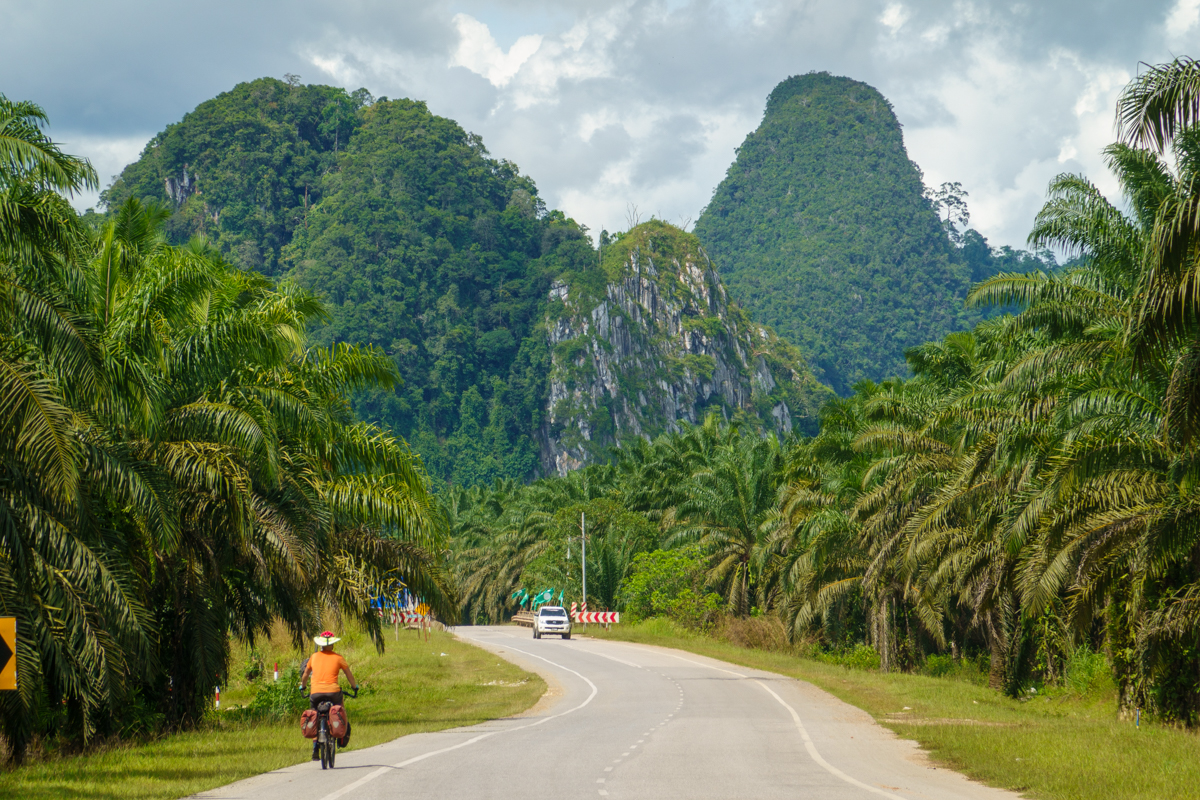 Jeli to Gerik
We decided to challenge ourselves to a 77 mile day to reach Gerik, which also included a couple huge climbs. The only hotel between Jeli and Gerik was an expensive resort, and we weren't too keen to camp in the middle of nowhere after the farmers had recently warned us about tigers.
Unfortunately, Jenny started feeling sick midday. It was strange because she didn't have most of the typical symptoms of food poisoning (vomiting or diarrhea), but she felt very weak and shaky, didn't have any appetite despite burning tons of calories, and was experiencing body aches similar to the flu. She somehow powered through and we made it to Gerik shortly after darkness fell.
We were both utterly destroyed and got Domino's Pizza takeout because we just wanted to sit in bed. We spent a few days recovering in our windowless cave of a hotel room until Jenny was feeling well enough to continue cycling.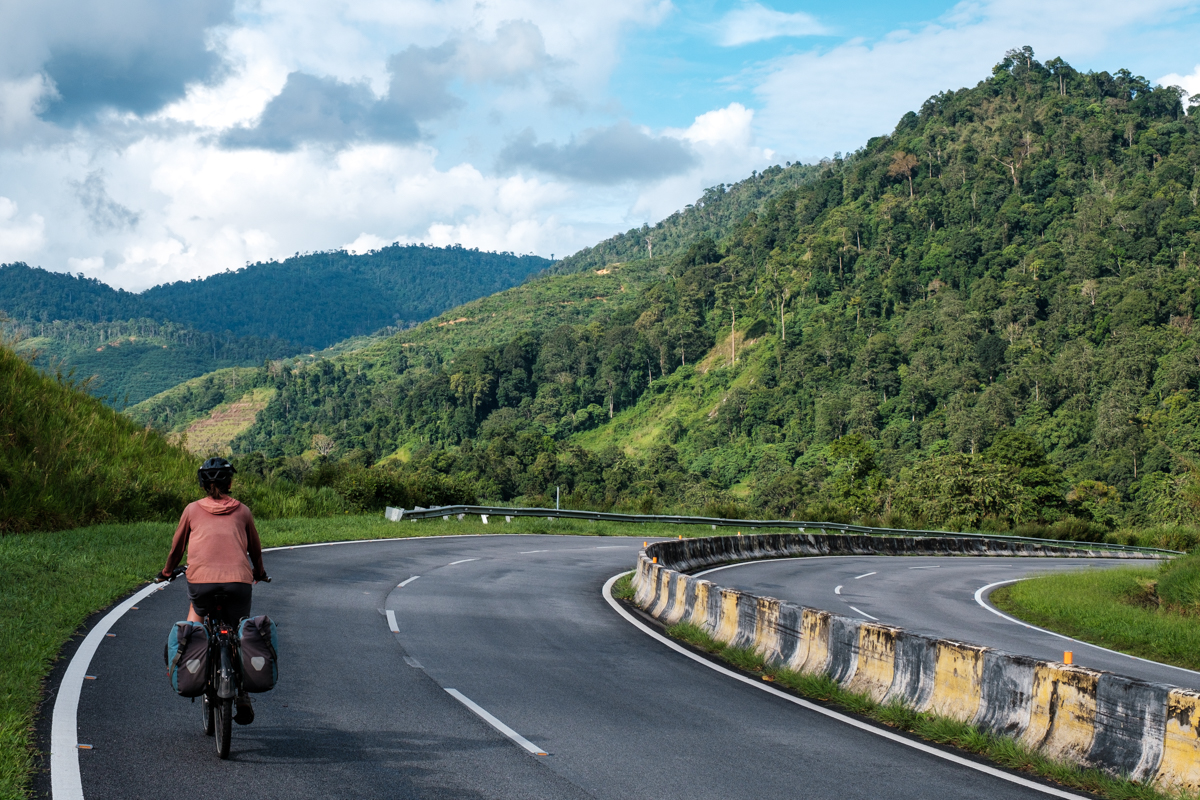 George Town, Penang
We spent a week in George Town, a UNESCO heritage site famous for its street food and unique architecture – both of which stem from its multicultural heritage. It was an important port city in the 19th century, and thus saw a significant influx of Malay, Chinese, Indian, Eurasian, and Thai immigrants. It rained a ton while we were there but it was still a really enjoyable place to wander around alleyways and try all different kinds of food.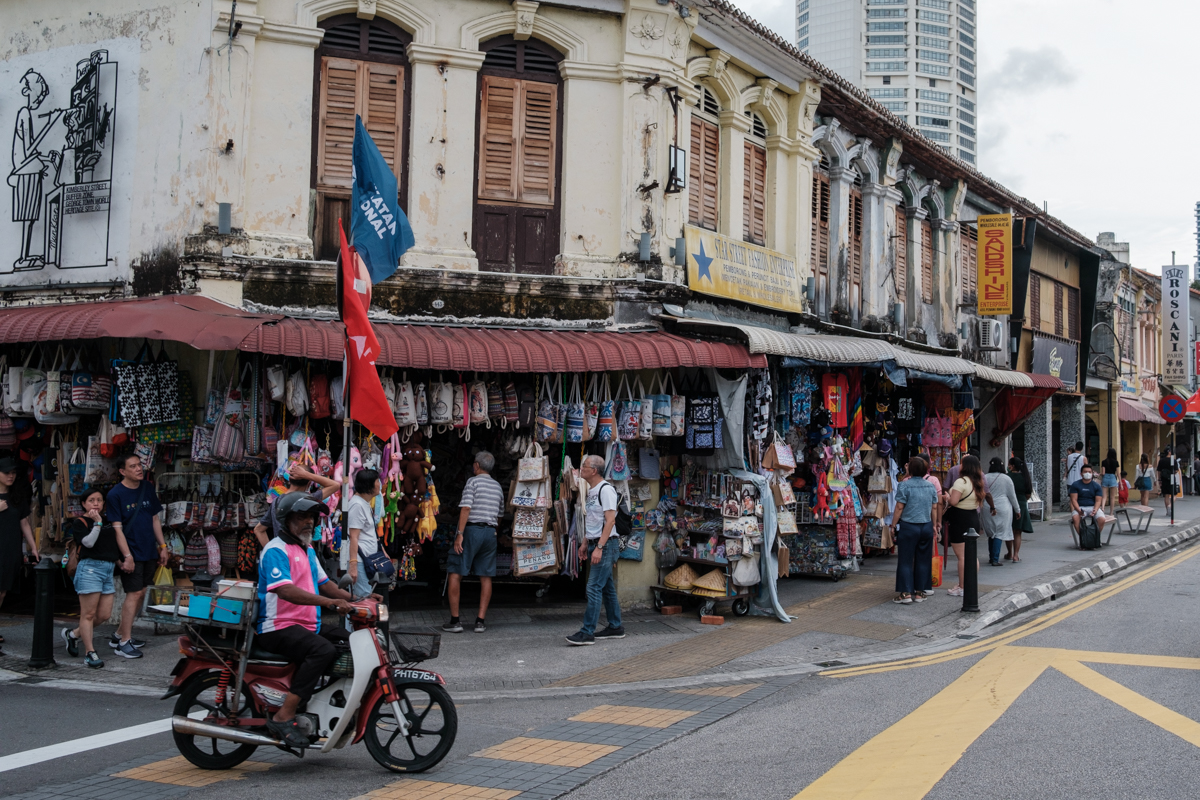 Kedah and Perlis
The last two states we visited in Malaysia wound up being some of our favorite for cycling. Kedah and Perlis are generally very flat, so there is a lot of agricultural land and subsequently a bunch of small side roads to choose from. We rode through endless beautiful rice paddies, where there were occasionally massive limestone karst formations rising up from the middles of the fields. While a lot of Malaysia was challenging for cycling, this area was fantastic!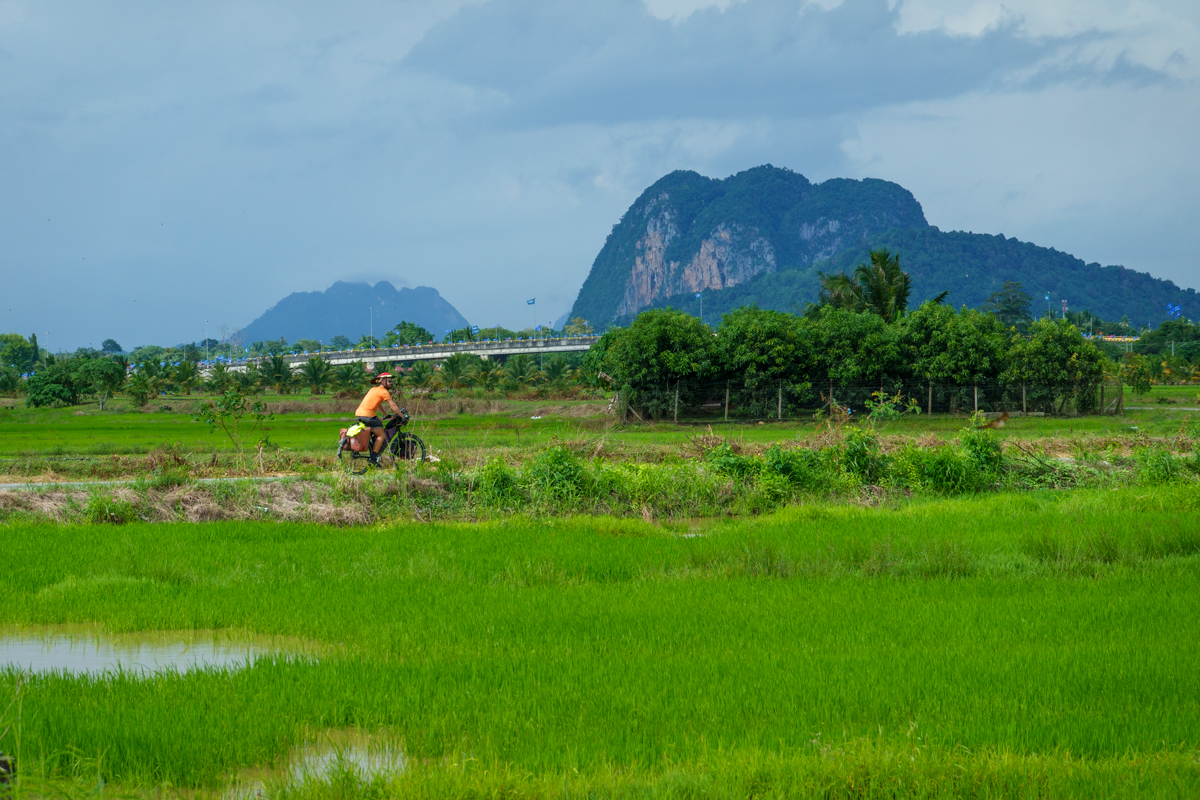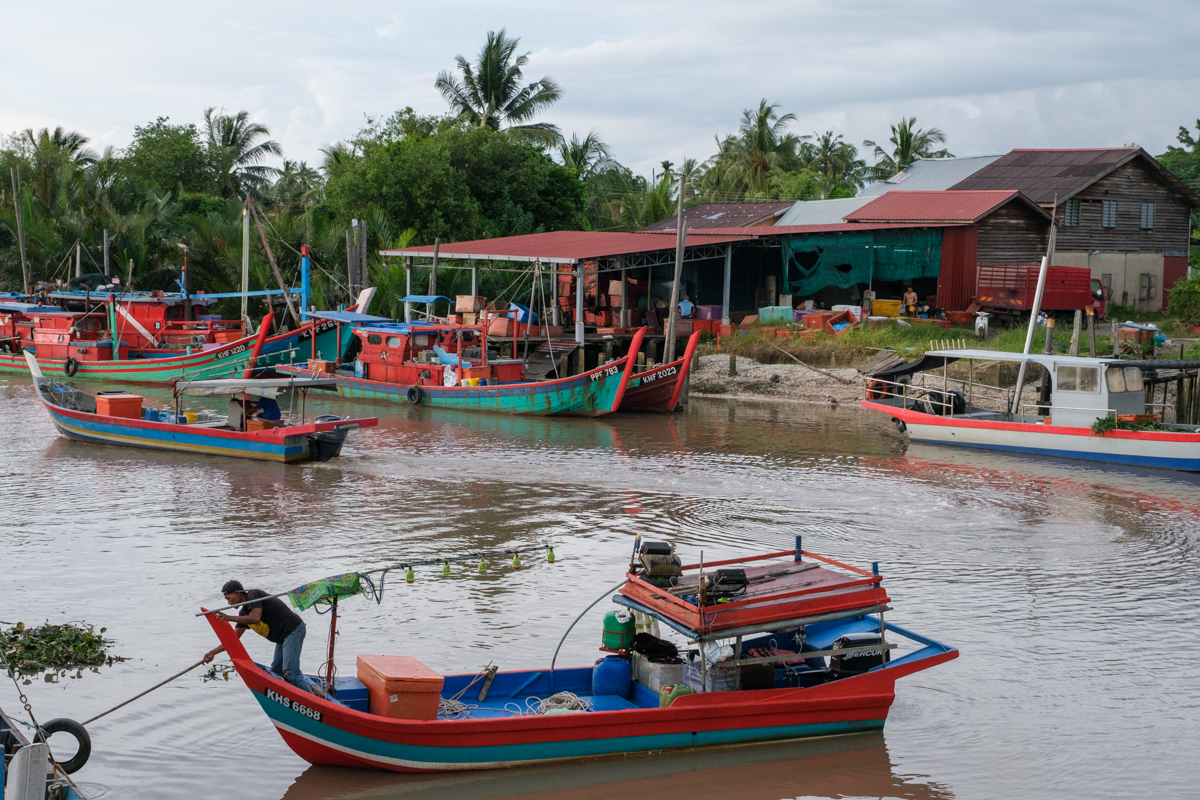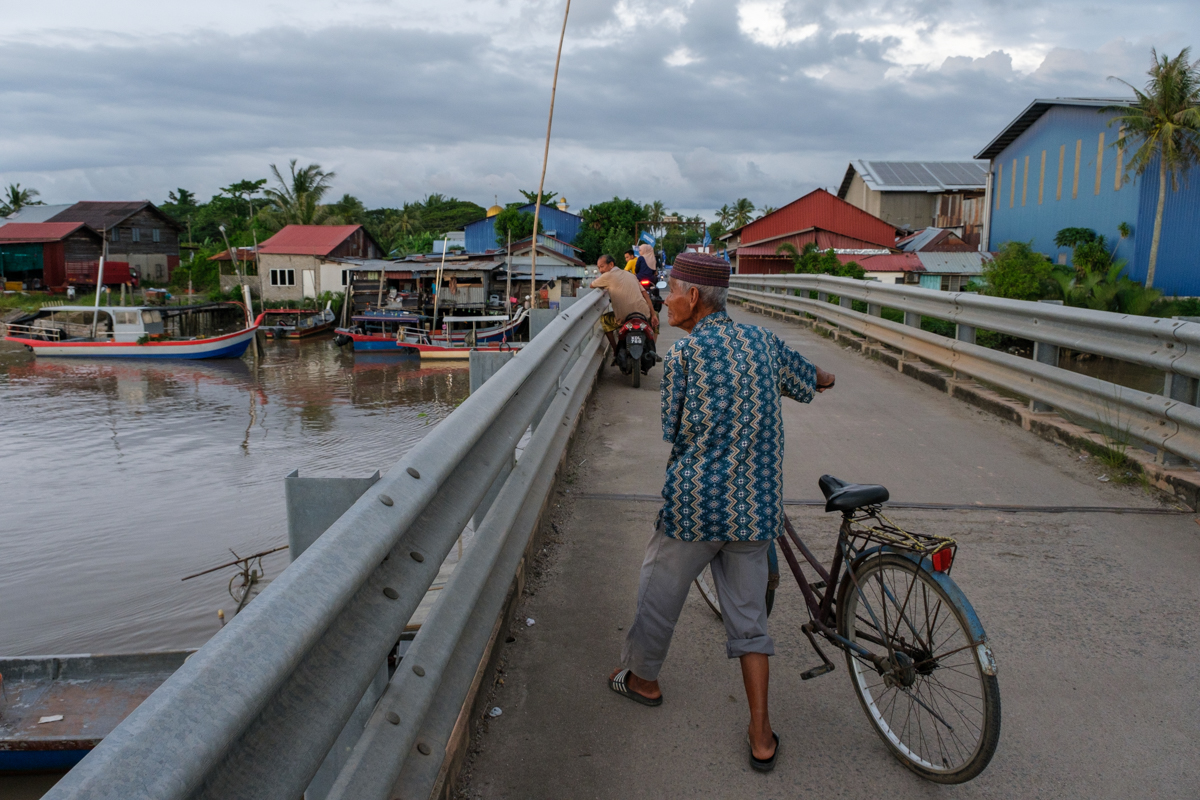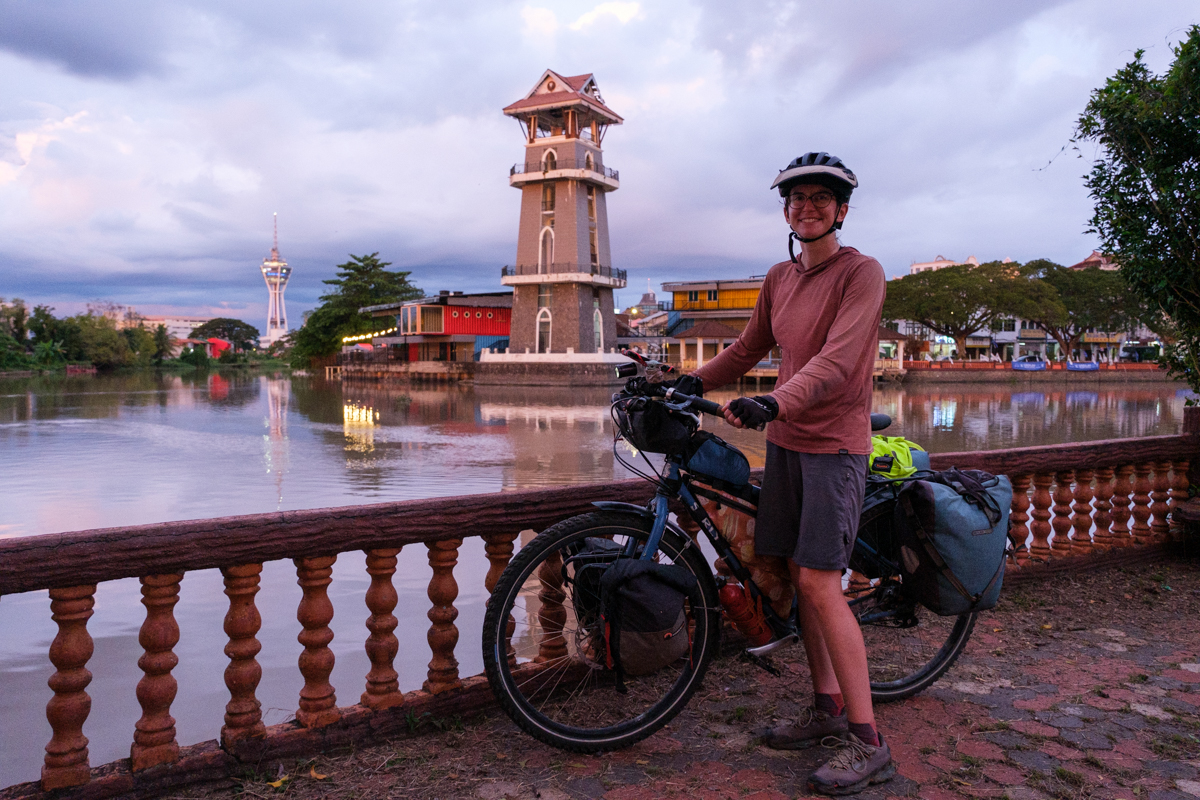 Border Crossing to Thailand
We opted for the smaller border crossing of Wang Prachan, which involved a monster climb right before the border. The crossing into Thailand was fairly straightforward, though we had some initial confusion about what paperwork we needed to fill out and had to go through the line twice. We'd heard some horror stories about Thai immigration, but most of those had occurred at airports. Land borders have generally been pretty relaxed and they let us in without any issues!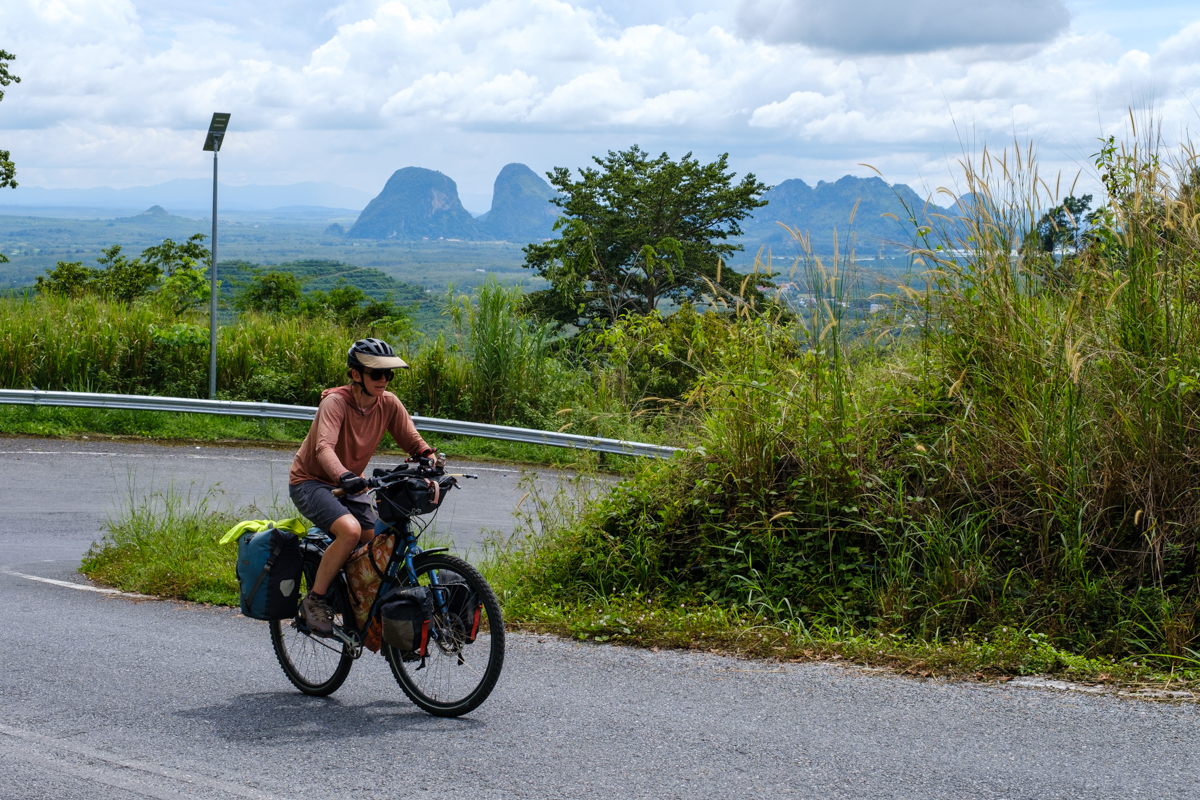 Malaysia Part 3 Video