Cycling Malaysia's West Coast (KL to Singapore)
After taking a three week break in Kuala Lumpur, we rode south along the coast toward Singapore. Bicycle touring in Malaysia can be challenging, mainly due to the intense traffic through heavily populated areas. Despite the traffic conditions, we were eventually won over by Malaysia's fantastic food and extremely friendly people.
Bicycle Touring Malaysia: Route
Download the GPX track for our ride from KL to Johor. NOTE: This is not a polished route and is intended for research and planning purposes only.
Arrival in Malaysia
We arrived in Kuala Lumpur (KL) around 6pm and found our bike boxes and luggage undamaged, which is always a huge relief. We set about building our bikes in a quiet area of the arrivals hall and got some chicken and rice from a food cart when we were finished. It was dark at this point, and we weren't super excited about a night ride in a new country where they drive on the left side of the road. We had about 5 miles to ride to our hotel, and it was slightly stressful but not as bad as we expected.
The next day, we had about 30 miles to ride to our AirBnB in Kuala Lumpur. We weren't used to the heat and humidity yet, so 30 miles was a pretty big day for just starting out. In an attempt to avoid the big roads, we took an OSMand route that led us on some dirt roads, but they mostly wound up at dead ends.
Our AirBnB was a little hard to find but we finally arrived, exhausted and sweatier than we'd been on the whole tour. The doorman at the apartment complex was also an avid cyclist, and he gave us a warm welcome to Malaysia and chatted with us about our trip for awhile.
Three Weeks in Kuala Lumpur
We were really excited to take a break from the bikes, since we hadn't had much time off in Northern Europe. We'd heard mixed things about KL, but we had a pretty positive experience in the city. The food alone was incredible, and we feasted on all the different street food as well as some nicer restaurants. Malaysia is a multi-cultural country, with significant Chinese and Indian populations in addition to the Malay majority. As a result, you can find all of these cuisines as well as fusion dishes that primarily exist only in Malaysia.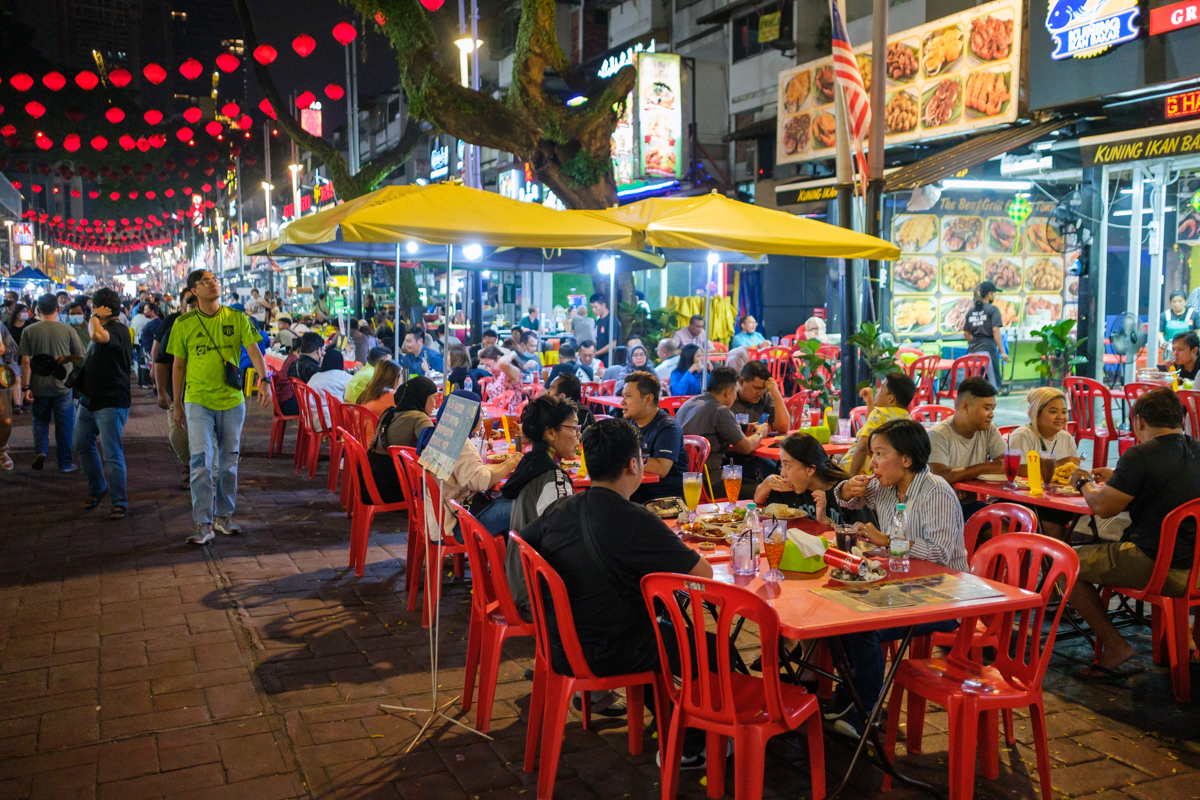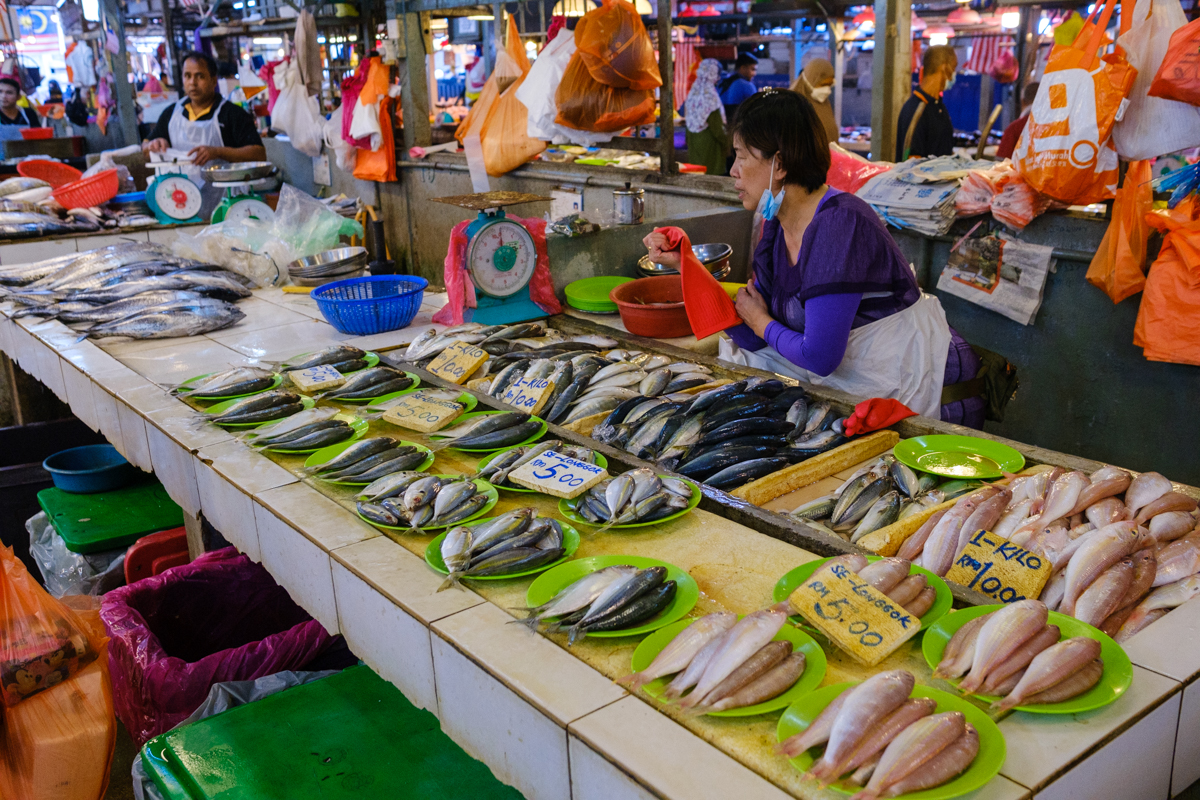 In addition to trying lots of new food, we visited some interesting colonial buildings and the Perdana Botanical Gardens, though many of the exhibits were closed for restoration. The main challenge in KL was that it's not a very pedestrian-friendly city, but it does have a well connected metro system that makes it easier to get around.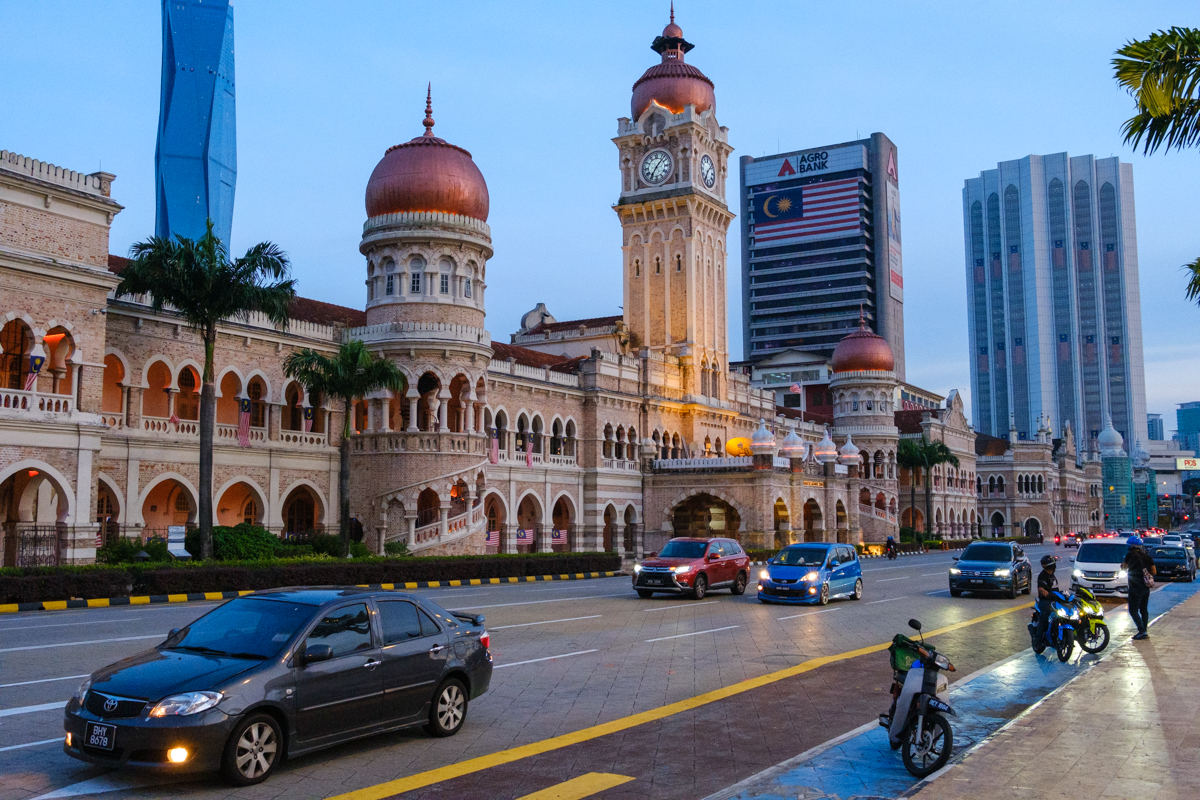 KL to Melaka (120 miles, 4 riding days)
We knew that the traffic along Malaysia's west coast was going to be hectic, and indeed we struggled to find roads with light traffic. Even the smaller side roads leaving the city were very busy, and the surrounding area was densely populated. However, Malaysian drivers usually gave us plenty of room, and we got lots of waves and greetings from pedestrians. It was still a significant change coming from sparsely populated Norway, and the noise, air pollution, and road grit was a big adjustment.
Melaka
We hurried to make it to Melaka to catch the weekend night market, and we were really glad we did. Tons of vendors were setting up food stalls as we rode into town, and an endless stream of cars were being ushered into nearby parking lots. The anticipation in the air was palpable.
The night market seemed to go on forever, and there was every kind of street food you could want. We had an oyster omelette, quail egg skewers, takoyaki, chocolate peanut butter waffles, fresh fruit smoothies, and I can't even remember what else. There was live music and rickshaws that went all-out with their decorations.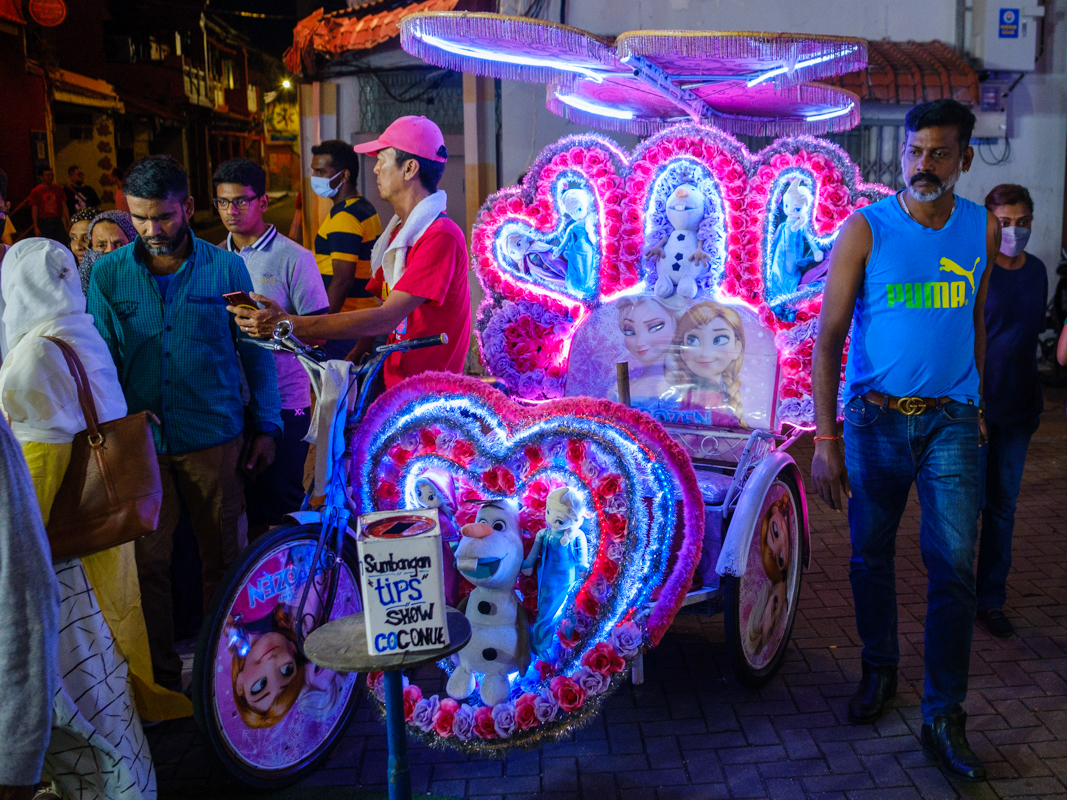 We took a rest day in Melaka to see some of the town's historic sites and colonial architecture. In the morning, we were walking along the riverfront when a man started beckoning us to come over and look at something. We were a little hesitant at first, but we approached and peered over the railing to the river, where there was a huge water monitor laying on the bank. The man then proceeded to tell us about the history of Melaka, his heritage, and his philosophy on life. He was an extremely interesting guy and we were grateful that he called us over to chat!
Melaka to Singapore (170 miles, 5 riding days)
We continued to try our best to find smaller roads to ride along the southwest coast, but sometimes the main road was the only viable option. The larger roads in Malaysia can be a slog – there is rarely a shoulder and always a lot of traffic. When we did get onto side roads, however, riding through small neighborhoods was relaxing and fun – most people we passed would greet us and everyone was very friendly and welcoming.
Muar
Muar was fairly quiet compared to the intensity of the night market in Malacca, likely because we were there on a Monday and many restaurants were closed. This made it pretty easy to pick a spot to eat, since there were only a few to choose from.
Here we had our first experience with Wonton Mee, which would become one of our favorite dishes. It was also one of the first restaurants that we went to in Malaysia where they didn't really speak English, but luckily they only had one main dish on the menu, so they just had to ask us if we wanted size big or small and if we wanted it spicy. Easy enough!
Batu Pahat
Batu Pahat was another large town that we stopped in and enjoyed wandering around at night. We stayed in a strange hotel that had kind of a castle theme where everything was comically ornate. The owner was kind and he pointed us in the right direction for getting some dinner and exploring the town.
We started out with some steamed buns and then wound up at a burger cart that was very satisfying after a day of cycling. There was a nice street art area near the river, and we had some dessert at the big food court that we didn't know about until after we'd already eaten dinner.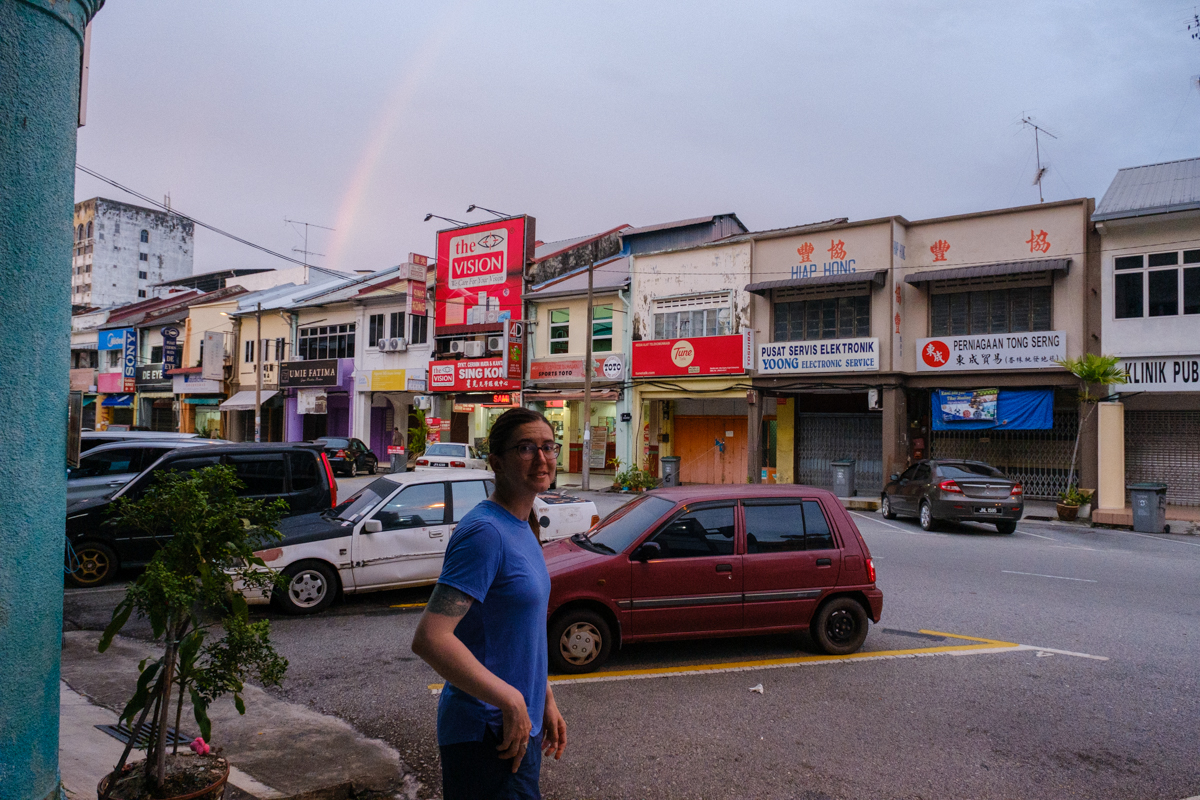 Pontian
On the morning we were leaving Pontian, the owner of the hotel we stayed at chatted with us for awhile and told us that he'd had a big group of cyclists stay with him recently. He invited us to take a ride in his 1960s rickshaw and then cut up a pineapple for us on his rooftop terrace. He was extremely kind and it was a wonderful way to start the morning.
After a short ride along the fishing pier we left town and headed toward Johor. The ride between Pontian and Johor was pretty horrendous – we had to be on Highway 5 for a lot of it and there were some scary moments with fast moving traffic. We did have a brief detour through a palm farm that turned very muddy near the end.
Johor Bahru and Border Crossing to Singapore
We took a rest day in Johor and happened to be there right before Diwali, so there was a lively Indian market going on downtown. Johor actually had a nice pedestrian strip in the center of town with pretty light displays and a small canal full of fish. Many of the cities we'd visited weren't the most walkable, so that was a cool change of pace.
We were nervous about crossing the bridge into Singapore, because we'd heard that traffic could be pretty bad and we were worried that it wouldn't be safe on a bicycle. Luckily, we found that there was a motorcycle lane completely separate from the cars, so the crossing went fairly smoothly. We did accidentally get into the wrong lane coming into Singapore, because there are a bunch of automated immigration counters for people who go back and forth regularly. A guy in the next lane told us where we should go and we got it all sorted out without a problem.
Video of Our Ride from KL to Johor