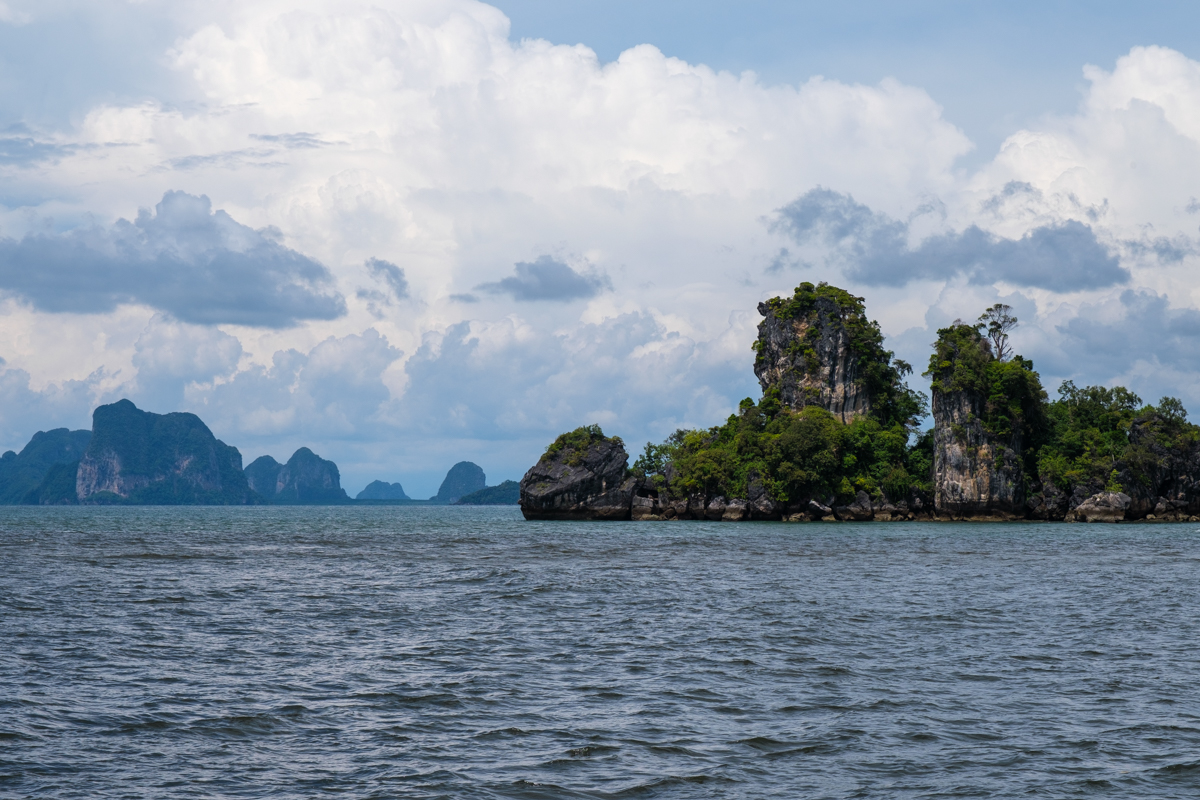 Bicycle Touring Southern Thailand
We crossed the border into Thailand at Wang Prachan in the Satun province of Southern Thailand. From there, we followed the western coast along the Andaman Sea until Krabi province, where we crossed over to the east coast and rode up to Chumphon. The cycling in Southern Thailand was incredibly peaceful, with quiet backroads, beautiful beaches, and towering limestone karst scenery to enjoy along the way.
Southern Thailand Route
Download the GPX track of our Southern Thailand cycling route.
Small Towns in Satun
Our first night in Thailand was very memorable and immediately endeared us to this part of the country. We rode up to a resort hotel that was totally empty, and the owner didn't seem to be around. Note: We think of "resort" hotels as being very fancy and expensive, but in Thailand the word resort seems to mainly refer to the bungalow-style rooms.
The owner eventually showed up and gave us a nice, spacious room for about $14. The resorts in Thailand were probably the best deals in Southeast Asia – they were almost always very clean and comfortable for a reasonable price.
First Dining Experiences
We ventured out for dinner, and being a small town there weren't a ton of options. After walking around for a bit, we spotted a bunch of tables set up next to the street that seemed to be a popular spot. We sheepishly approached and realized that it was a collection of several different cooking stalls set up together, and we didn't see a menu anywhere. We had no idea how to order, and for several moments we exchanged confused looks with the cooks.
Finally, a younger waitress noticed us and started helping us out, all the while being extremely patient with our ineptitude. We ordered what seemed to be the specialty, which was cold noodles with a green curry sauce. Each table had a huge bowl of herbs, spices, and pickled vegetables that you could add to the noodles in whatever quantities you wanted. It was delicious and the staff was super nice, joking around and laughing with us as we figured out how to eat everything. Unfortunately we didn't get any photos due to all the sensory overload!
Trang Province and Ko Muk
The riding in Trang continued to be wonderful, with beautiful roads and small villages with bustling markets. We were often surprised at how big the street markets were in the towns that looked tiny on the map. We were in heaven with all the fresh fruit and street snacks that were readily available.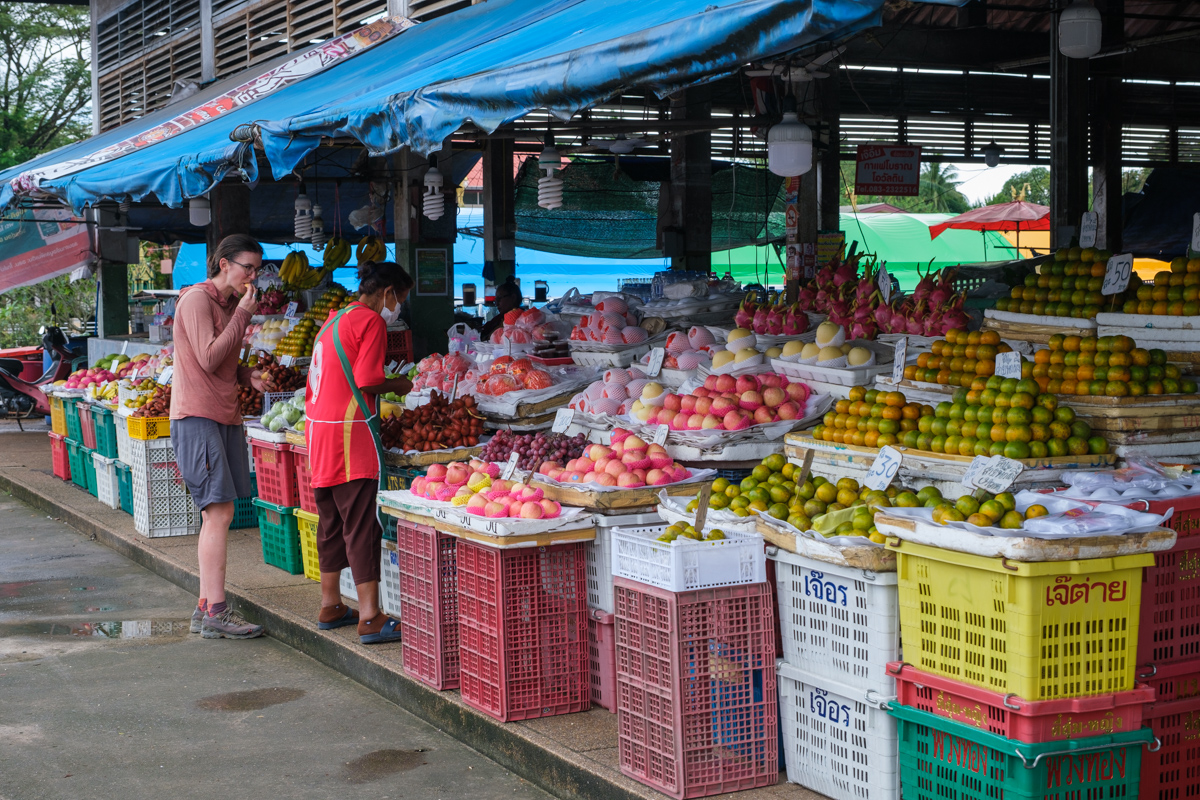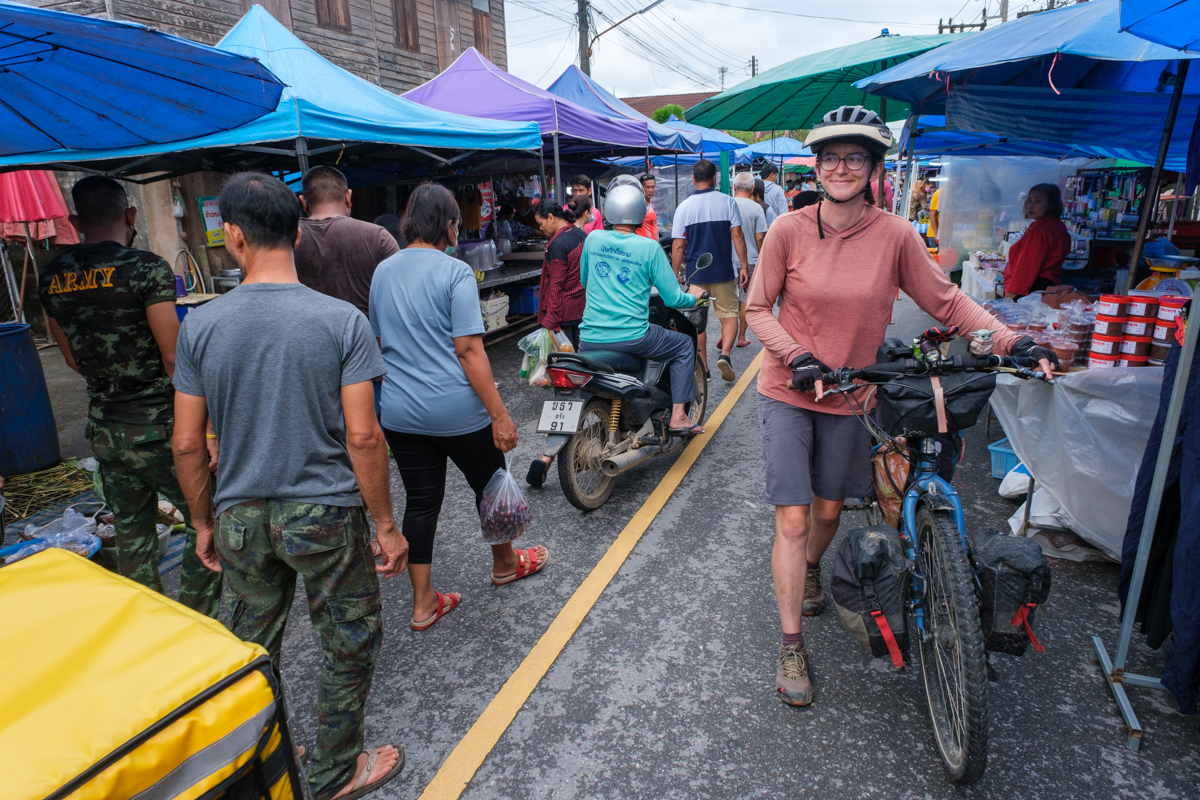 The Island of Ko Muk
We took a short excursion to the island of Ko Muk, which was less than an hour away by ferry from the mainland. The ferry was a colorful wooden boat with two levels, and it could only accommodate bikes and motorcycles – no cars could go to the island. The ferry also brought general supplies to the restaurants and guesthouses, so the boat was loaded down with cases of beer, produce, and all kinds of stuff. When we arrived at the pier on the island, we had to take our bikes across a sketchy plank to unload them from the second level. It was chaotic but luckily they didn't fall into the ocean.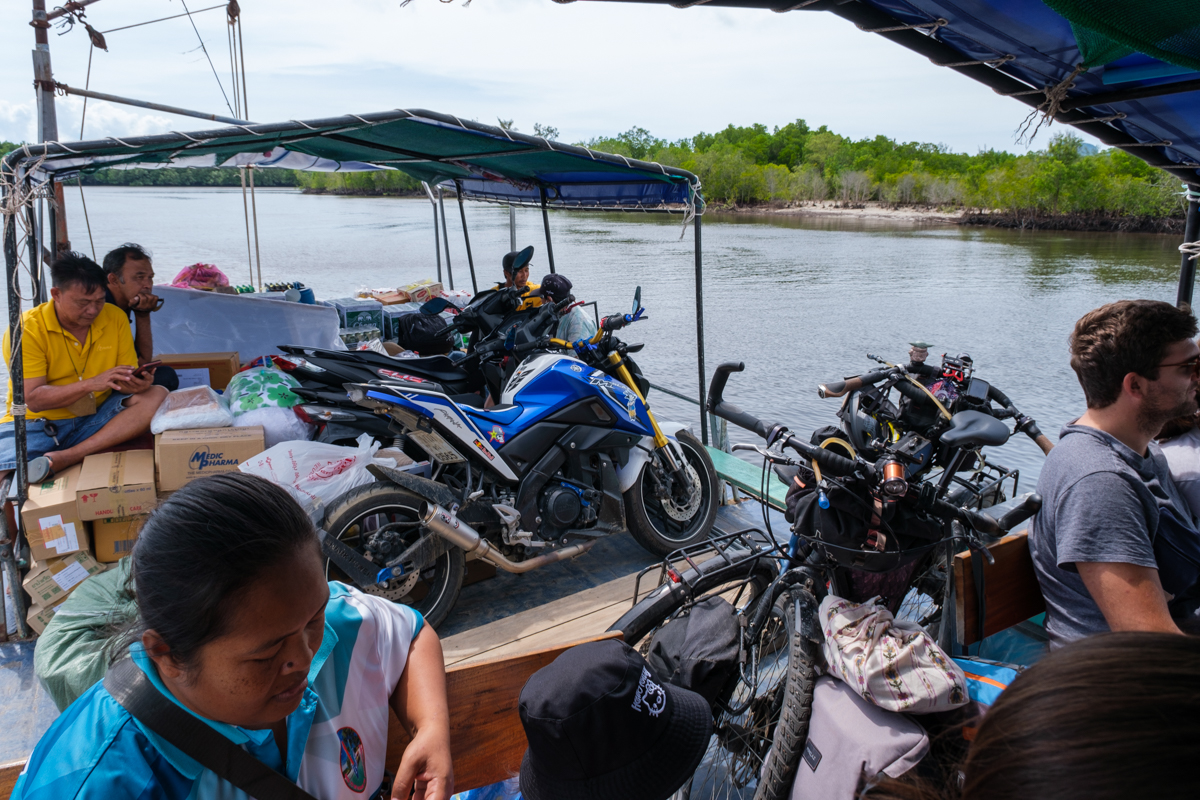 The island is small and there is only one main town, so people started recognizing us after we rode back and forth on our bikes a few times. Shop owners would say hello to us and there was a laid-back, friendly vibe that we really enjoyed.
Ko Muk is famous for the Emerald Cave, and one day we rented kayaks to try to visit it. At low tide, it's possible to swim/paddle through the cave and into a lagoon on the other side, but the water was very choppy when we were there and it was definitely not safe to approach the rocks. Waves were crashing into the cliffs and there was no way we were going anywhere near it! It was a fun adventure but we were happy to reach shore and relax on the beach the rest of the day.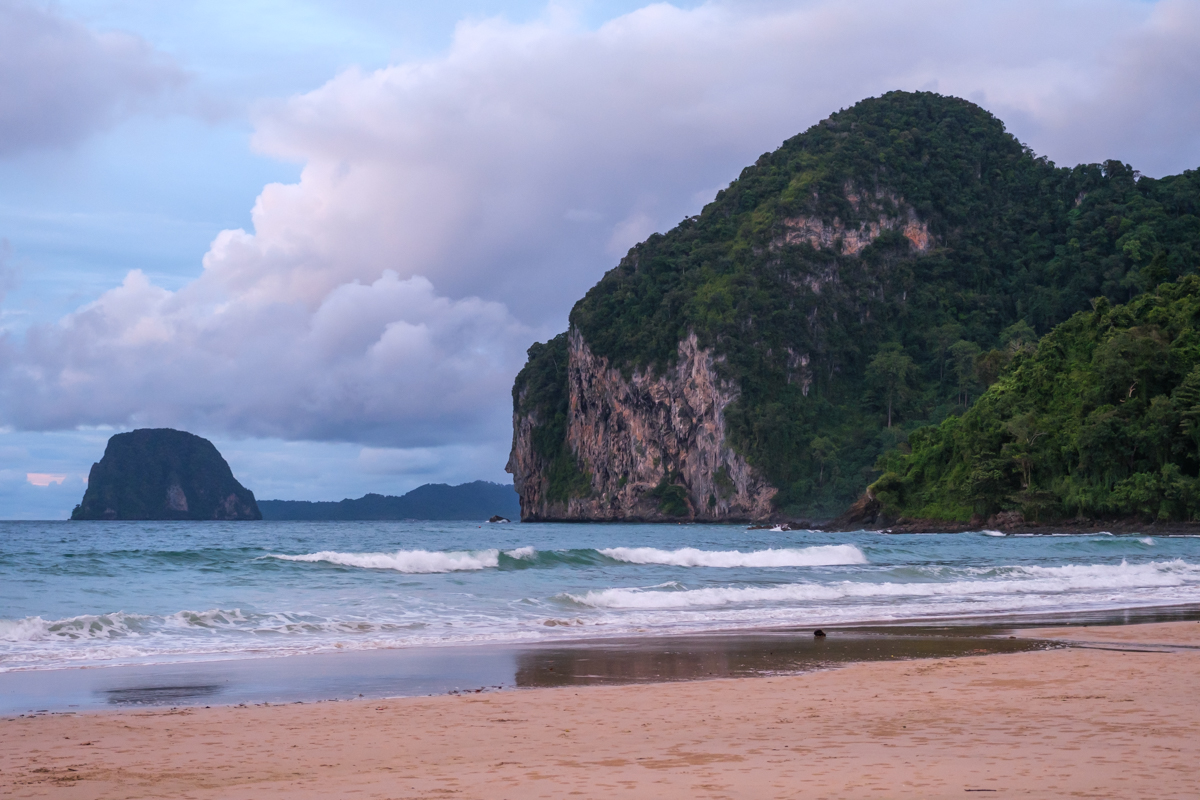 Krabi Province
Krabi is one of the most famous tourist destinations in Thailand, known for its idyllic beaches and islands. Since we'd just gone to Ko Muk, we decided to mostly avoid the crowds at the popular beaches. We did take some time off in the town of Krabi due to some stomach problems. The city gave us some culture shock because there were foreigners everywhere and it felt quite different from the rural Thailand that we were used to. We were glad to continue on our way once we were both feeling better.
While there are some issues that come with being a tourist hotspot, Krabi was a gorgeous place to cycle, and the crowds thinned out a lot after leaving the coast. The limestone karst formations were amazing to cycle among, and it's no wonder why this area is so popular.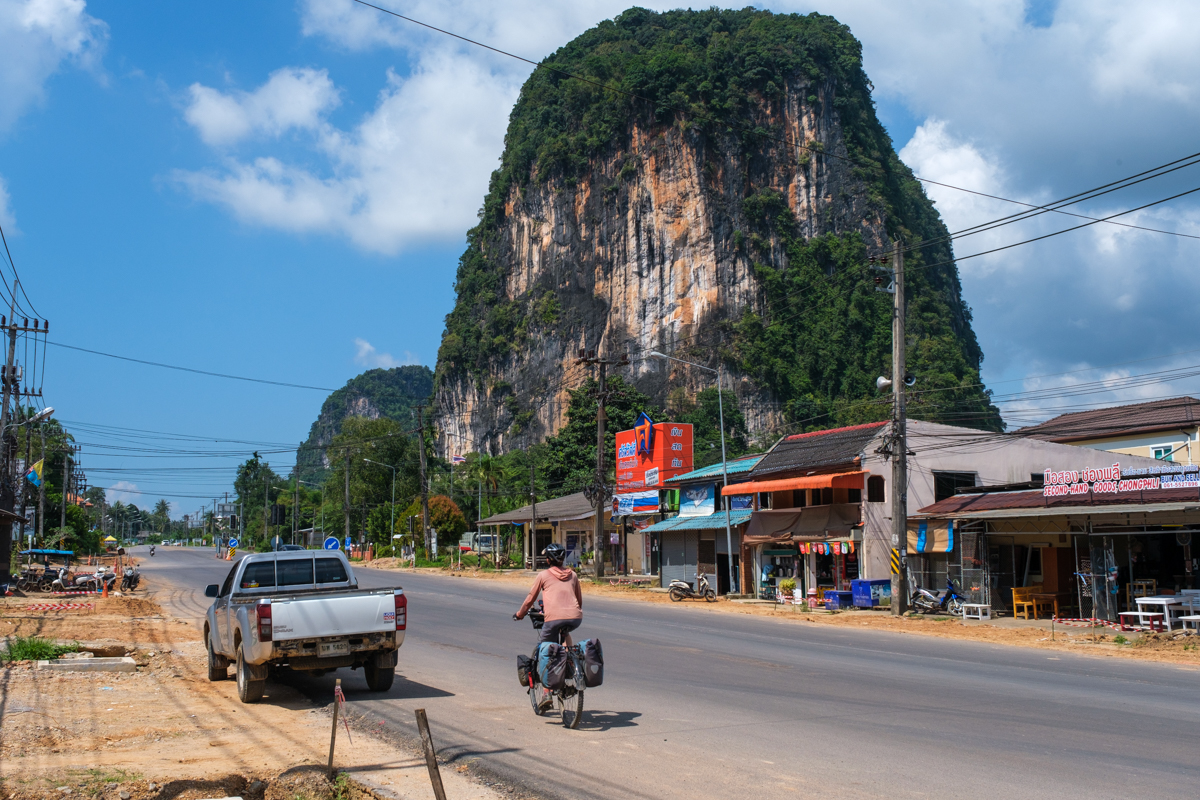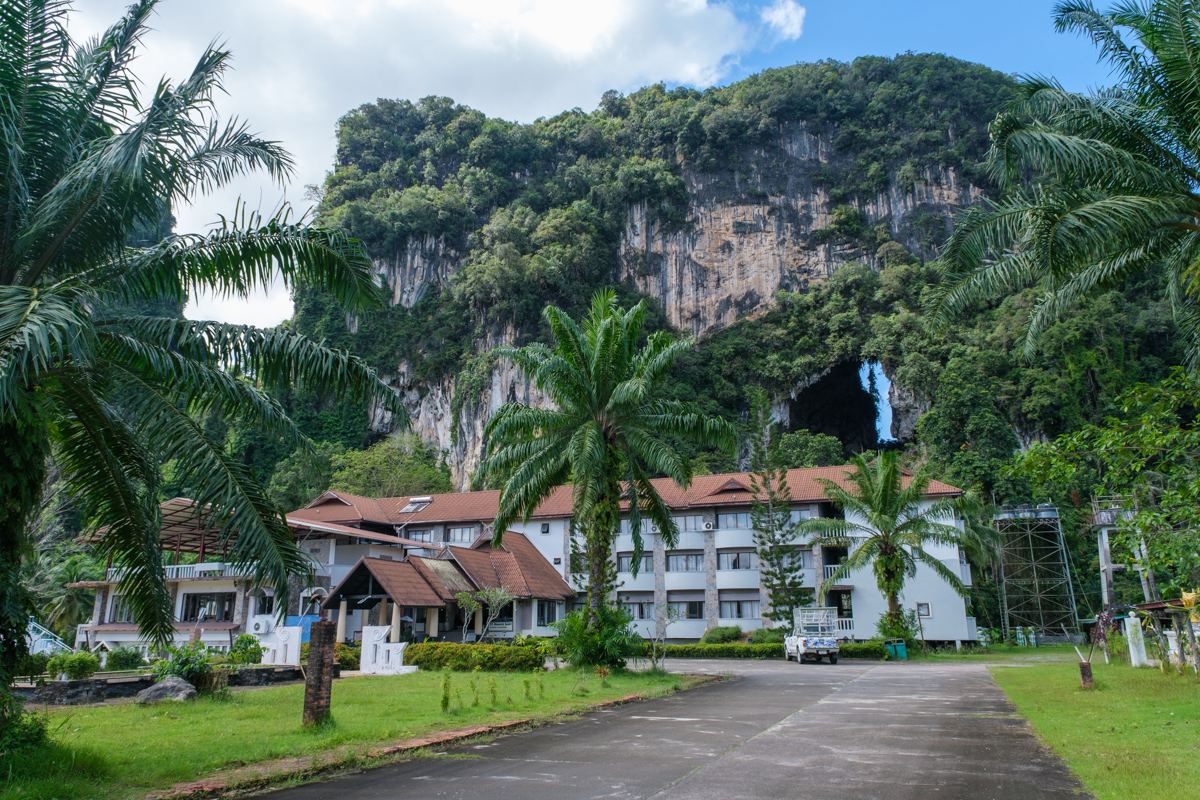 Surat Thani Province
In Krabi we started to ride inland and crossed into Surat Thani to reach the east coast. There was less of the jaw-dropping scenery that we found in Krabi but there were still plenty of peaceful backroads.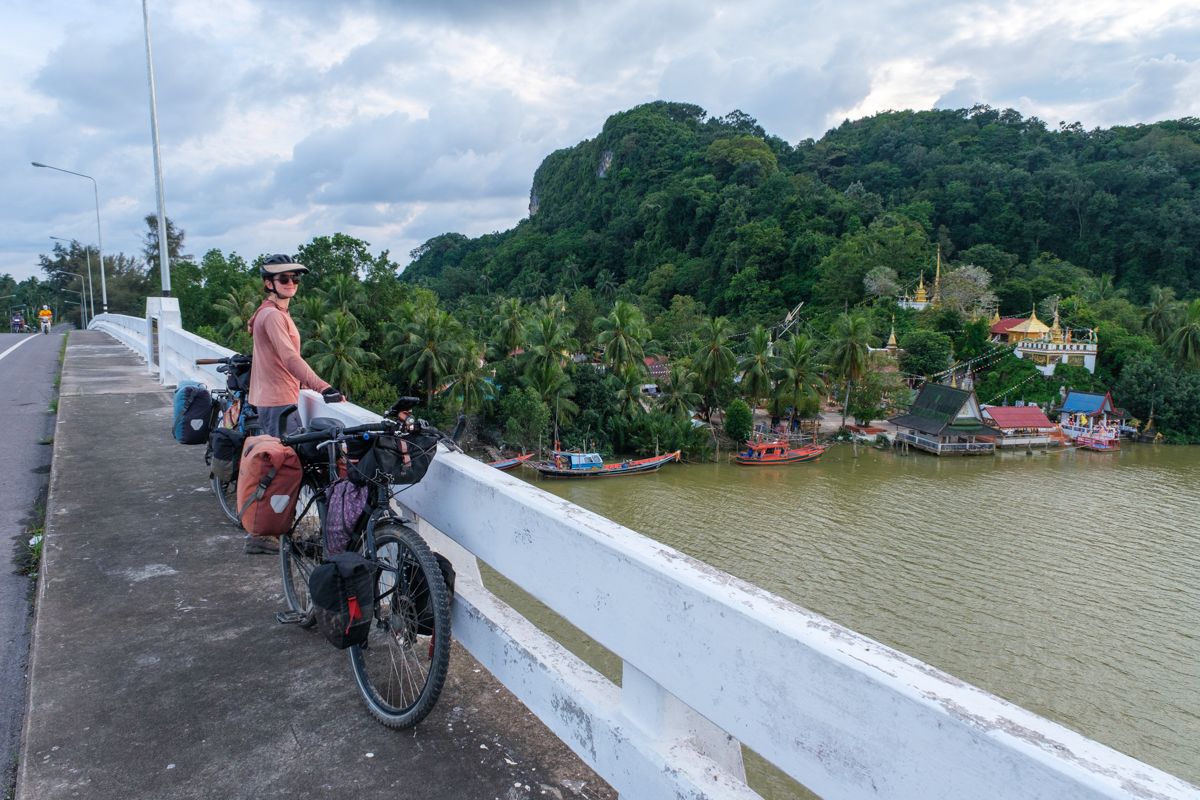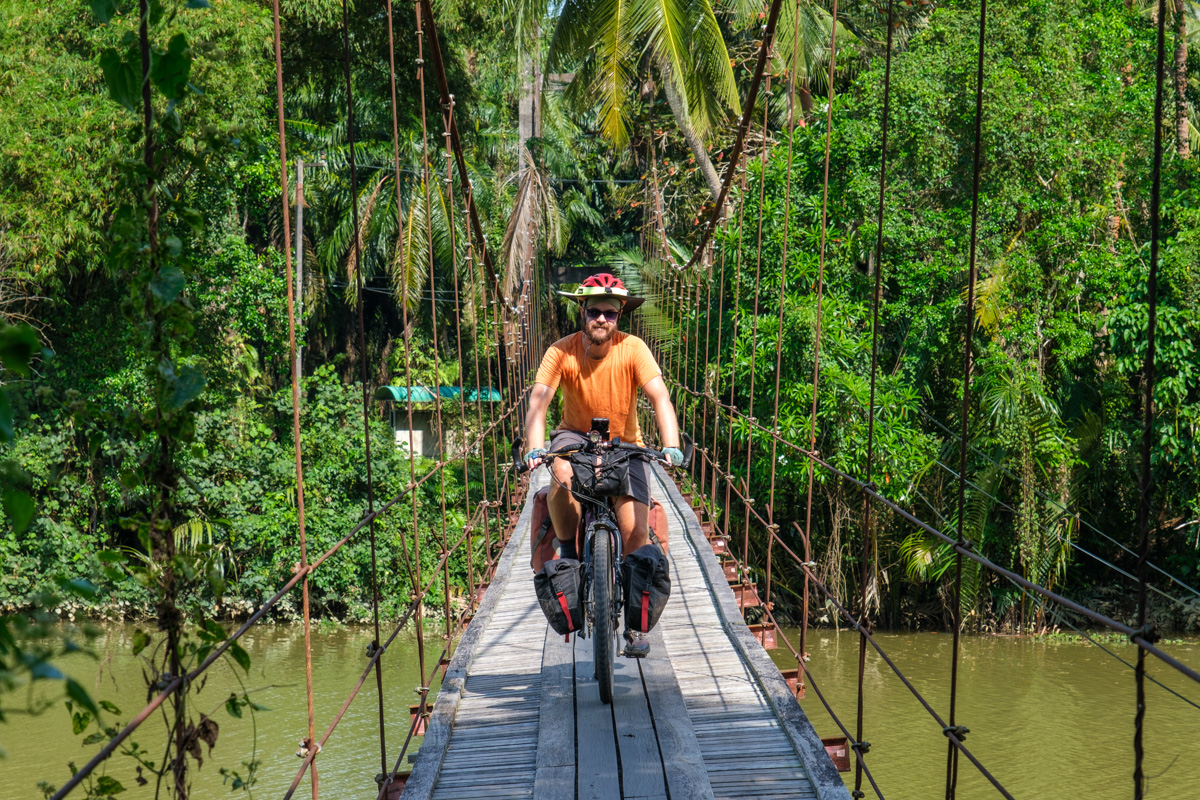 Chumphon
The riding along this part of the coast was pretty flat, and we were only in Chumphon Province for a few days including a rest day in the town of Chumphon. The city had a sprawling indoor market as well as a long food street. Unfortunately, the food street was located on a busy road and traffic wasn't diverted at all, so you had to browse the food stalls while trying not to get hit by a car or scooter.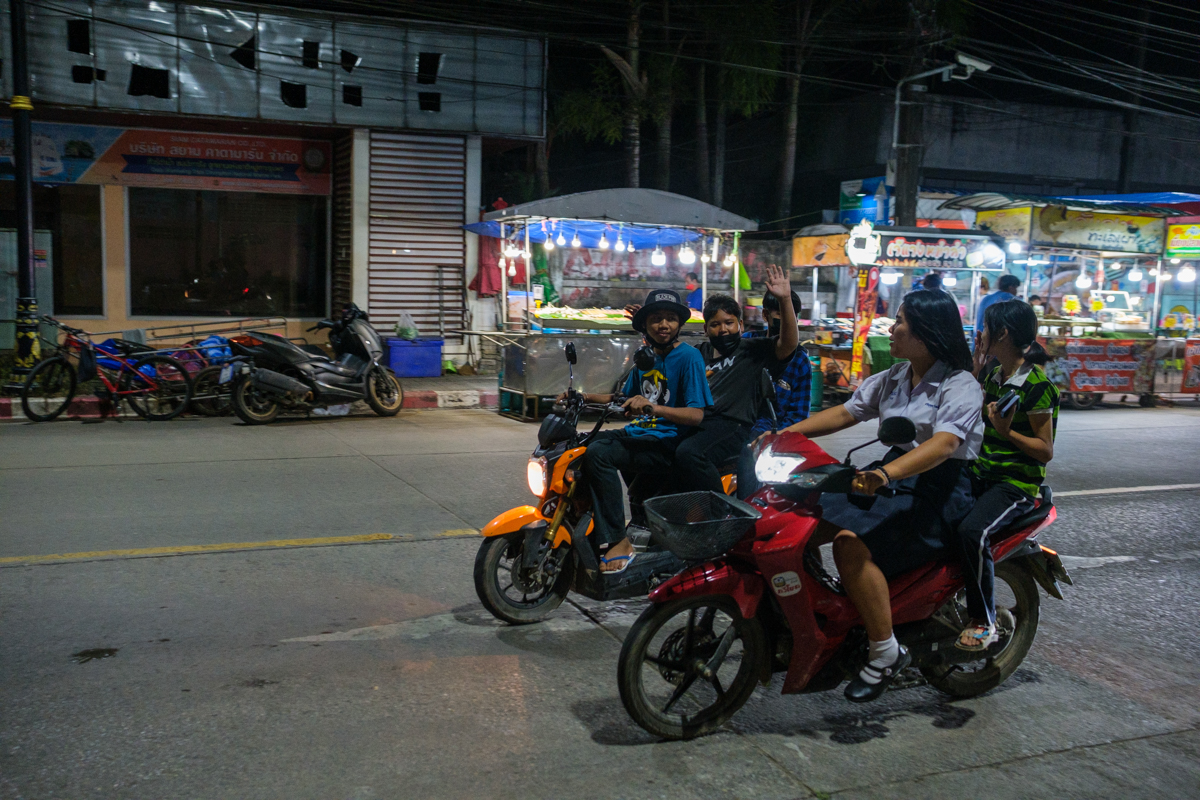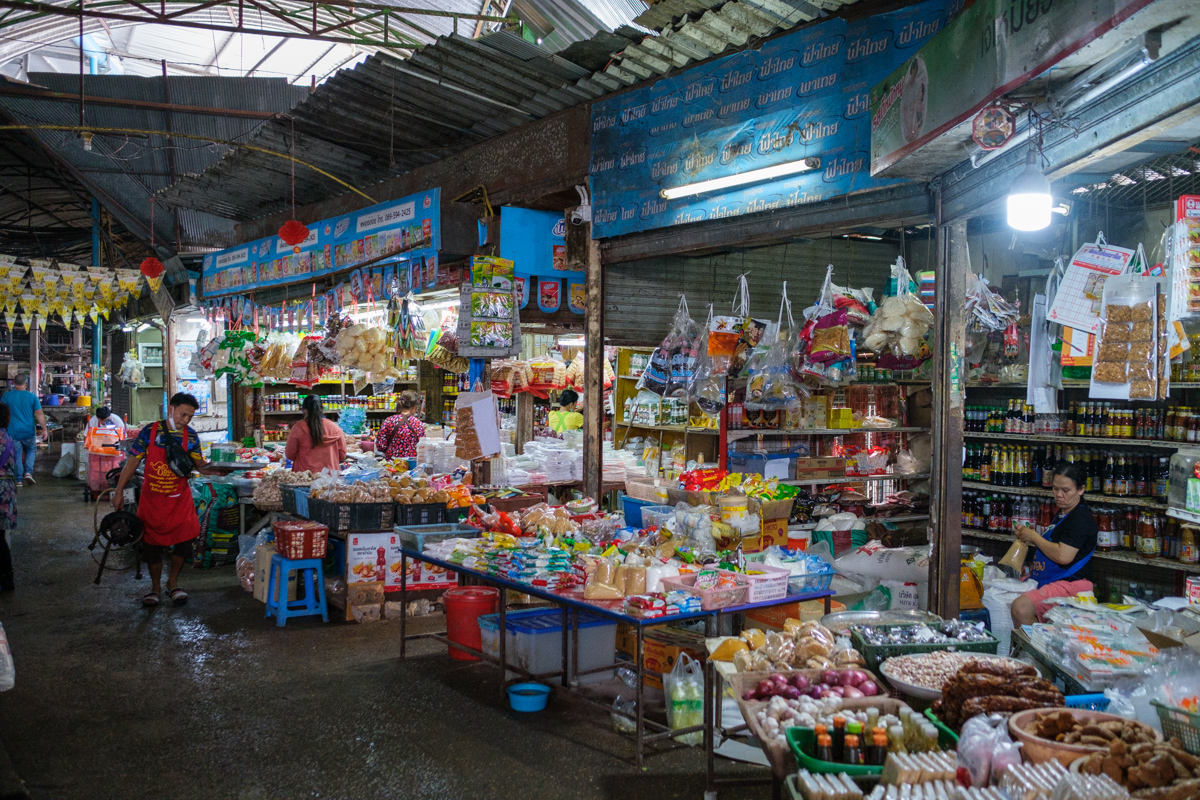 Food and Water
Thai food is reason enough to plan a tour here, and we always looked forward to our meal at the end of the day. Some of our favorite dishes were pad krapow gai (spicy minced chicken and basil), pad thai, papaya salad, cashew chicken, and various types of curry. We also loved all the fresh fruit available and of course stopped for Thai iced coffee frequently.
As weird as it might sound, 7-Eleven was also a staple food stop during our time in Thailand. The convenience store is notoriously bad in the U.S., but in Thailand it's amazing. We could never really get on board with spicy food or noodle soup for breakfast, so we heavily relied on ham and cheese "toasties" from 7-Eleven, which were basically flat croissant sandwiches that they heat up for you. We also tend to not sit down for a big lunch, so we'd have onigiri or a sandwich from the convenience store during our midday break.
Tap water in Thailand is not safe to drink, and our camping filter doesn't work for heavy metals that could be in the water. We would fill up at our hotel when we could, but we often used water filtering machines that were prevalent throughout the country. They were super cheap ($0.05 for two liters) and way more environmentally friendly than bottled water.
Bicycle Touring Southern Thailand Video