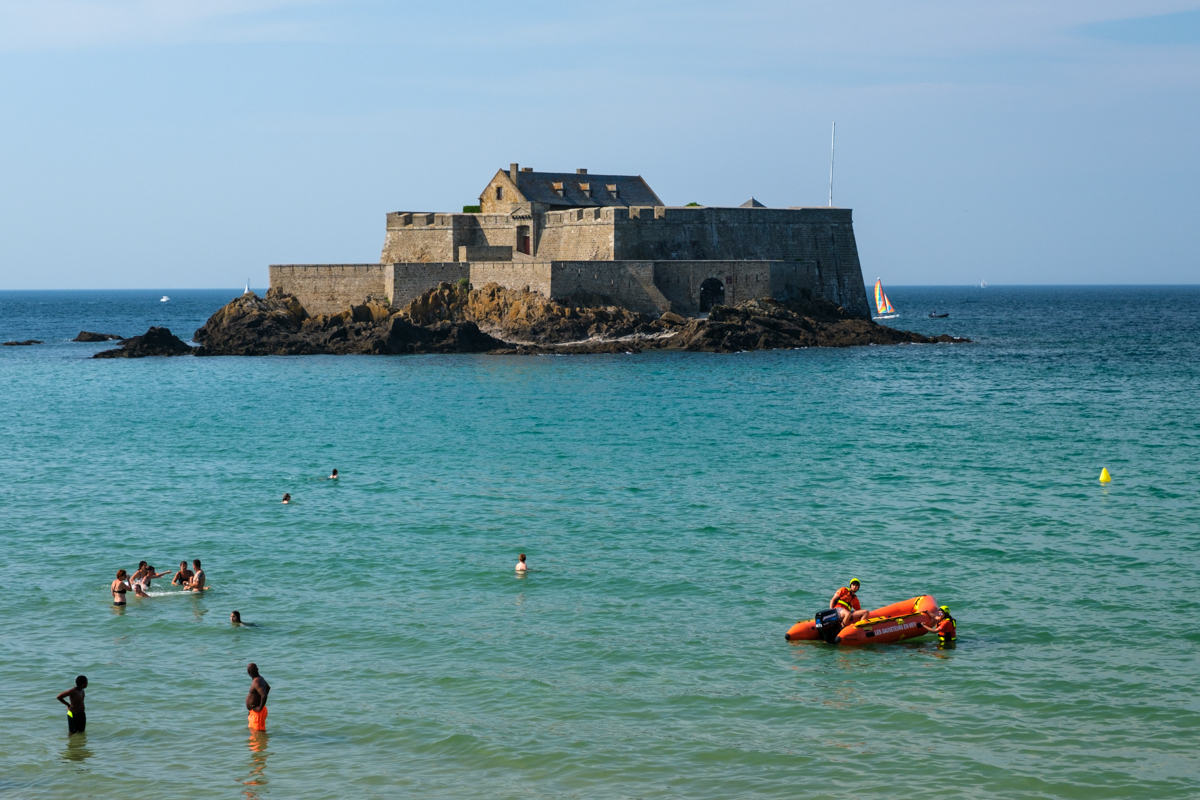 Cycling Normandy and Brittany
After riding La Seine à Vélo, we patched together several French cycle routes to visit the D-Day beaches, Mont Saint-Michel, and some historic towns in the regions. The route options are endless, and we were easily able to take cycle paths and country roads to the areas we wanted to see.
A good portion of this ride was developed on the spur of the moment. No matter how much we plan in advance (which usually isn't very much), we wind up changing direction quite often. Normandy and Brittany were full of surprises, and these semi-researched parts of the route often wind up being our favorites.
Download the GPX track of our ride through Normandy and Brittany.
Stats Overview:
Time Frame: July 17 – 25, 2021
World Bicycle Tour Days: 74 – 82
Miles: ~415
Normandy and the D-Day Beaches
The Normandy landings, commonly known as D-Day, occurred during World War II and was the largest seaborne invasion in history. Allied troops landed on five different beaches in Normandy and set the foundation for the liberation of France. Today, there are war memorials and interpretive signs informing visitors of the events that occurred there. It was an odd pairing – reading about the immense loss of life during the operation while happy beach-goers sunbathed on the same sand.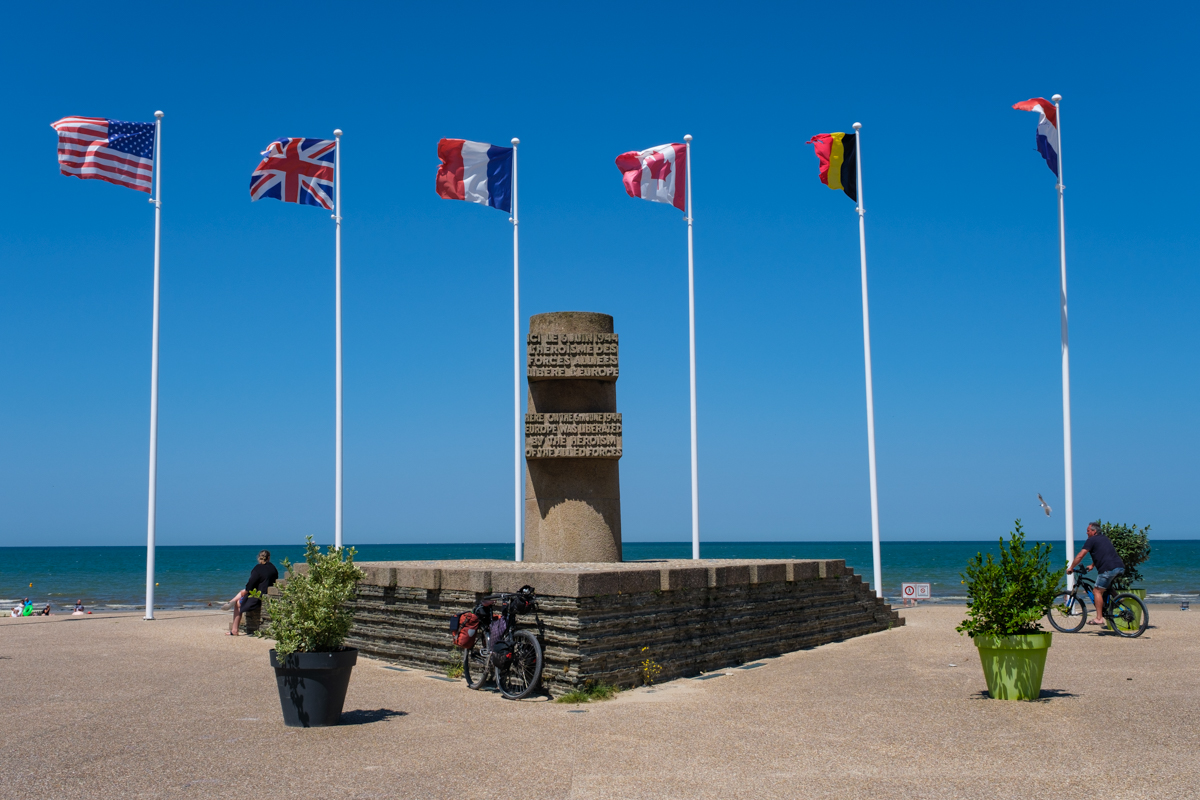 We visited the American Cemetery above Omaha Beach, where 9,388 American soldiers were buried. It was a sobering experience, walking through the memorial high above the sea and trying the imagine the ocean blanketed with war ships. Seeing photos of the invasion and reading first-hand accounts from both soldiers and civilians was eye-opening, and standing in the place where it happened made the history feel very tactile and real.
We rode a questionable section of singletrack on the cliffs high above Omaha Beach. Some parts were incredibly steep and probably not for bikes, but the scenery was spectacular. We saw a sign at the end of the trail that said it was actually closed due to cliff instability…but we didn't know that when we started.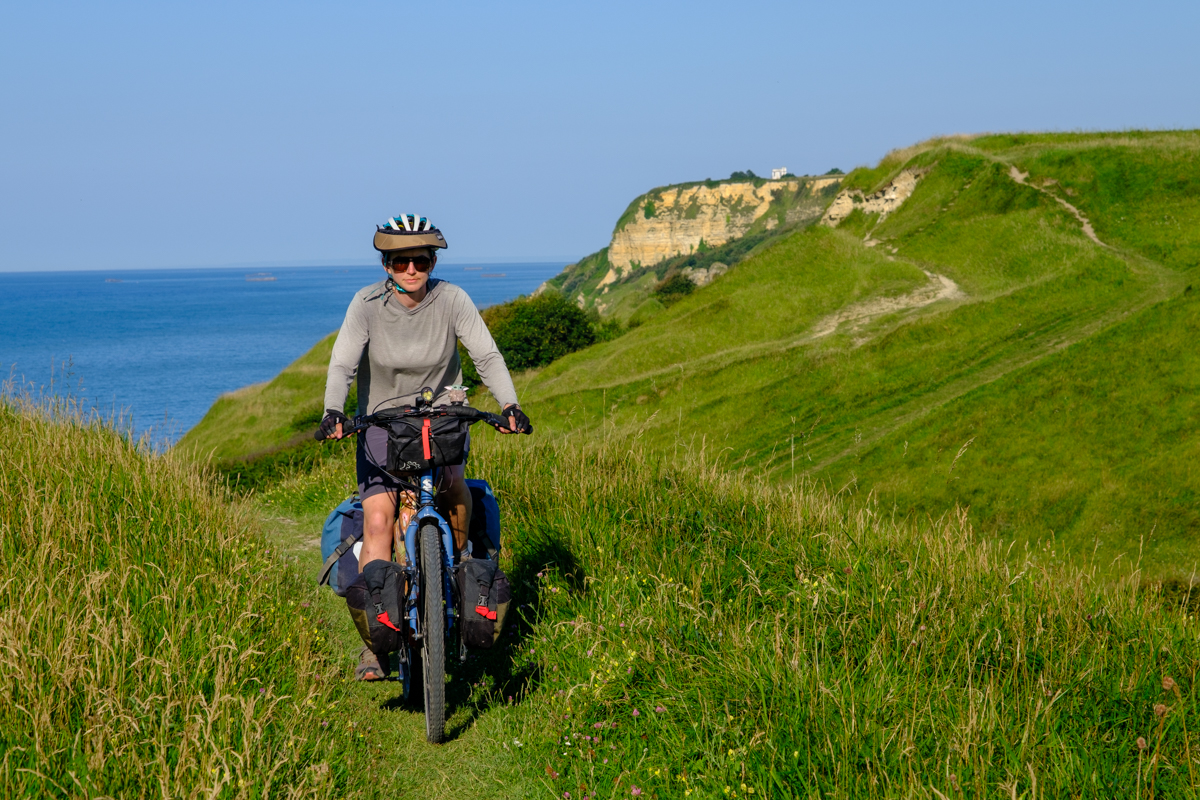 We also rode sections of the EuroVelo 4/La Velomaritime along the coast. Naturally, we were riding the coastal sections on a busy summer weekend, and many of the pedestrian paths along the beach don't allow bikes on the weekends. We got yelled at by the cops a couple times before we realized that we weren't supposed to be riding there. The boardwalks were jam-packed with people anyway, and biking along the beach was kind of an ordeal, so we didn't mind taking some detours.
Mont-Saint-Michel
After visiting the Normandy beaches, we headed south to Mont-Saint-Michel. Mont-Saint-Michel is a tidal island that looks like it's straight out of a fairy tale. An abbey sits high atop the rocky island, and its silhouette can be seen from miles away. During high tide, the island is completely surrounded by water, which is a pretty nice feature for a fortress. At extreme low tide events, the ocean almost disappears from view.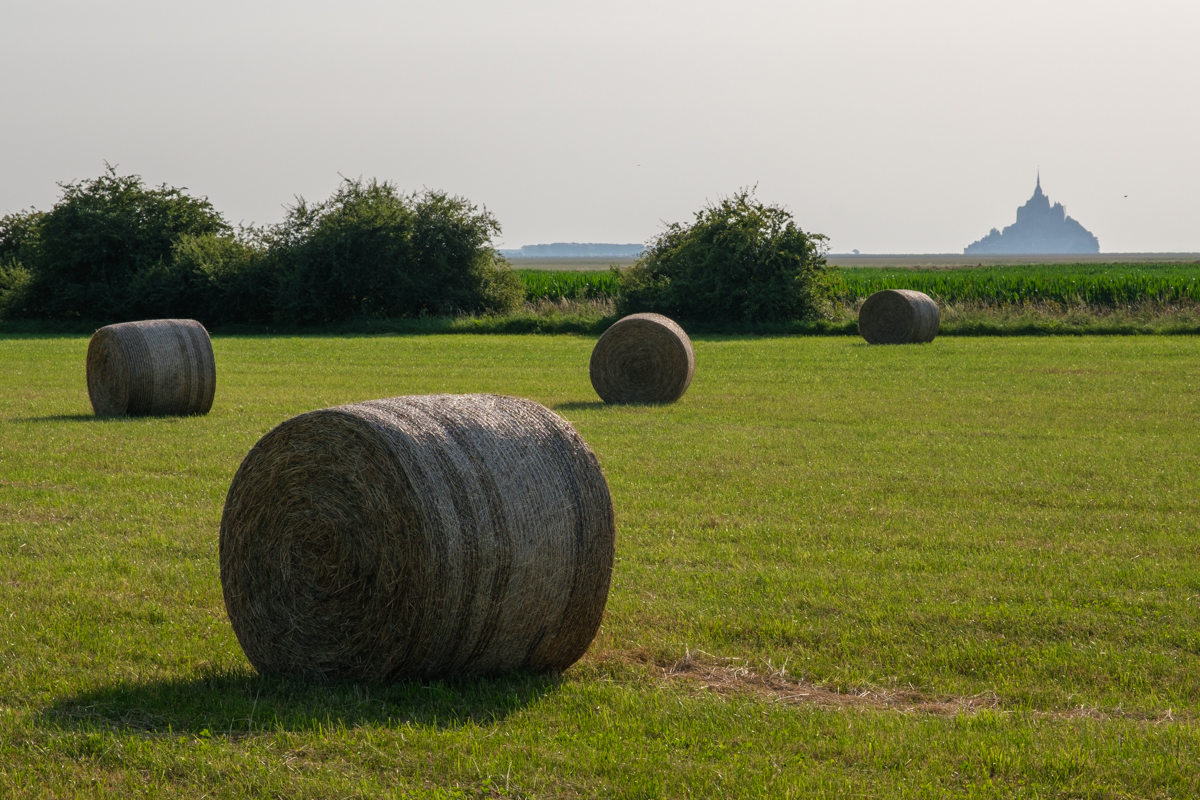 We got a hotel for a couple nights so that we could explore the abbey without our bikes. We took a self-guided tour through the abbey and walked on the sand flats around the island since we were there at low tide. The abbey featured beautiful stonework that had been completed at different times throughout the island's history.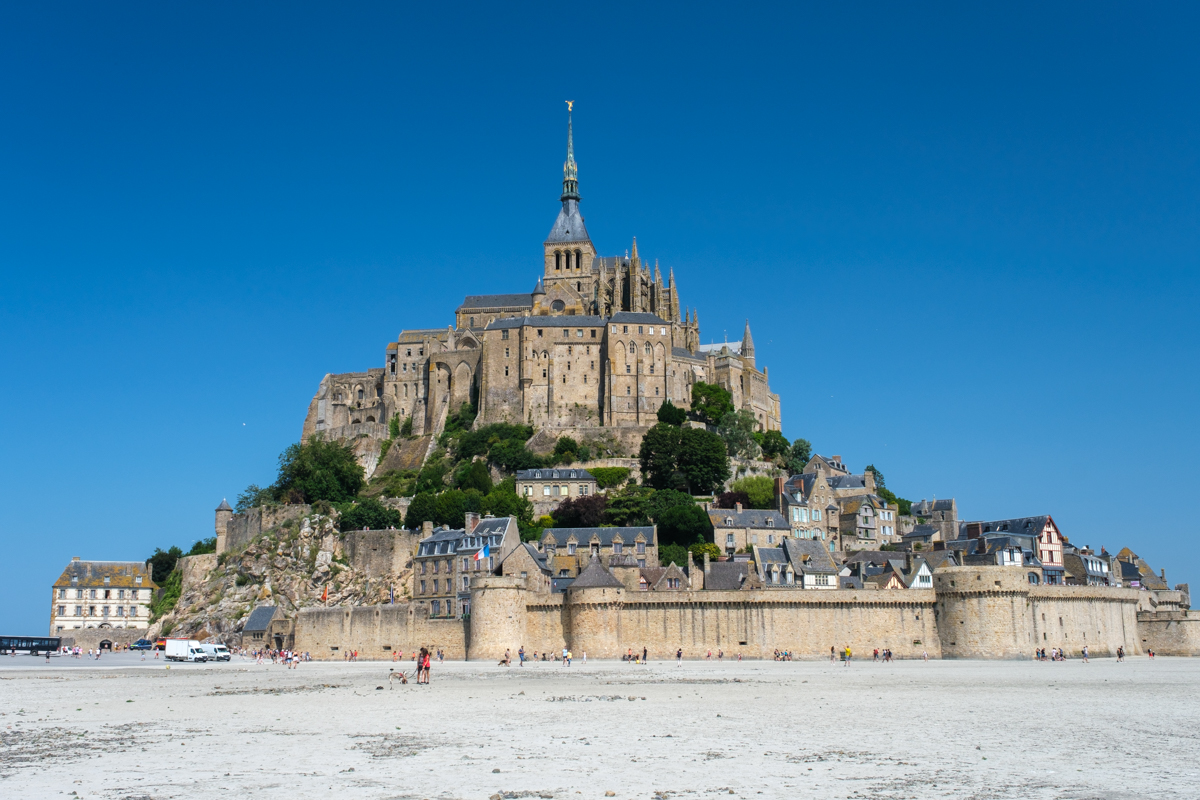 Medieval Towns of Brittany
Saint-Malo
Neither of us knew very much about Saint-Malo before our route took us there, and we were immediately intrigued by the imposing walled city surrounded by the emerald sea. We wandered through the town and its magnificent cathedral and gazed longingly at its beaches. We hadn't planned to stop here, but it's definitely a city where we'd like to return.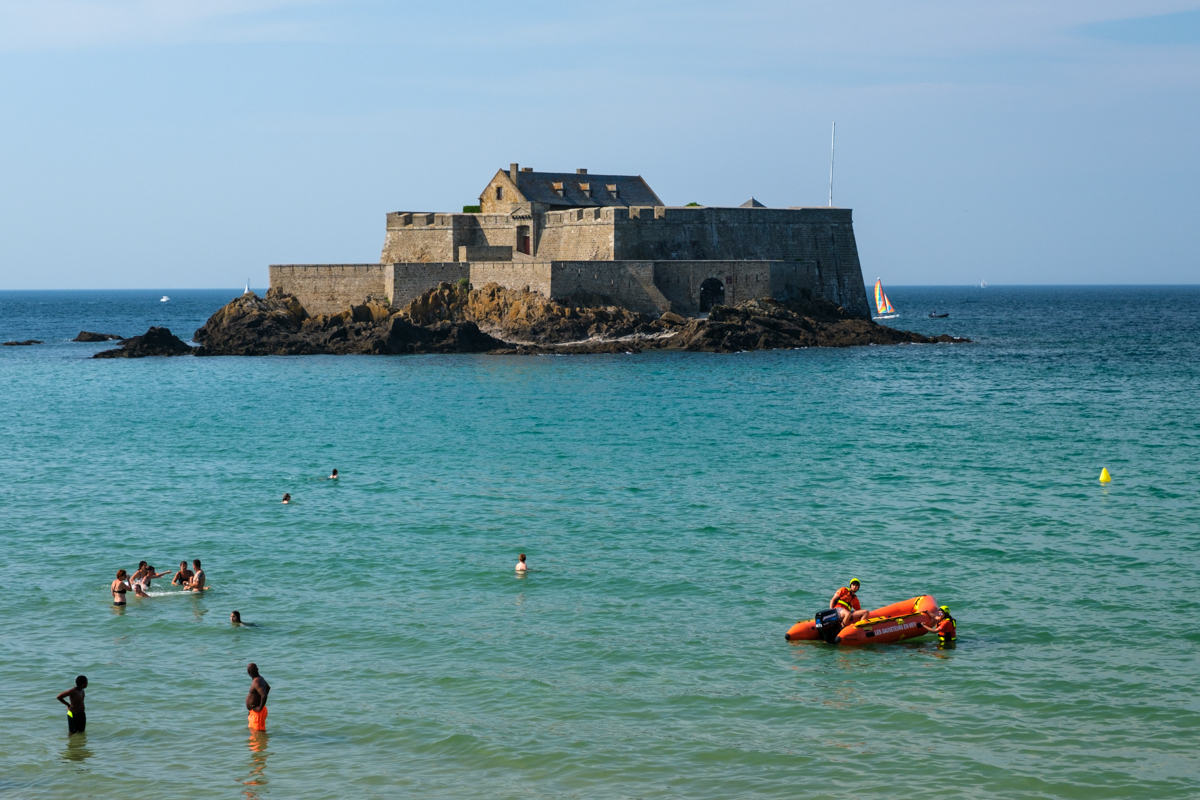 Dinan
Dinan is a charming town with beautifully preserved medieval architecture. To enter the town you have to walk, or in our case attempt to bike, up a ridiculously steep cobbled lane. We wound up pushing the bikes most of the way through the throngs of amused pedestrians. The old town center has rows of half-timbered houses that lean together and somehow remain standing despite seeming pretty off-kilter.
We met a fellow around-the-world cyclist from France who also had a Surly, and it was fun chatting with a bike tourist that had similar goals.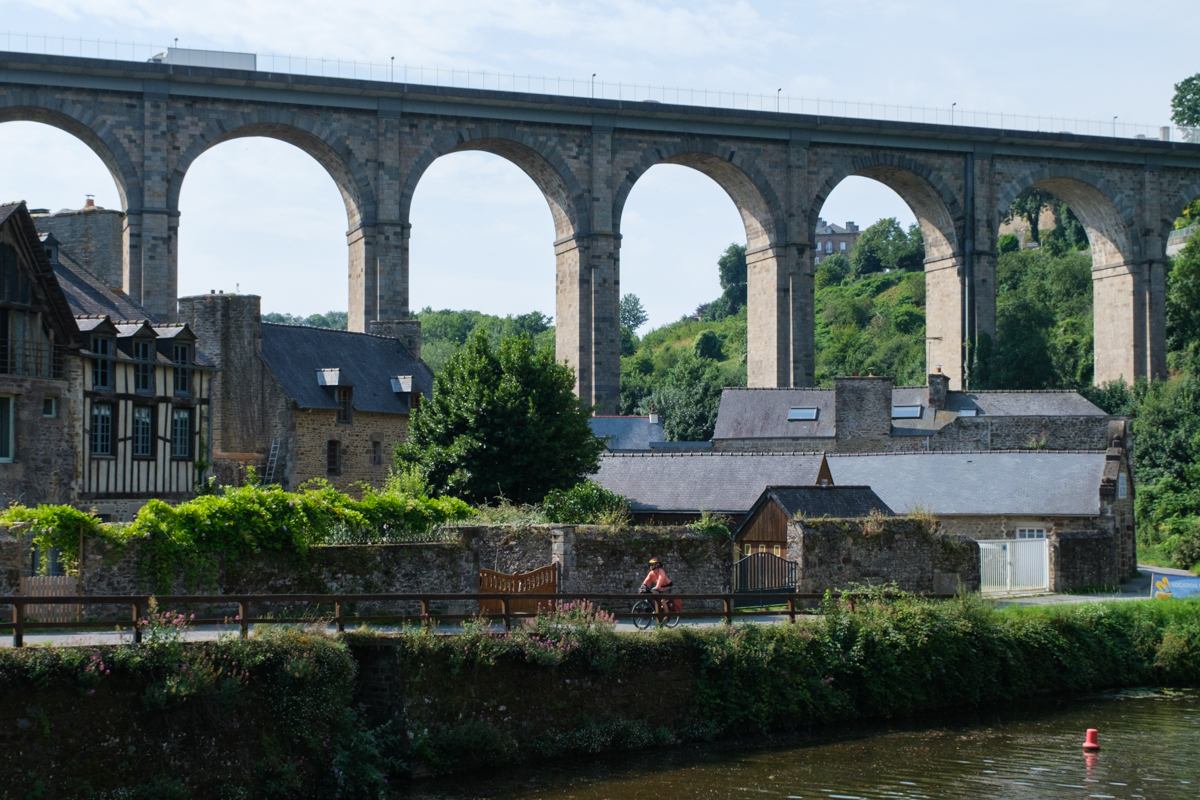 Rennes
Rennes is the administrative capital of Brittany and a bustling university city. We got some really fantastic doner kebab here in addition to meandering around the town center. We don't have any photos because we were too focused on finding and eating the kebab.
Connecting to Nantes
We rode some great canal towpaths to eventually connect to Nantes, where we joined with the EuroVelo 6. Read about this section of our journey here. The French Vélo Tourisme website is a great resource for planning a bicycle tour in France – we rode portions of several local cycling paths to put our route together. France is one of our all-time favorite places we've ever bicycle toured, and there is still so much of the country that we've yet to see.
Video that includes this section of our route: