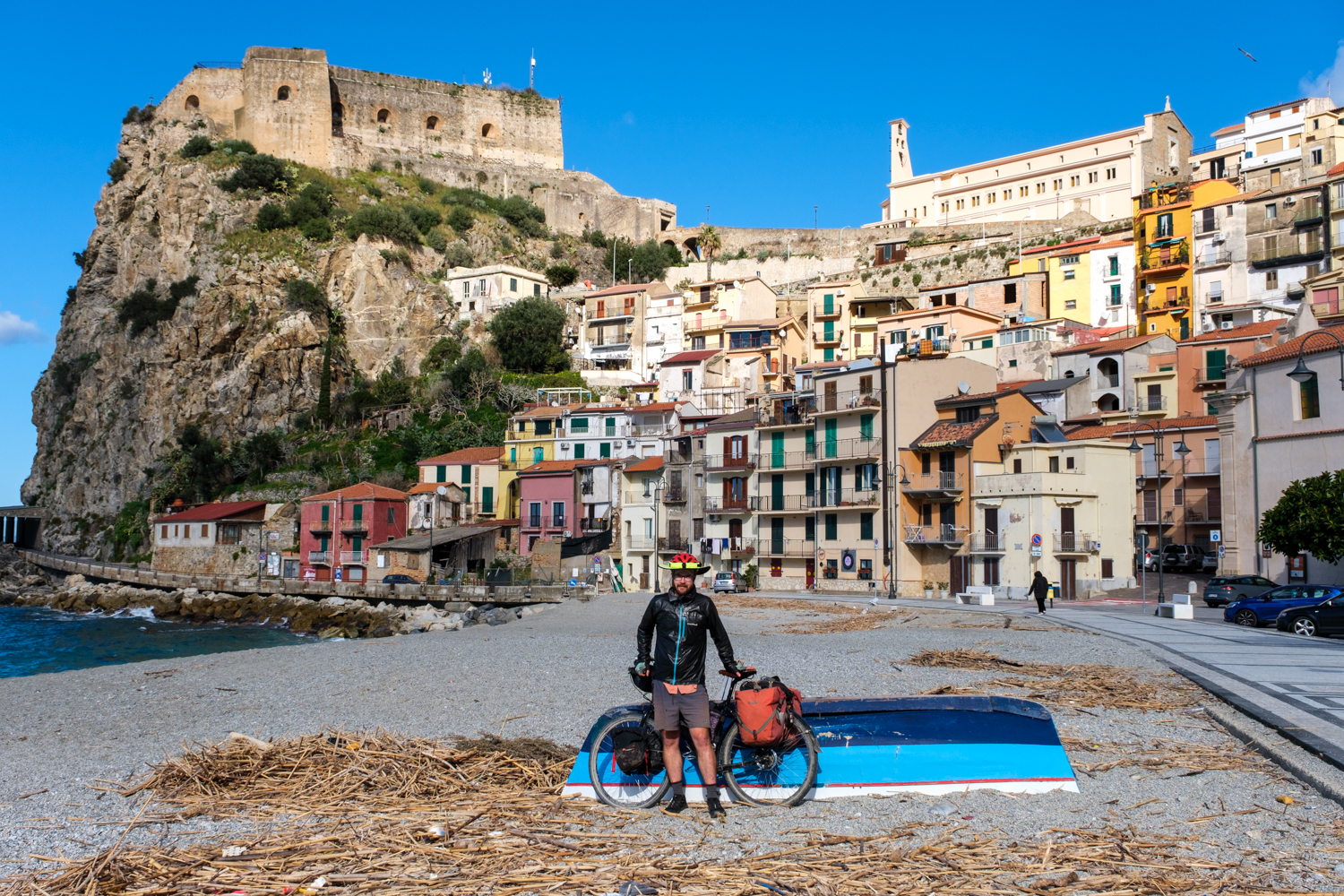 Bicycle Touring Southern Italy
We spent about two weeks bicycle touring Southern Italy from Bari to Villa San Giovanni, where we crossed by ferry to Sicily. Southern Italy is an amazing place to cycle during the winter. We lucked out with (mostly) sunny and wonderful weather, and Italy continuously astounds us with its incredible historic towns, delicious food, and friendly people.
Route
Download the GPX track of our Southern Italy tour. NOTE: This is not a polished route and is intended for research/planning purposes only. There were several cases where we wound up bushwhacking, pushing along the beach, or accidentally trespassing, so bear that in mind.
Ferry from Patras to Bari
We took an overnight ferry from Patras to Bari, which took about 17 hours. Luckily we arrived at the ferry terminal over an hour early, because we learned upon checking in that we needed a negative Covid rapid test to board the ferry. Slightly panicked, we rode our bikes as fast as possible to a nearby testing center and got our results surprisingly quickly.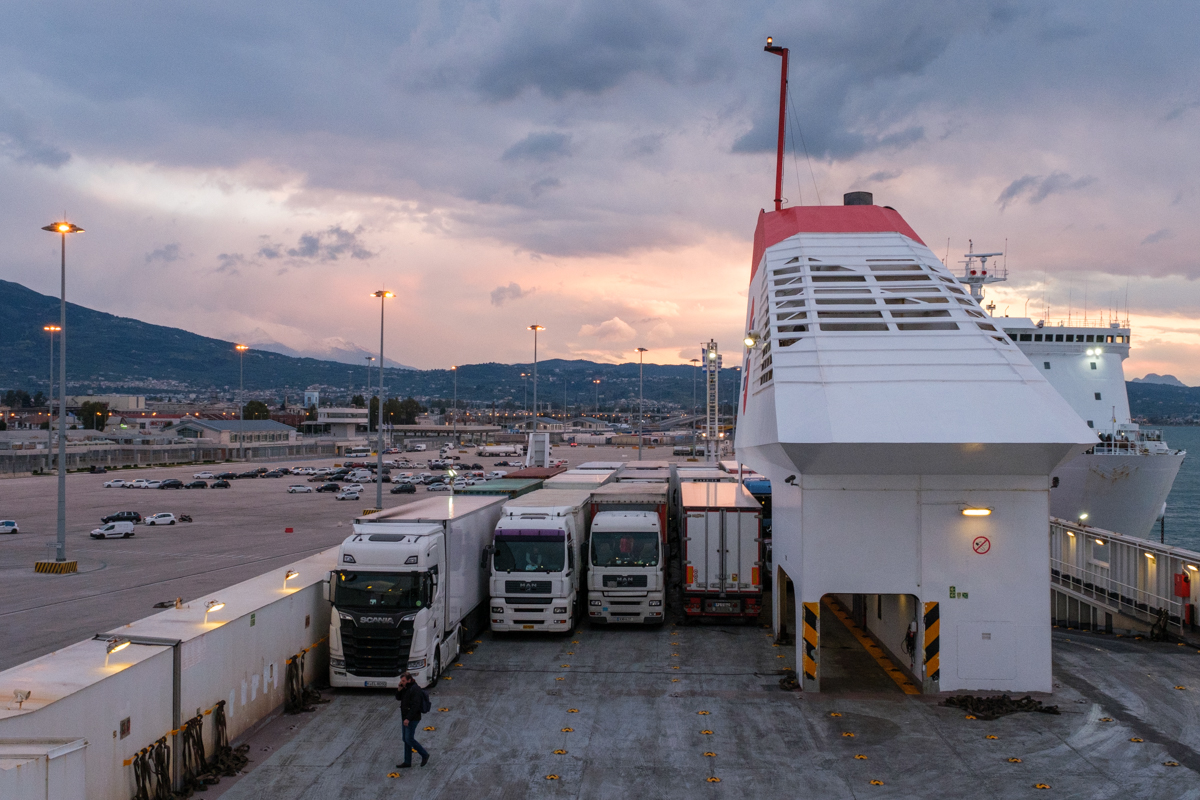 Onboard the ferry, we claimed some couches in the lounge to sleep on since we bought economy tickets rather than a private cabin. It seemed like an OK idea at the time, since we have slept in many an airport terminal on our sleeping pads. Unfortunately, it turned out that most of the ferry passengers were truckers who preferred to hang out in the lounge until 3am and listen to music. You can't really complain that much when you're sleeping in a public space, so we put in our earplugs and got as much rest as we could.
Bari
We stayed in the old town of Bari for a few days to rest up and plan our route through Southern Italy. Bari is an incredibly charming city and we were glad we decided to stay awhile. It's famous for the Basilica San Nicola, a 12th century church whose crypt holds some of the bones of St. Nicholas.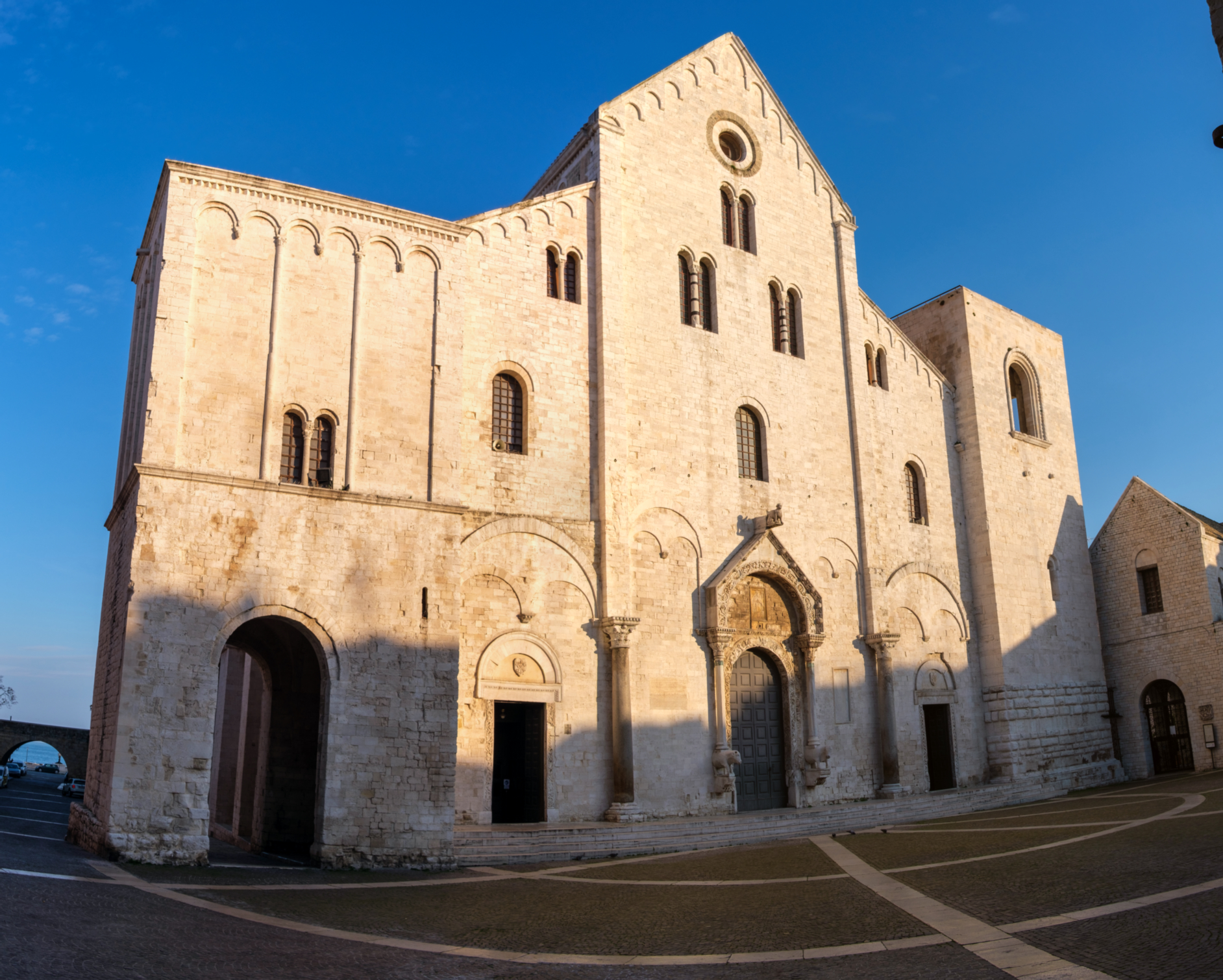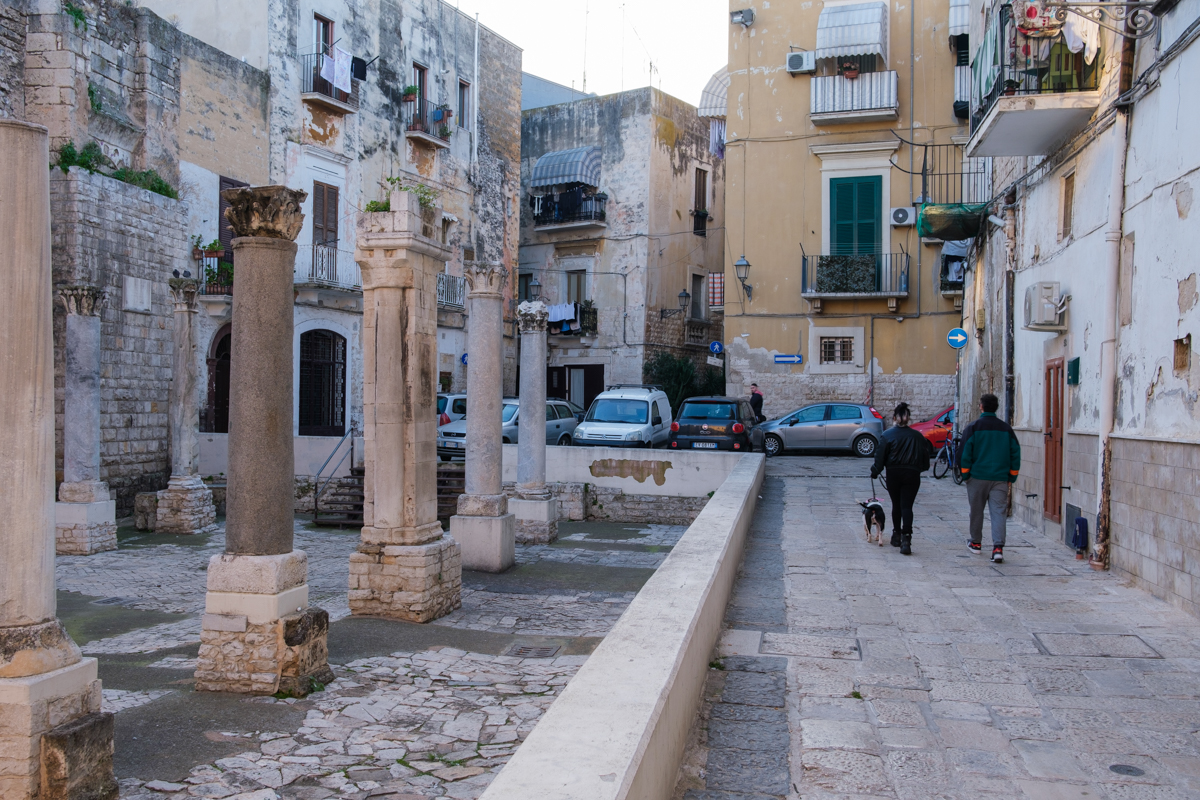 We also gorged ourselves on Italian food – pizza, orecchiette pasta (typical of the Puglia region), skirt steak sandwiches, and Jenny tried octopus for the first time (it wasn't her favorite).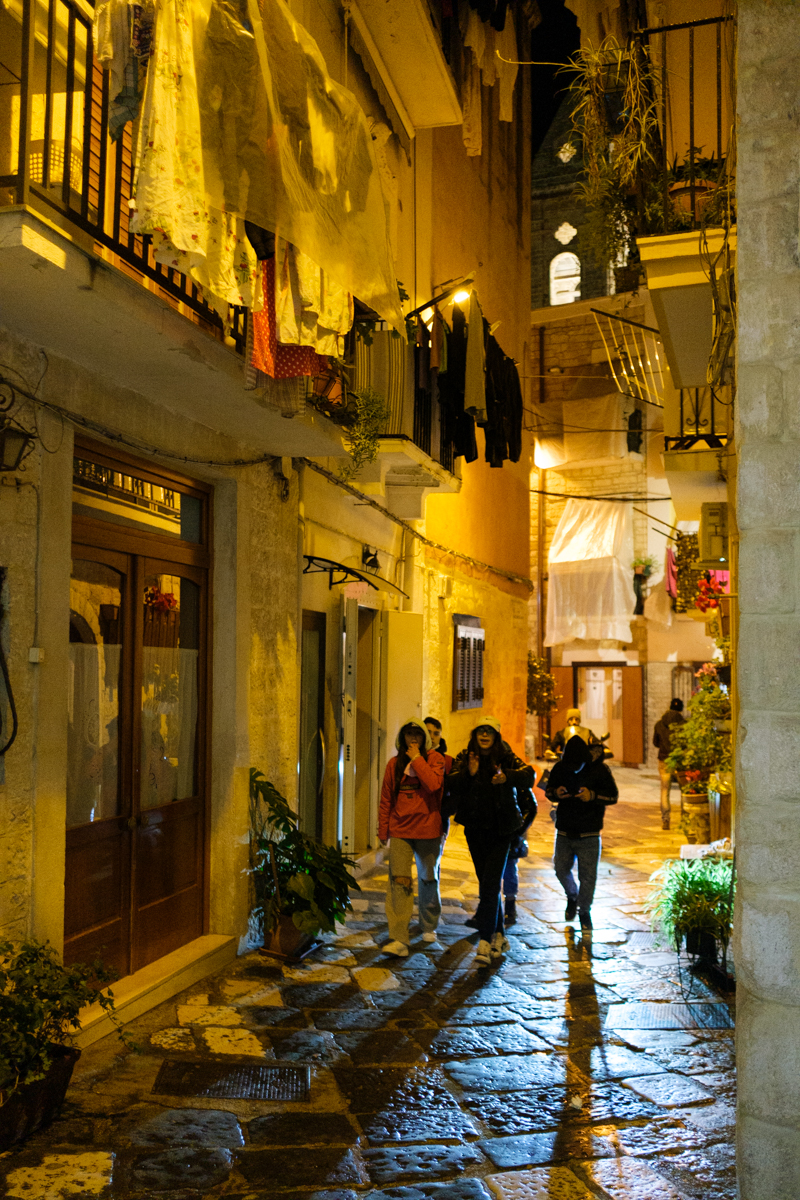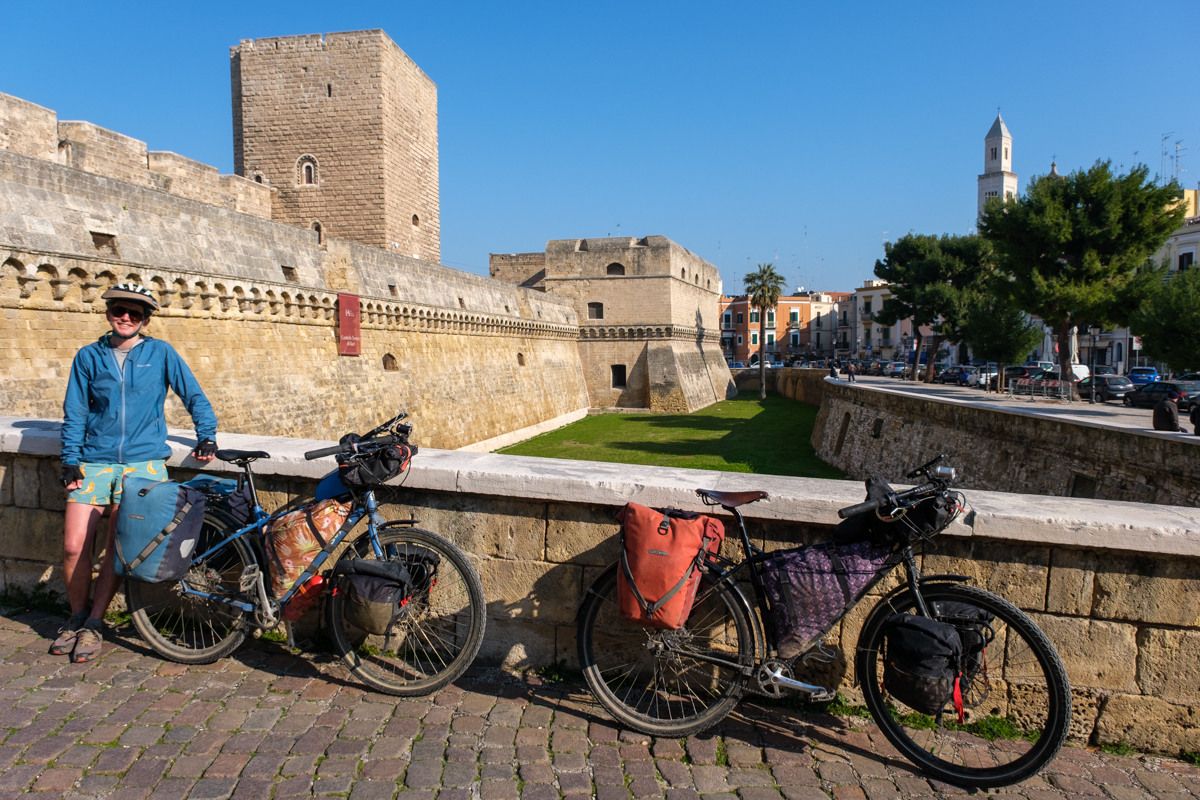 Small Towns of Puglia
After leaving Bari, it seemed like every town we rode through was more beautiful than the last. Even the tiny towns we visited had lovely old town centers with centuries-old churches and narrow cobbled streets. We followed a Bicitalia route through quiet olive groves that was very enjoyable, though getting out of Bari was pretty hectic.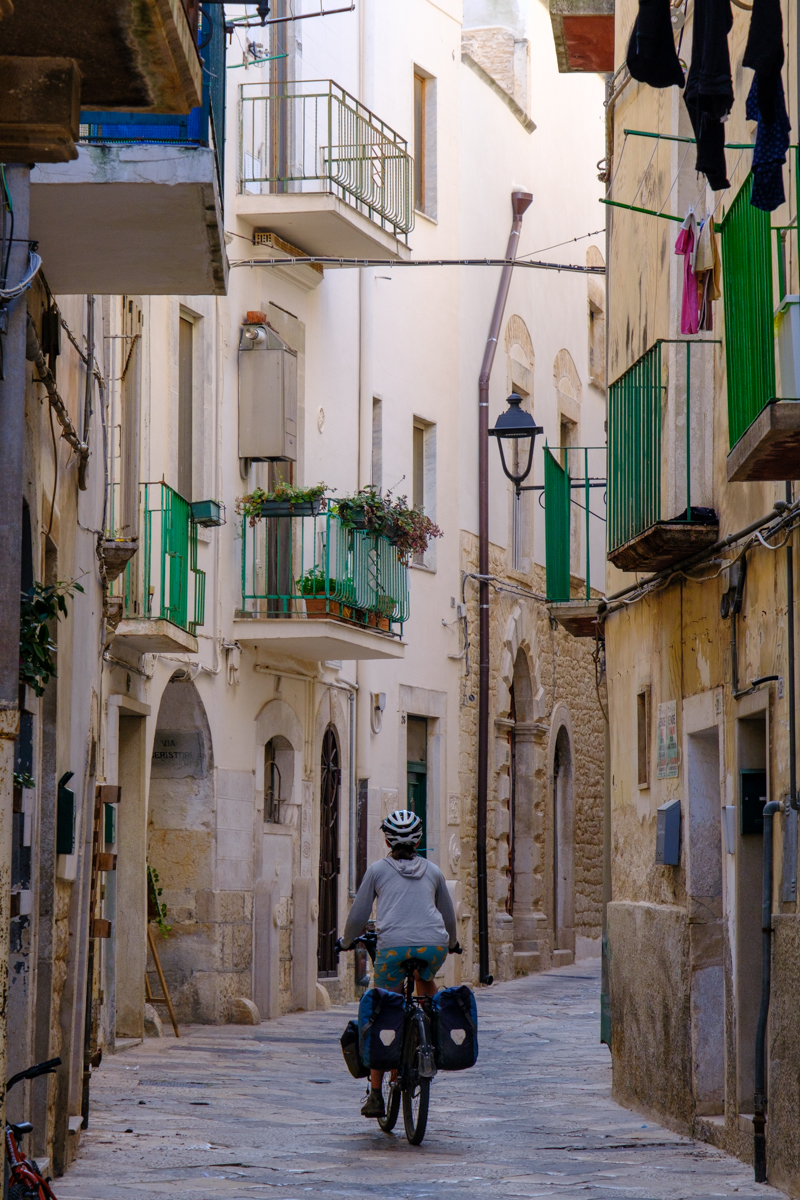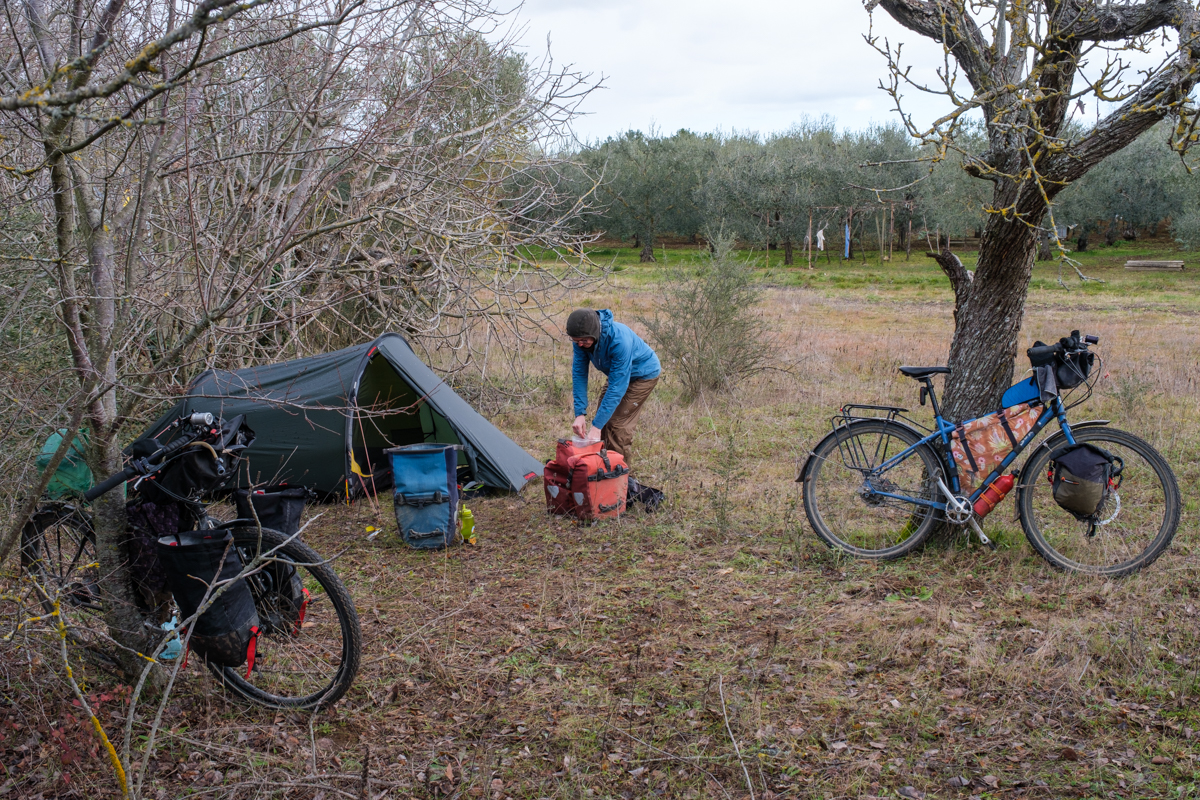 Matera: A Troglodytic Village
Our AirBnB hosts in Bari mentioned Matera as a popular excursion, but we didn't really know too much about it before visiting. Our first view of the city was a jaw-dropping overlook of the expansive old town, built primarily of polished white tufa. The regal Duomo sat on a hill above the city, and ancient homes were carved into the cliffs below it.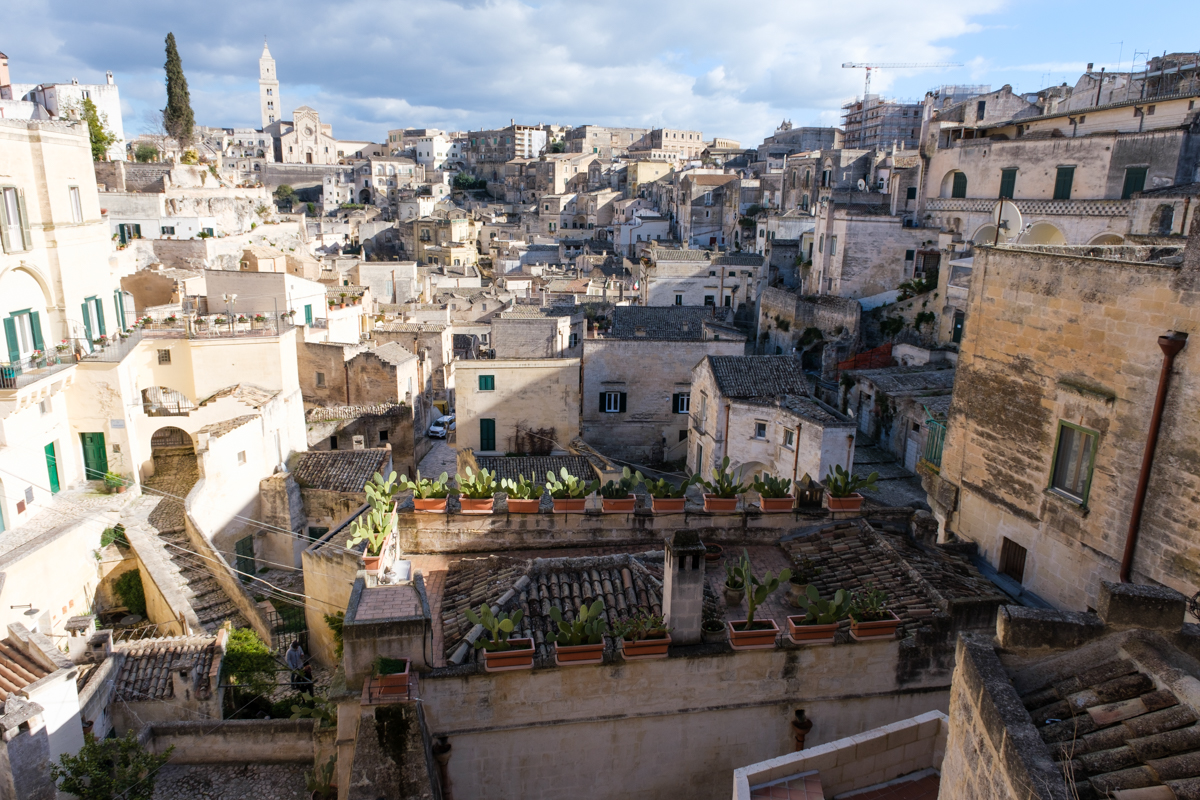 We parked our bikes in one of the piazzas and took turns exploring the town on foot since the many staircases made the bicycles cumbersome. There were a plethora of historic churches with well-preserved frescoes and enchanting views around every corner.
We were surprised to learn that much of the old city of Matera was evacuated in the 1950s due to poor living conditions before being revitalized as a tourist destination in the 1980s. The historic center is now a UNESCO World Heritage site and might be one of the coolest towns we've ever seen.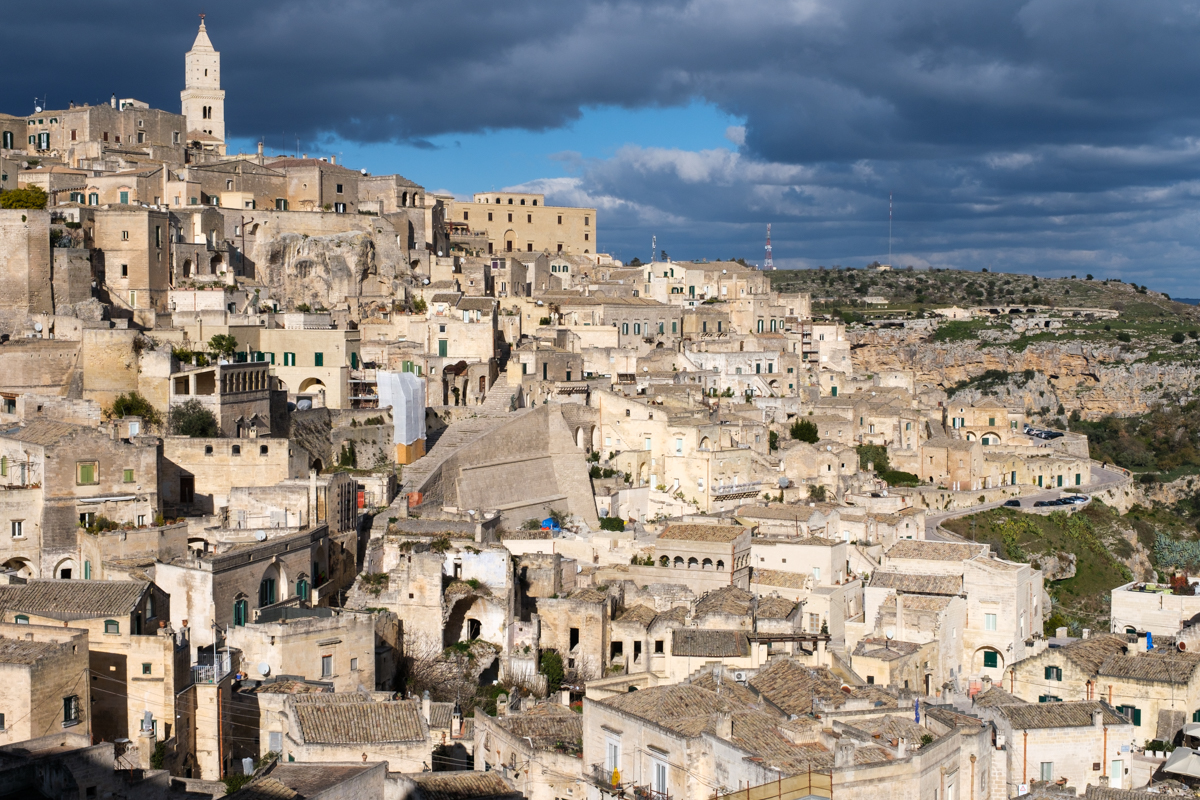 Peaceful Riding on Country Roads
After leaving Matera, we continued following the Bicitalia route on low-traffic country lanes and dirt farm roads. The winter light on rolling pastures was gorgeous, and this was a really fun section of riding. We passed by some more hill towns that looked beautiful, but since they're a pretty big commitment to ride up to, we couldn't see them all.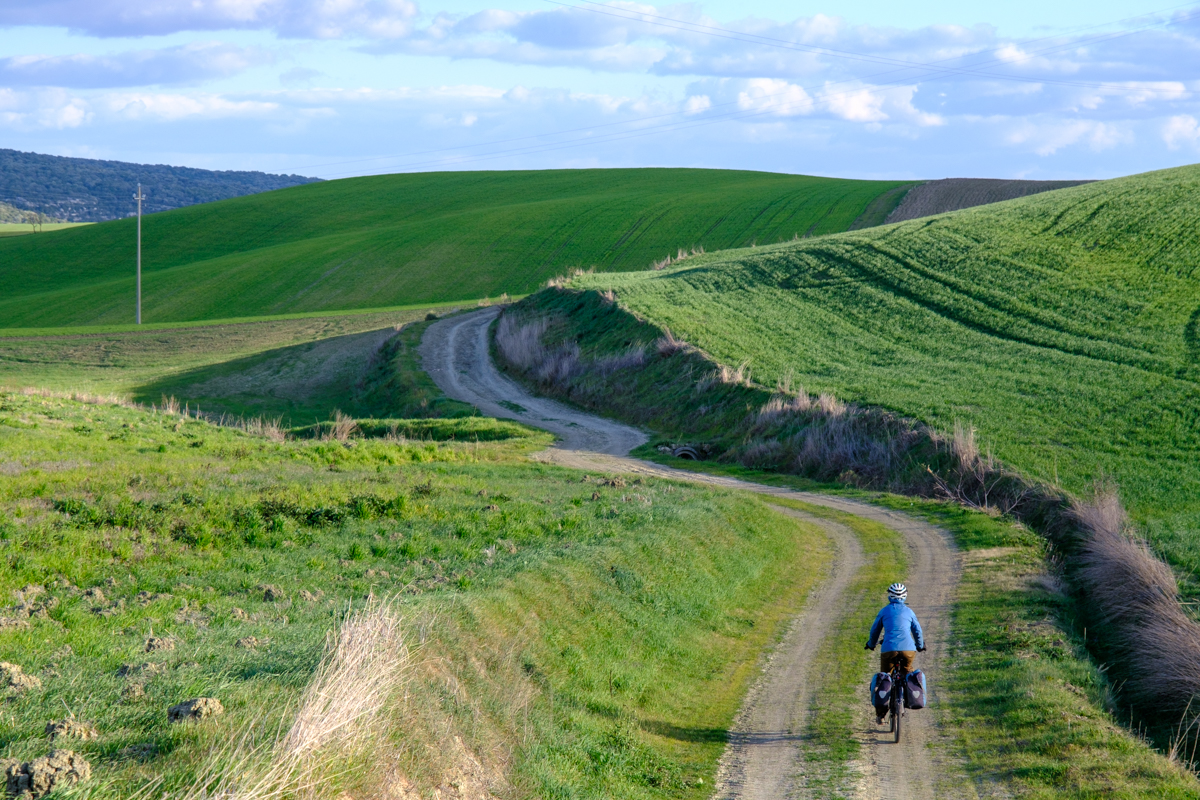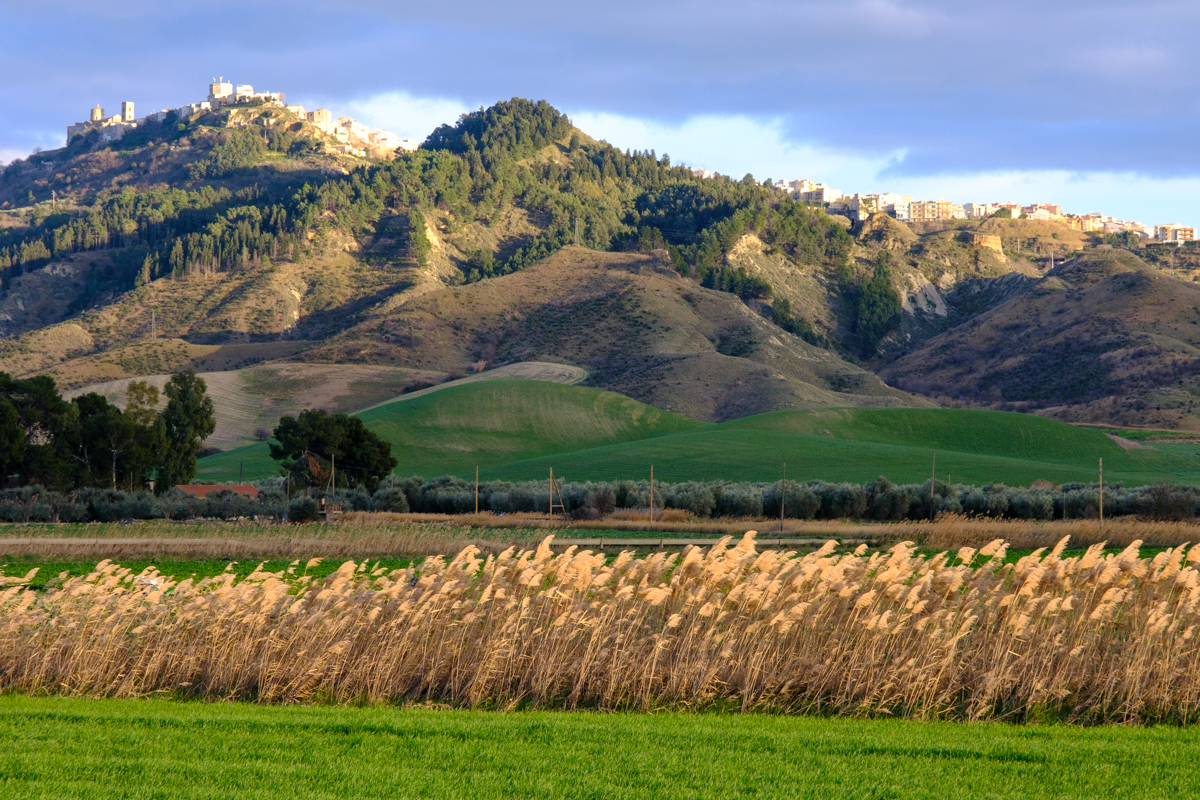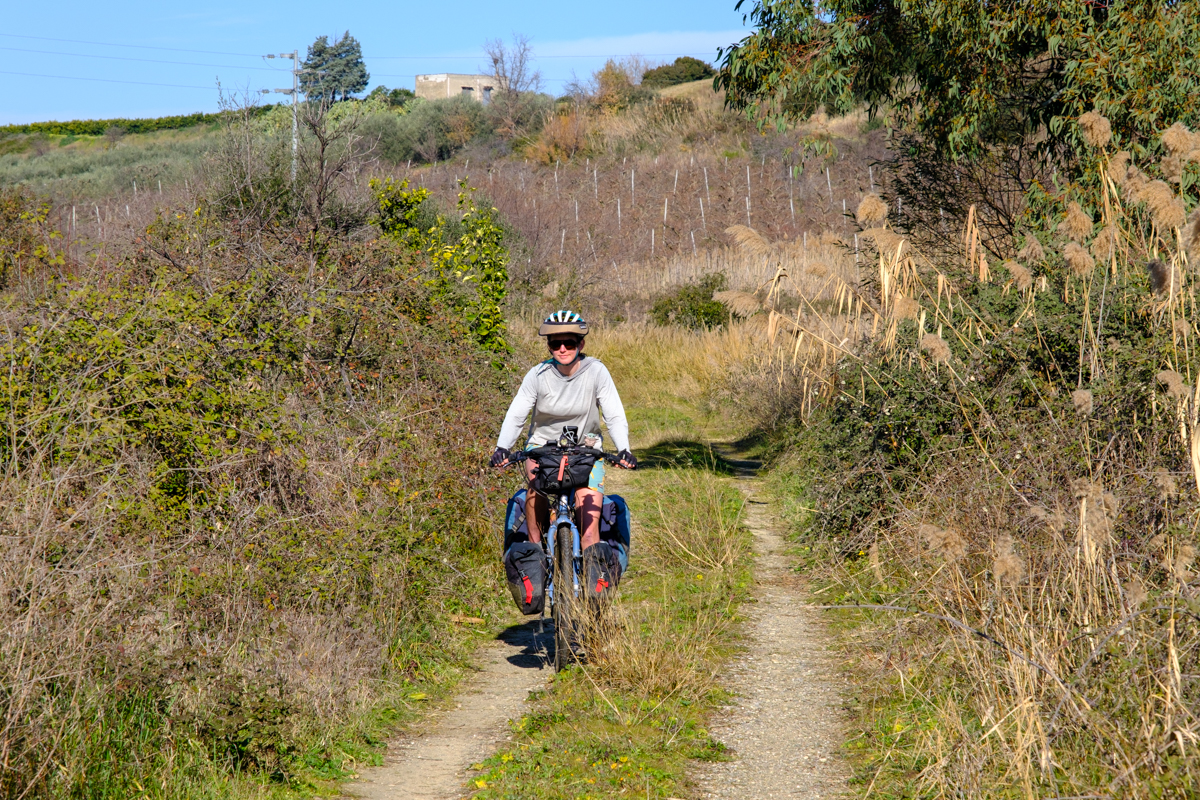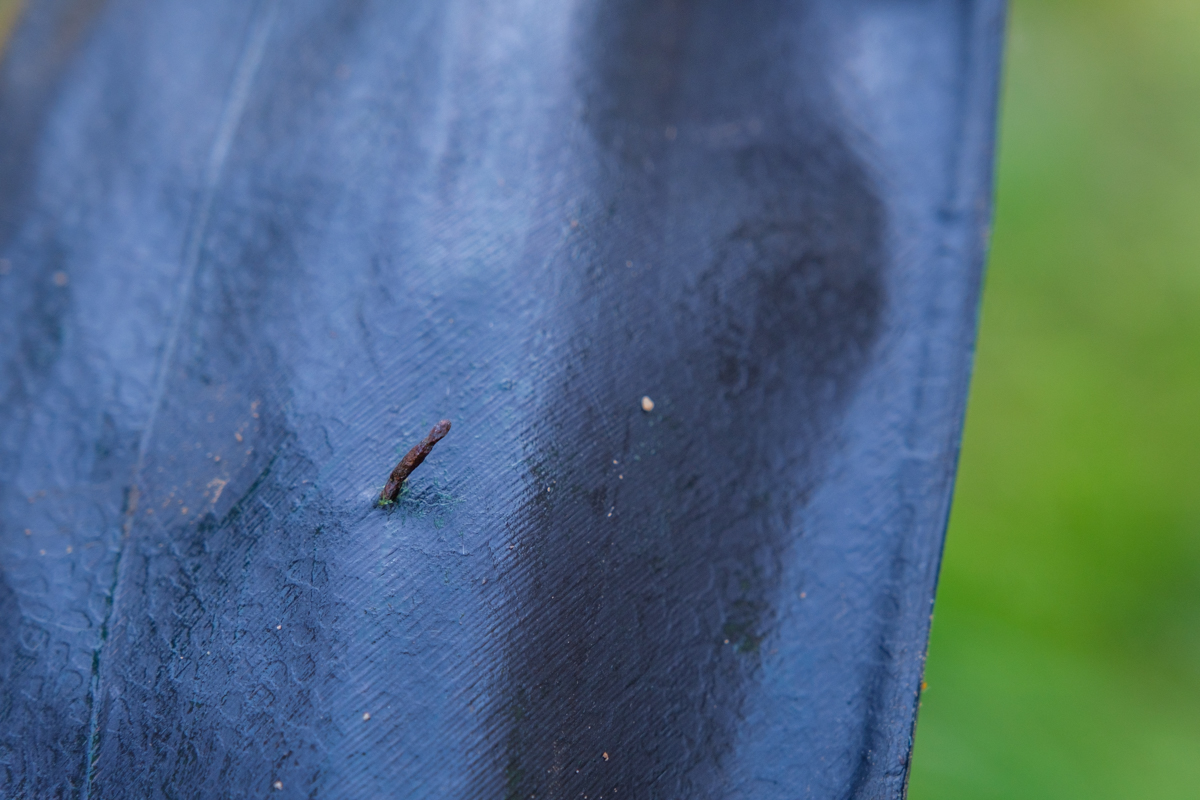 Route Dilemmas and Mountain Towns
The cycling route we were following was still in development, and it followed a busy highway for long stretches. After a short ride along the coastal highway, we decided we would rather make up our own route than be on a miserable traffic-packed road.
We cycled up into the hills, which required a lot of zig-zagging and roller coaster elevation changes, but it was much more enjoyable than the highway. We came to Rotondella in the evening near sunset, and we were amazed at the town perched on top of such a perfectly round hill. The ridge line byway between Rotondella and Oriolo was especially scenic, despite having very windy and chilly weather.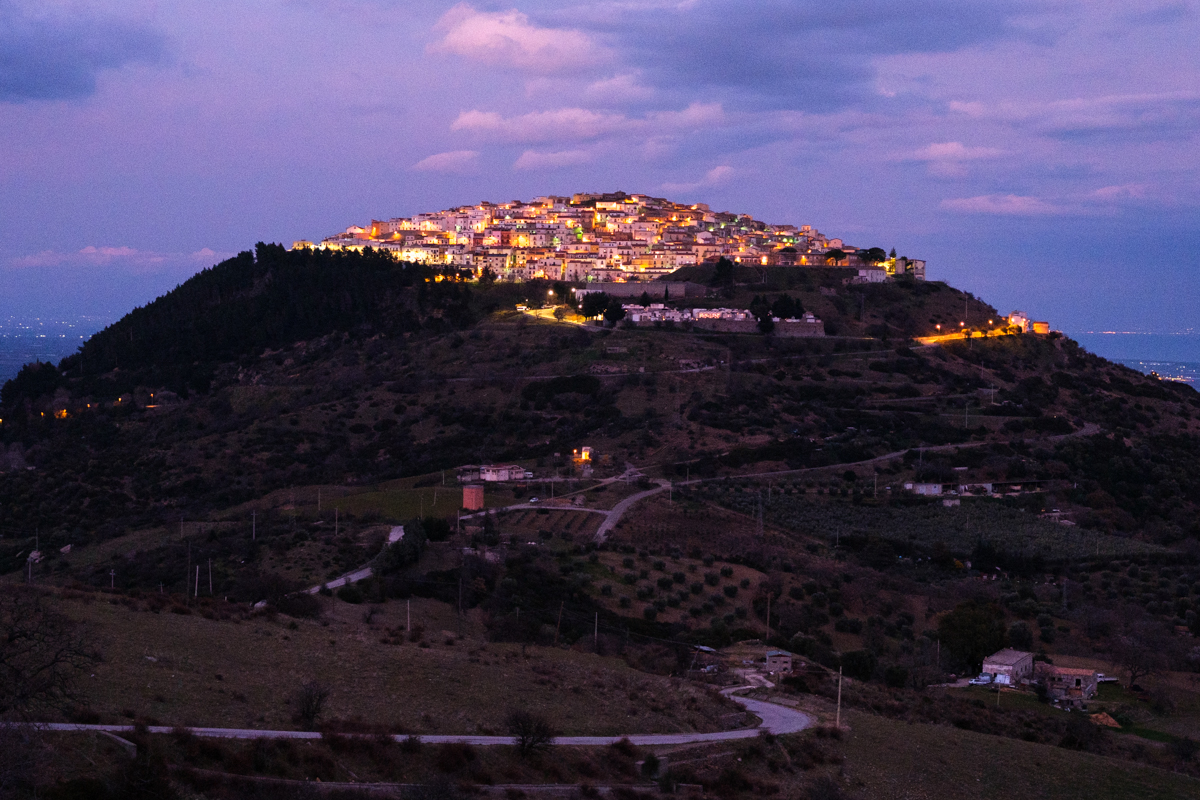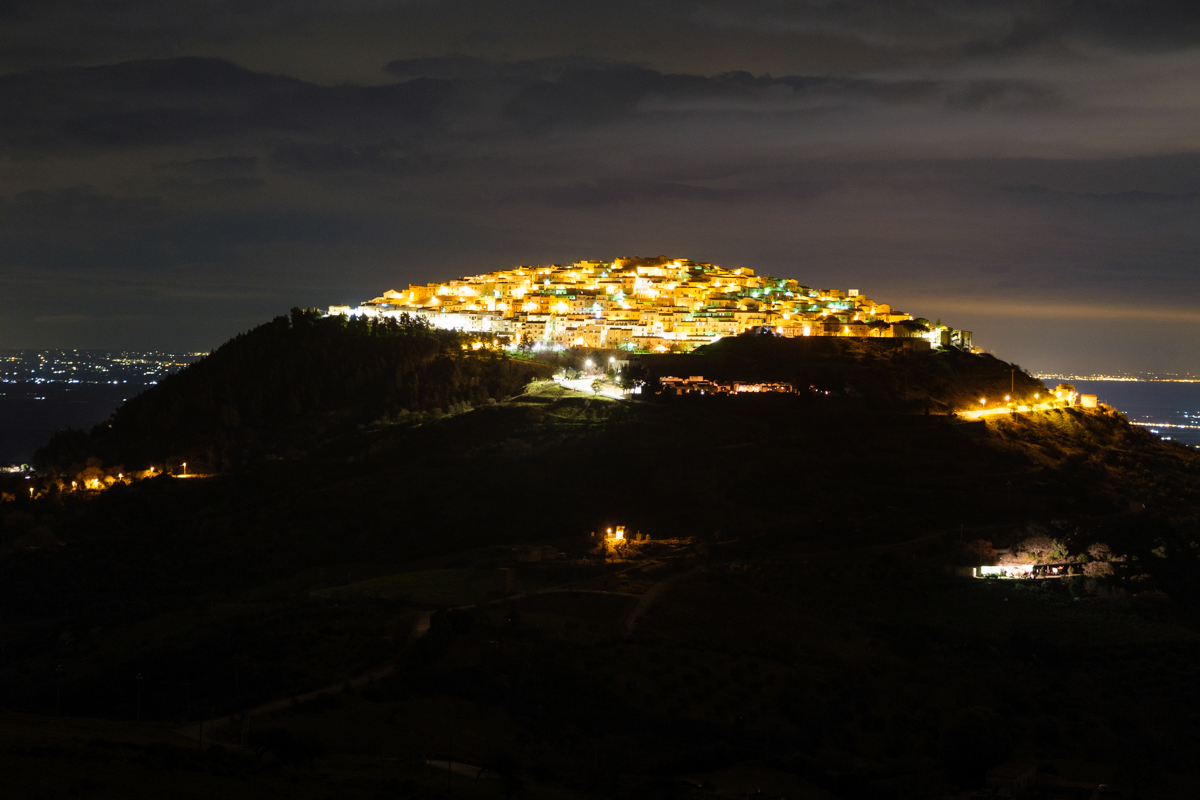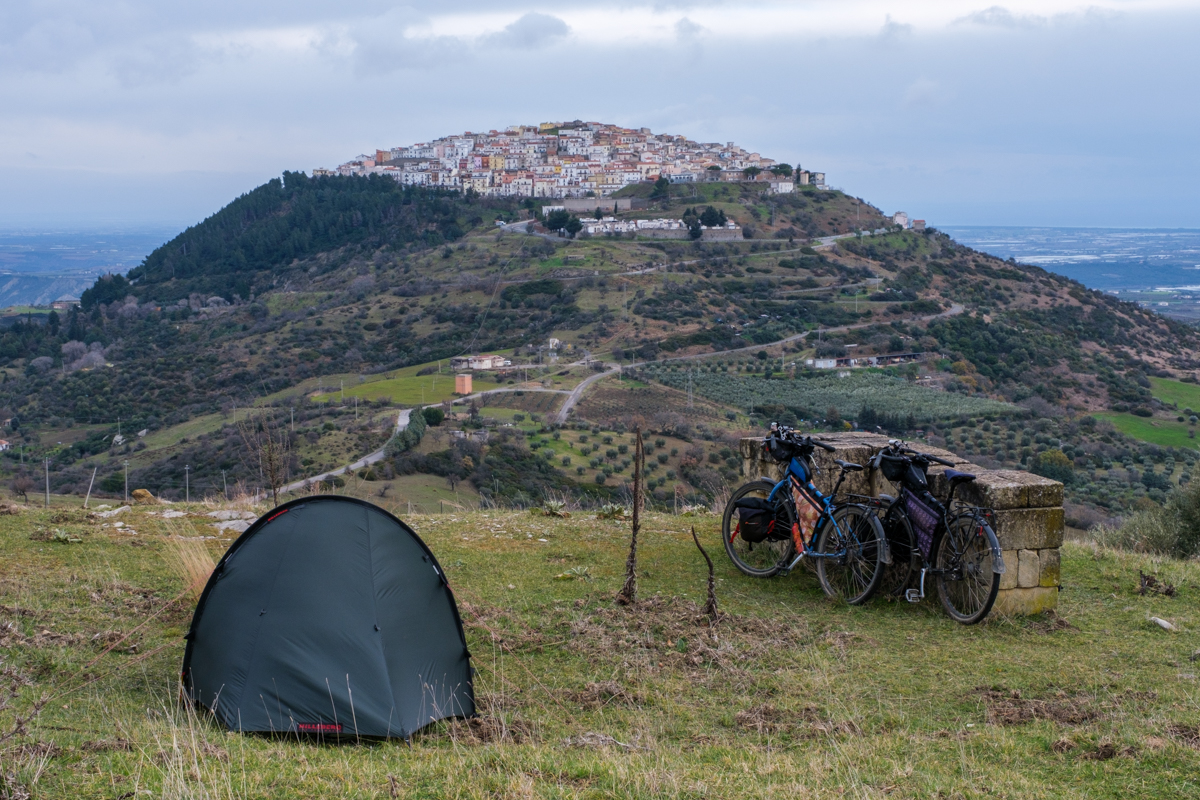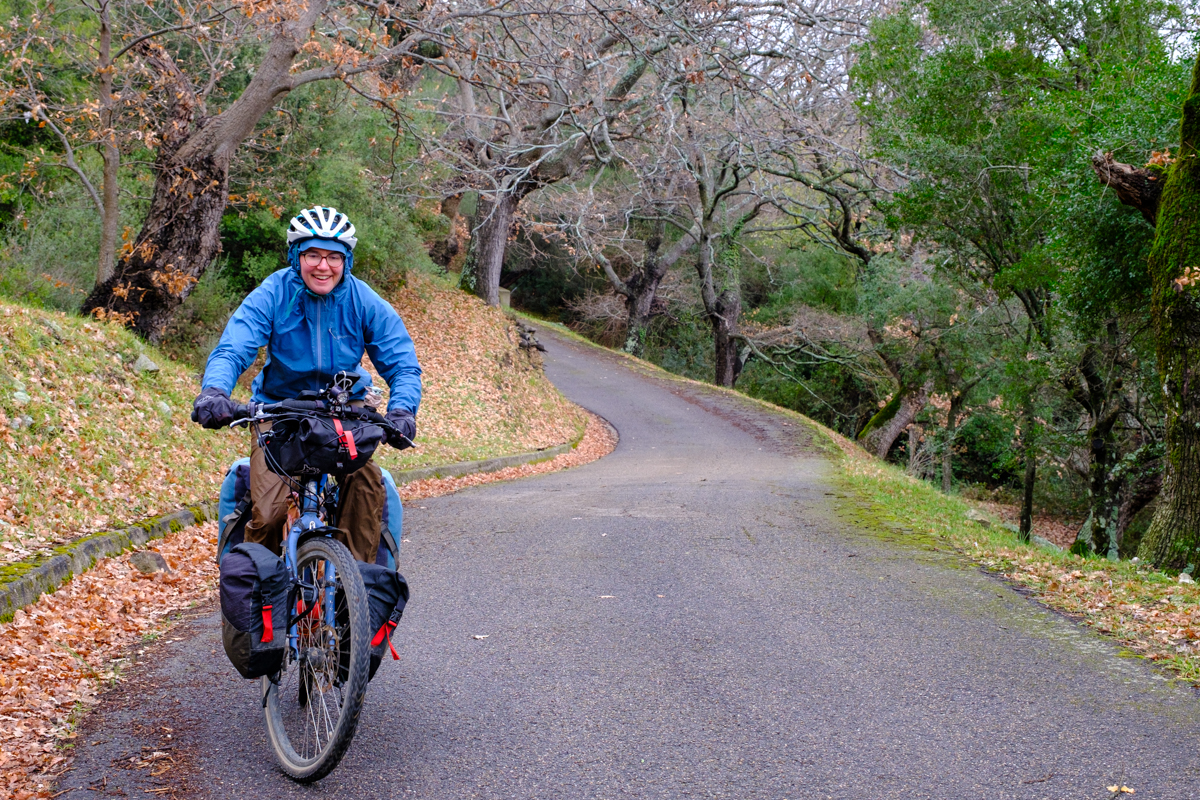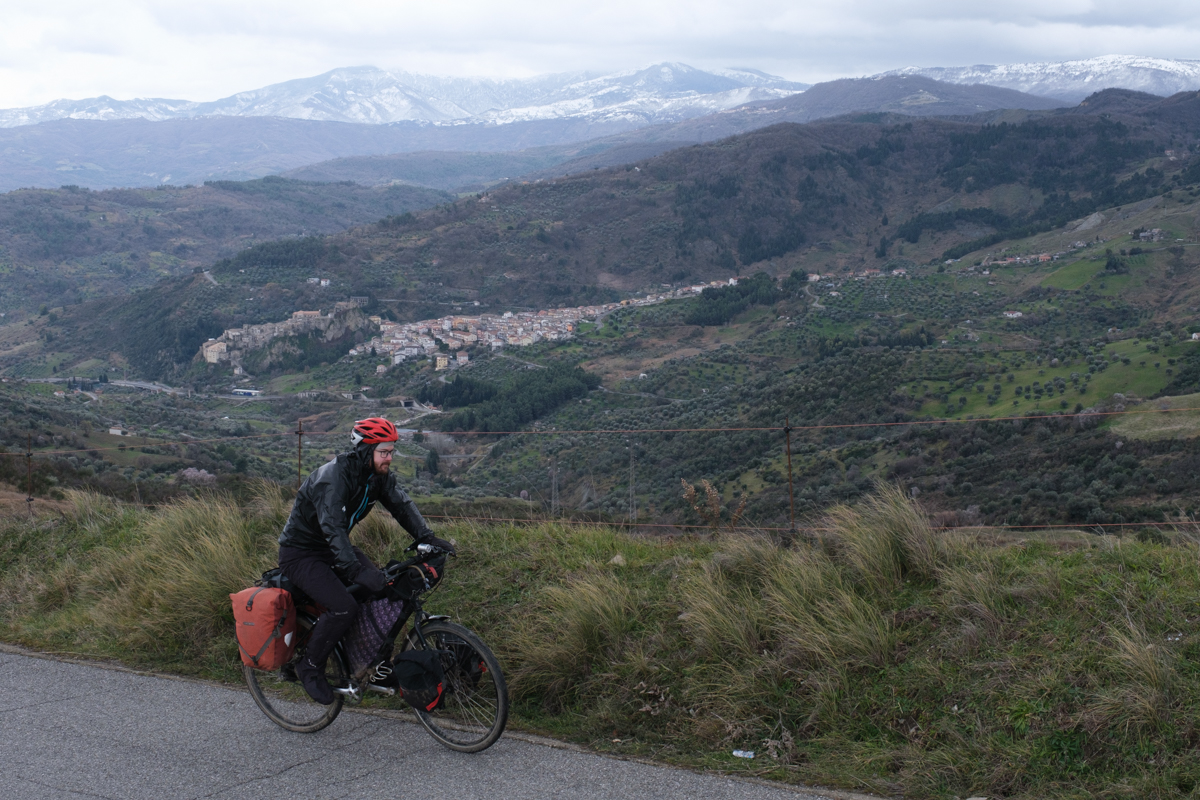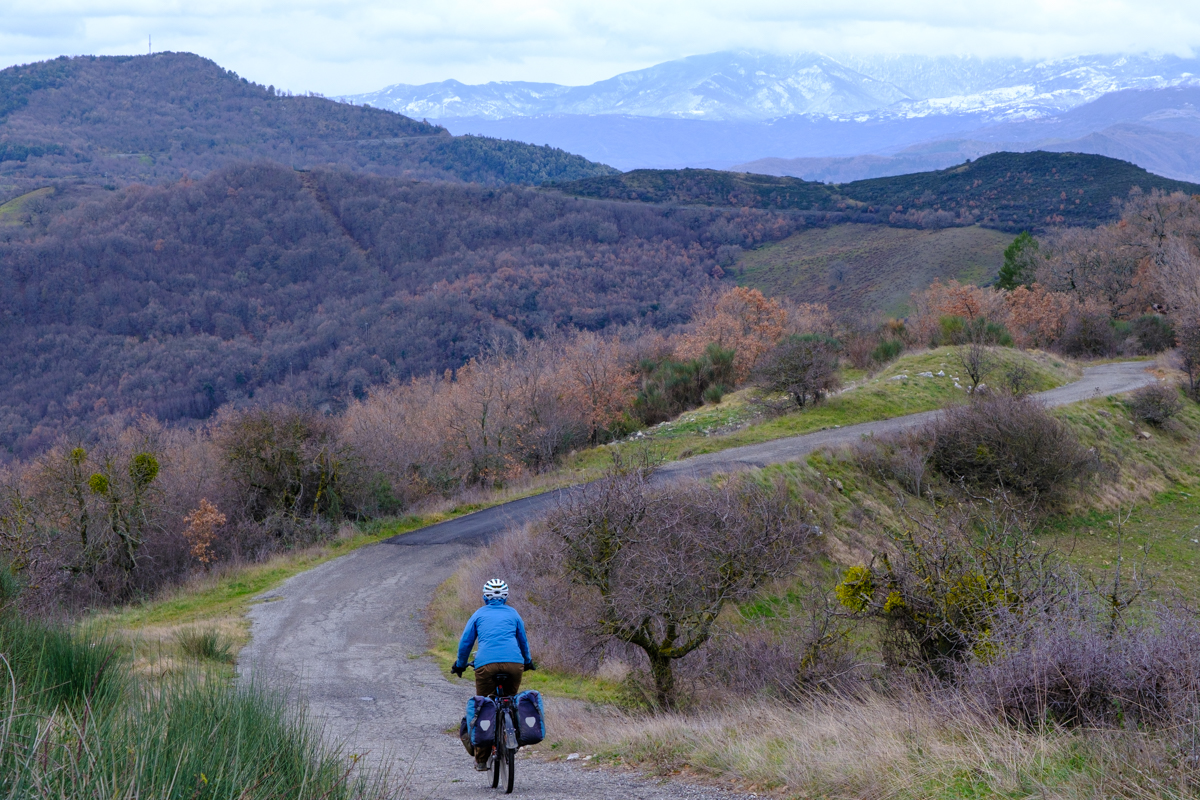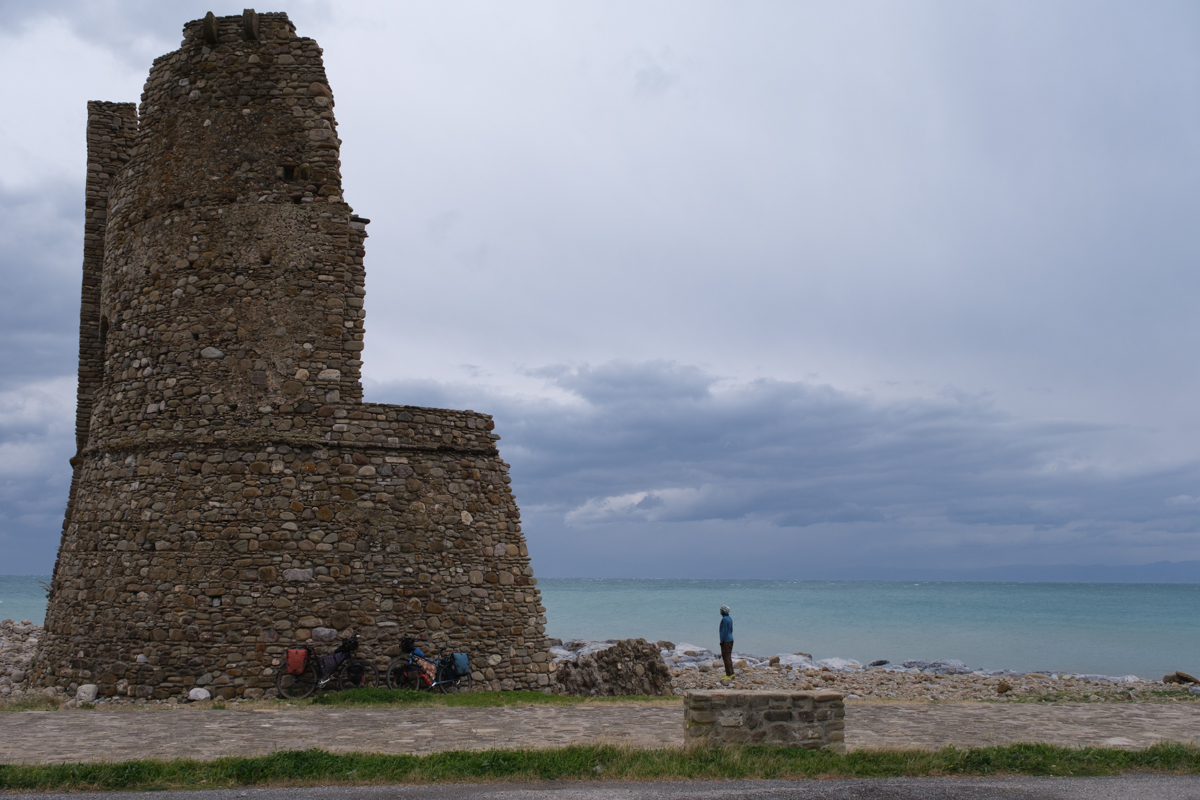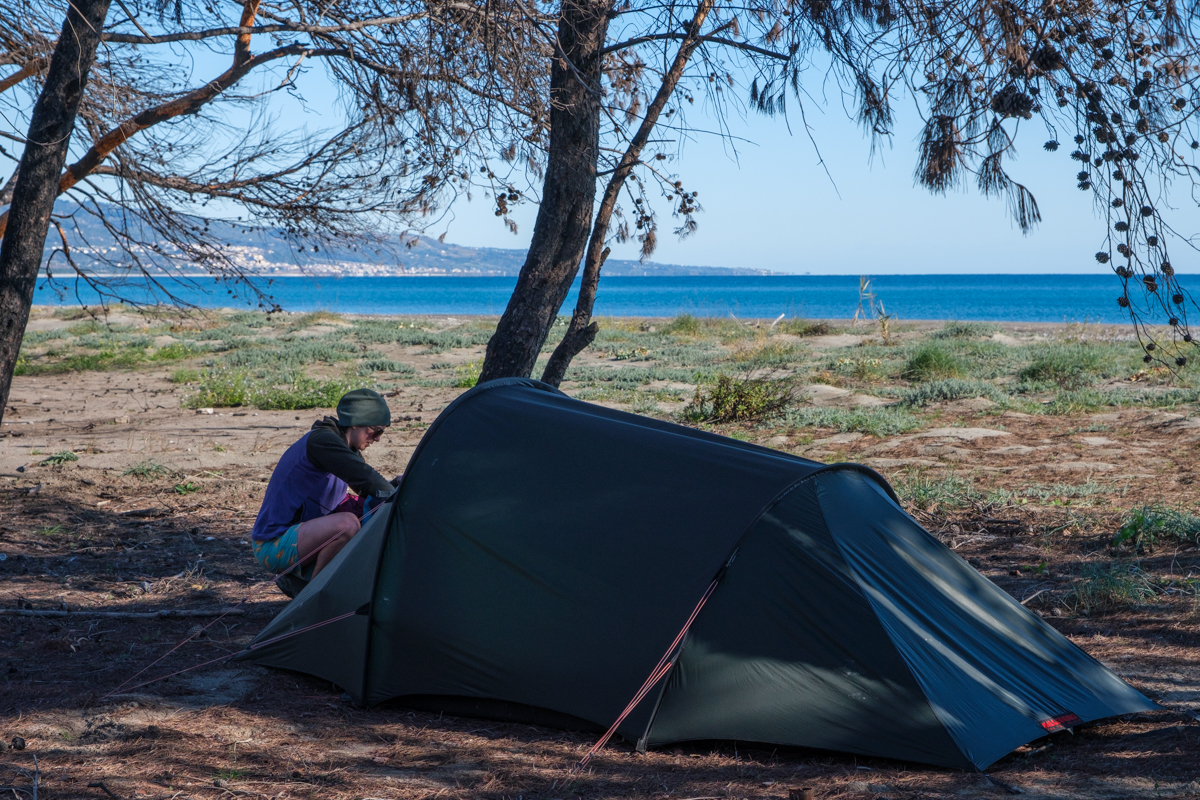 Adventures on Capo Rizzuto
The Magna Grecia cycling route is especially incomplete (so we learned the hard way), but the GPX track is available online and due to a translation error we thought it would at least be passable. After cycling on the highway the day before and making good miles with a tail wind, we decided to go ahead and see what the track had to offer, even if it would require some route finding.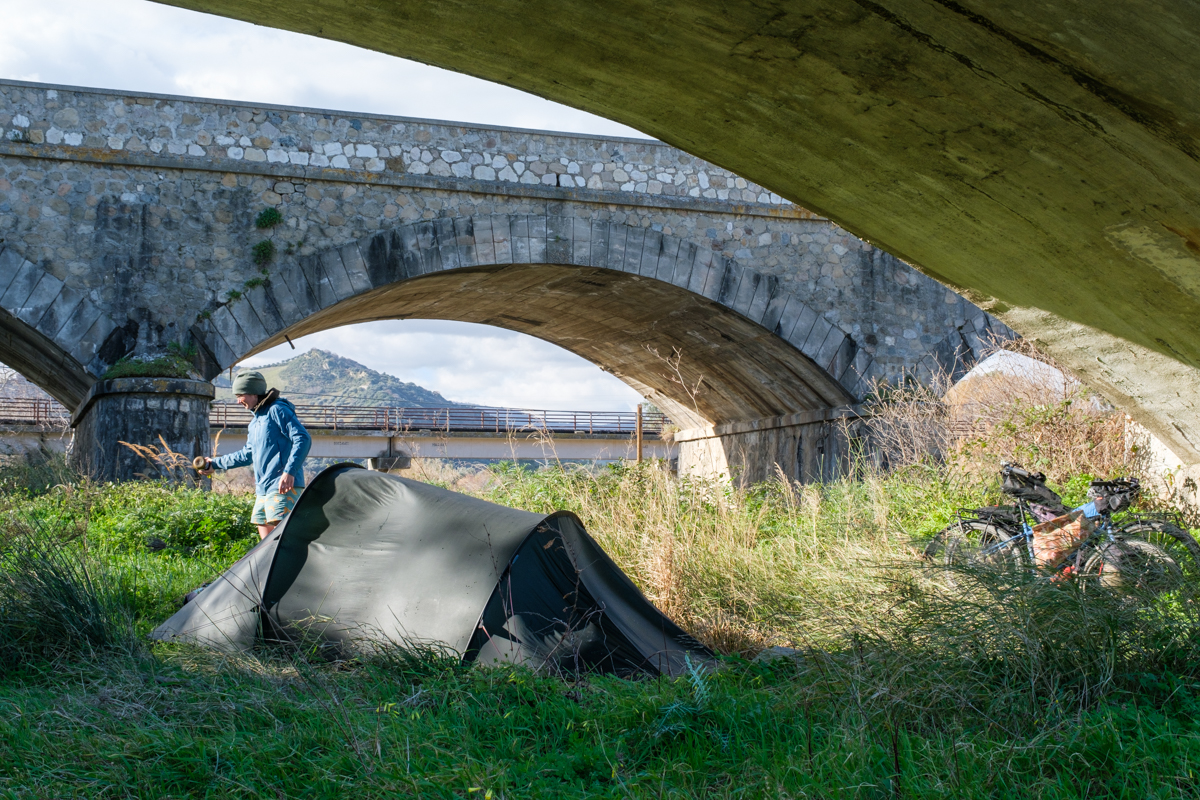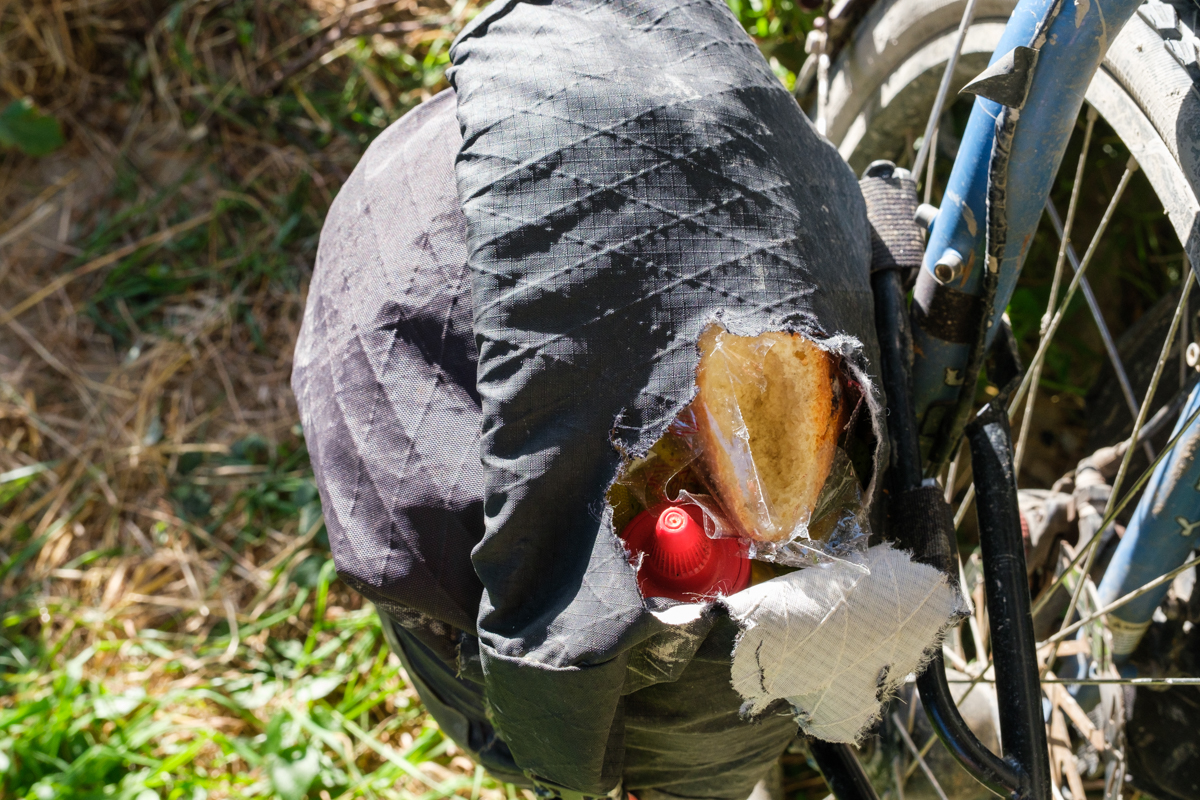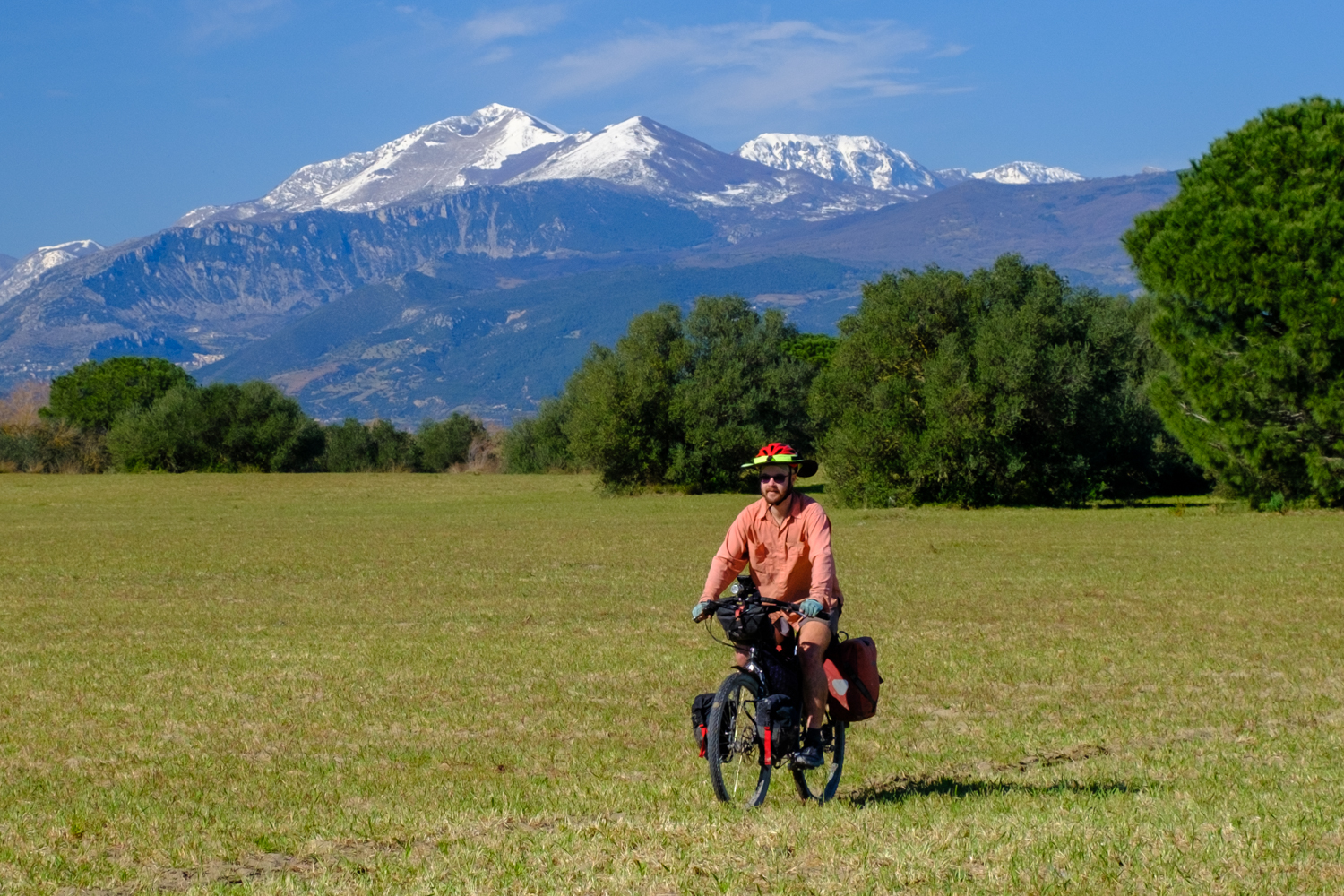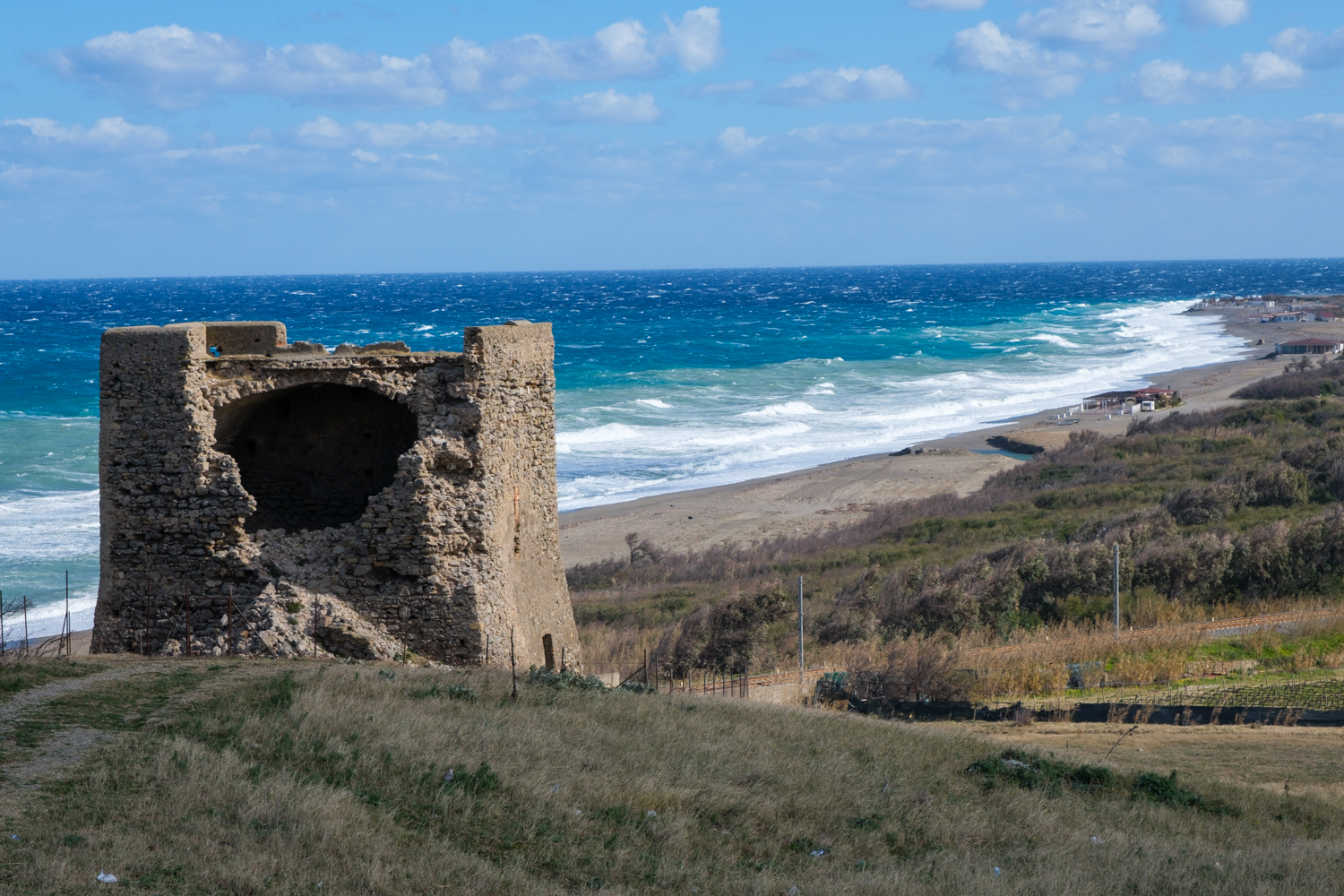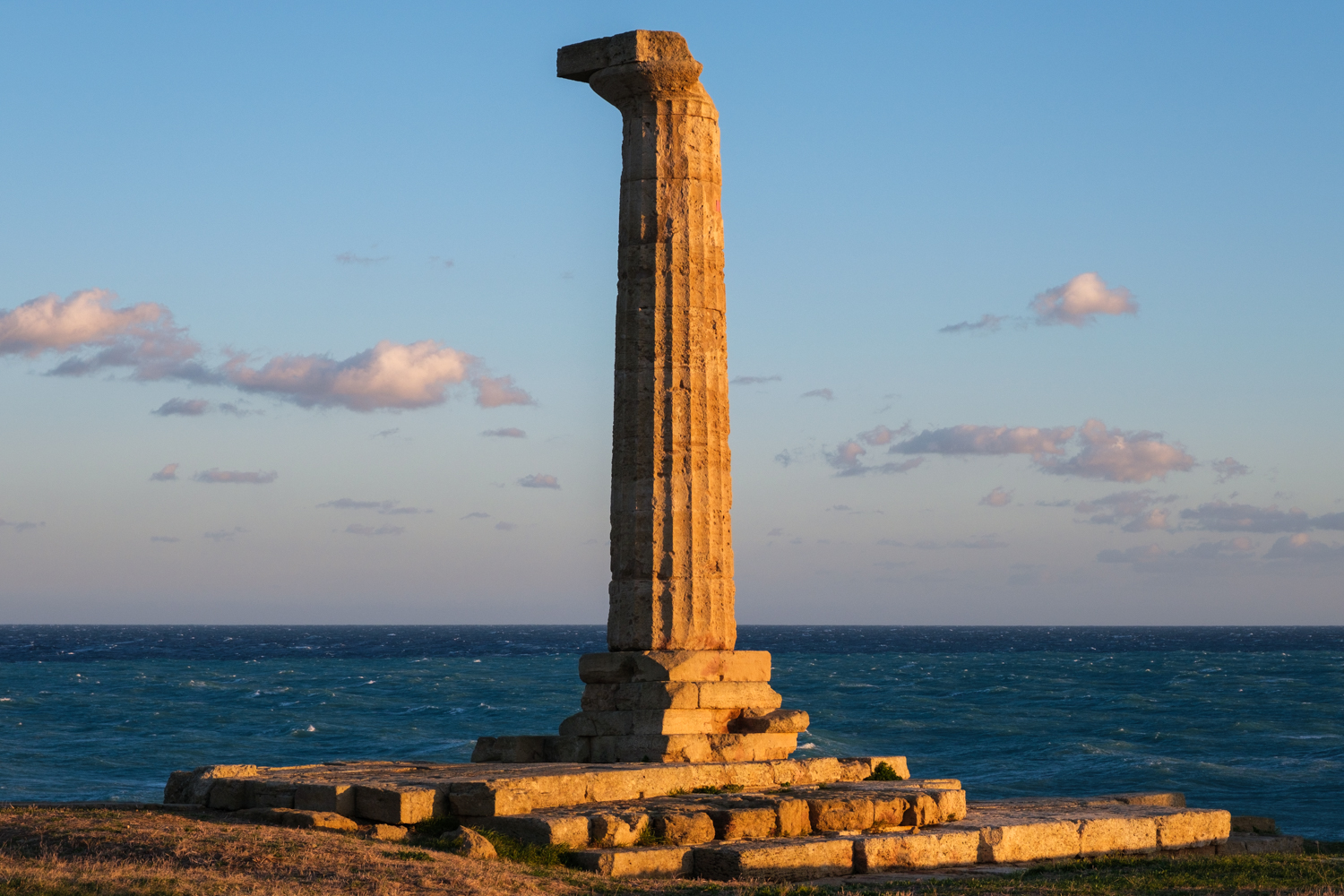 The route took us on dirt farm roads and some singletrack, which was really nice overall. However, there were several water crossings that didn't have a road or bridge or anything, and we just had to figure out a way to get across. This led to pushing our bikes down the beach and quite a bit of bushwhacking, but it was still a good time!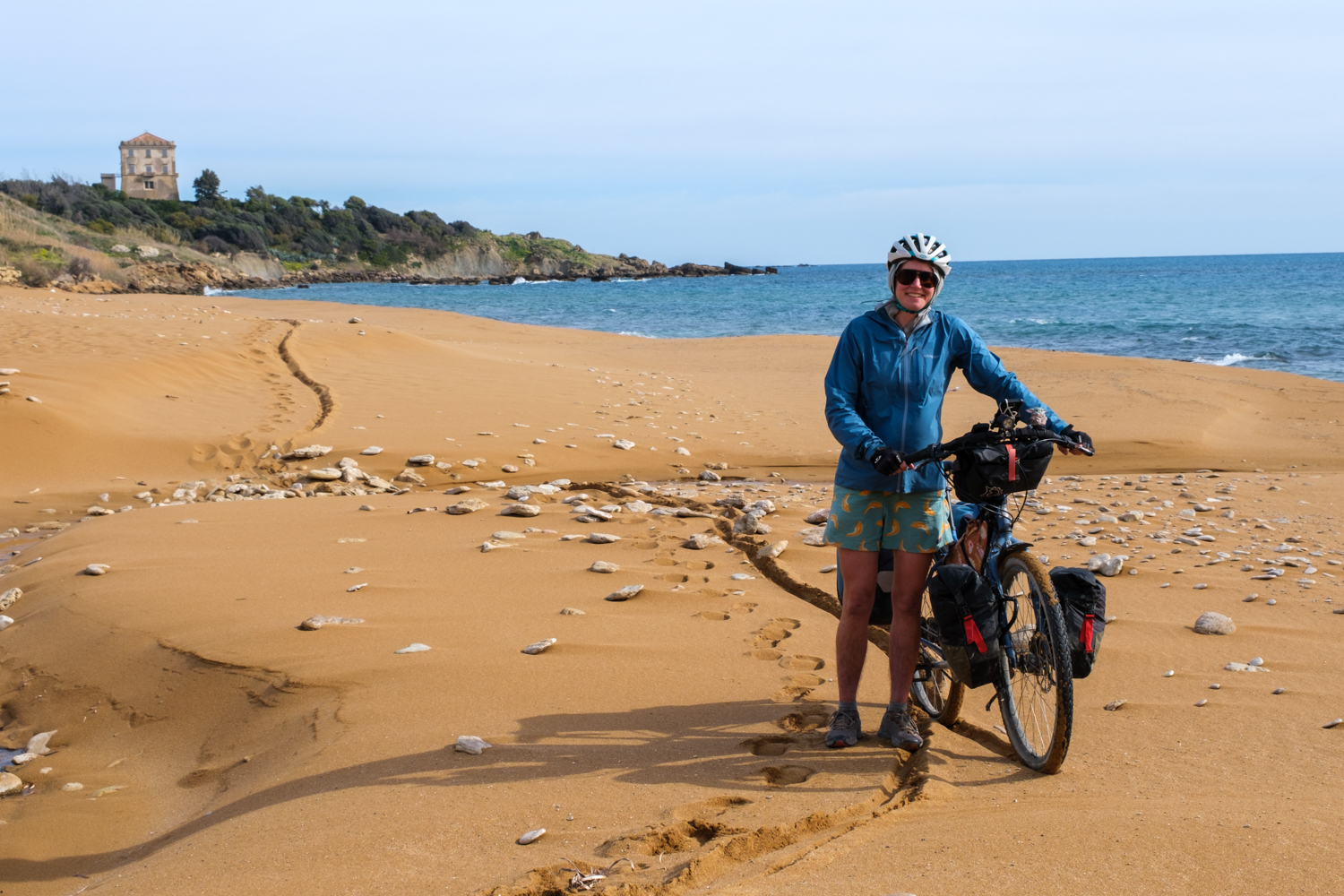 The track ultimately put us through private property, and a guy caught us as we were hopping a fence to get out of an olive grove. He didn't speak much English, but we explained through Google Translate that we had come up from the beach and were sorry for trespassing. He told us that "The land had been kidnapped," which was an odd translation, but he was really nice and gave us directions to the next town. After that, we decided we'd had enough excitement for one day and stuck to roads that actually existed and weren't on private property.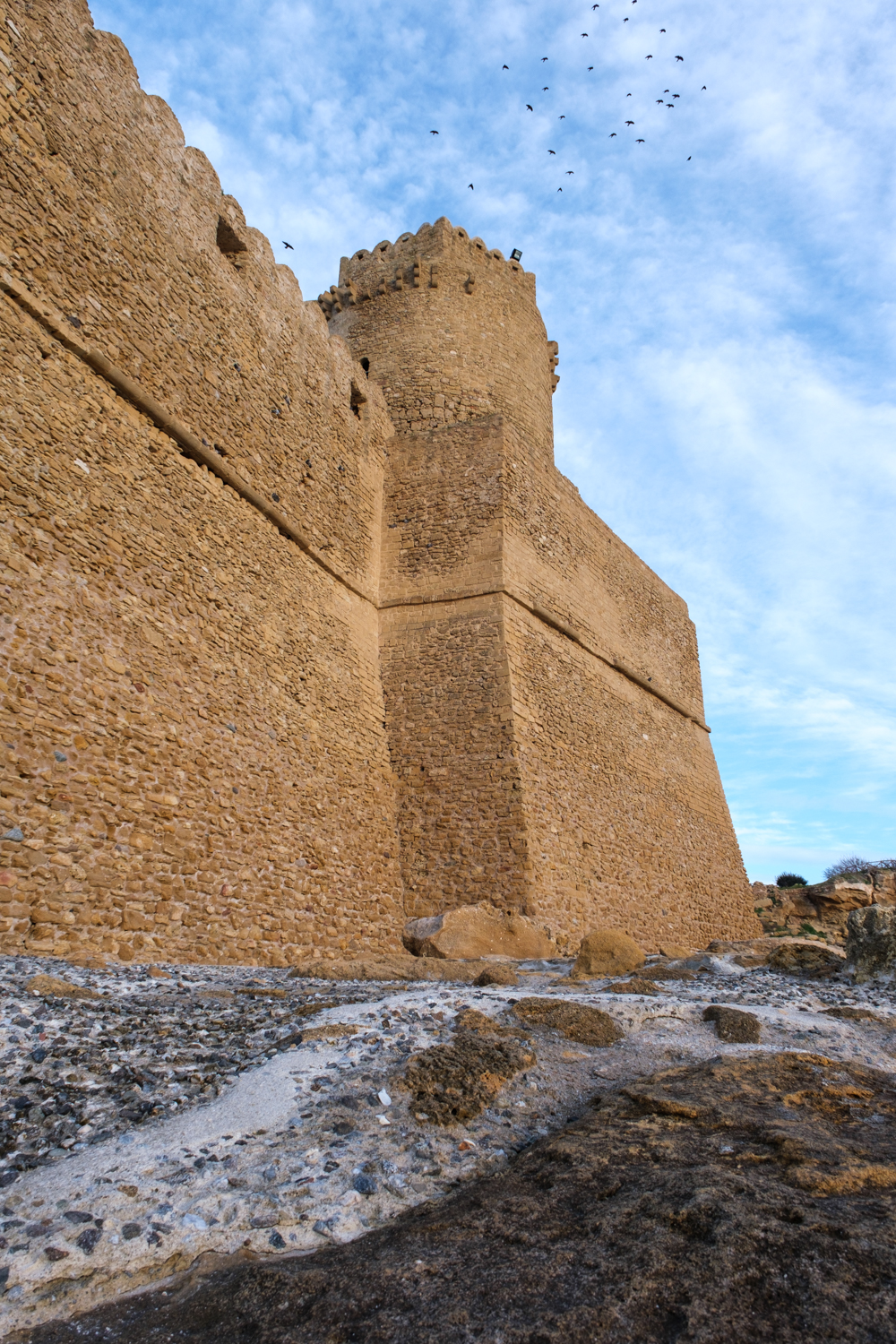 Coast of the Tyrhennian Sea
We crossed to the other side of the Italian boot via Catanzaro and a beautiful mountainous area with lots of wind turbines. After making it to the coast, we rode through the seaside town of Pizzo and eventually made it to Tropea, where we stayed for a couple nights before continuing to Sicily.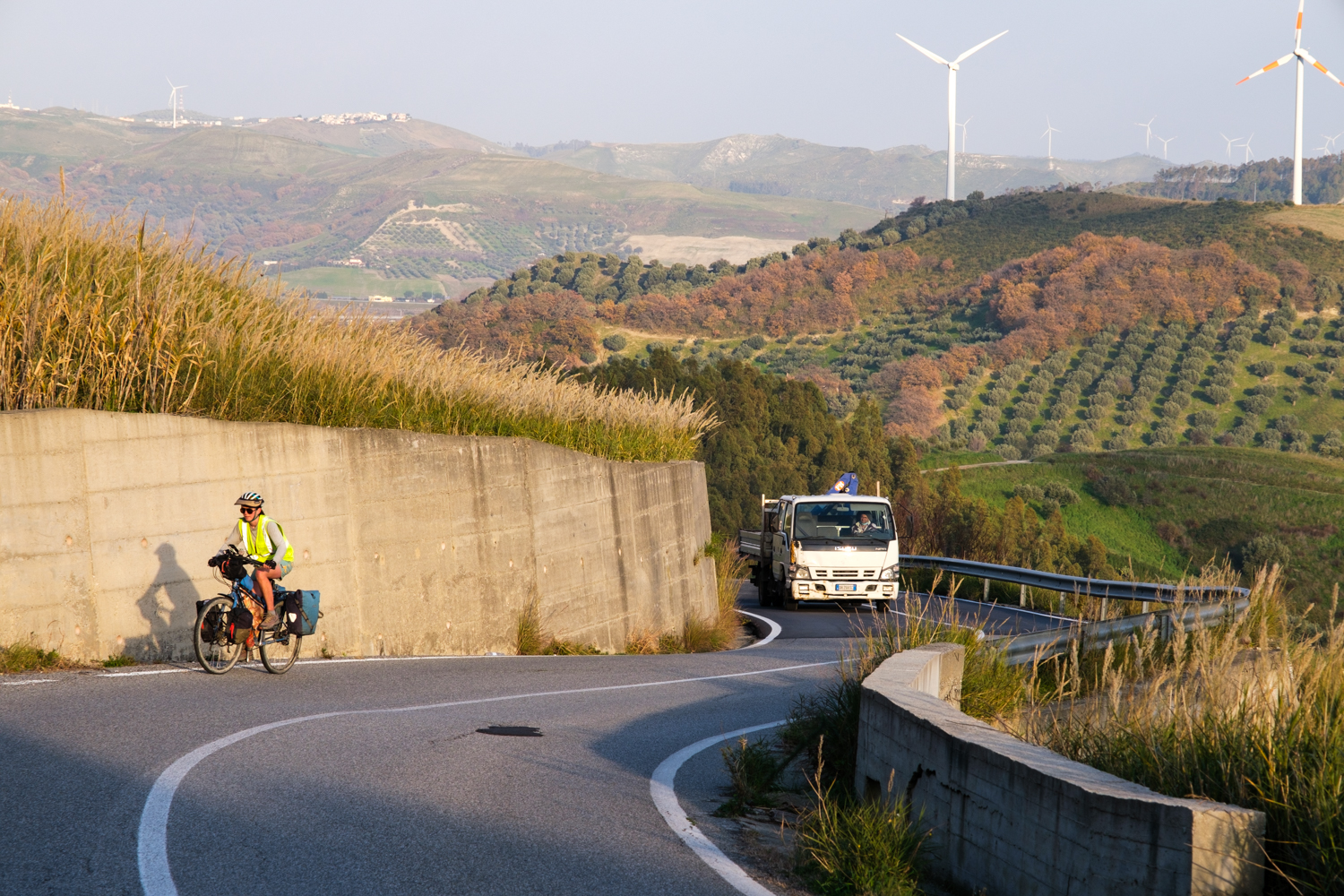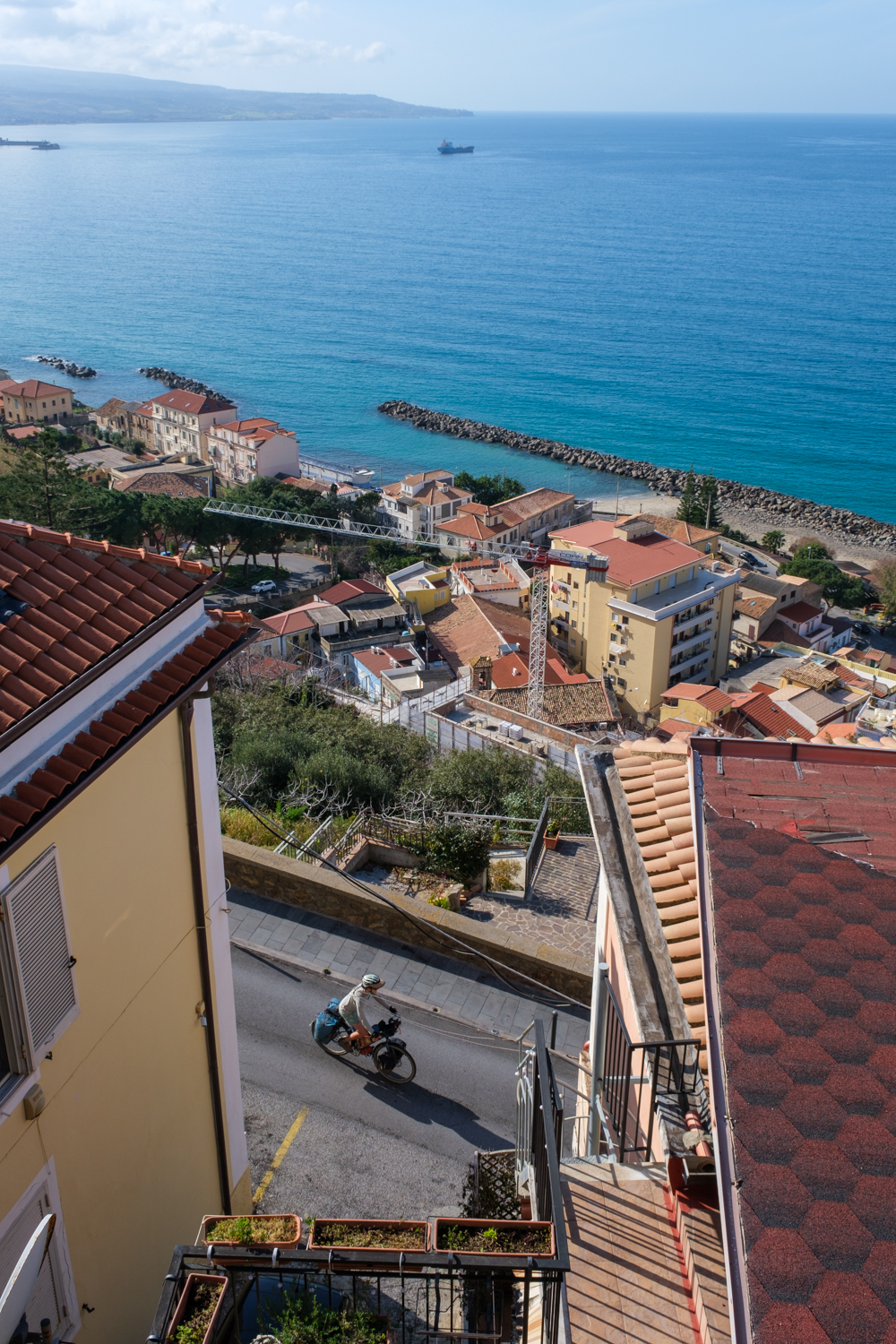 Tropea is a magnificent town built atop tall vertical cliffs next to the ocean. The town was very quiet and most restaurants were closed for the winter, but it was still a wonderful place to wander around and take in the views.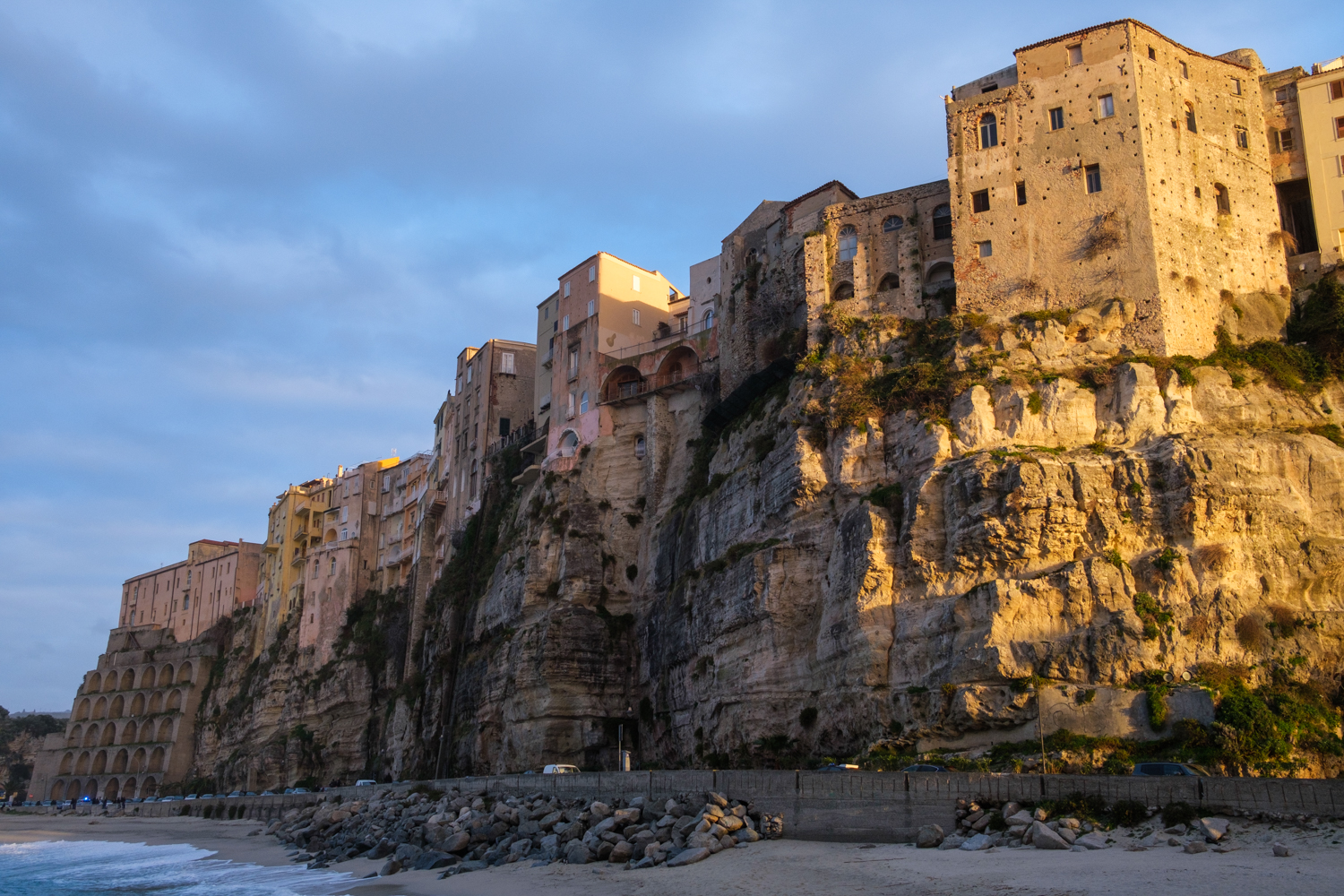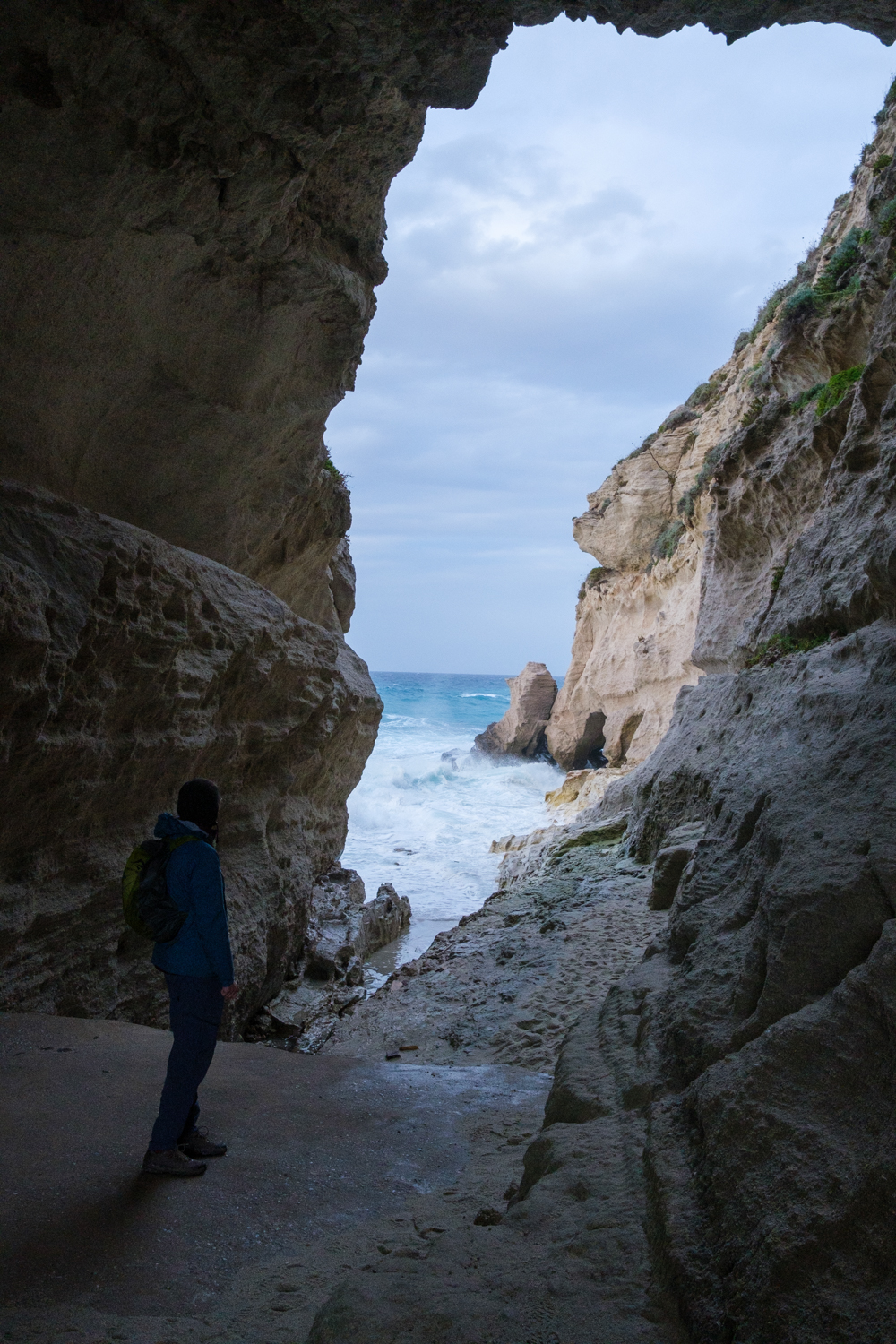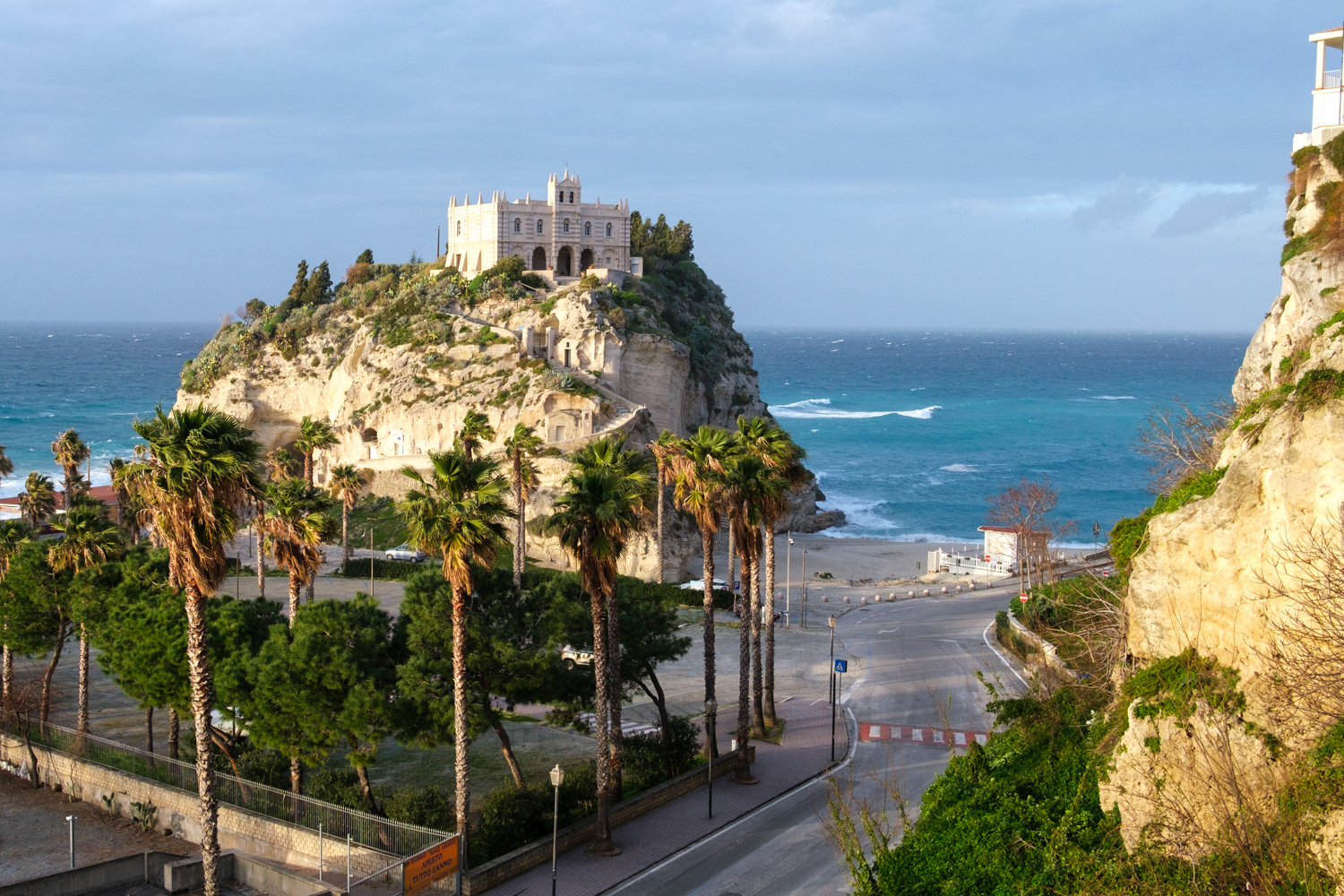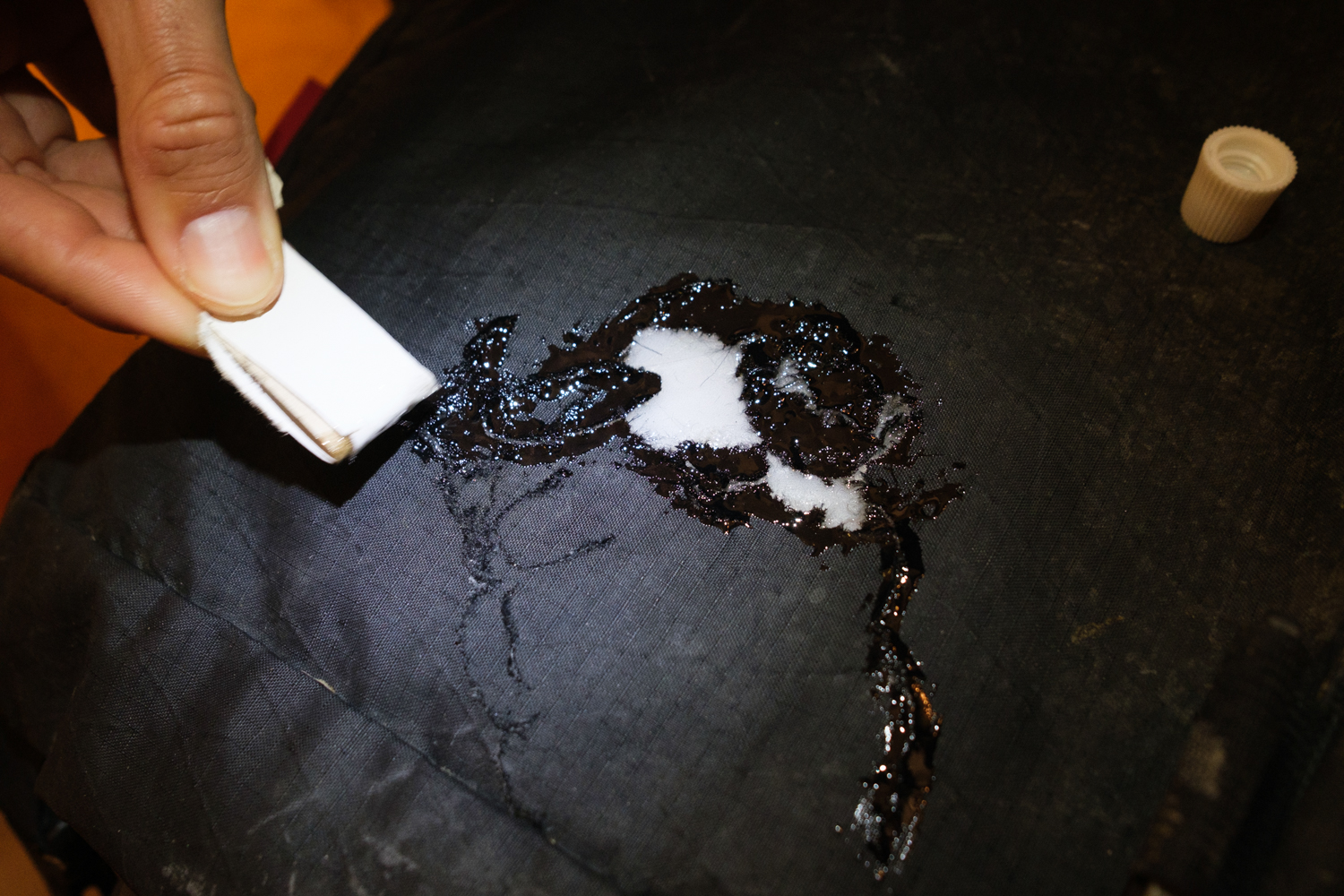 Coastal Riding to Villa San Giovanni
It took us a couple more days from Tropea to reach Villa San Giovanni, where we took the ferry to Sicily. We had beautiful views along the coast toward the island of Stromboli, and we really enjoyed riding through the seaside town of Scilla.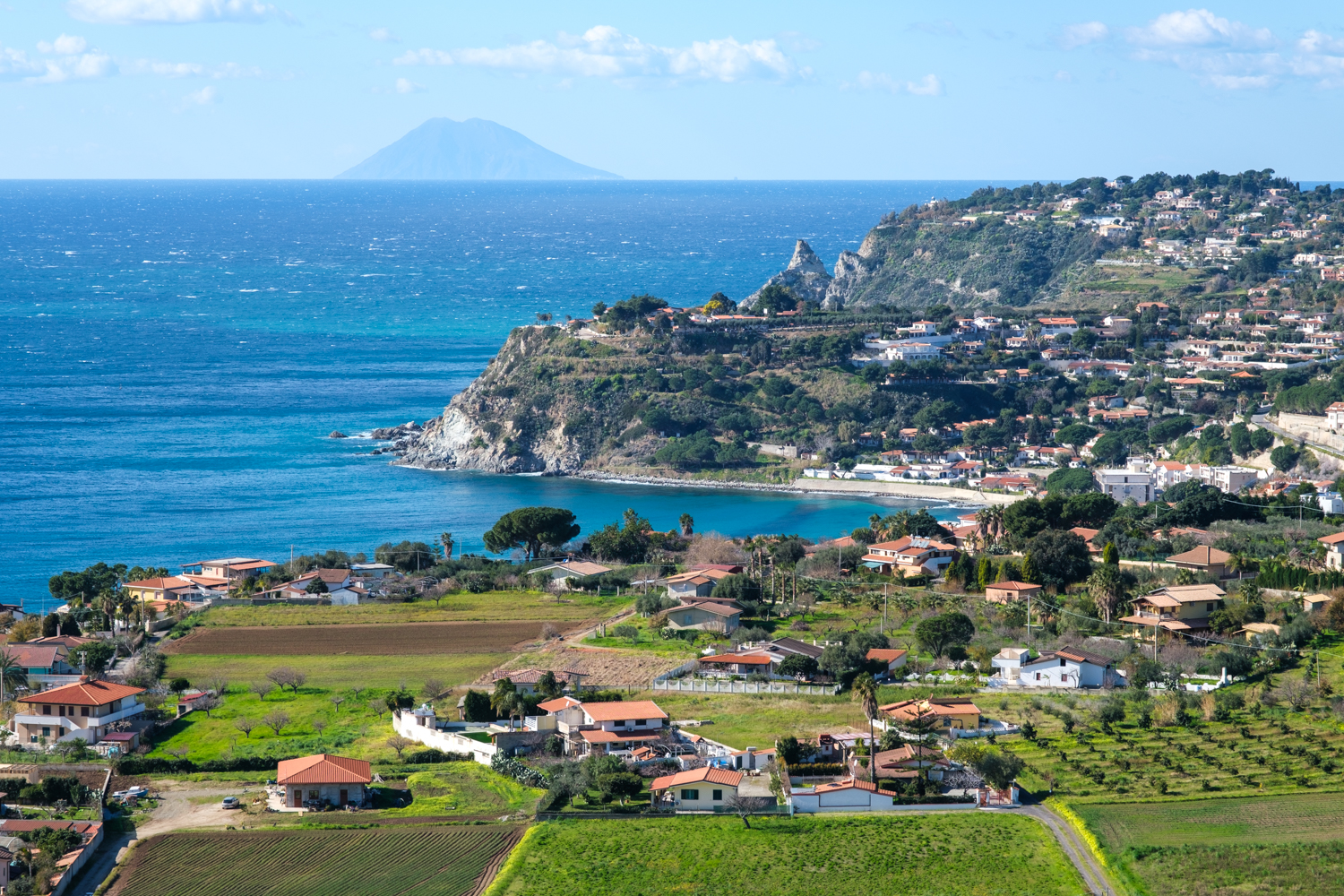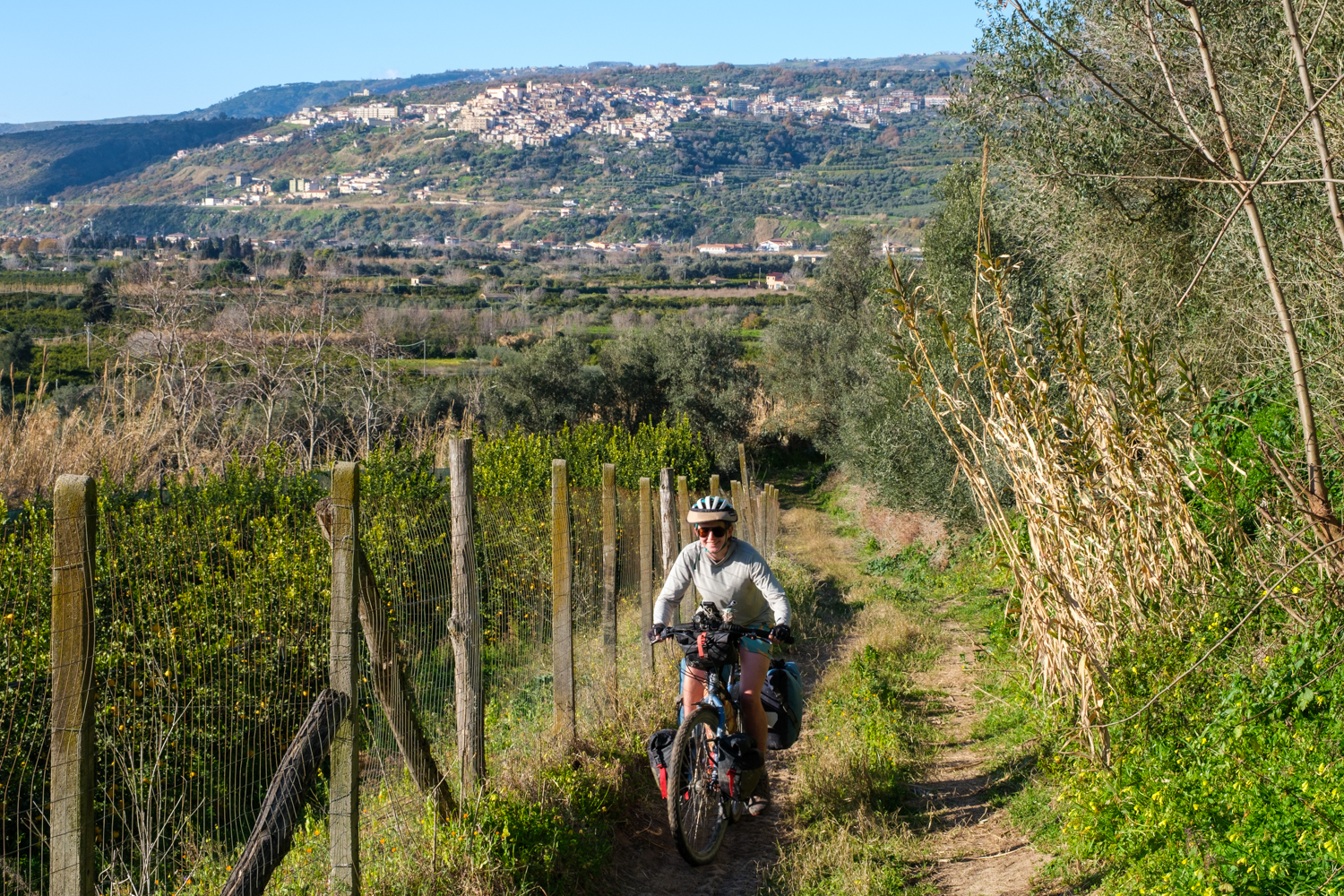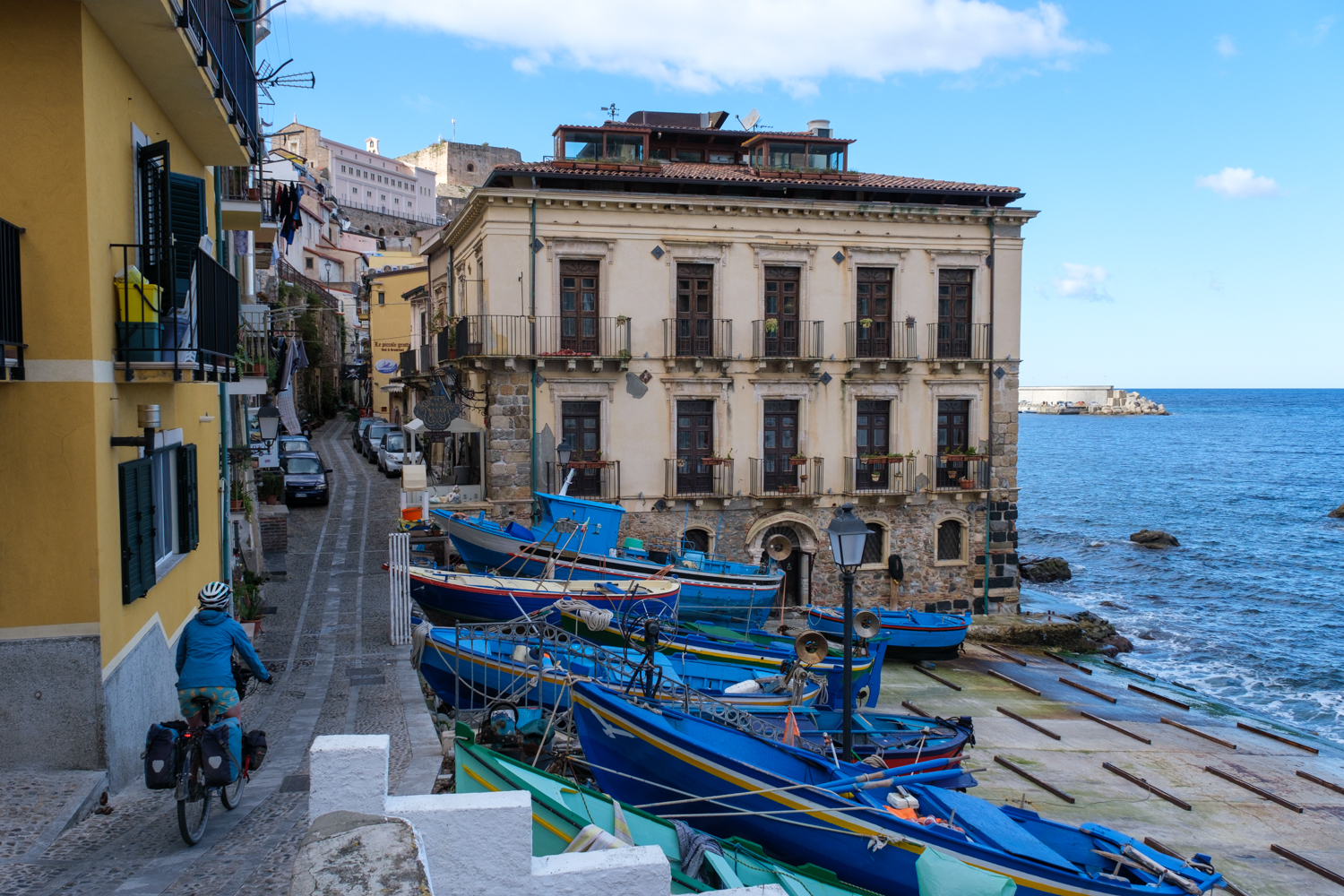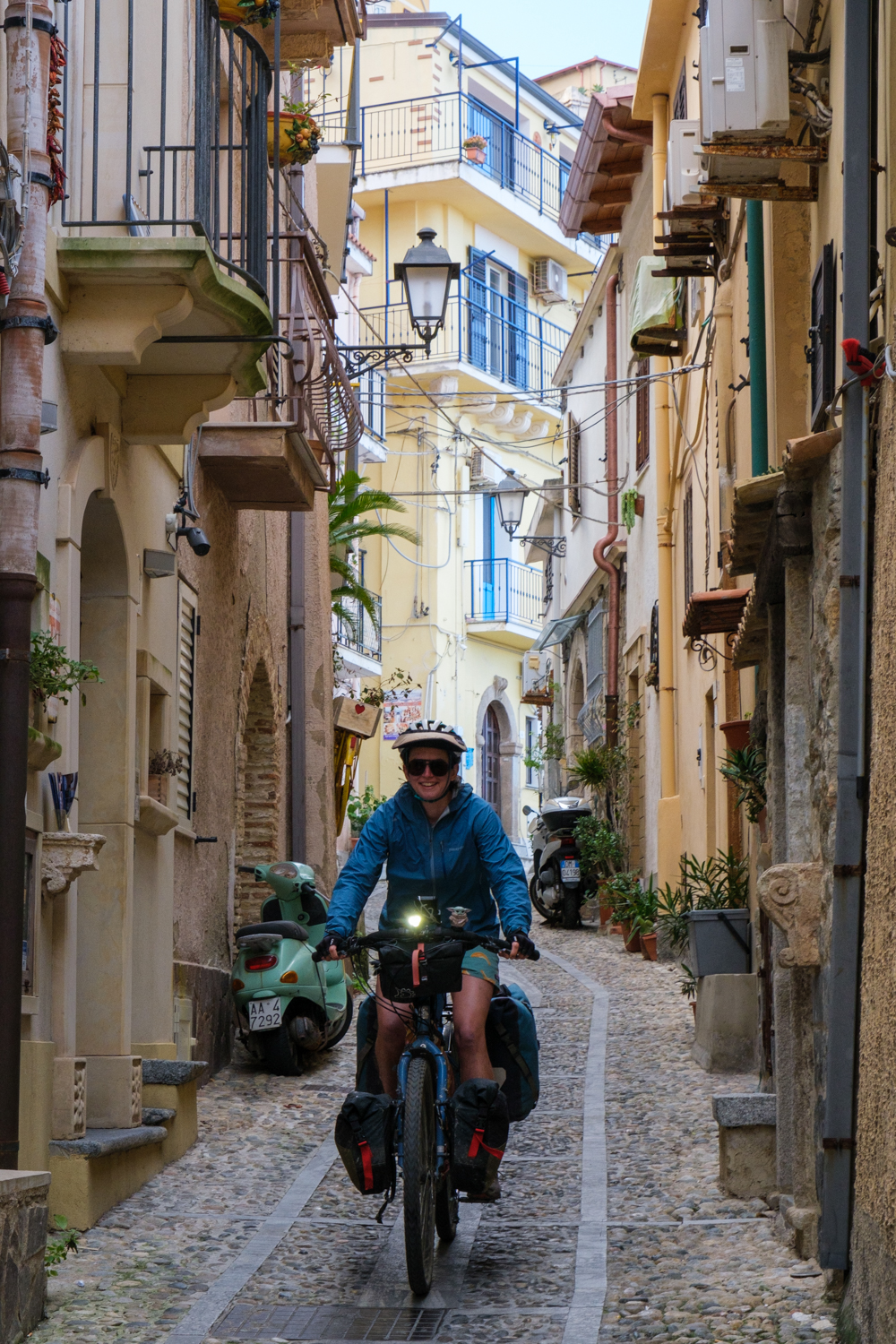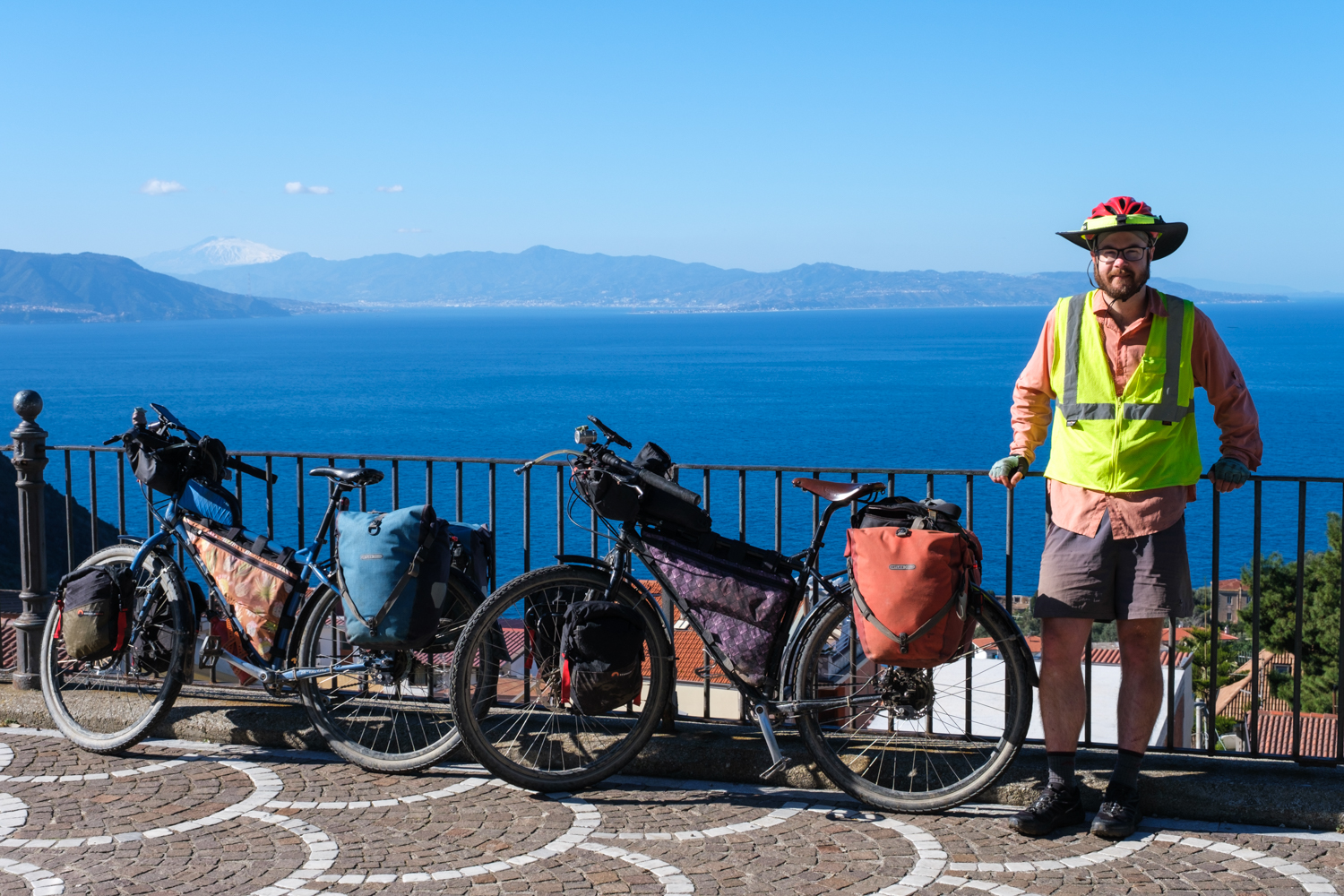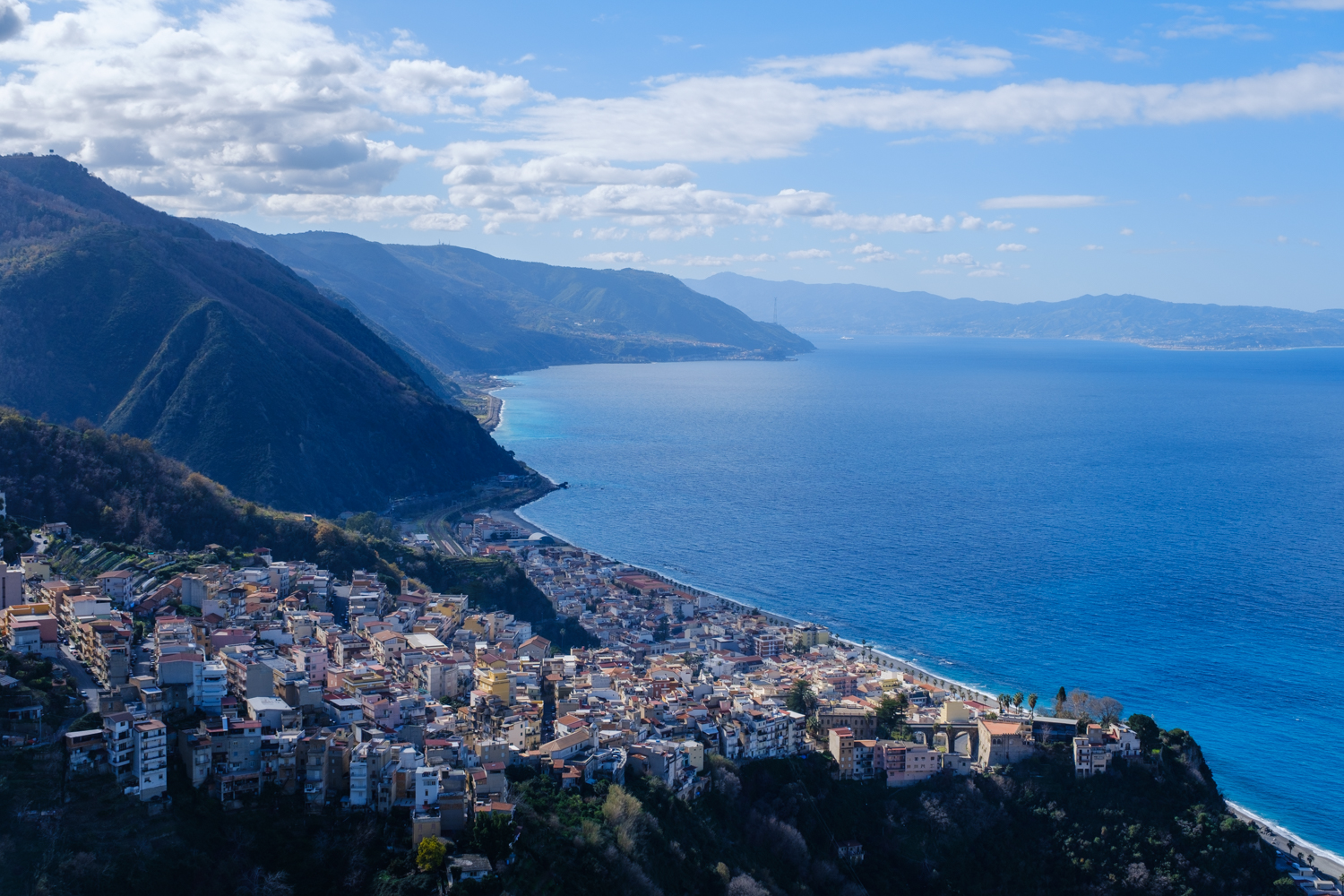 Video from Southern Italy