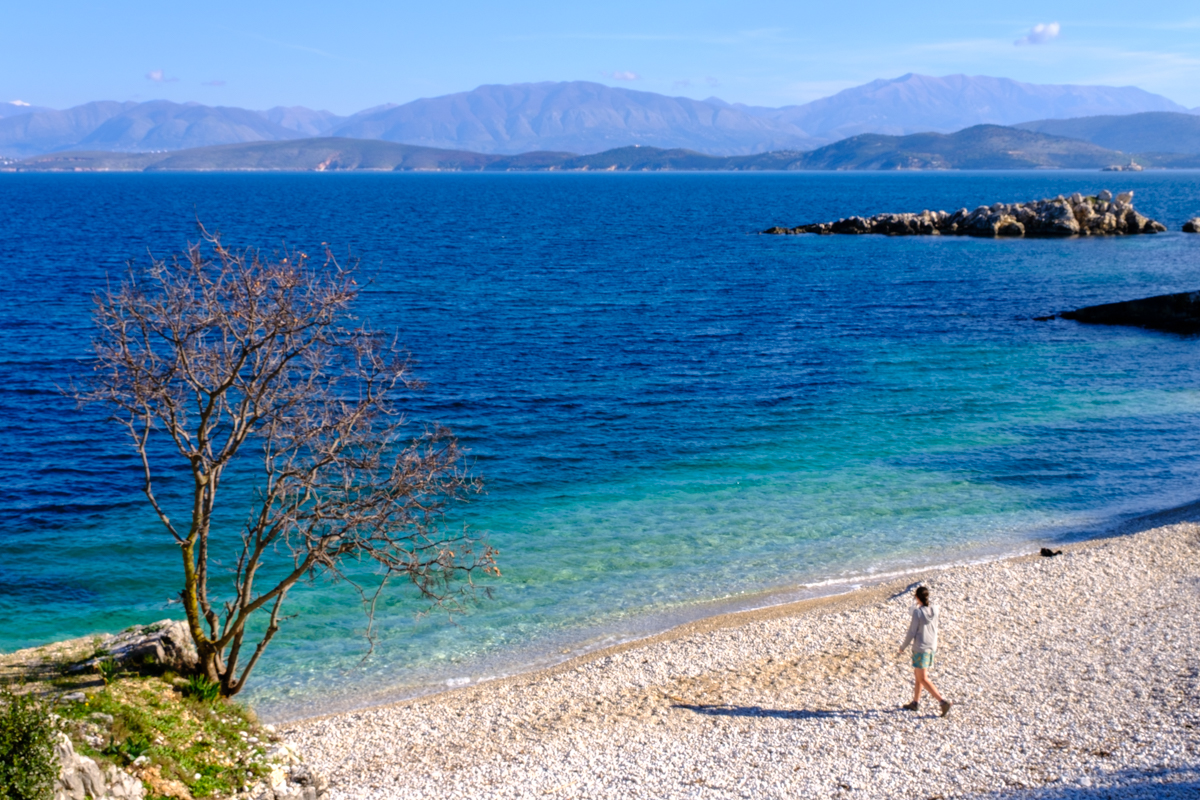 Bicycle Touring Greece
From Sarandë, Albania, we took a hydrofoil ferry to the island of Corfu. It was a small passengers-only boat, and we had to lift the bikes from the dock into the ferry, which was a little bit frightening. We made it to Corfu without our bikes tumbling into the sea and quickly passed through Greek customs, where there was naturally a cat standing watch next to the x-ray machine.
We spent a few days cycling around Corfu before taking a ferry to mainland Greece, where we would make our way to Athens over the next couple weeks. From Athens, we took a ferry to the Peloponnese region and then rode to Patras, where we would take a long ferry to Italy.
Route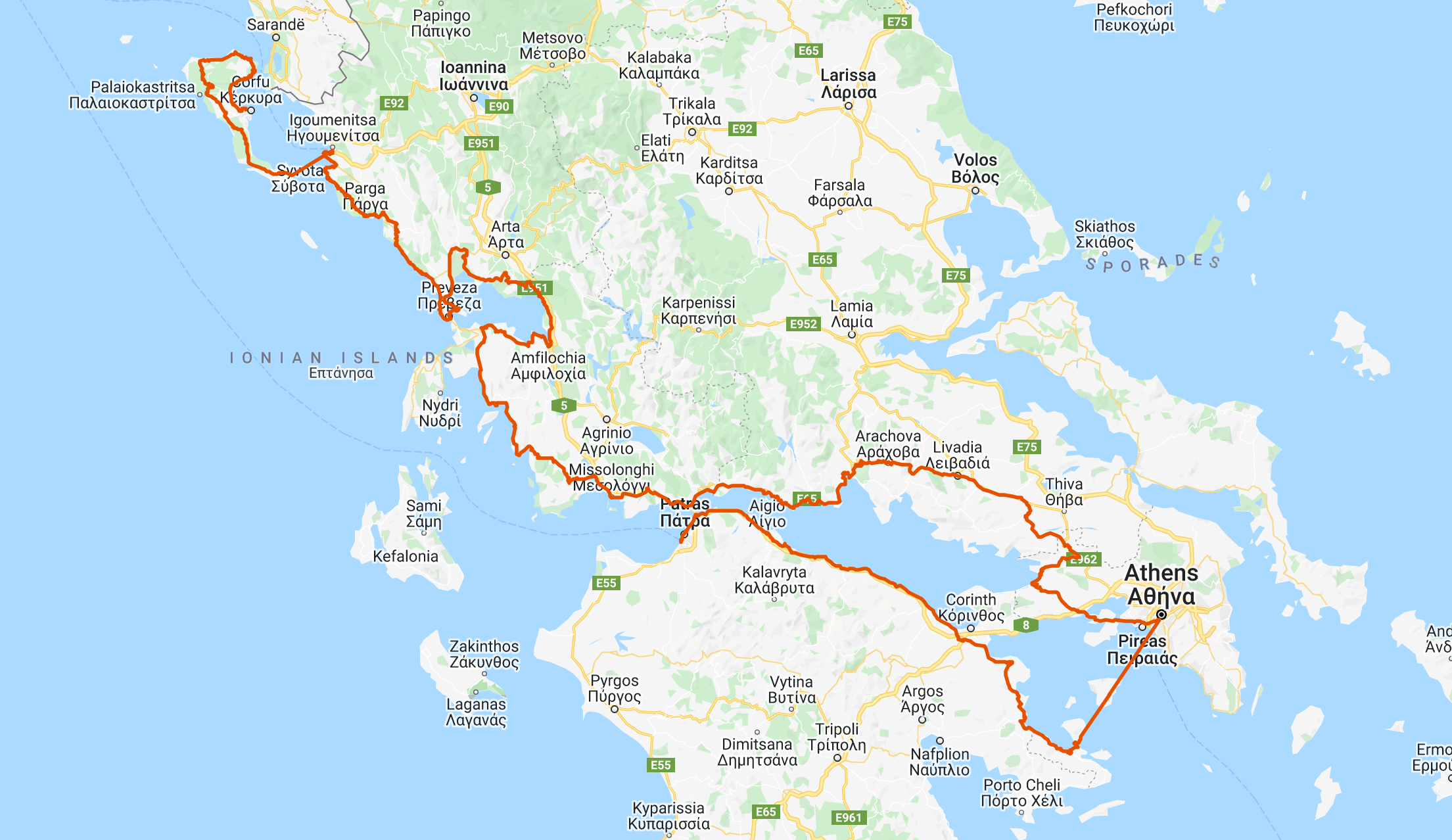 Download the GPX track of our ride through Greece. NOTE: This is not a polished route and is intended for research and planning purposes only.
Cycling the Island of Corfu
We arrived in Corfu on a sunny Sunday afternoon in early January. Most restaurants in the town of Corfu were unfortunately closed (whether for the season or because it was Sunday, we weren't sure), so we had to suspend our dreams of gyros until another time.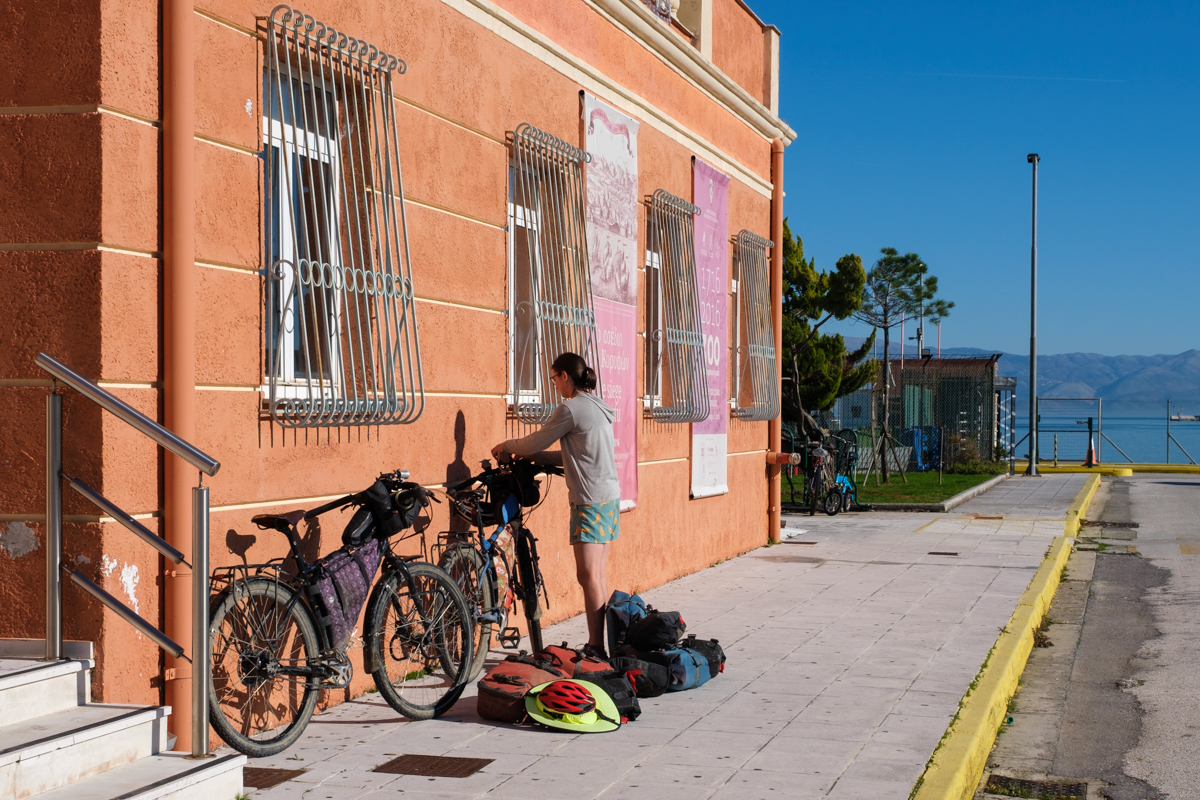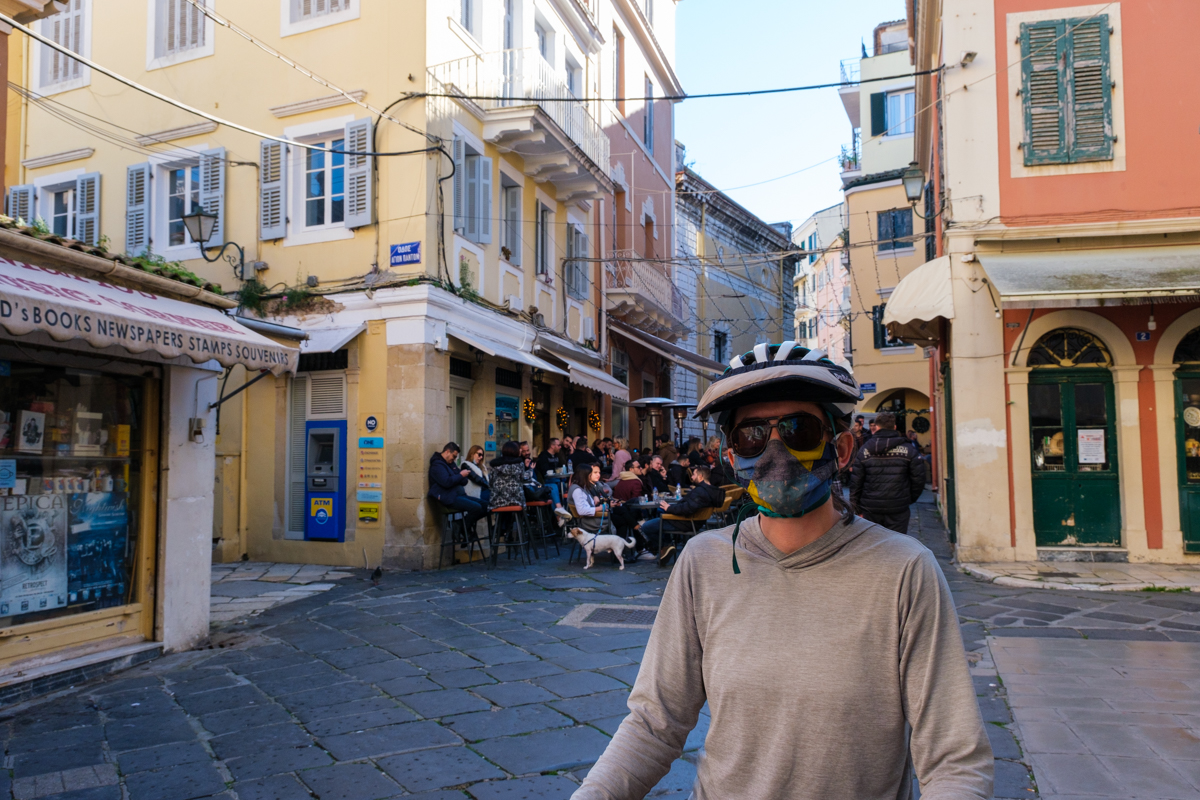 We rode north along the coast to Sidari before heading back south on a more inland route. The mix of beautiful beaches and charming hill towns made for varied, enjoyable riding, and traffic in January was minimal.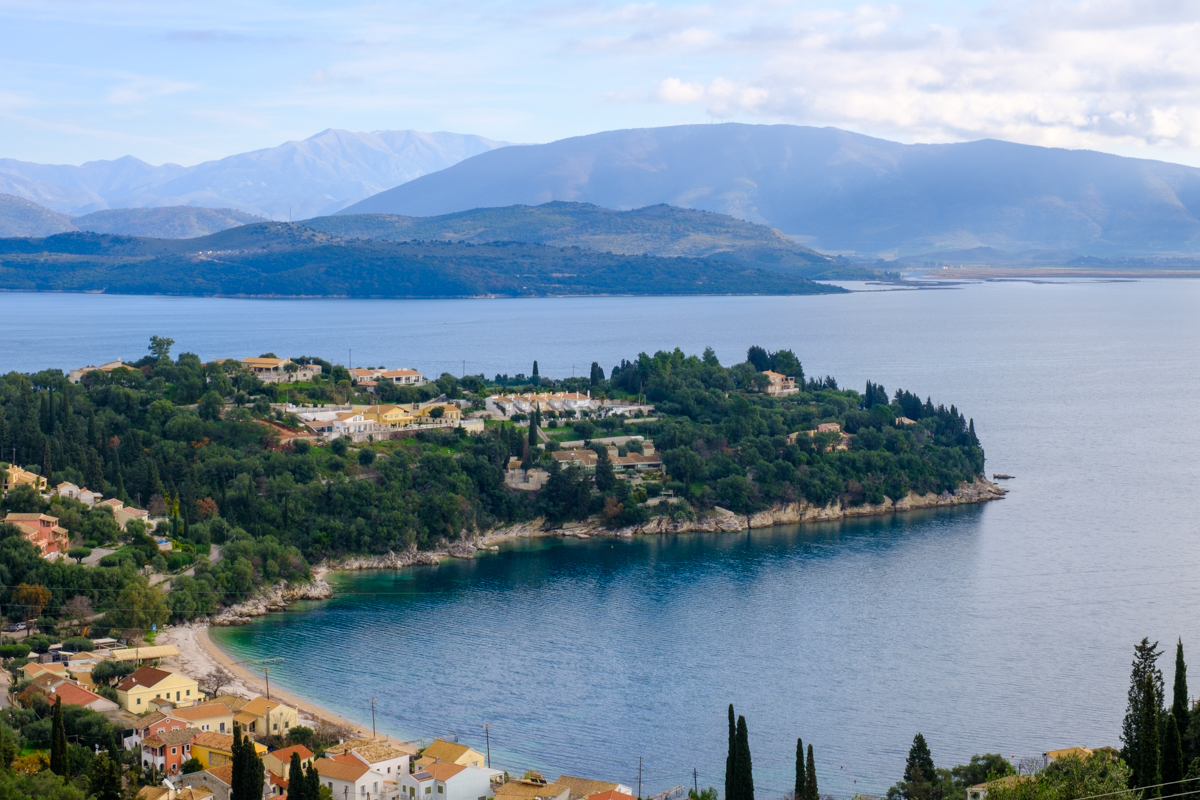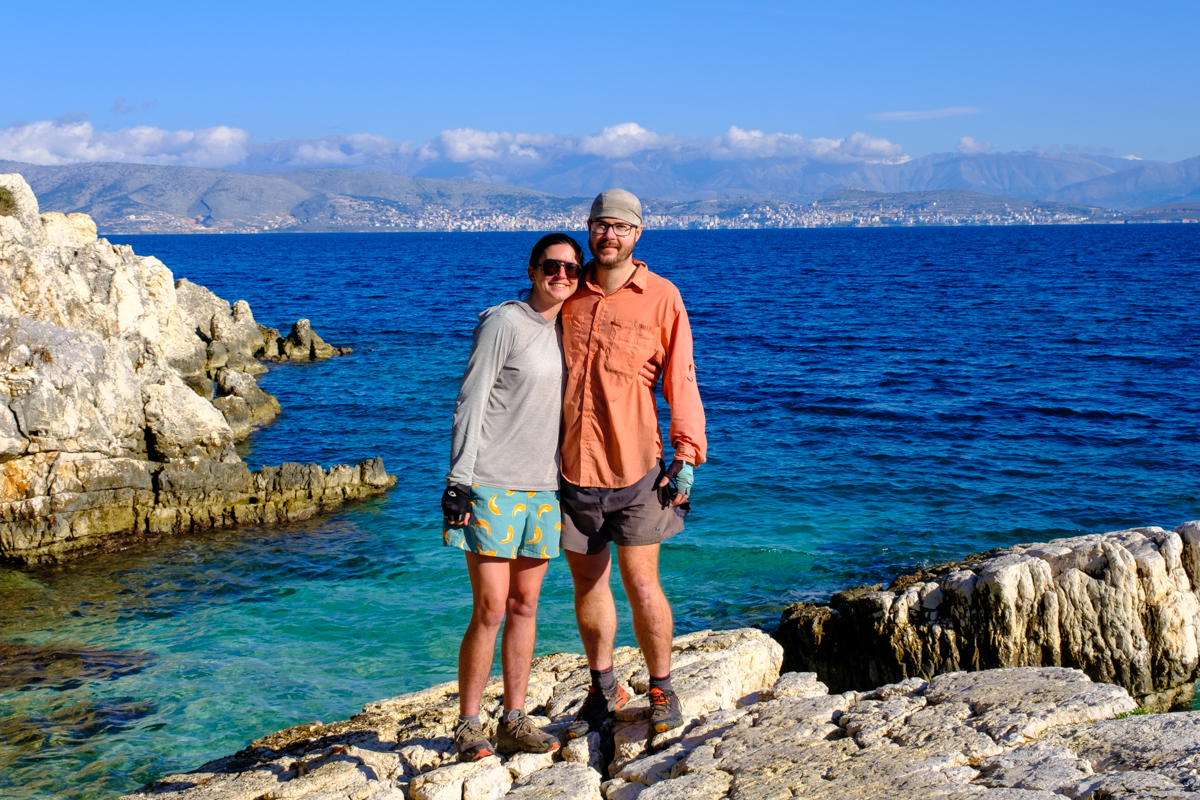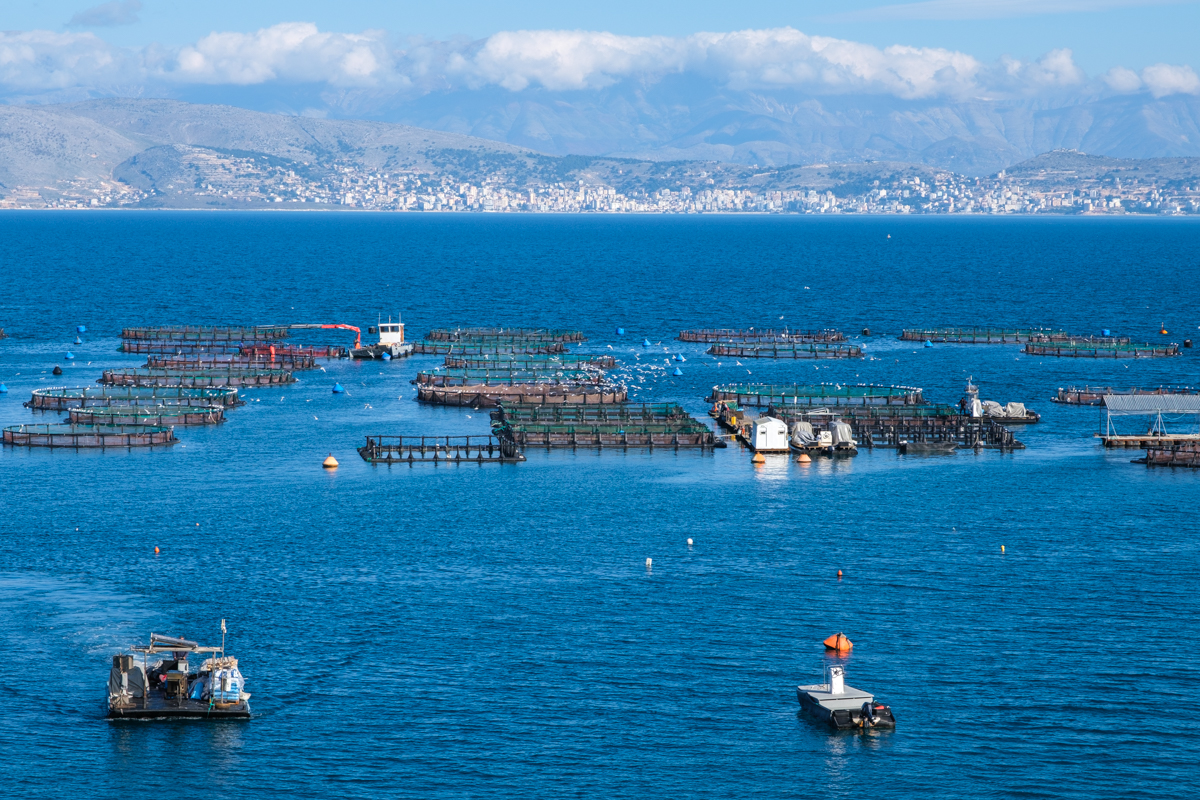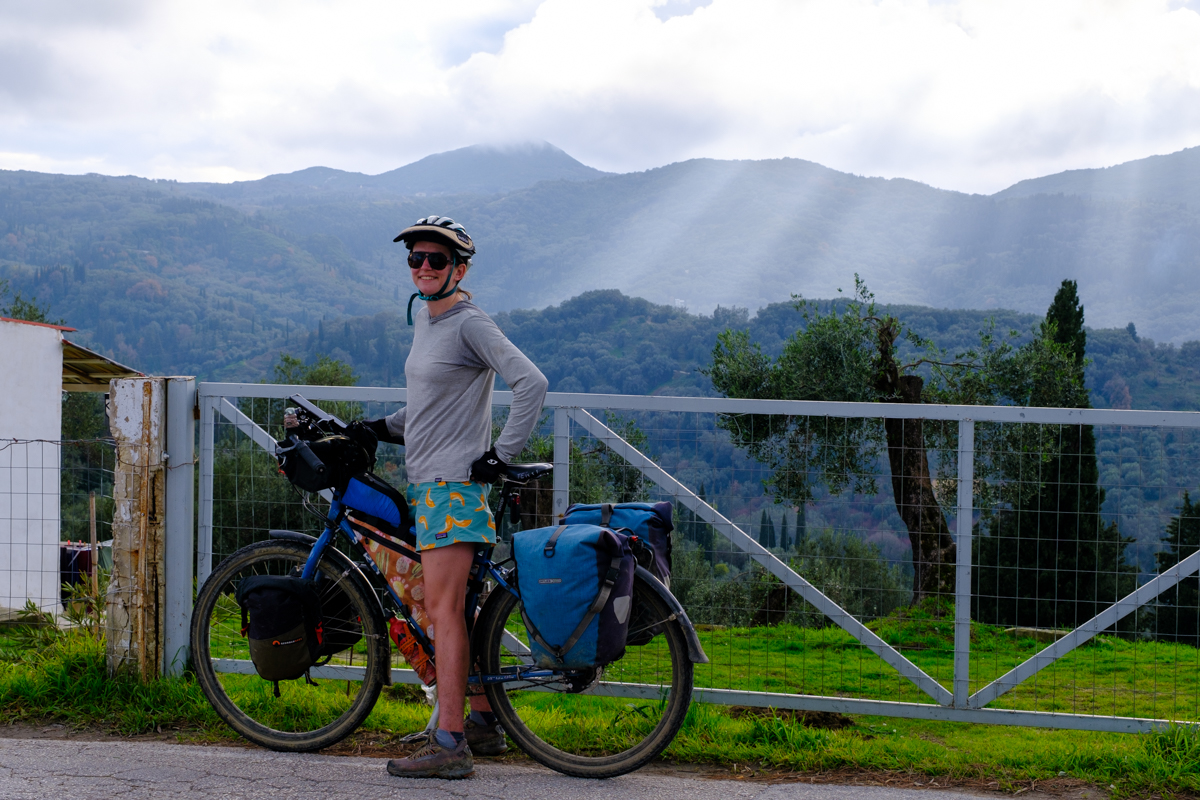 First Experiences on Mainland Greece
We ferried into Igoumenitsa and followed a coastal road that quickly ascended into the mountains. We knew that Greece was going to be a hilly country, but we were still surprised at how much elevation gain we did each day.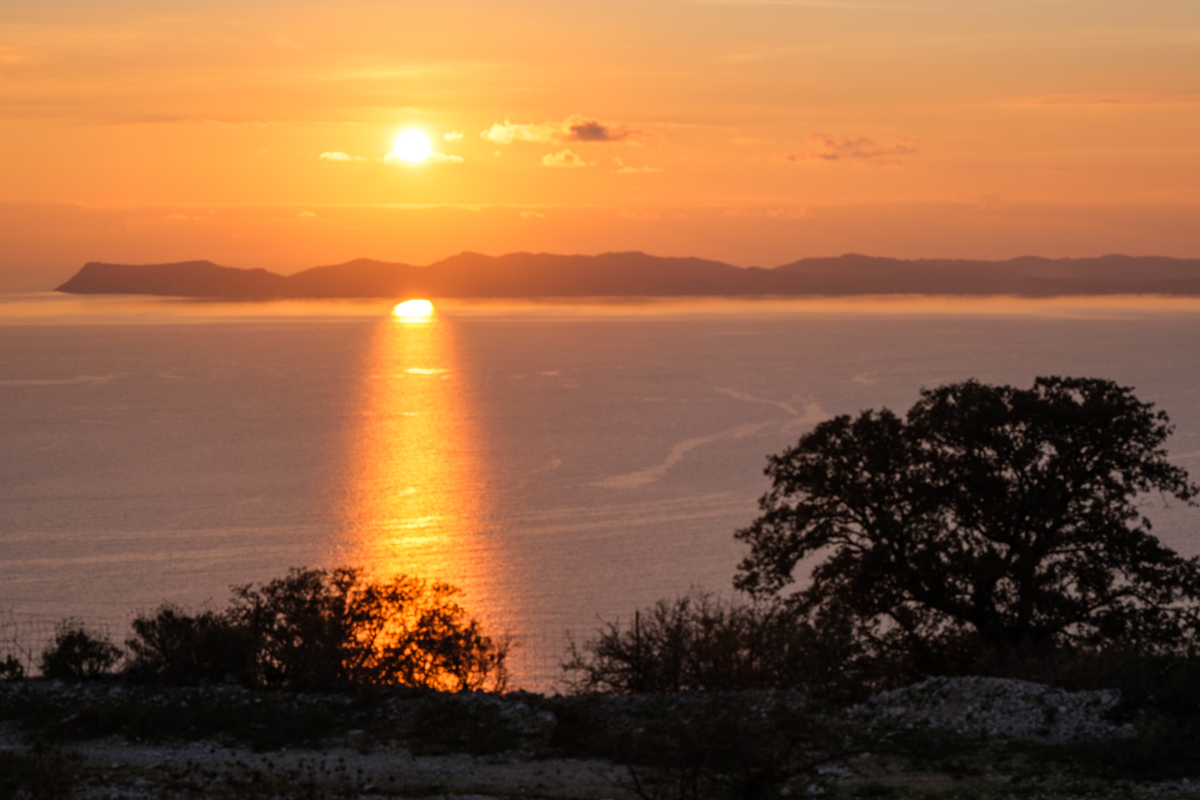 The descent into the gorgeous coastal town of Parga was spectacular, and we enjoyed chicken pies from a bakery next to the Venetian Castle of Parga. The castle was atop a hill and had a wonderful view of the terraced city built along the slopes above the coast. There's something so enchanting about vertical cities, and we lingered in town for awhile to soak up the narrow lanes and pretty houses.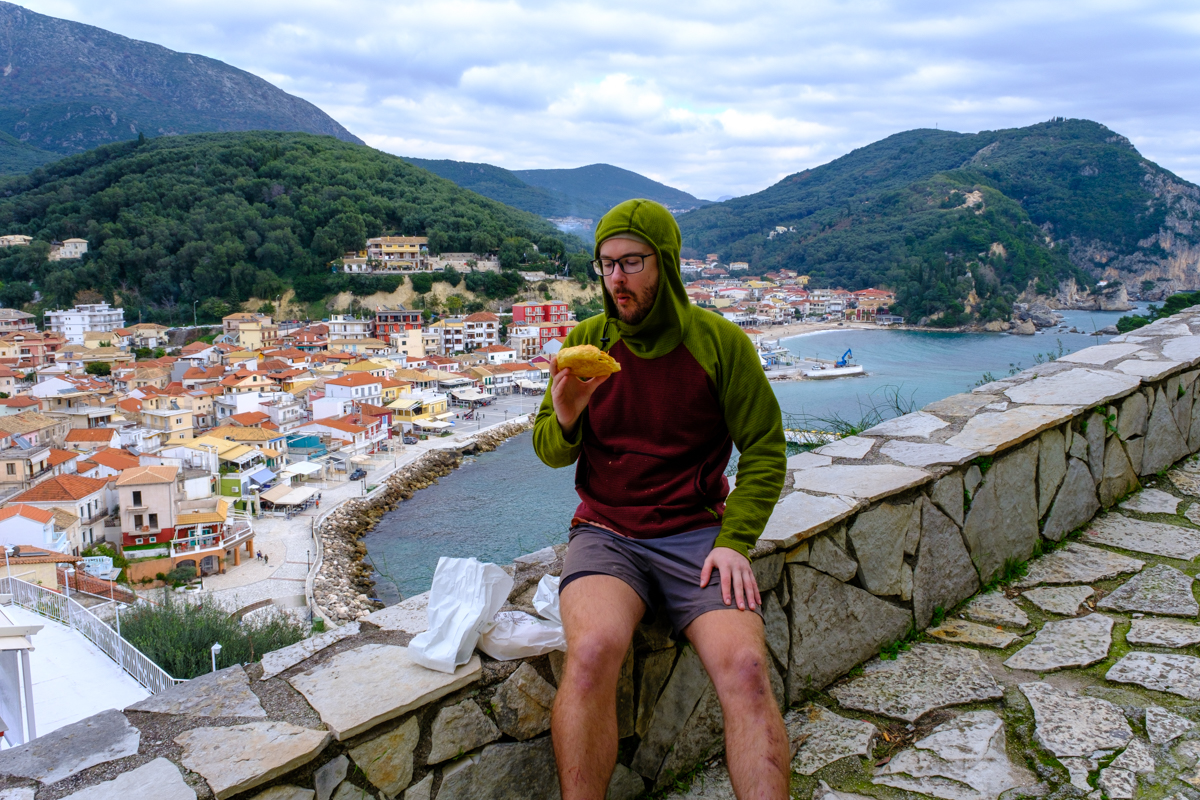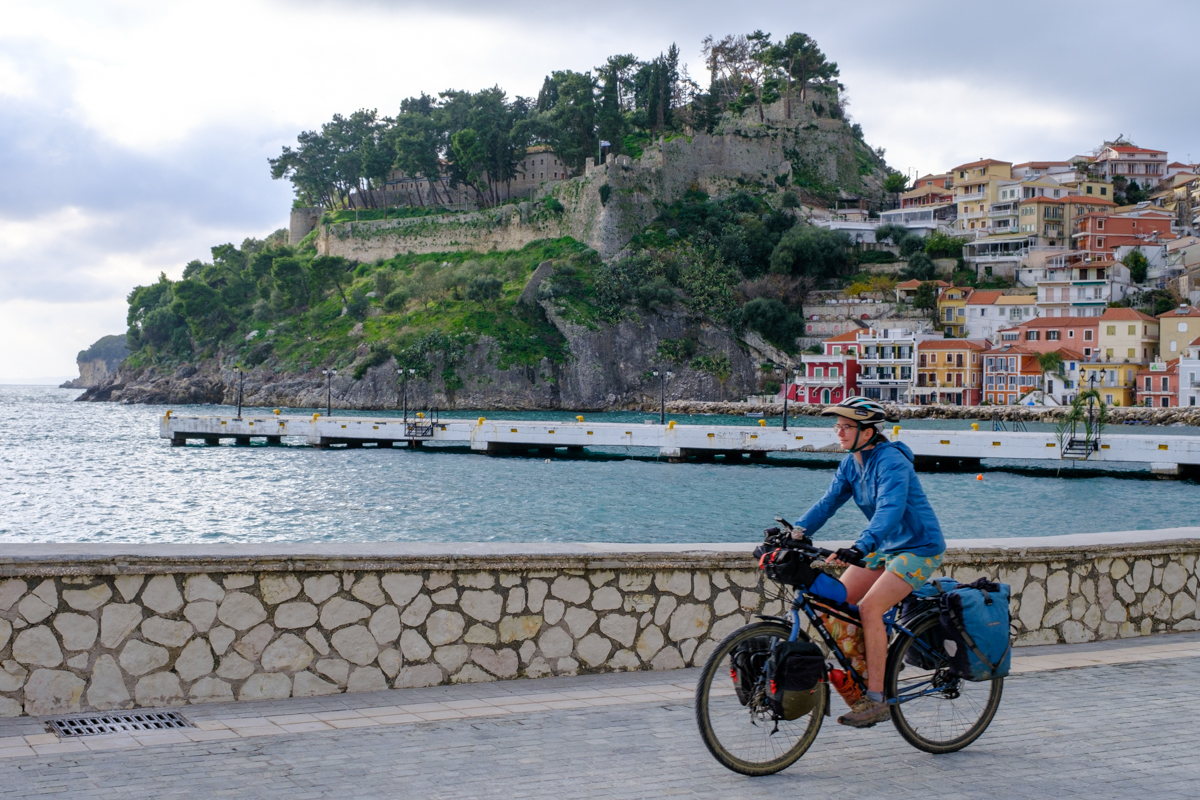 The Ambracian Gulf
There is an underwater tunnel between Prevaza and Aktion, but bicycles aren't allowed, so we rode around the whole Ambracian Gulf instead. No complaints here – the gulf was a nice ride and had some pretty wetland areas, but it was weird riding for so long without making much actual forward progress through Greece.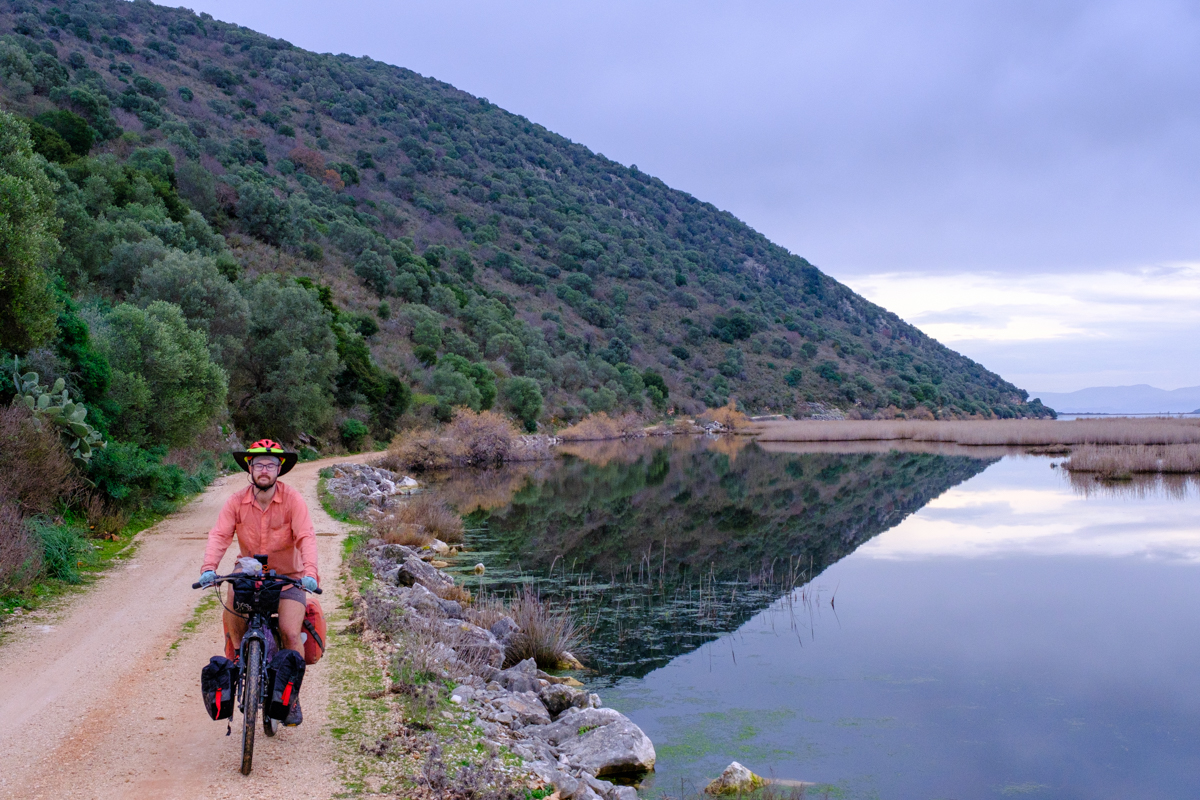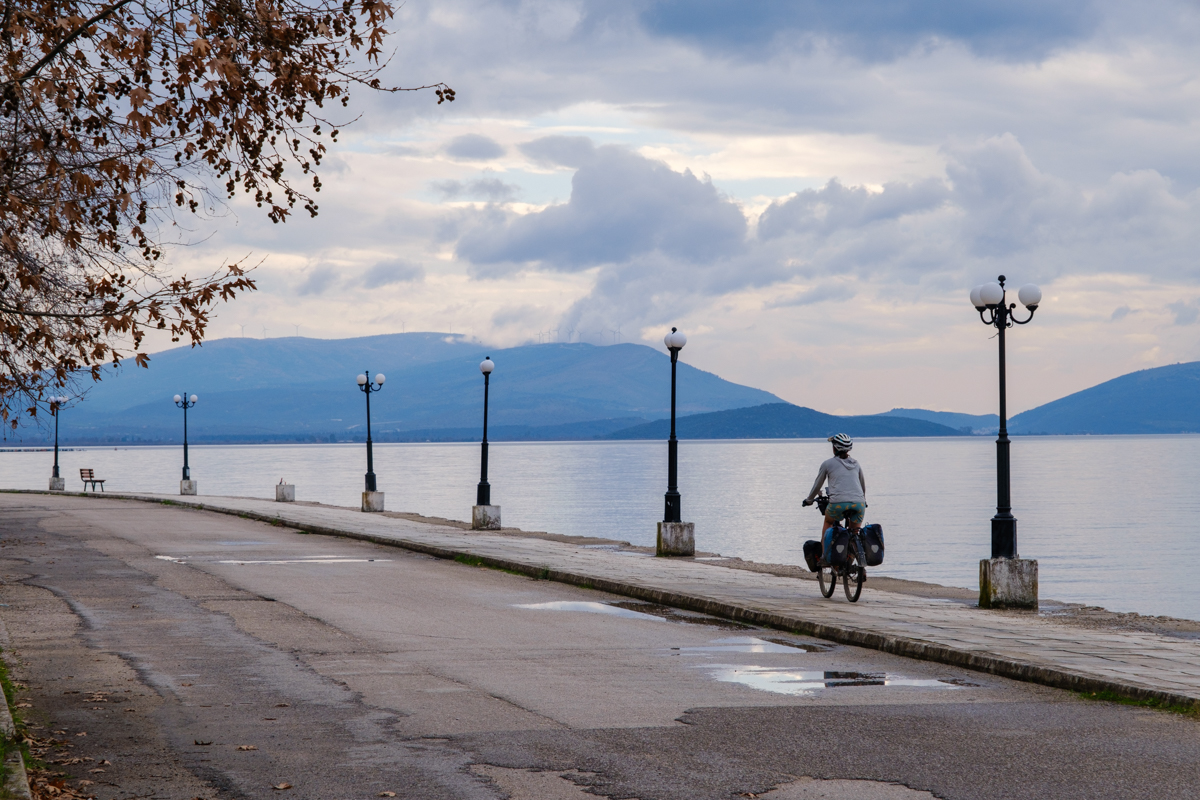 Ancient City of Nicopolis
We visited the ancient ruins of Nicopolis, which was founded in 29 BC by Caesar Augustus. Much of the ruins were closed and seemed like they hadn't been visited in many years, but we were able to see some beautiful Early Christian mosaics and most of the outer walls.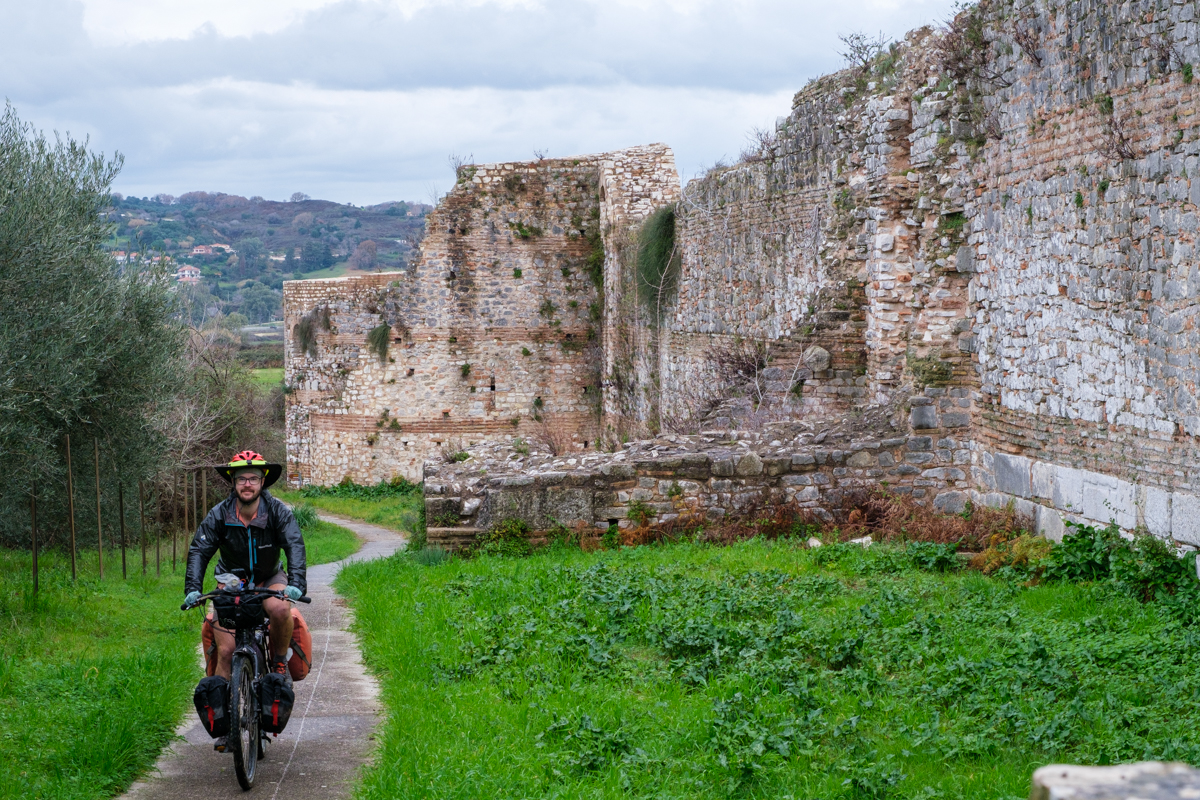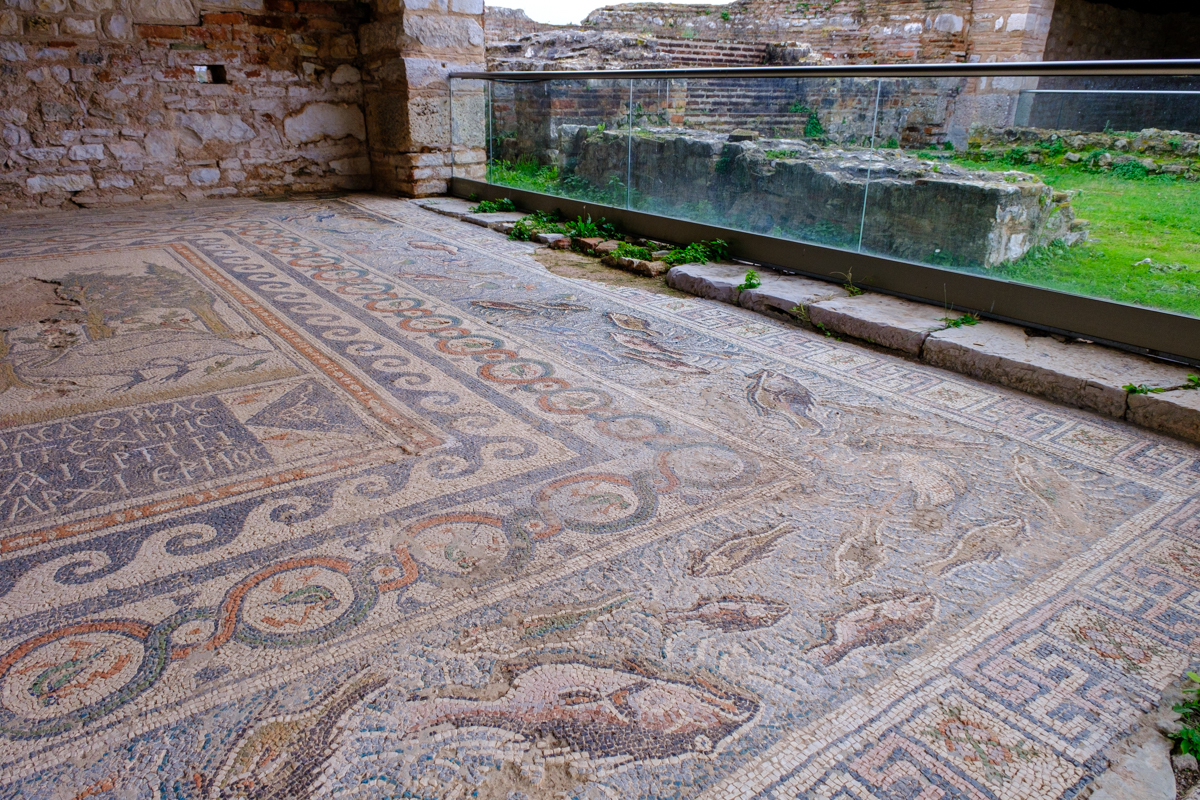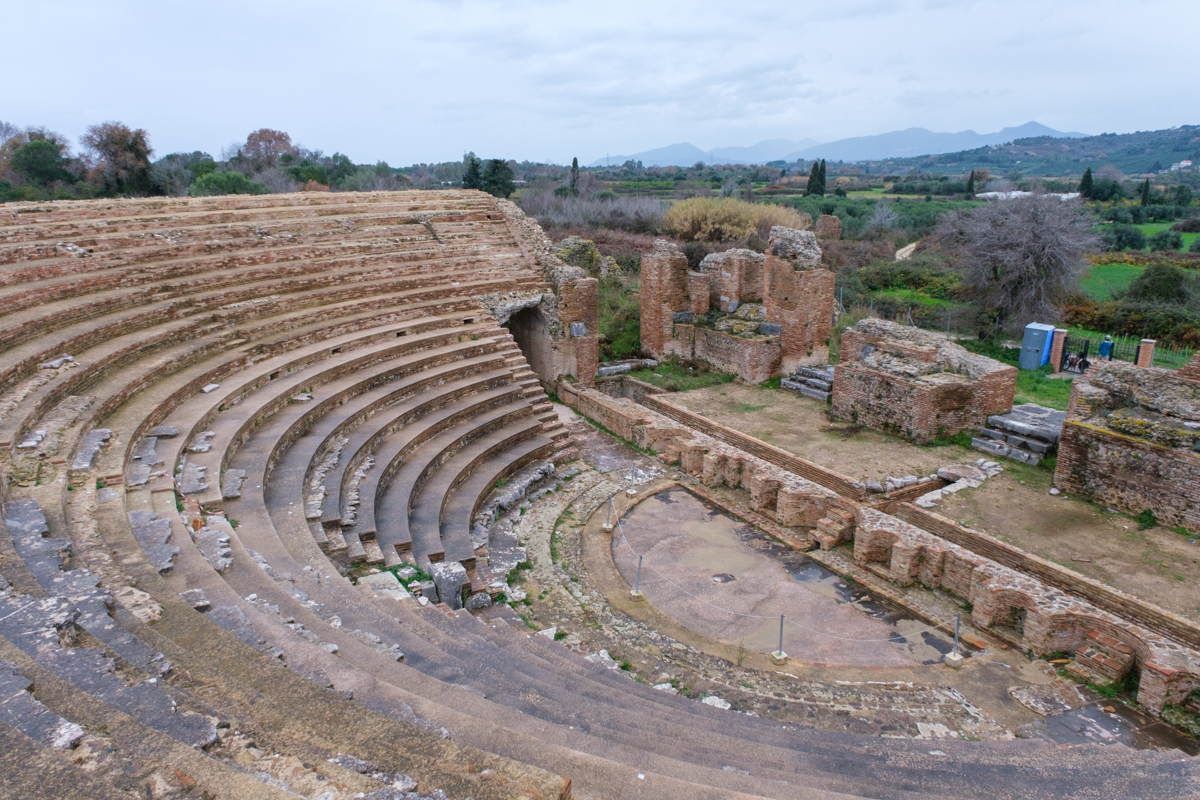 Winter Finally Hits on the Coast
For a long while, we had gotten pretty lucky with weather. We didn't have to deal with too much precipitation and the temperatures were manageable. Our luck finally came to an end with several days of rain and biting wind. While we were biking uphill it wasn't too bad since we would warm up quickly, but going downhill or stopping for any length of time led to immediate chills.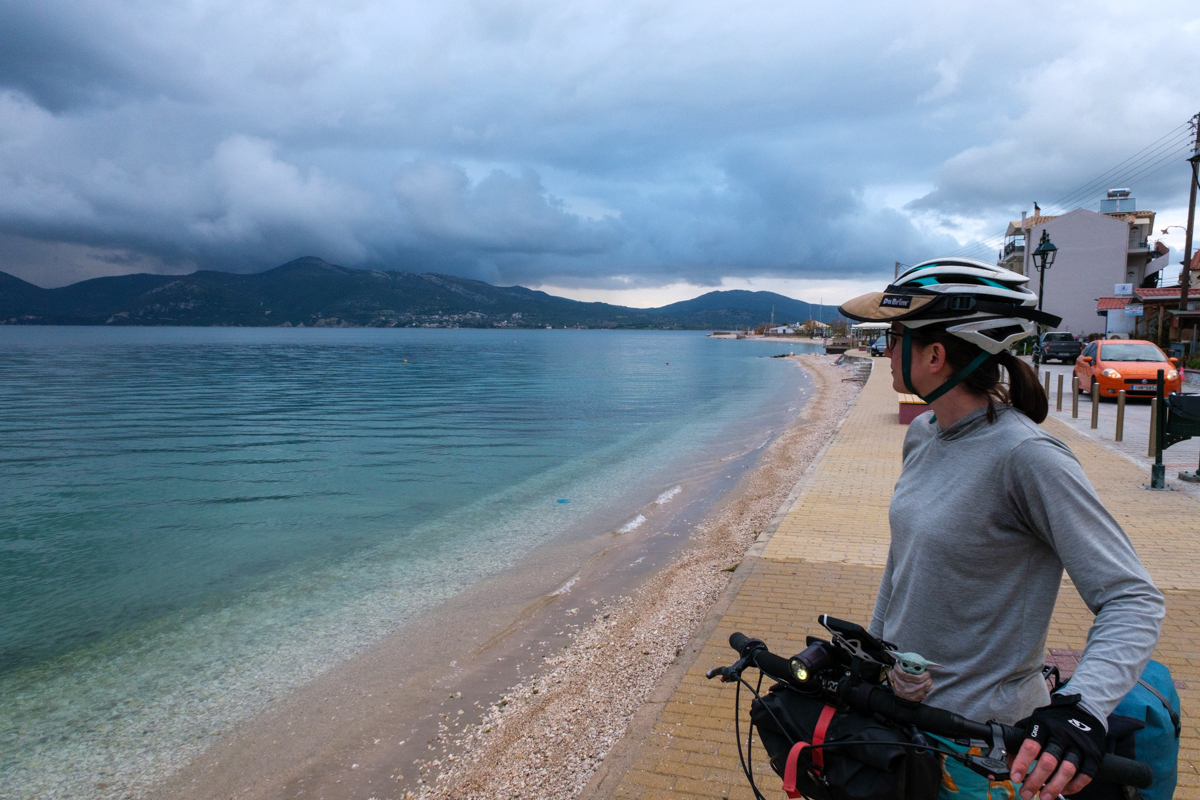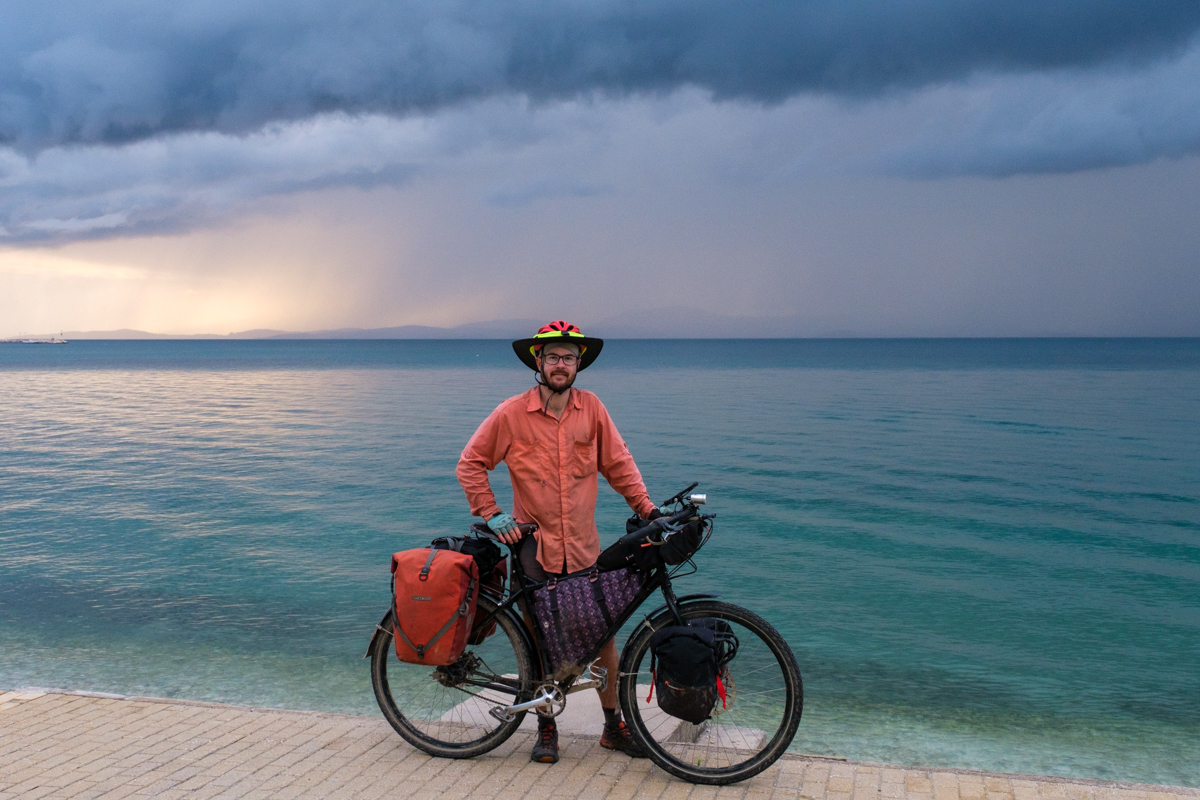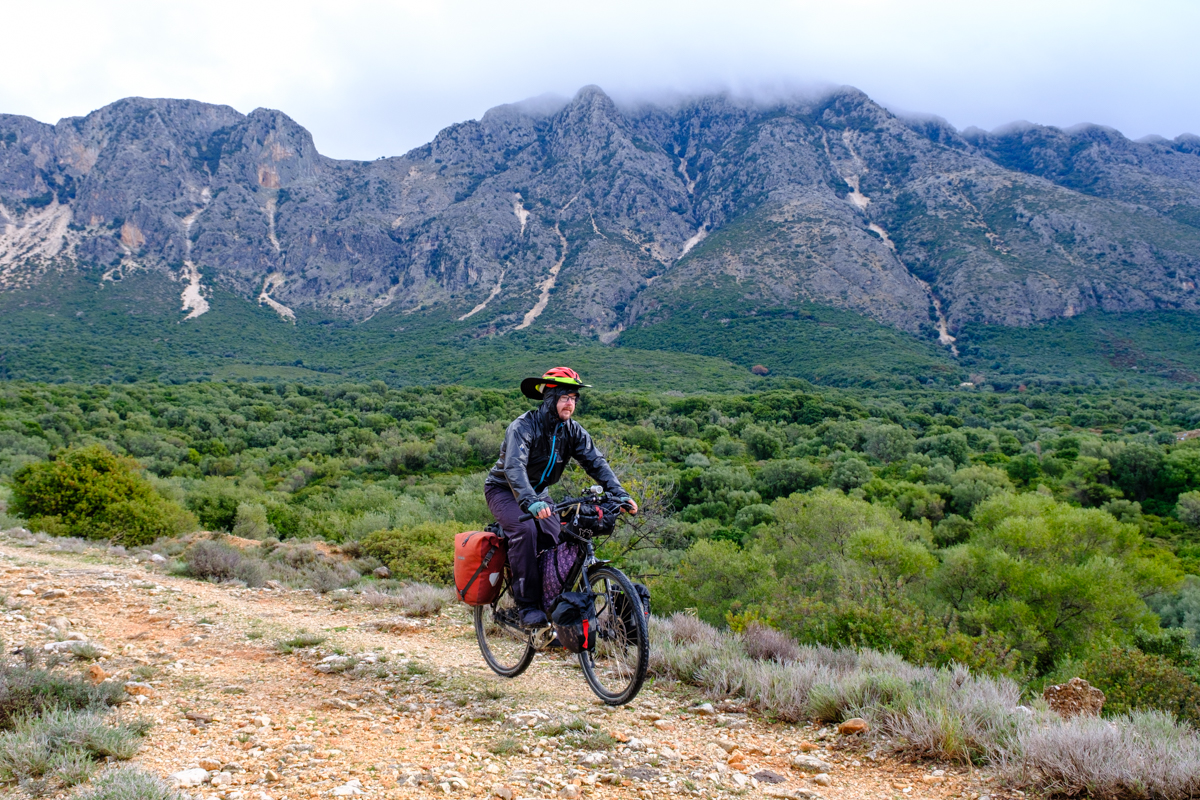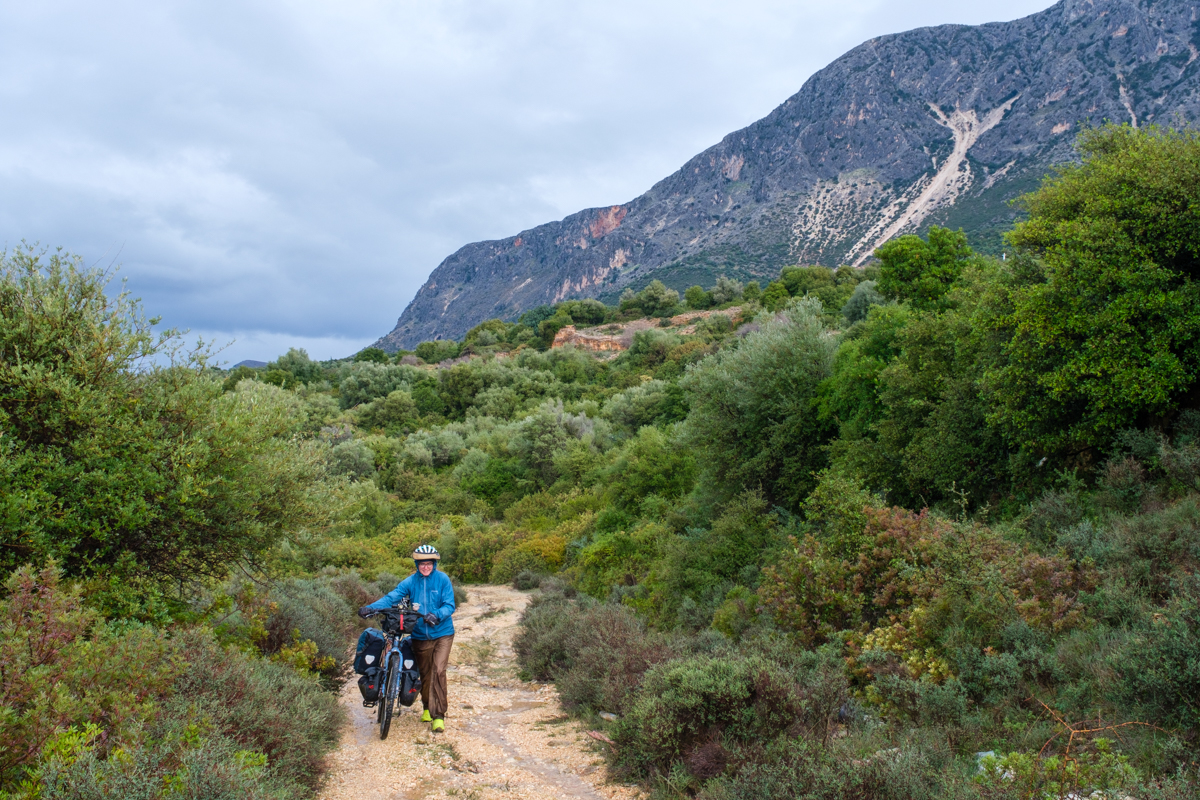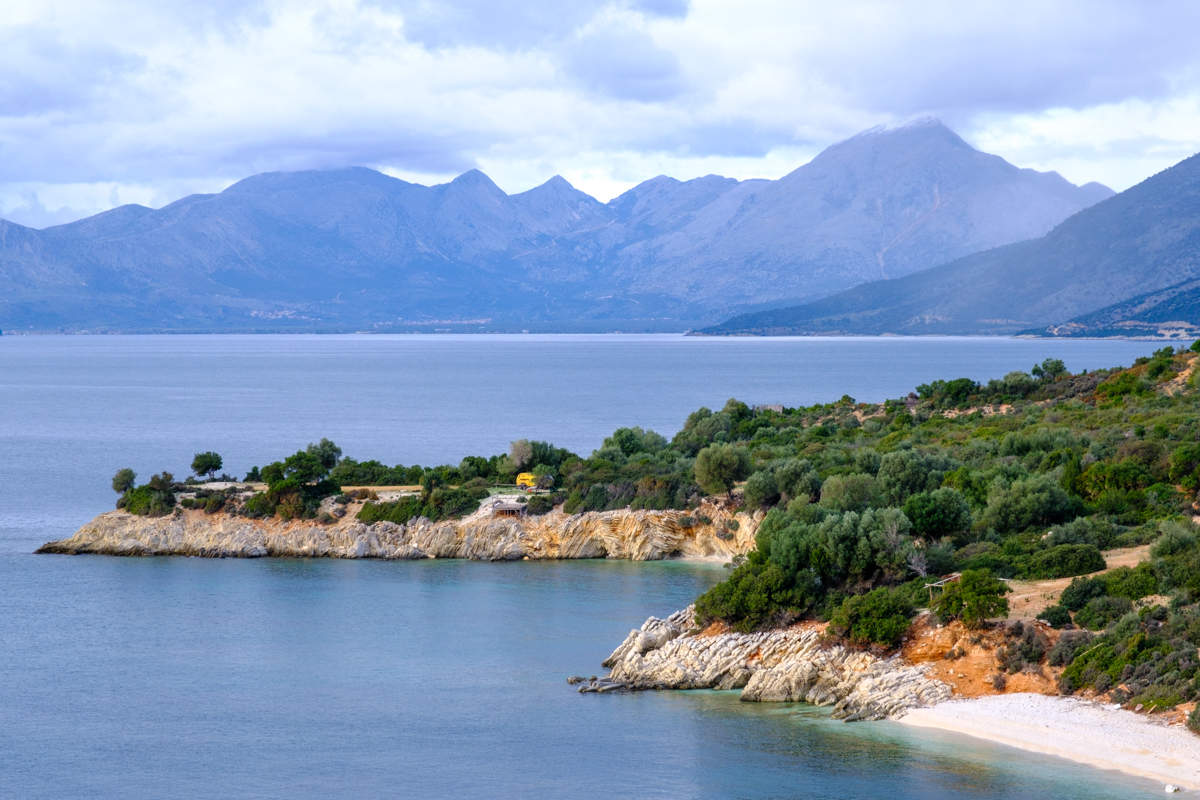 The Gulf of Corinth
In Antirrio we faced a decision – the EuroVelo 8 went along the flatter and more populated south side of the Gulf of Corinth, and on the other hand was the more mountainous and sparsely populated north side of the Gulf. We were a little concerned about being at high elevations during the winter, but we decided to take the northern route because the weather forecast looked clear during our travel days.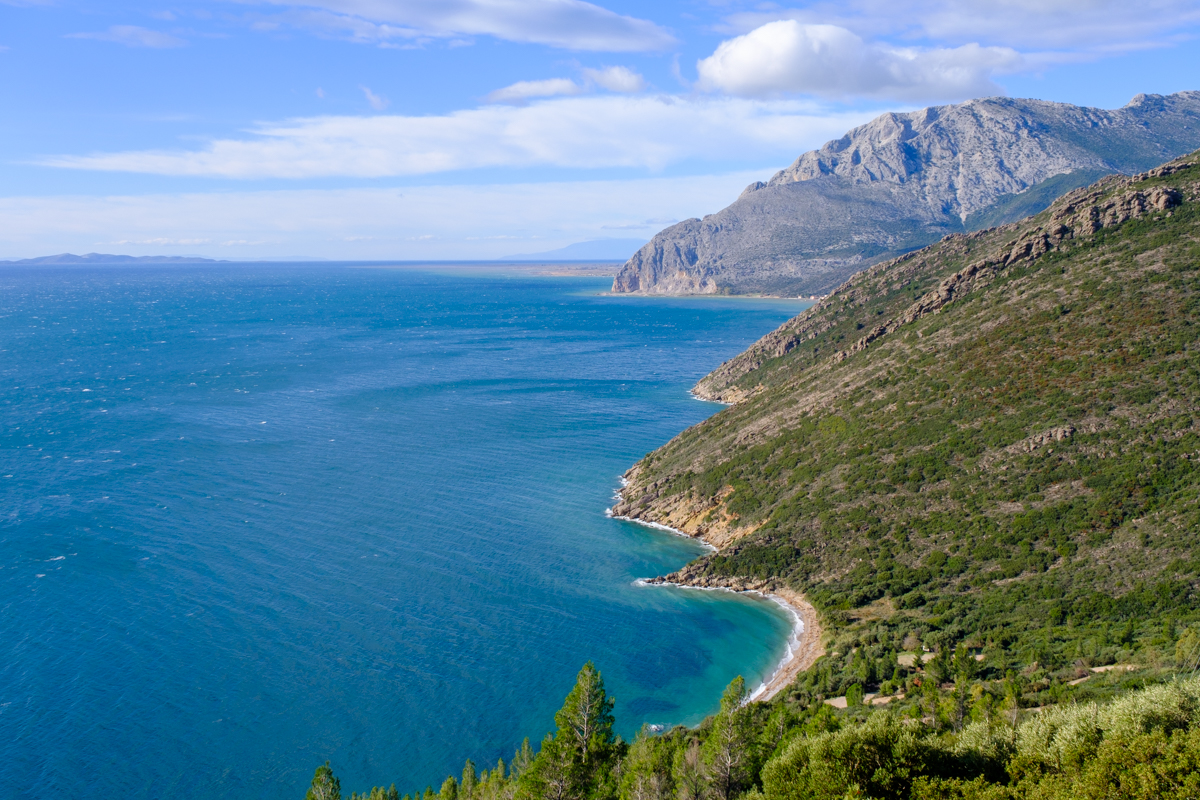 The wind really tested our resolve for a few days, with headwinds that seemed to never stop no matter which way we turned. We'll take any type of weather as long as it doesn't involve wind – it's our least favorite by far.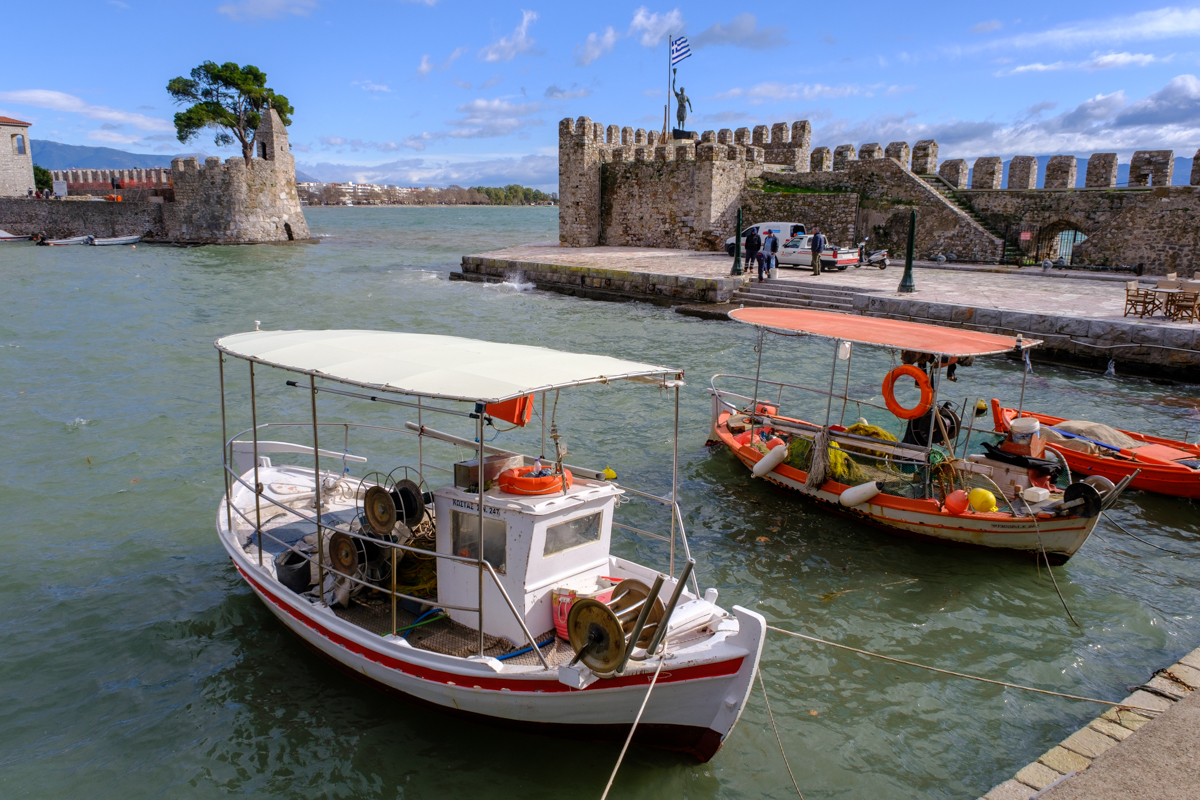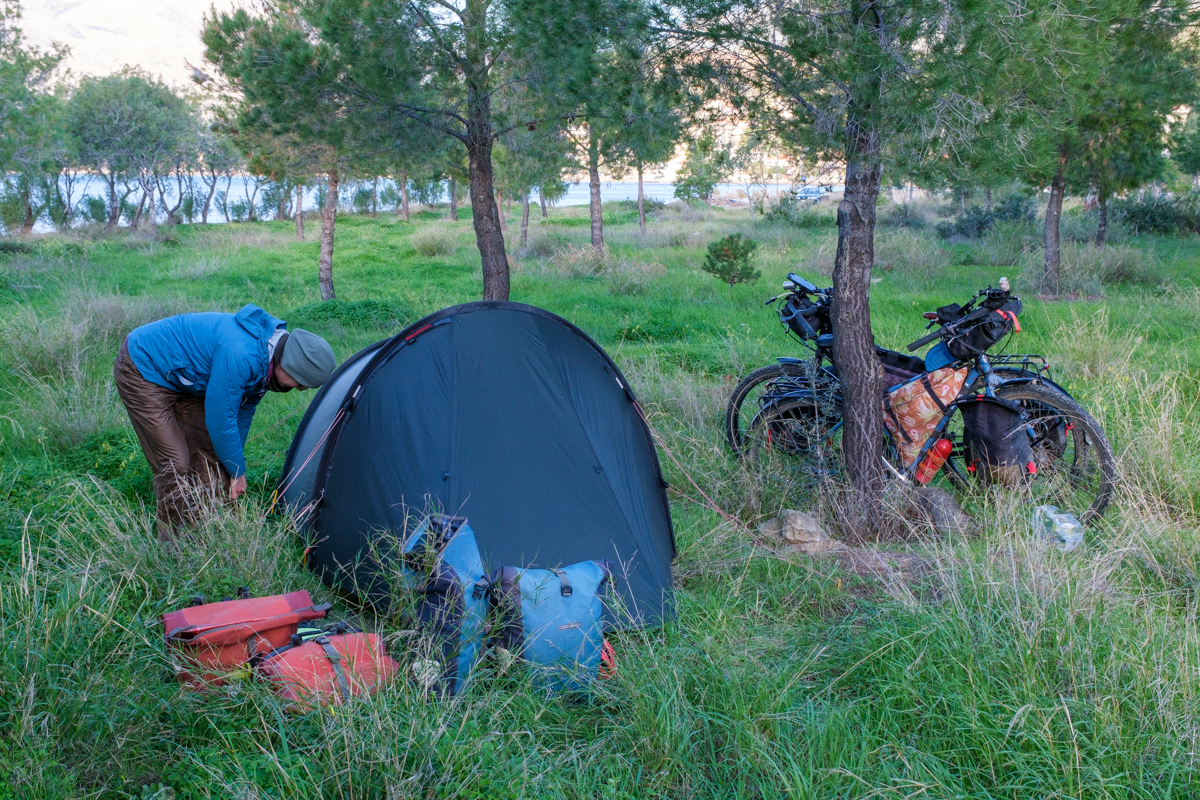 Ancient City of Delphi
There were several different options to take when crossing through the mountains, and we chose to ride up to Delphi and explore the ancient ruins for a day. The city of Delphi is in an impressive location, nestled high up in the mountains with an amazing view out to the Gulf of Corinth. The cliffs around the ruins are spectacular, and it seemed like a very apt place to consult an oracle.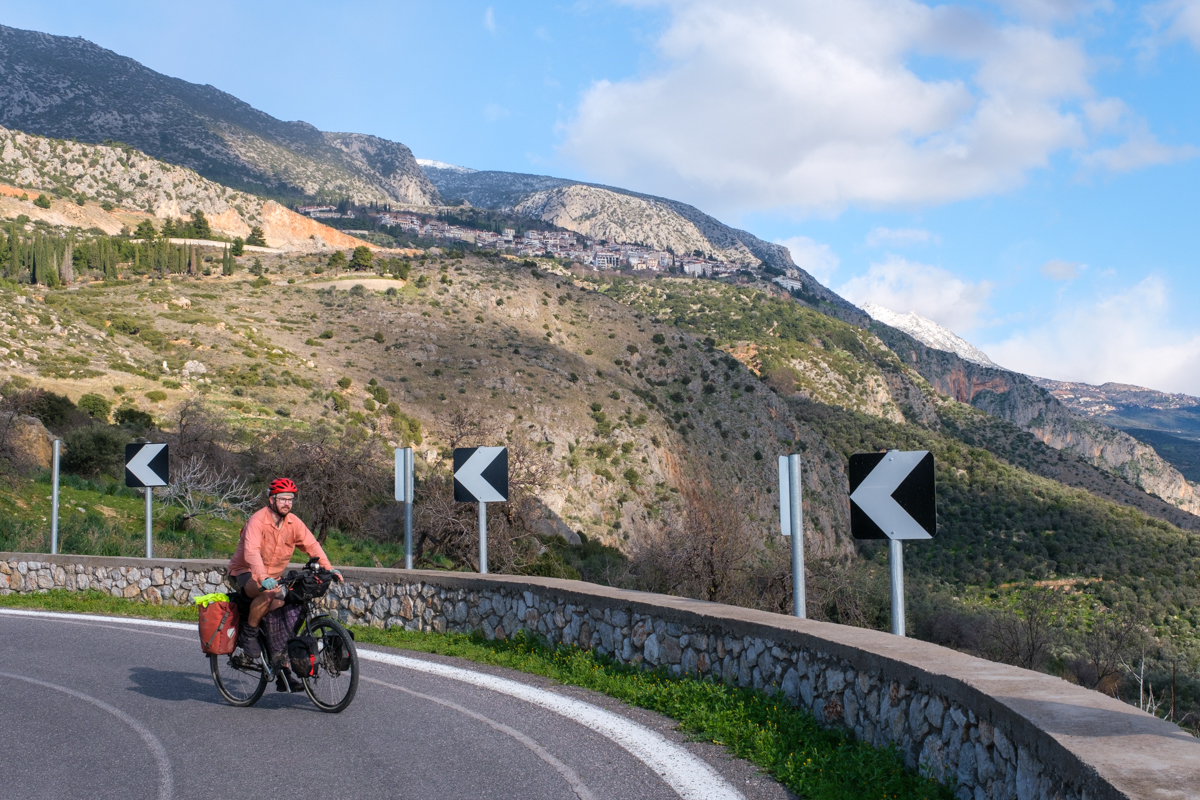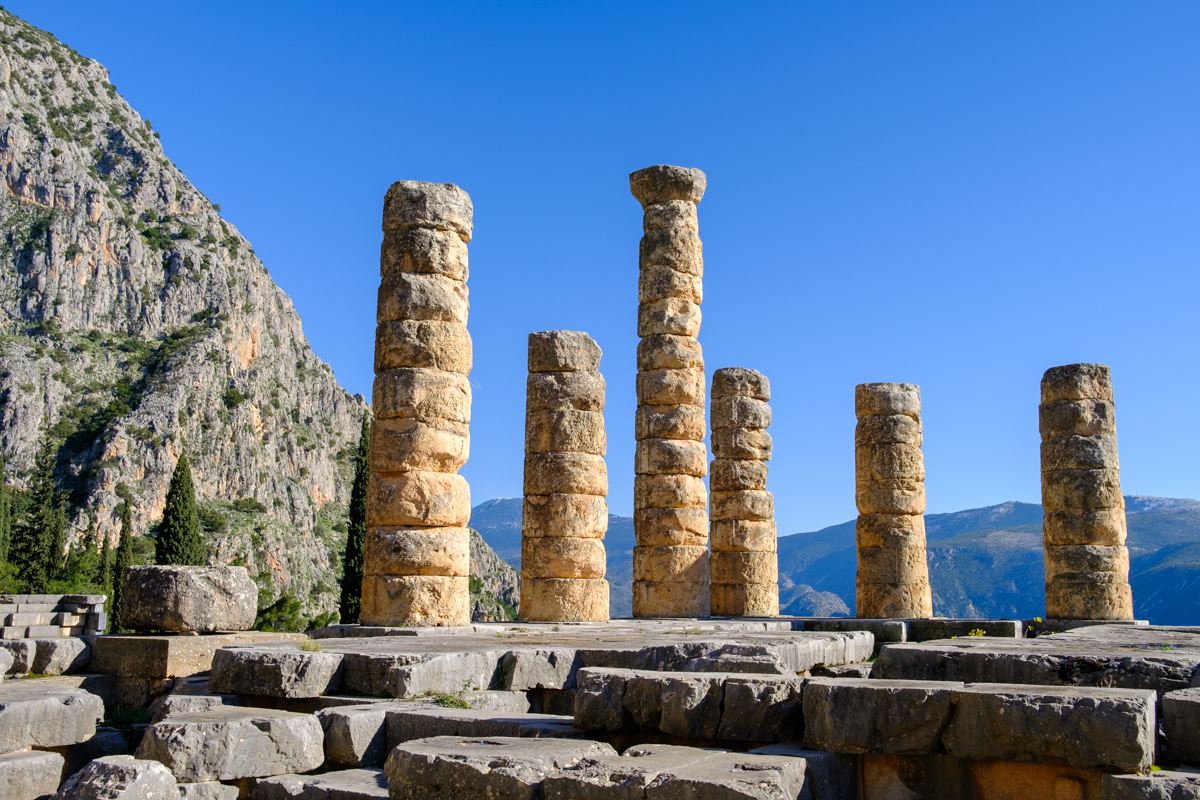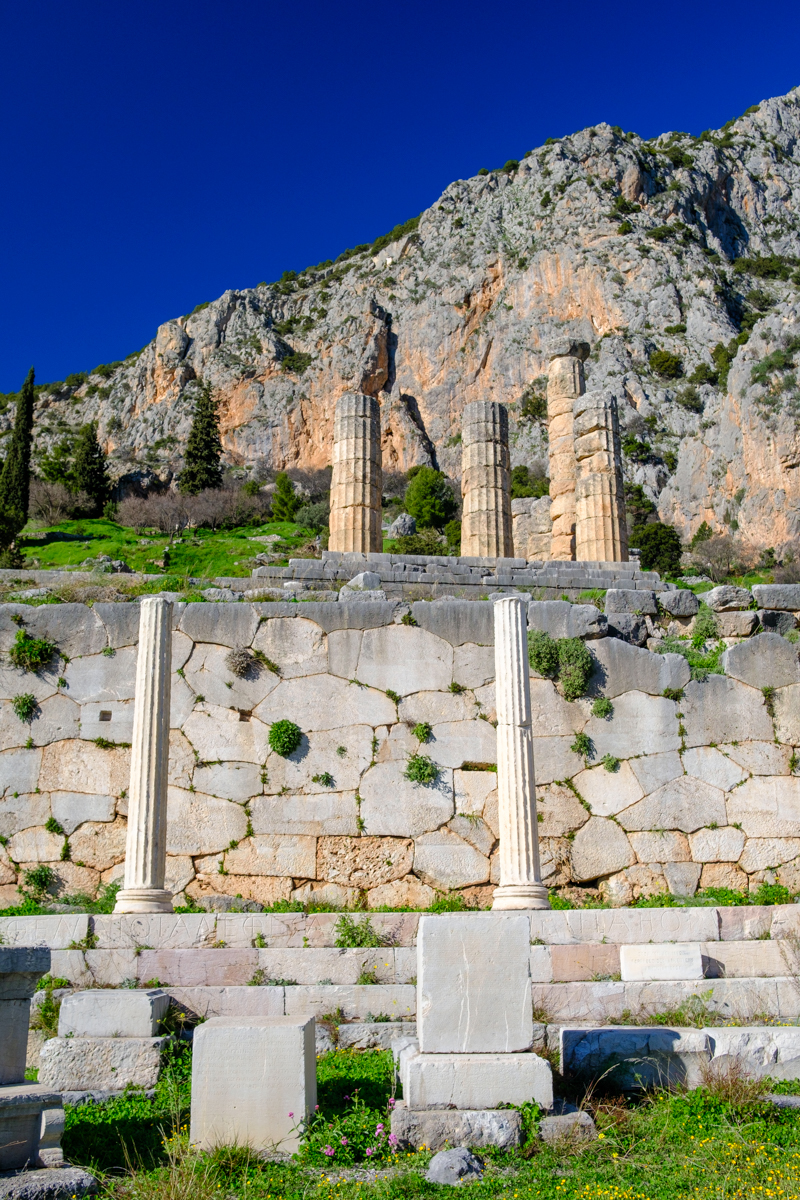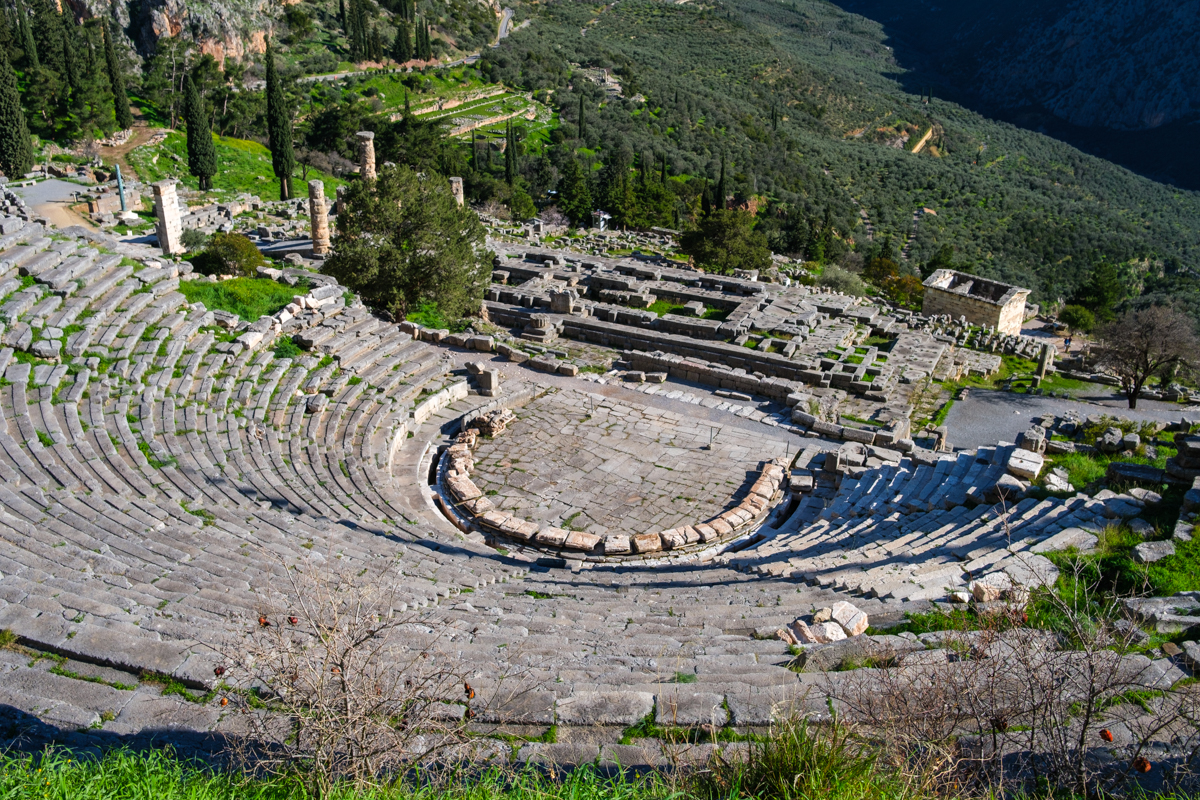 The owner of the hotel we were staying at recommended a wonderful restaurant where we enjoyed Greek food such as moussaka, souvlaki, and local yogurt with honey. We don't eat out too often, so when we do we try to make it count. This was our first time having real Greek yogurt, and it's our new favorite thing.
To Athens
After making our way around the Gulf of Corinth, we were on a highway for awhile before deciding that we hated it and would rather take side roads, even if we had to do more climbing. The quiet roads were much nicer, and we had some great views of the coast coming into Psatha.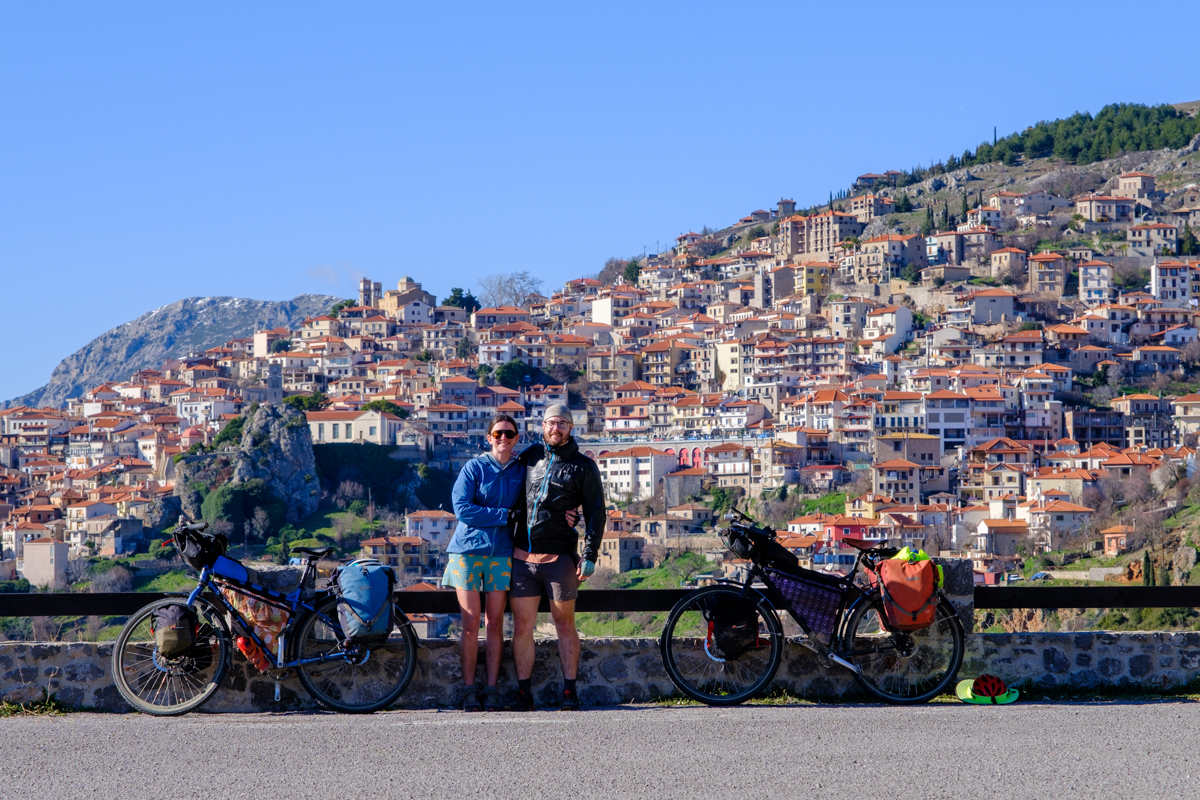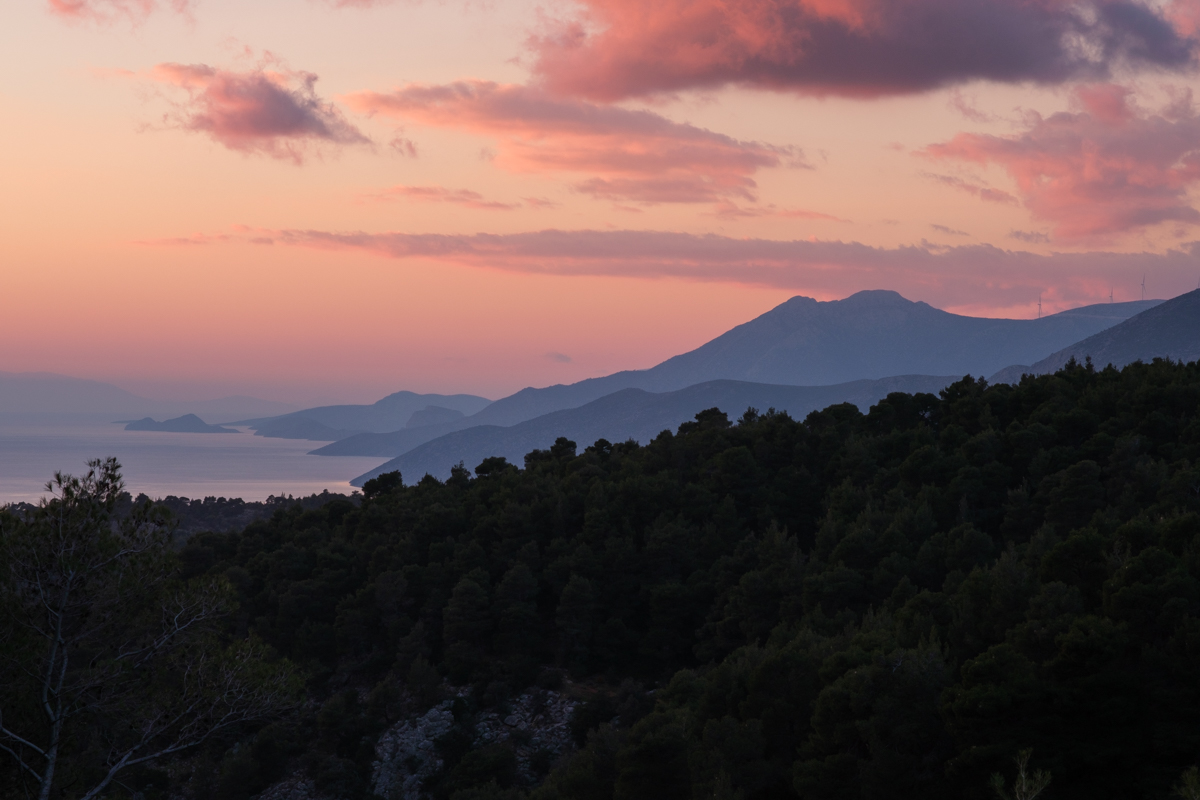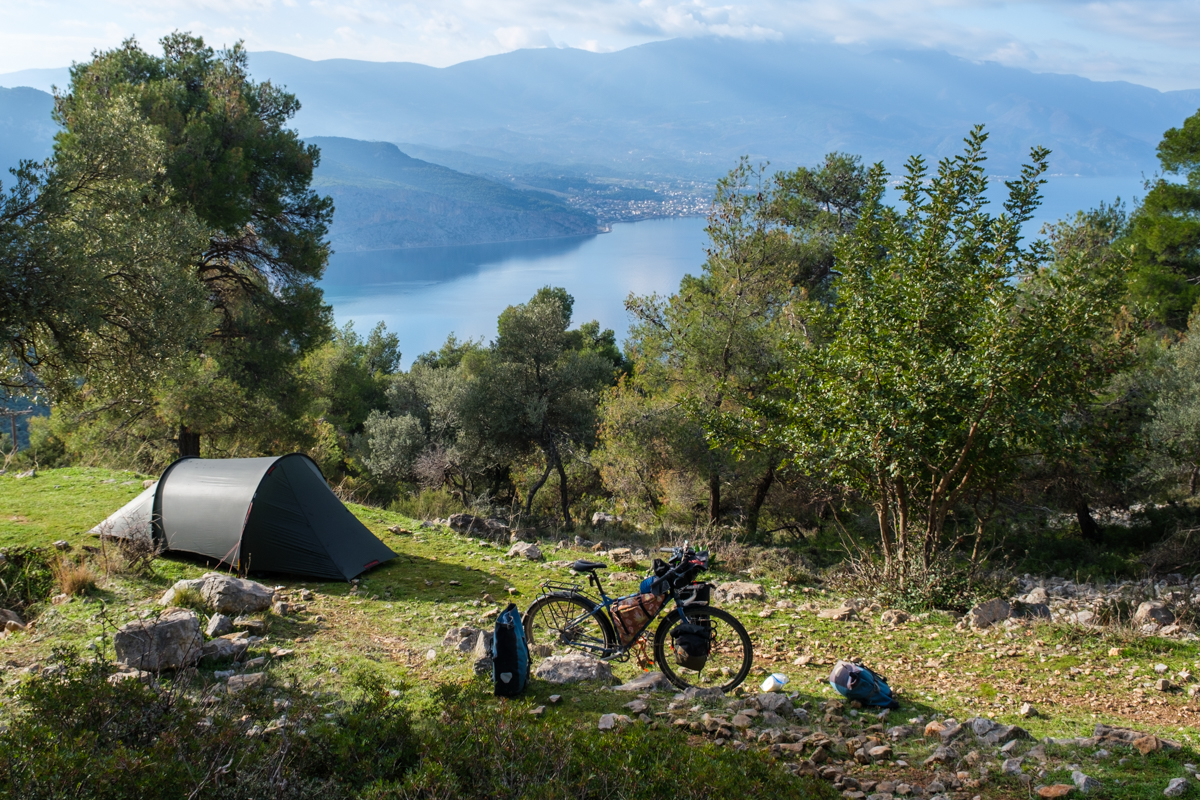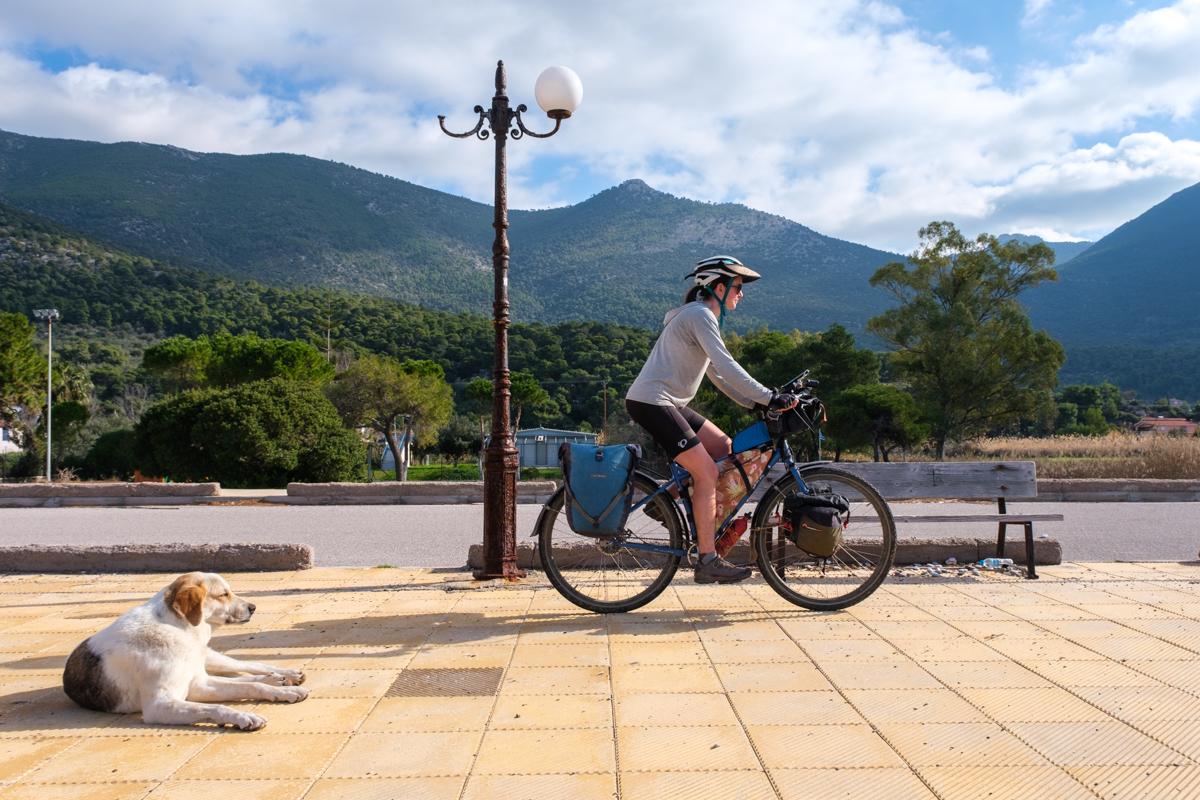 We took a ferry to the island of Salamina, which we rode across before taking the final ferry to Perama, just outside Athens. The traffic coming out of the ferry port was a wild ride, and we were glad to get onto smaller streets. It was about 10 miles of city riding to get to our AirBnB near the Acropolis, but we made it unscathed and were excited to spend a few days off the bikes exploring Athens.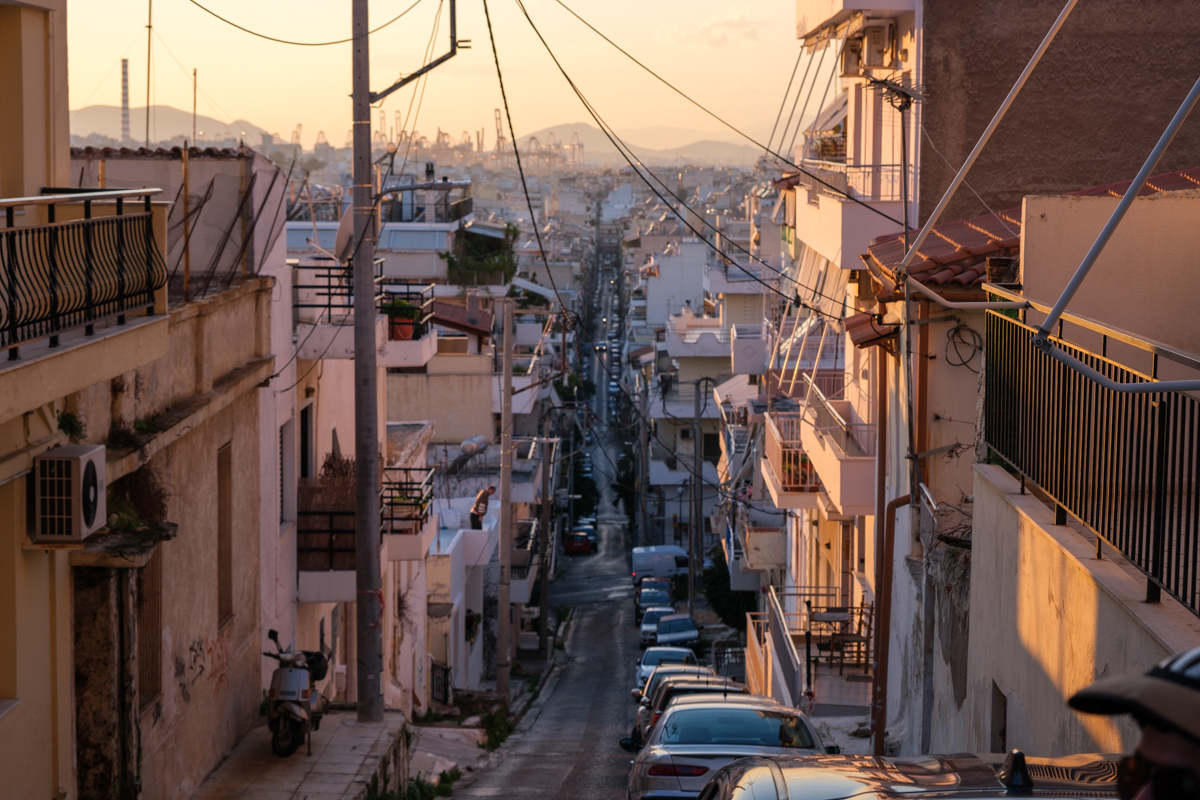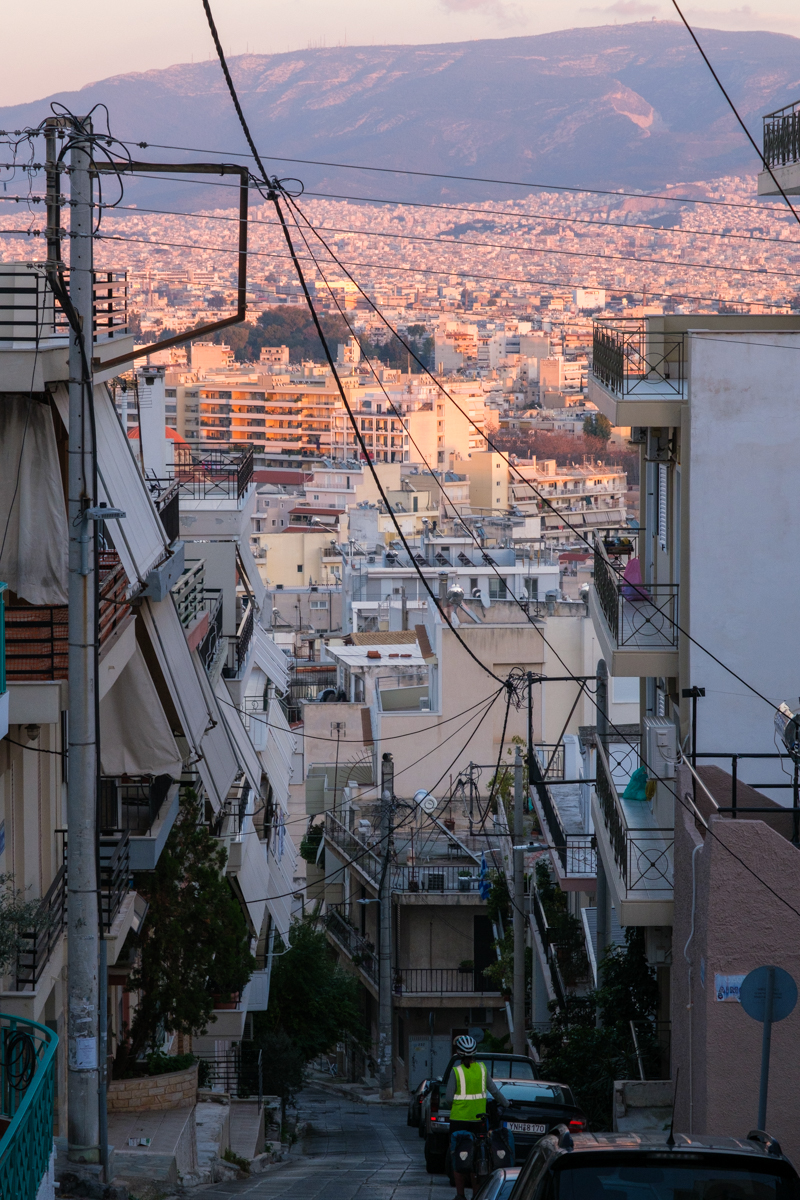 Athens
We stayed in Athens for 4 nights to visit some of the city's historic sites. The Acropolis was phenomenal and it was exciting to see places that we've read so much about in history books. We checked out the Roman Forum and Hadrian's library over the fences because they were closed when we stopped by, but we could still get the gist from the road.
A Small Slice of the Peloponnese
On Andrew's birthday, we left Athens on a rainy day and took a ferry to Methana, a small town in the Peloponnese region. Immediately upon disembarking, we ran into a group of 3 French cyclists and their dog, which was very exciting as we hadn't seen any other bicycle tourists for months.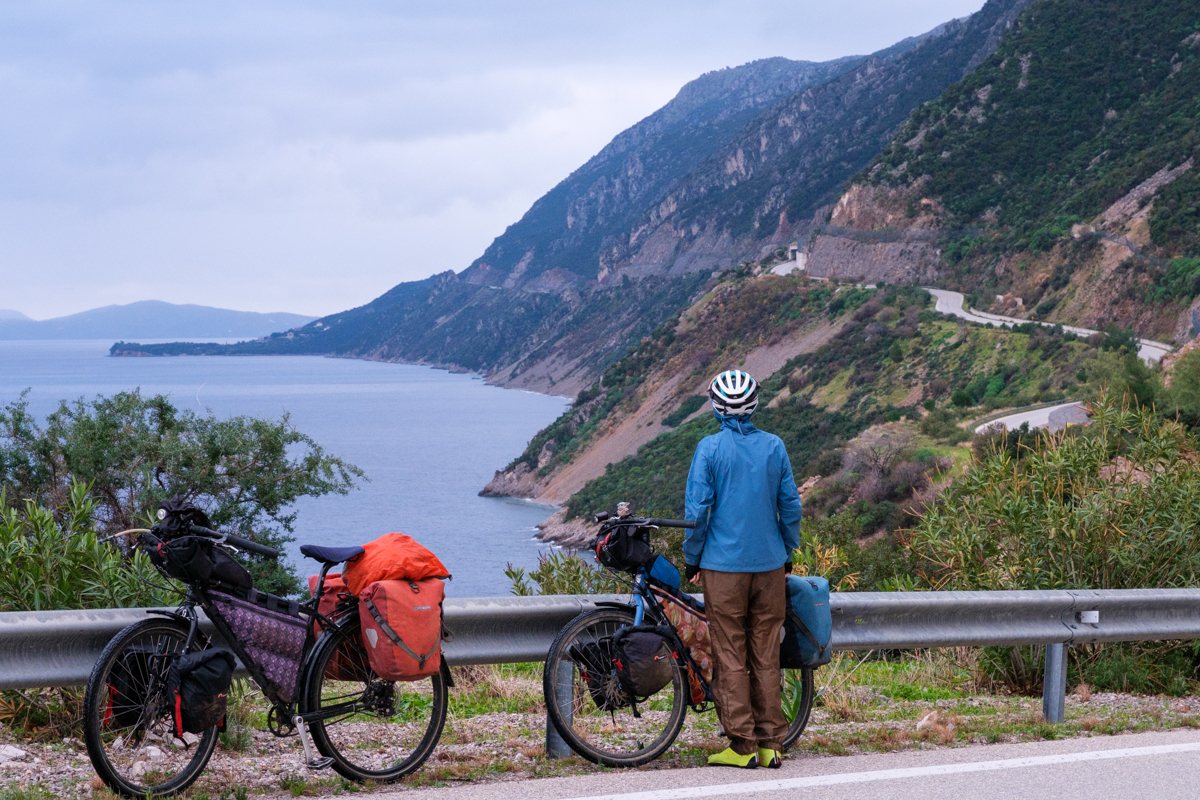 Since we only had 3 months on our Schengen visa, we decided we didn't have enough time to ride around the Peloponnese as we'd originally planned. Instead, we rode the coastline of the easternmost finger and then traveled along the south side of the Gulf of Corinth to reach Patras.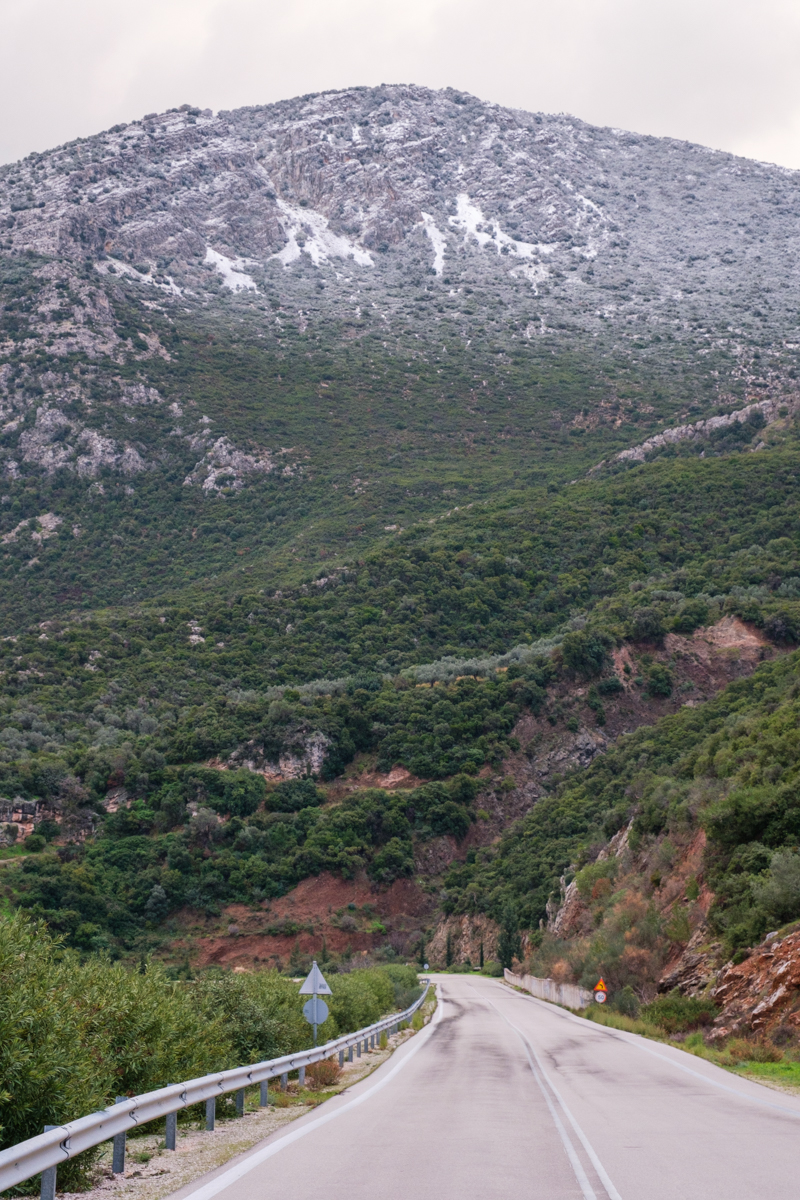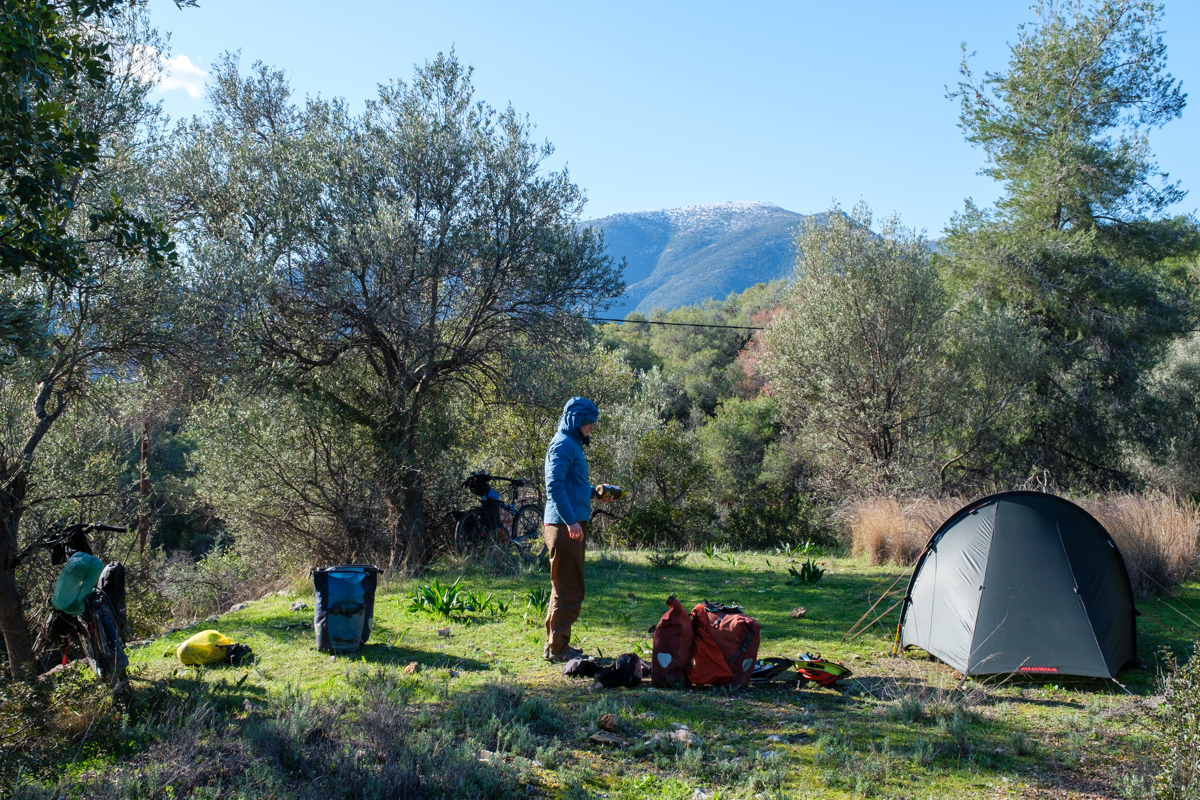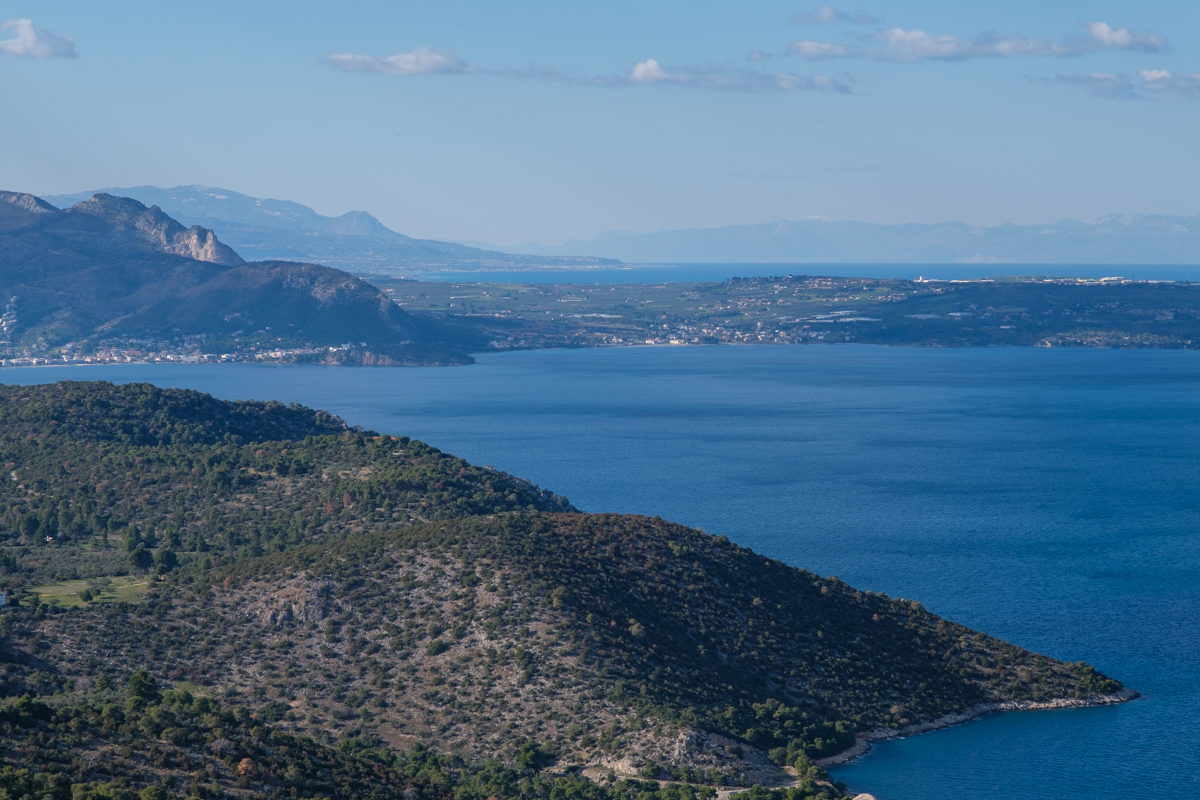 Gulf of Corinth
After looking at some columns in ancient Corinth, we started busting out miles along the Gulf. The riding was really flat and we weren't particularly excited about the urban sections, so we did some night riding to get to Patras as soon as we could. We camped behind a small church right on the water and tried to get some sleep while the waves crashed next to us and sounded like they were going to wash us away.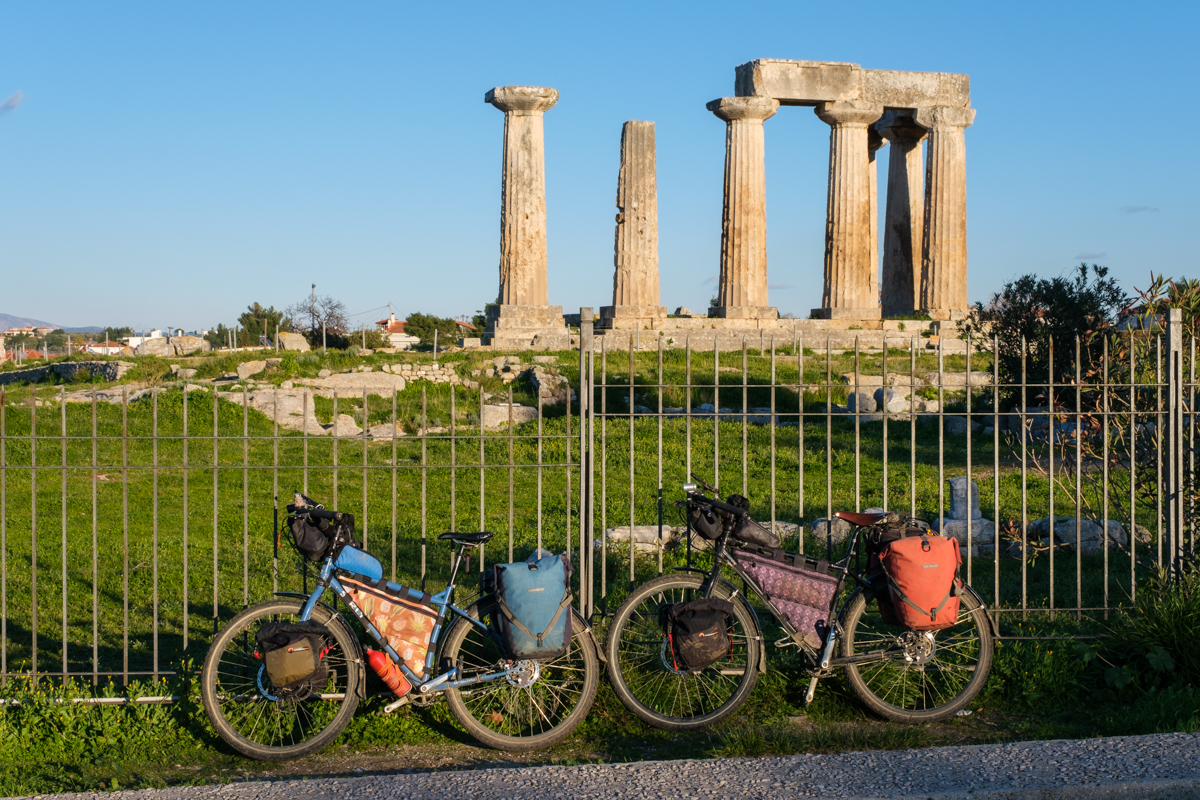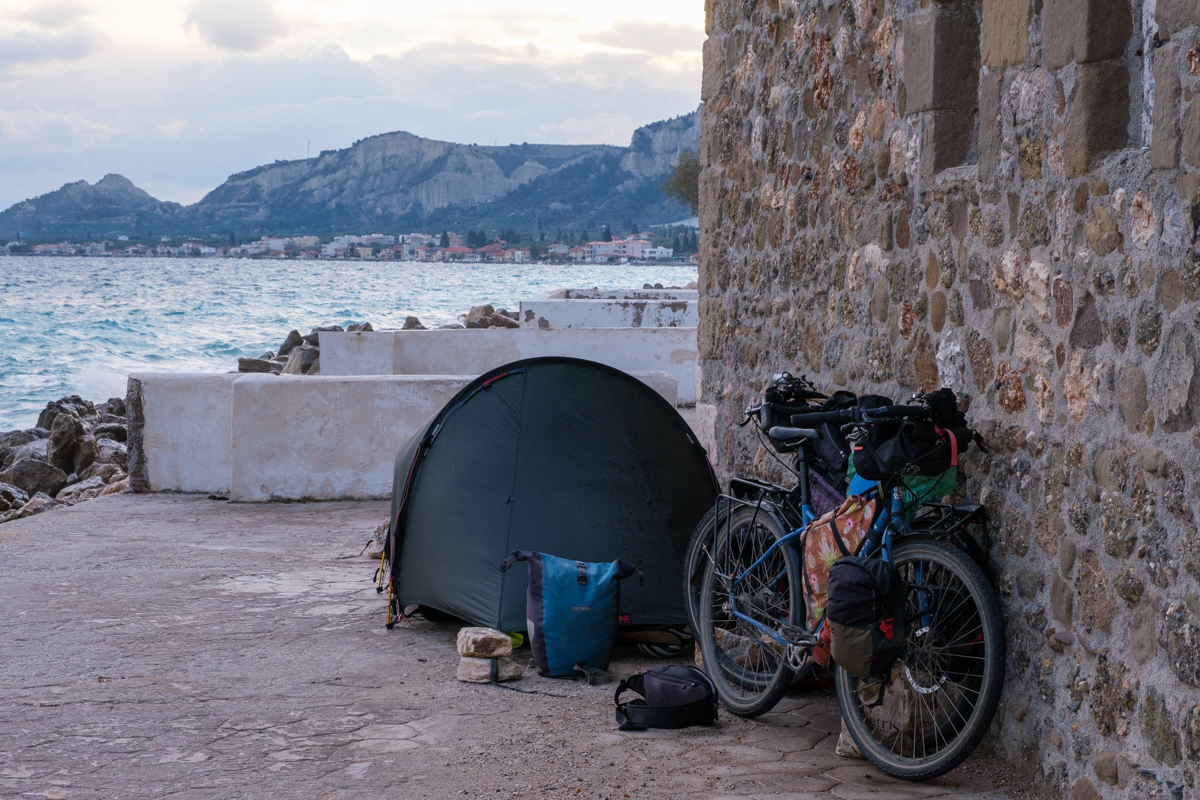 We made it to Patras the next day just in time for our ferry to Italy. Read about the hectic ferry boarding in our next post about southern Italy.
Video from Corfu and Mainland Greece