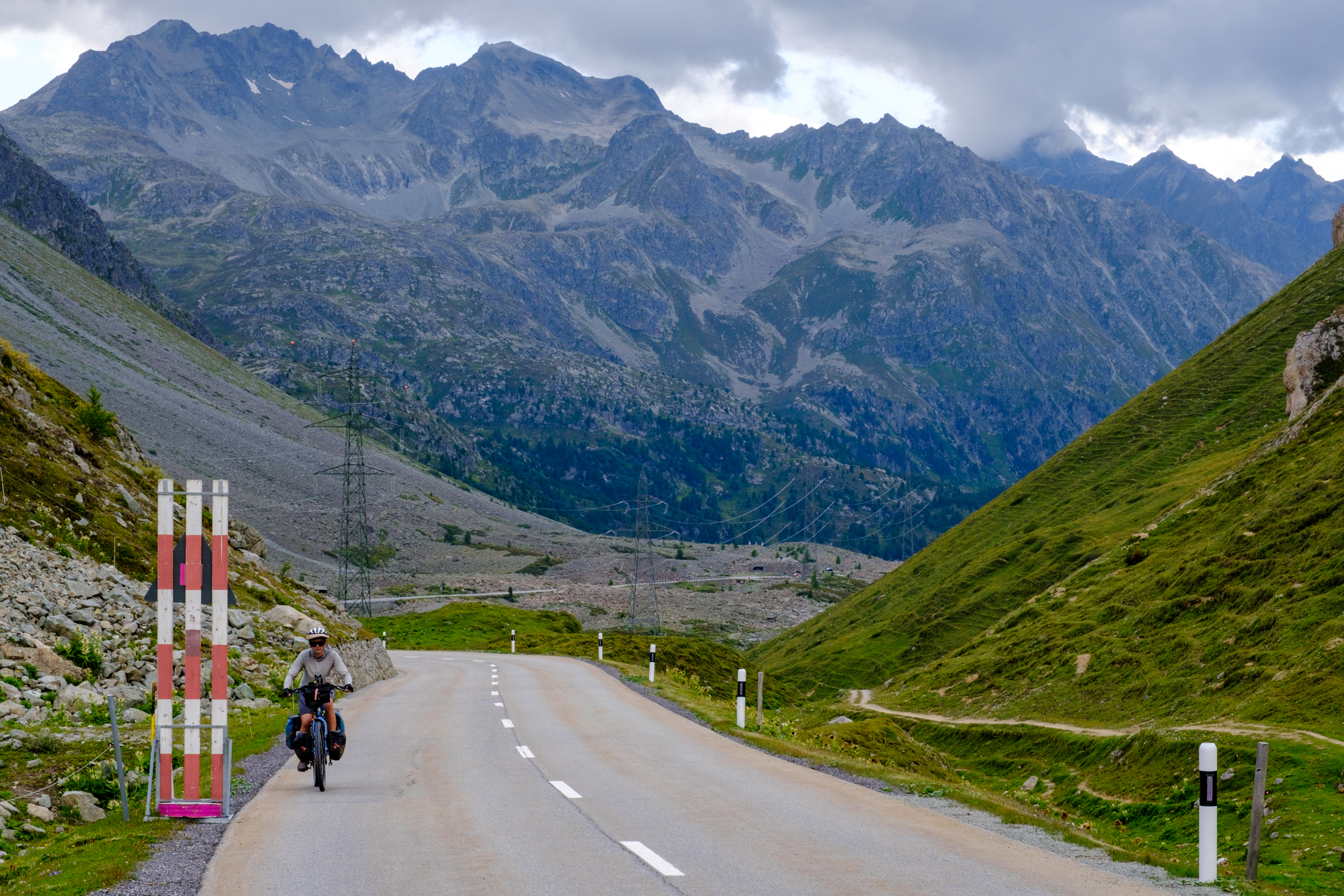 Bicycle Touring the Swiss Alps
The Alps are a legendary mountain range that stretches across eight European countries: France, Switzerland, Monaco, Italy, Liechtenstein, Austria, Germany, and Slovenia. Almost all of the highest peaks of the range are found within Switzerland, and the Alps constitute a significant percentage of Switzerland's land area – roughly 60% of the country is covered by the mountains.
We rode our bicycles across the country in August of 2021 and took a zig-zagging route through the mountains to experience the challenging and extraordinary alpine landscape.
Route
We came into Switzerland on the western border in Geneva. You can read more about our journey across France to Geneva here.
Download the GPX track of our ride across Switzerland. NOTE: This is not a polished route and is intended for research and planning purposes only.
ViaRhôna and Alps Panorama
From Geneva, we had a pleasant ride along the ViaRhôna through a large valley before a huge, morale-busting climb into the mountains. The grade was incredibly steep, and to top it off we were riding during a heat wave at the hottest time of day. It was one of those climbs that really makes you think about your knee cartilage and how it's holding up.
The top of the climb quickly made us forget the grueling ascent. We found ourselves in an alpine landscape accompanied by the peaceful sound of cowbells, which would be a constant soundtrack to our ride through the mountains. Even when we felt like we were deep in the wilderness, the cowbells were always with us.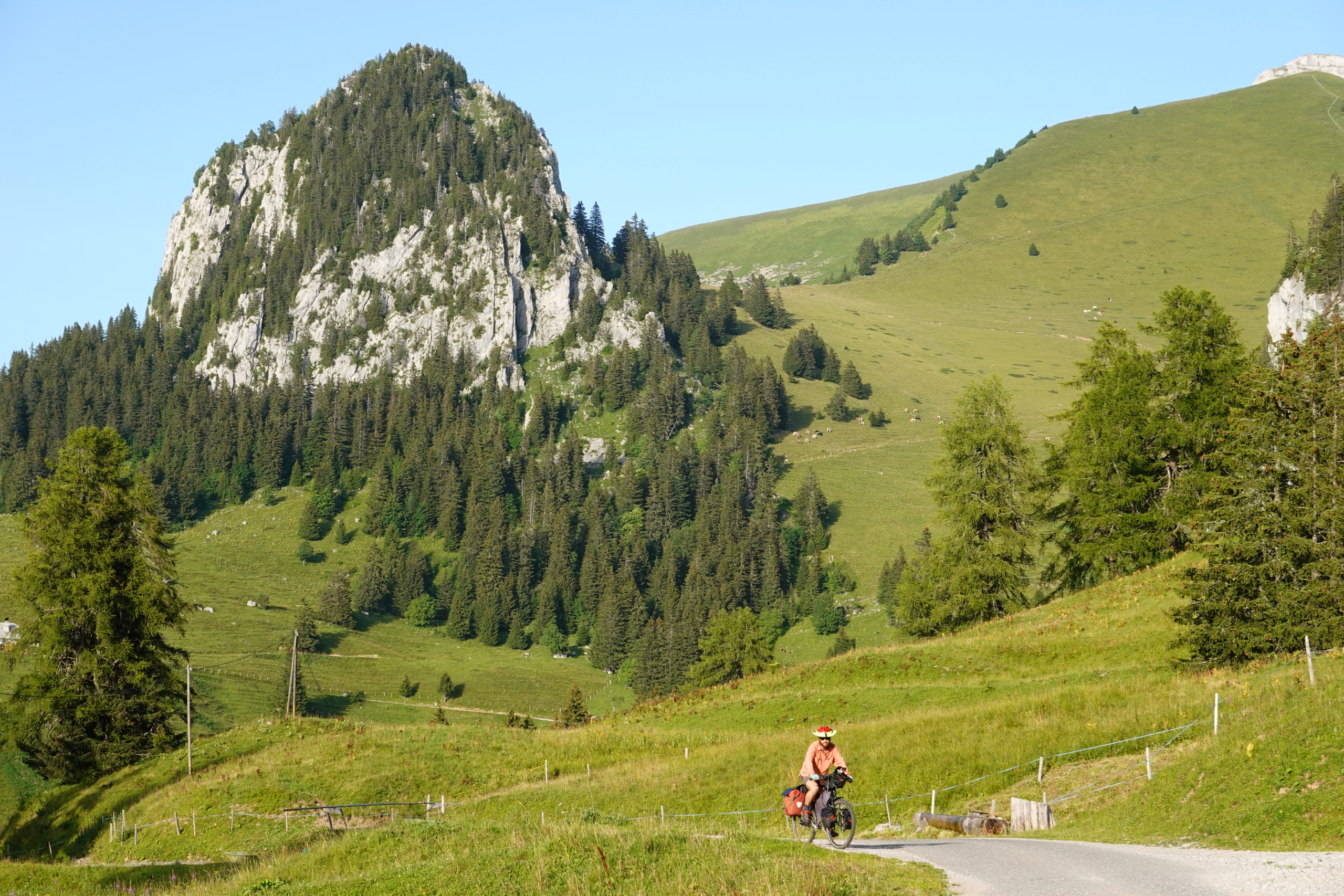 We descended from the high mountains toward the foothills of the Alps and the more agricultural areas. The downhill always goes by way too fast.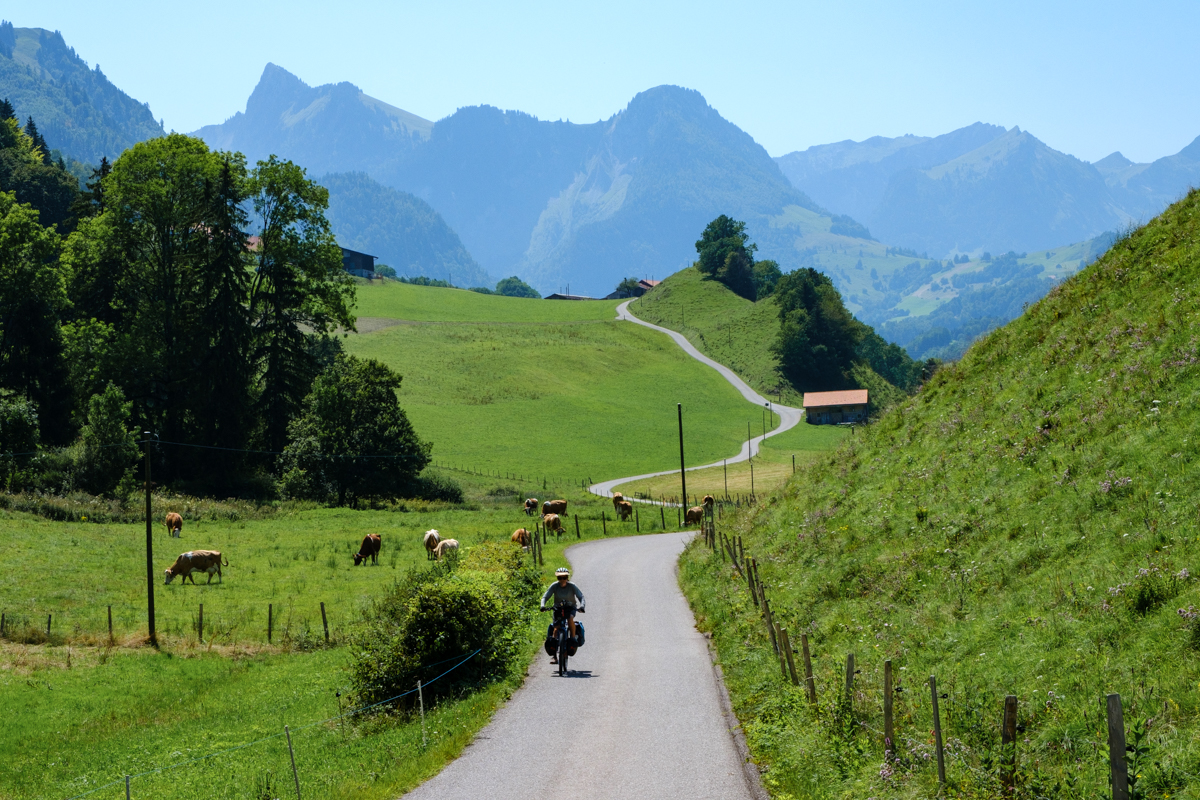 Thun was the first sizeable town we rode through after Geneva. It is a lovely city situated along Lake Thun at the outlet to the crystal blue Aare River. We rode across a pedestrian bridge into the old town and watched surfers show off their skills beneath the medieval wooden locks.
Swiss Alpine Route 1
From Thun we decided we wanted to go back up into the mountains, so we hopped on Swiss Alpine Route 1, which took us through Zweisimmen and over Hahnenmoos Pass to Adelboden. This was a gorgeous route that could make a great short bikepacking loop. It was advertised as a mountain biking route, but only a short section at the top of Hahnenmoos was unpaved. It was crazy steep and we would up having to walk most of the gravel section.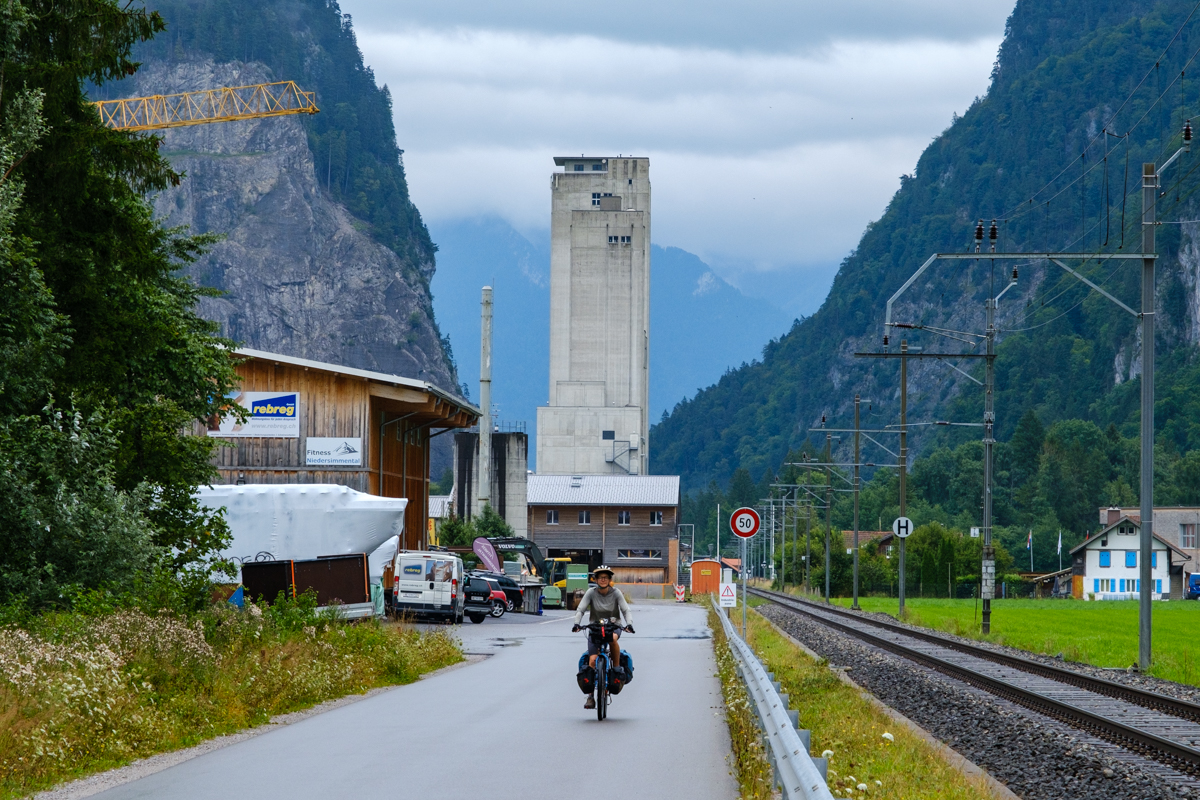 Lakes Route
After our detour on Alpine Route 1, we rode to Interlaken and traveled along the Lakes Route to Lucerne. We thought that riding along the lakes might be flatter and a little more easy-going, but this turned out to be a foolish expectation. There were lots of ups and downs and a decent pass near Meiringen – the town where meringue was allegedly invented. A large waterfall near Meiringen, Reichenbach Falls, was the location for the fictional standoff between Sherlock Holmes and his nemesis Professor Moriarty.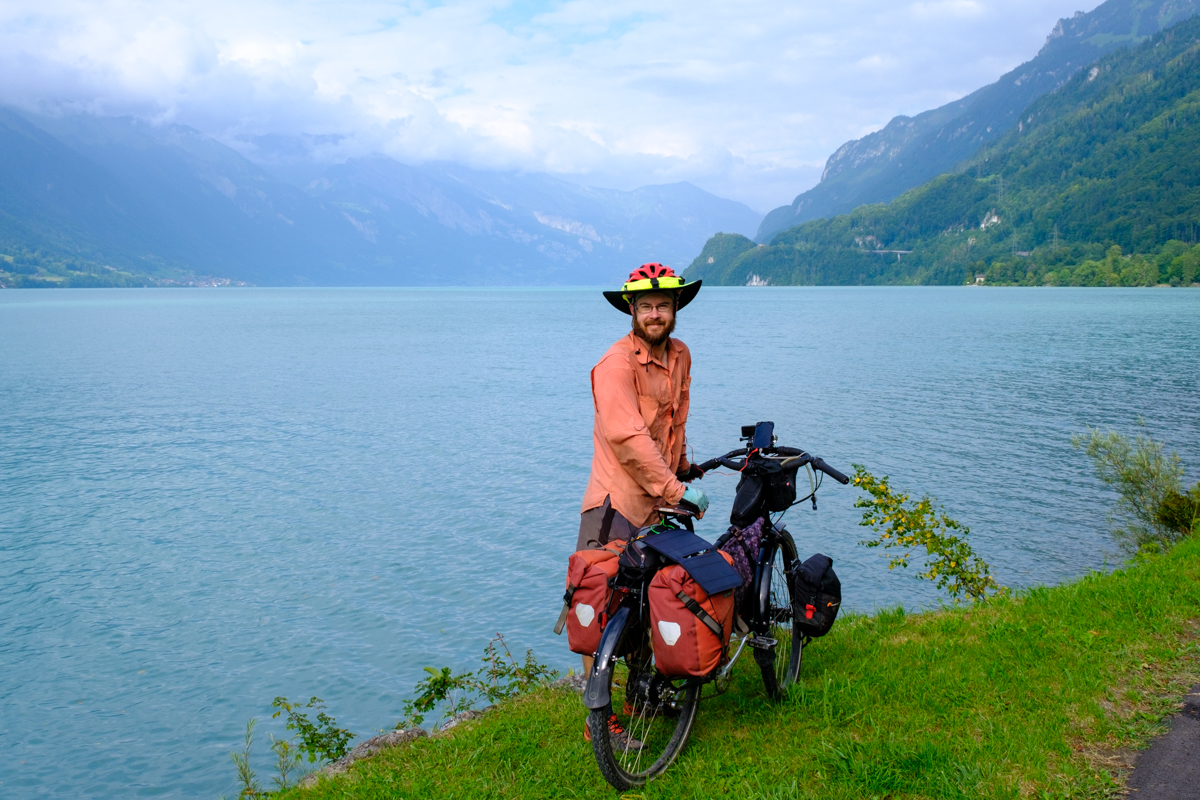 We checked out some of the sights in Lucerne before heading north to visit some friends for a few days. We walked along the Chapel Bridge, which was built in the 14th century and features paintings along its interior panels from the 17th century. We also went to see the Lion Monument, which commemorates the Swiss Guards that were killed in the French Revolution.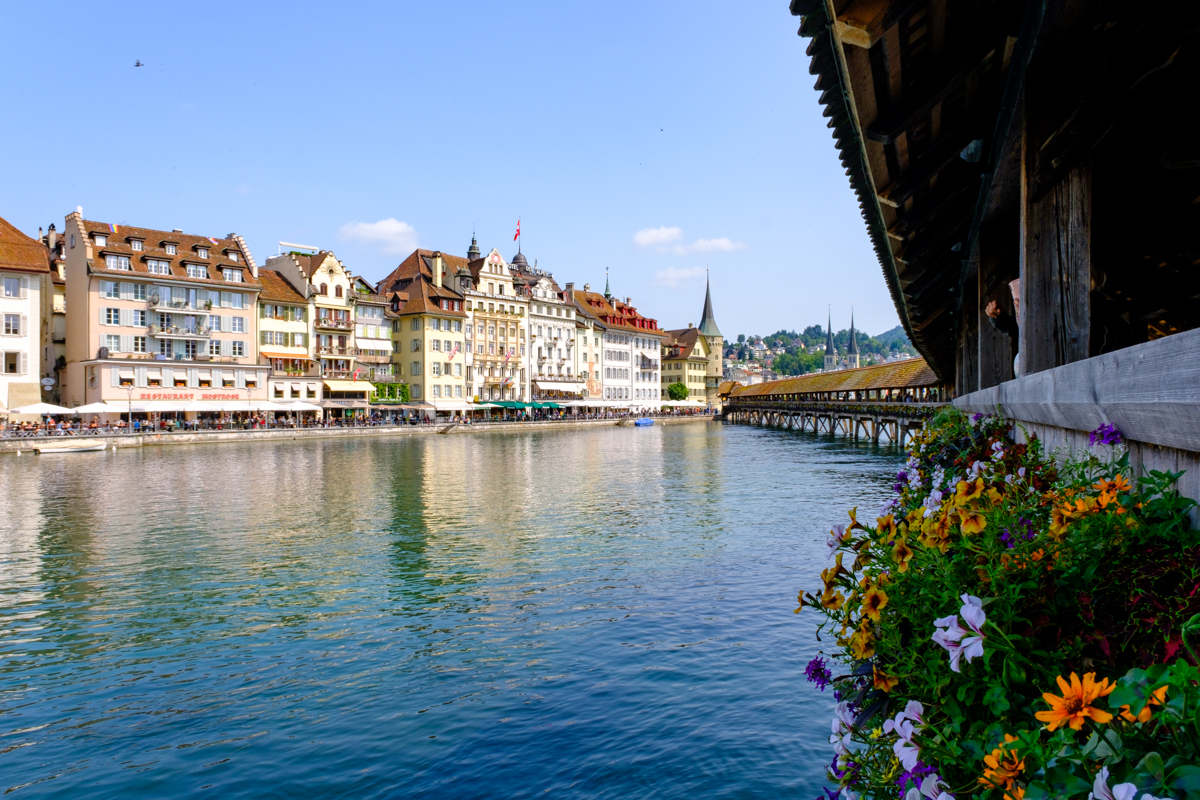 Zurich and Bern Sightseeing
We visited some friends who live near Zurich, and they took us to see both Zurich and Bern. It was really nice exploring the cities on foot without worrying about the bikes, and we love getting to go sightseeing with locals. We also rode around in a car which was very exciting.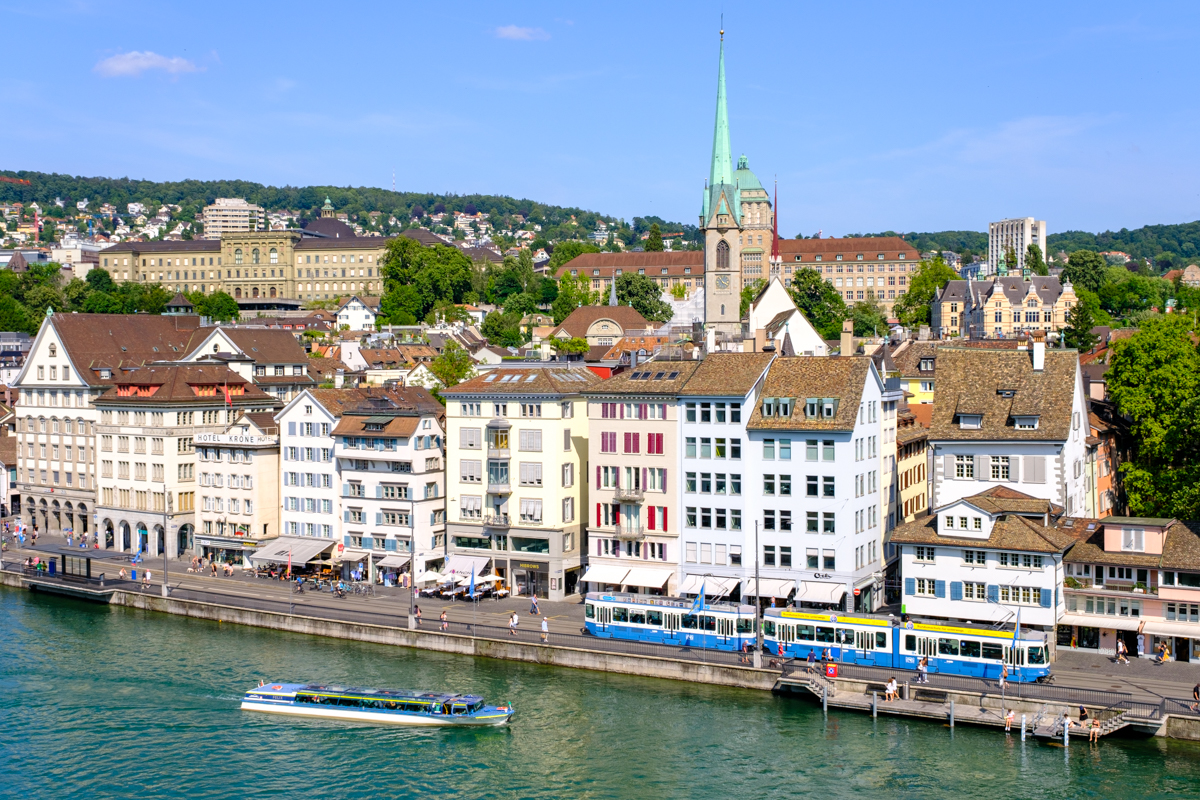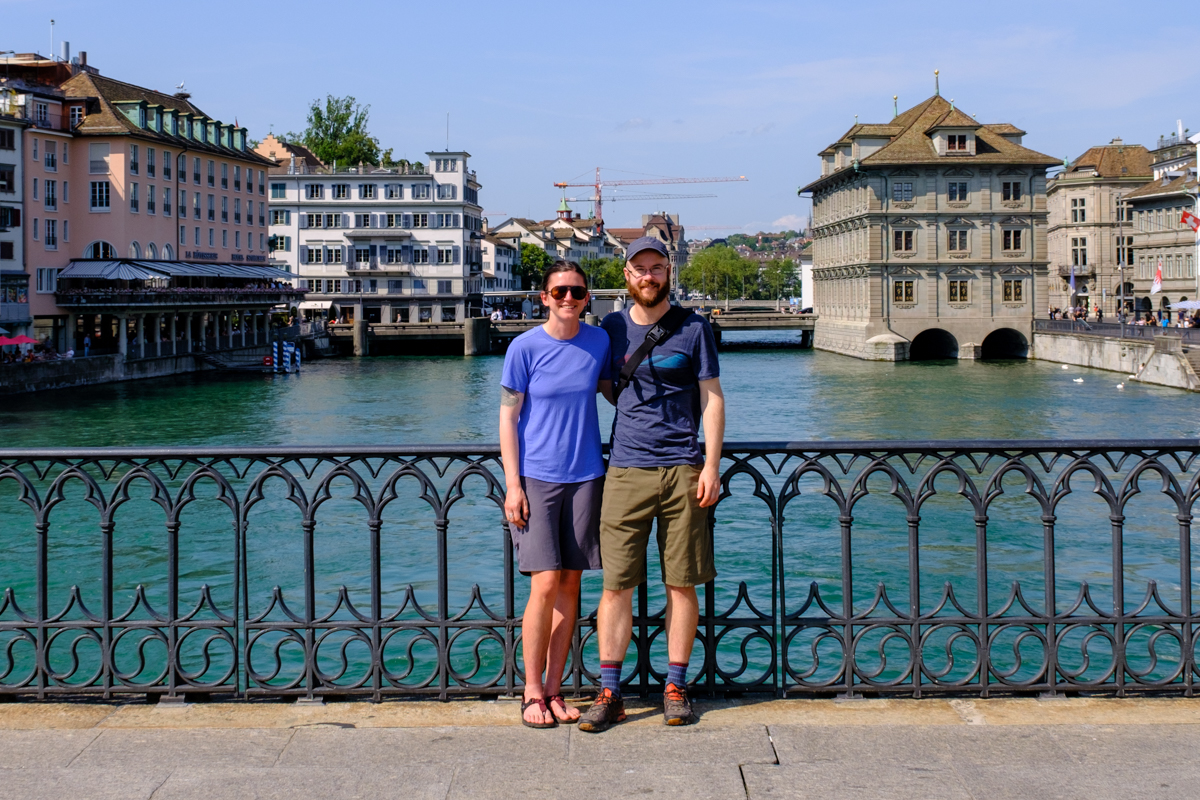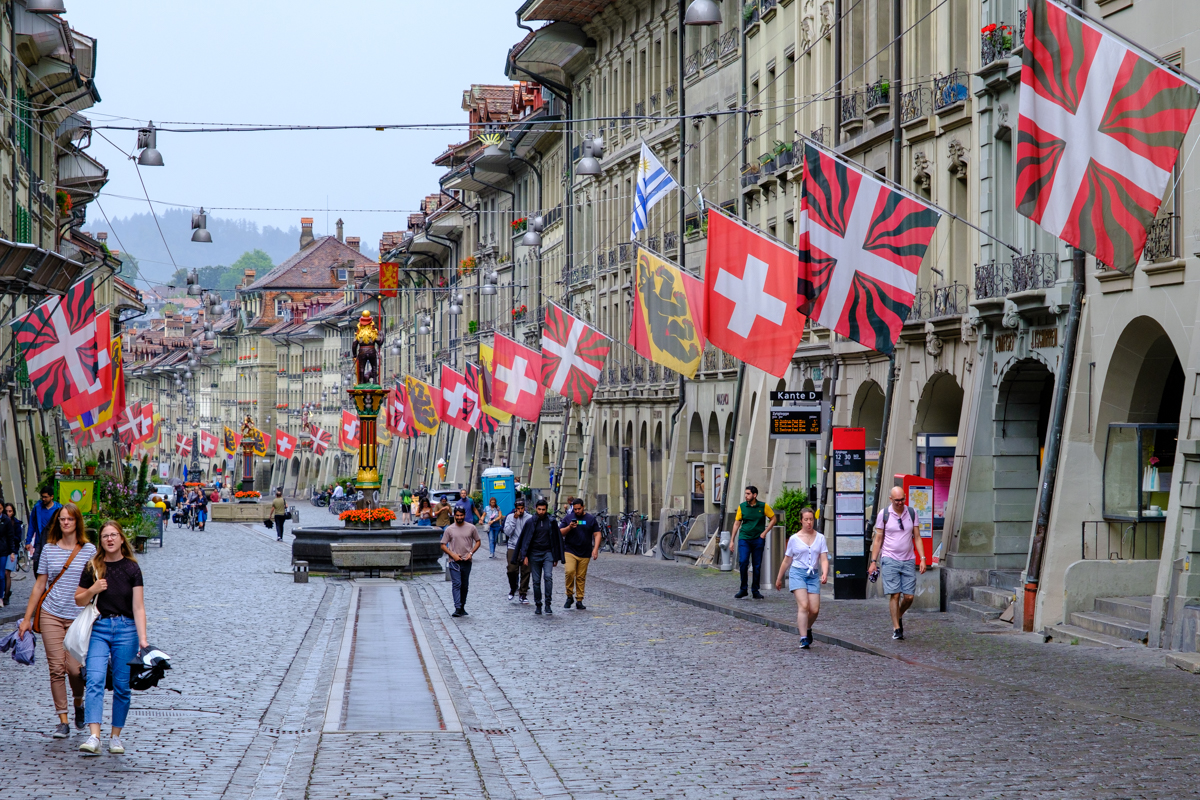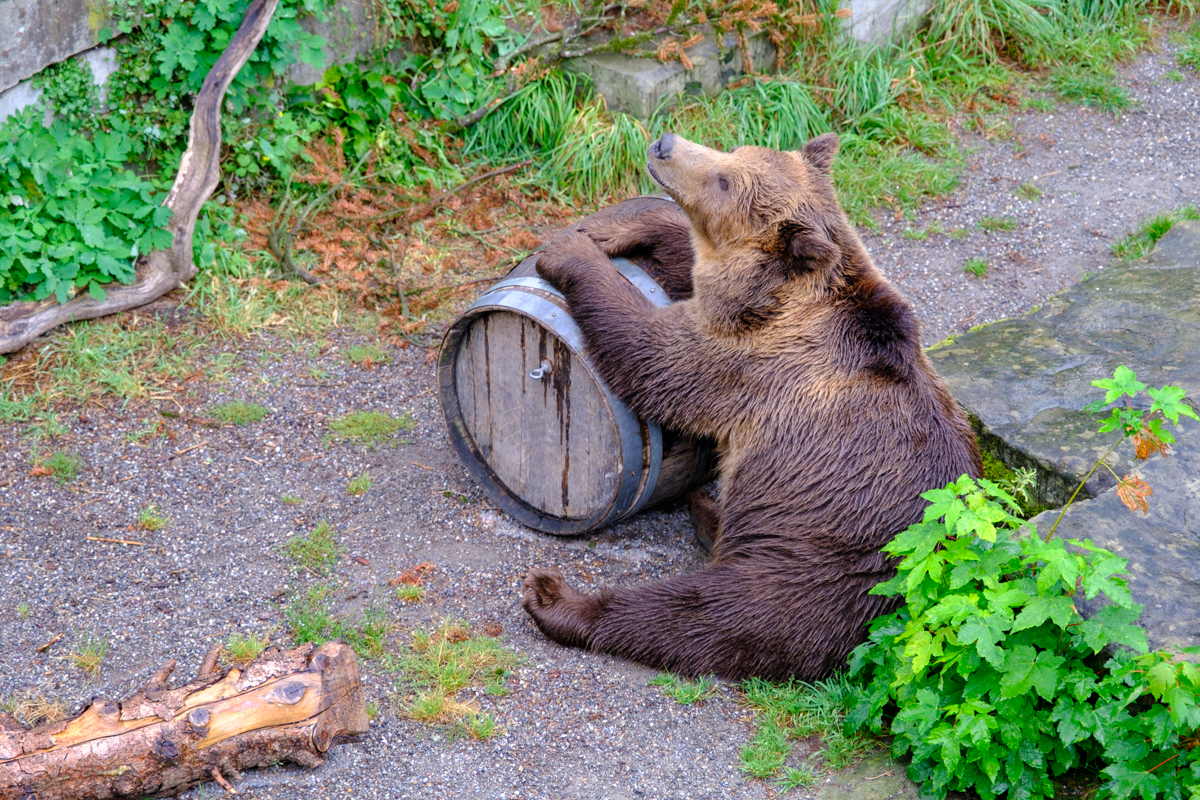 Connecting to the Rhine Route
After our visit with friends, we went south to link up with the Rhine Route and make our way over to Italy. One of our favorite parts of our bicycle tour across Switzerland was riding the Axenstrasse above Lake Lucerne. An old railway line-turned-bike path provides excellent panoramic views high above the lake. The bike path is well separated from the main highway that runs parallel to it, and in certain stretches you forget it's even there.
On the sections of highway that don't have a designated bike path, there is a wide sidewalk with enough room for two-way bicycle traffic. We rode on the sidewalk, as it was much safer than biking in the road with no shoulder. There weren't any pedestrians on the sidewalk when we rode it, and it seems unlikely that congestion on the path would be a big issue.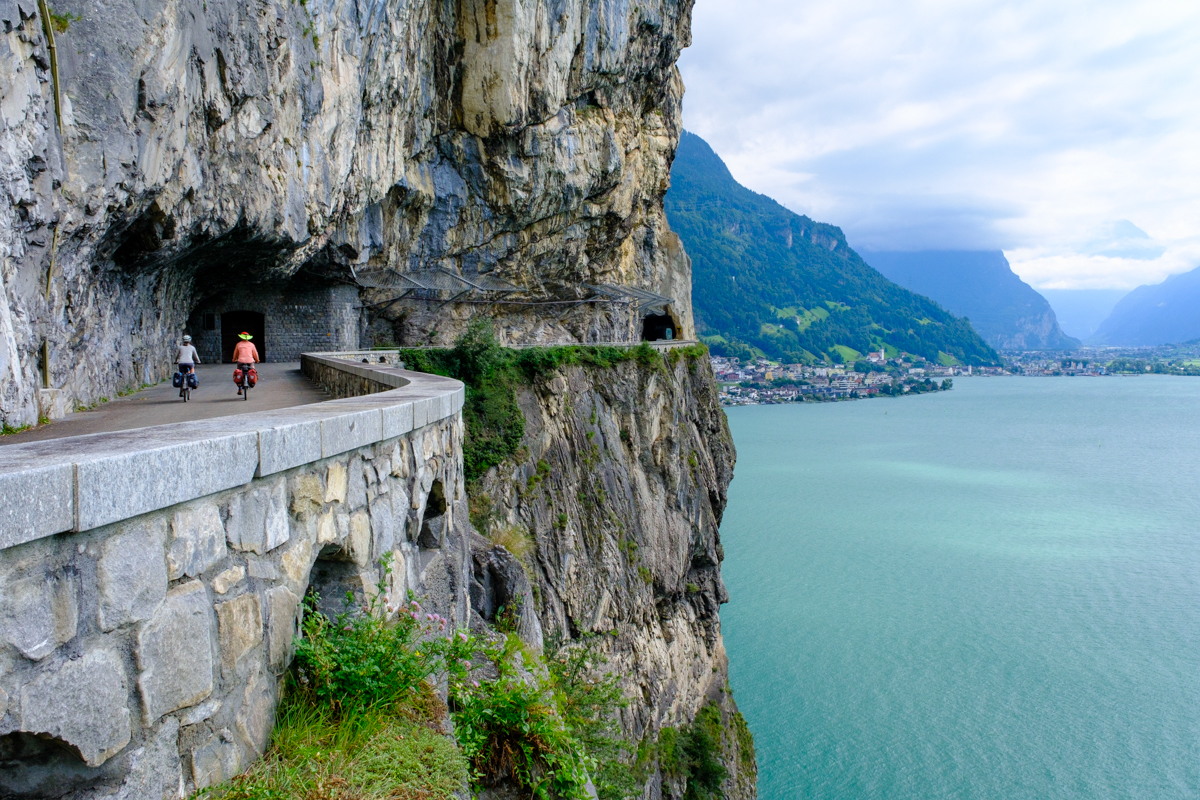 The climb up to Oberalp Pass was multi-staged and seemed to last forever. This was another of our favorite areas, and the highway through the Schöllenen Gorge was an impressive feat of architecture. There are bike/pedestrian paths that are separate from the road through a good portion of the canyon, for which we were very thankful.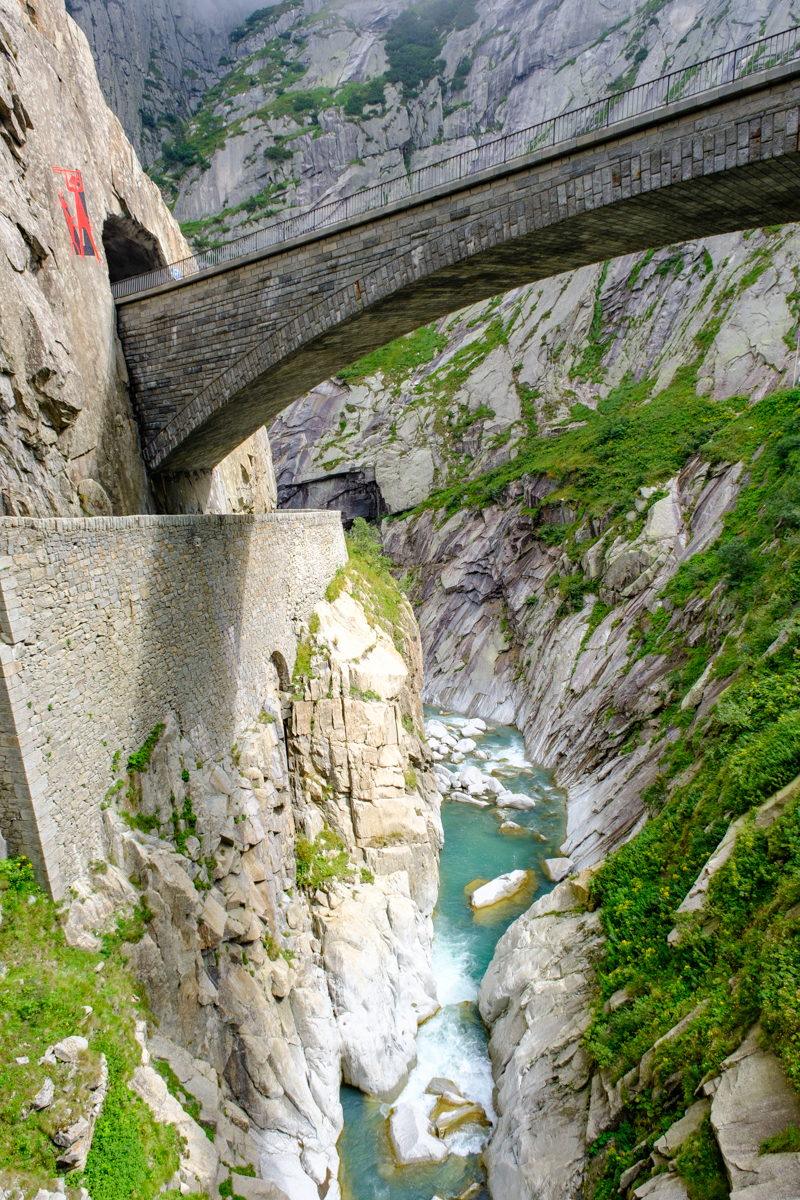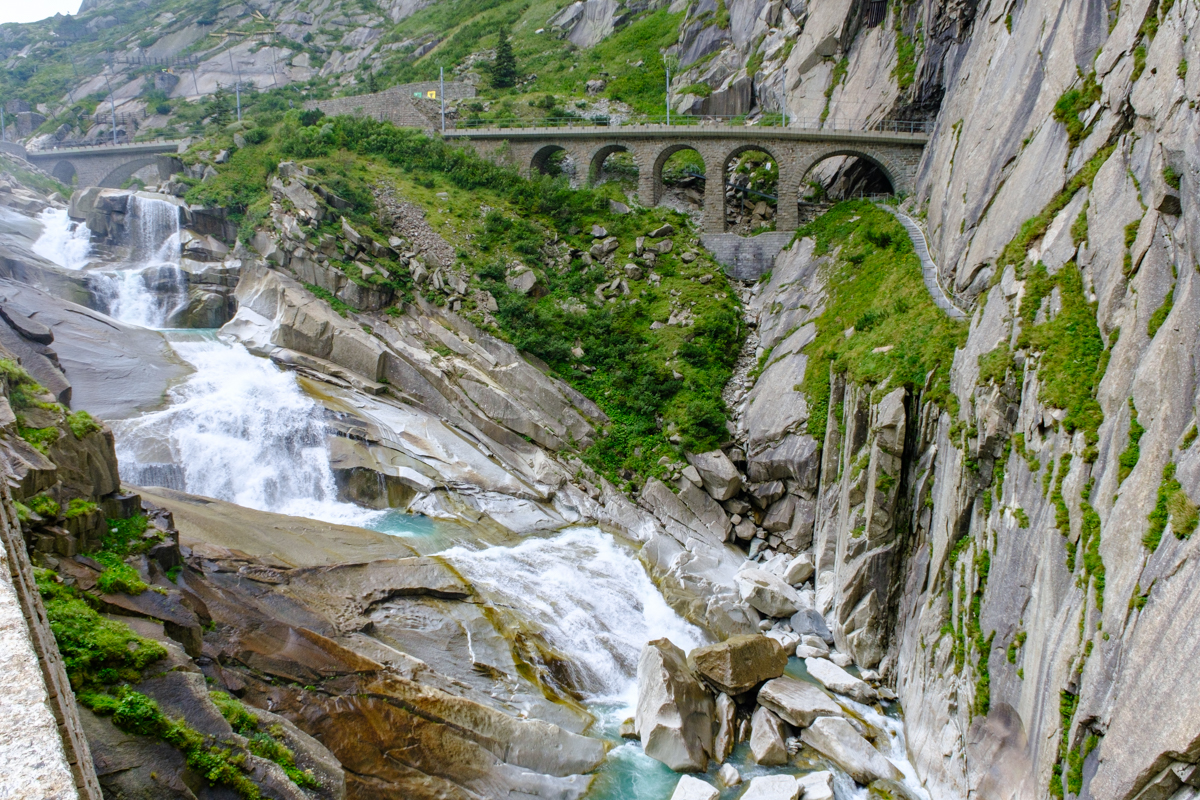 Graub

ü

nden Route
The Graubünden Route (Swiss Mobility Route 6) was yet another highlight, though at this point I could just say that Switzerland was one big highlight. There were several significant climbs that took us through deep gorges and past jagged mountain peaks. The passes along this route were unforgettable and absolutely worth cranking along in granny gear for hours on end. We used this route to cross into Italy and continue through the Italian Alps and the Dolomites.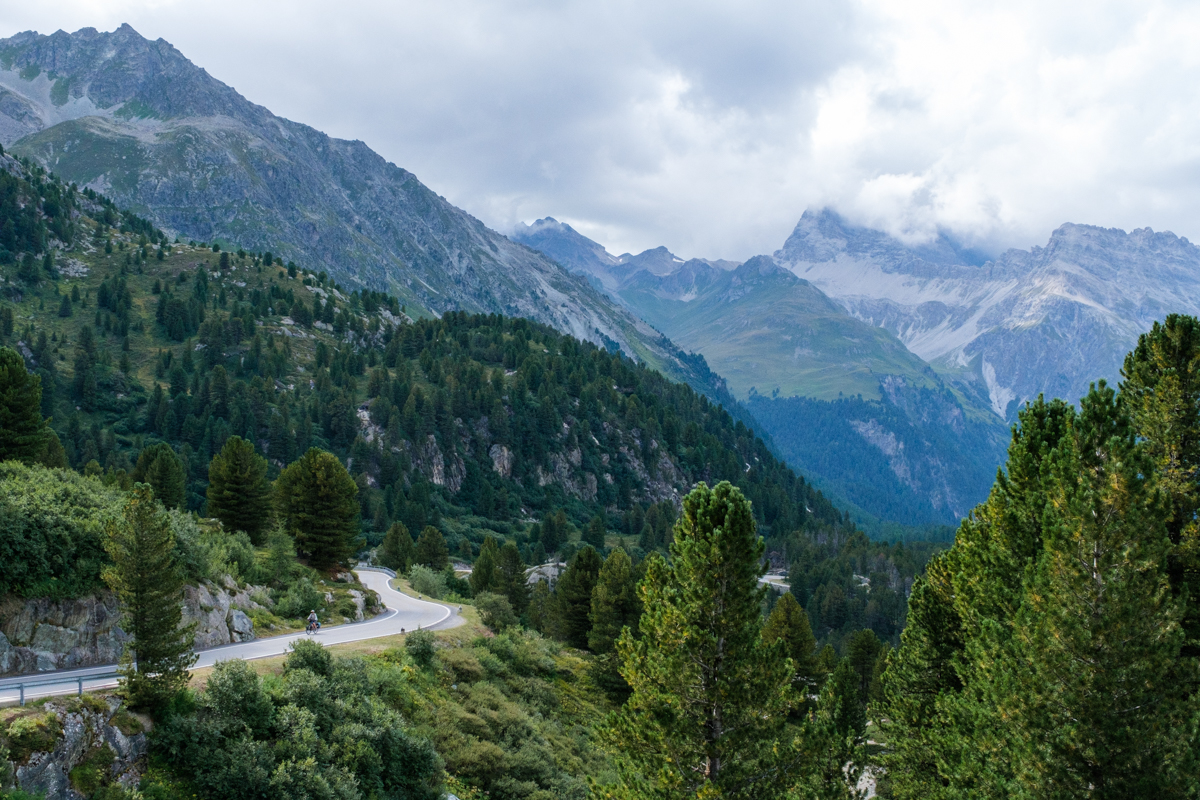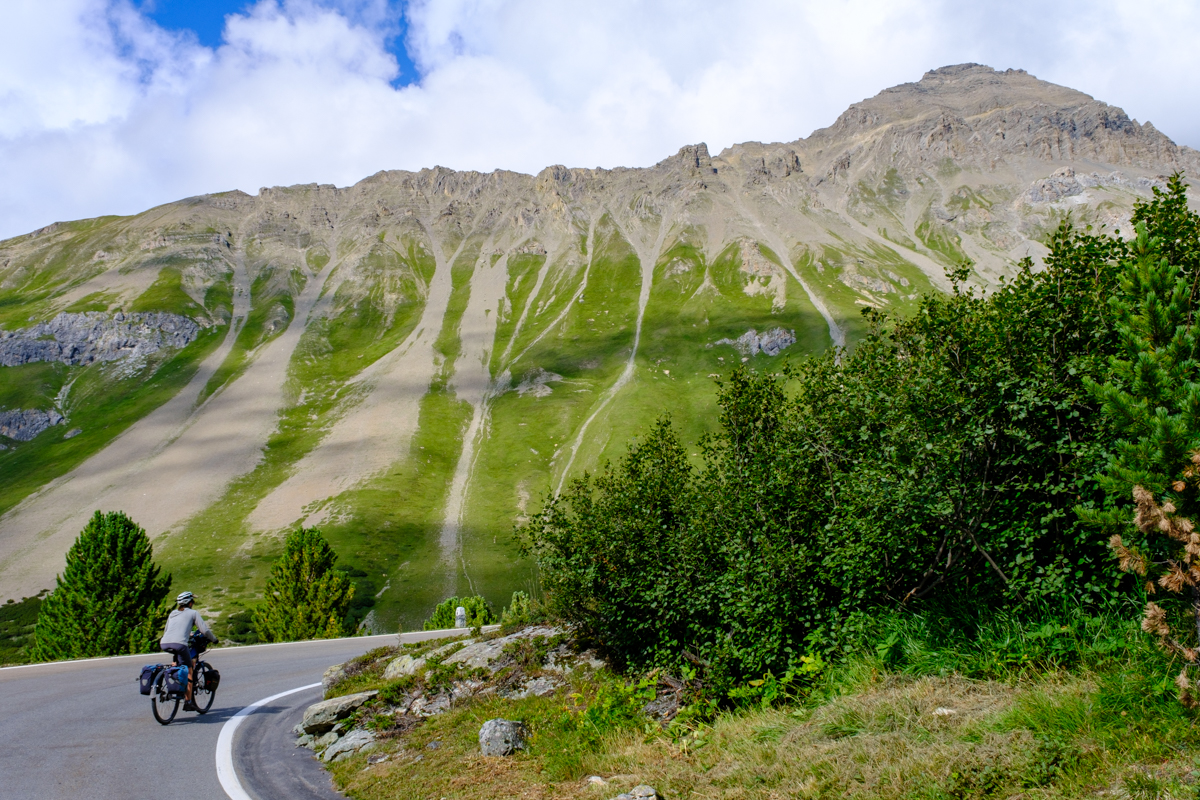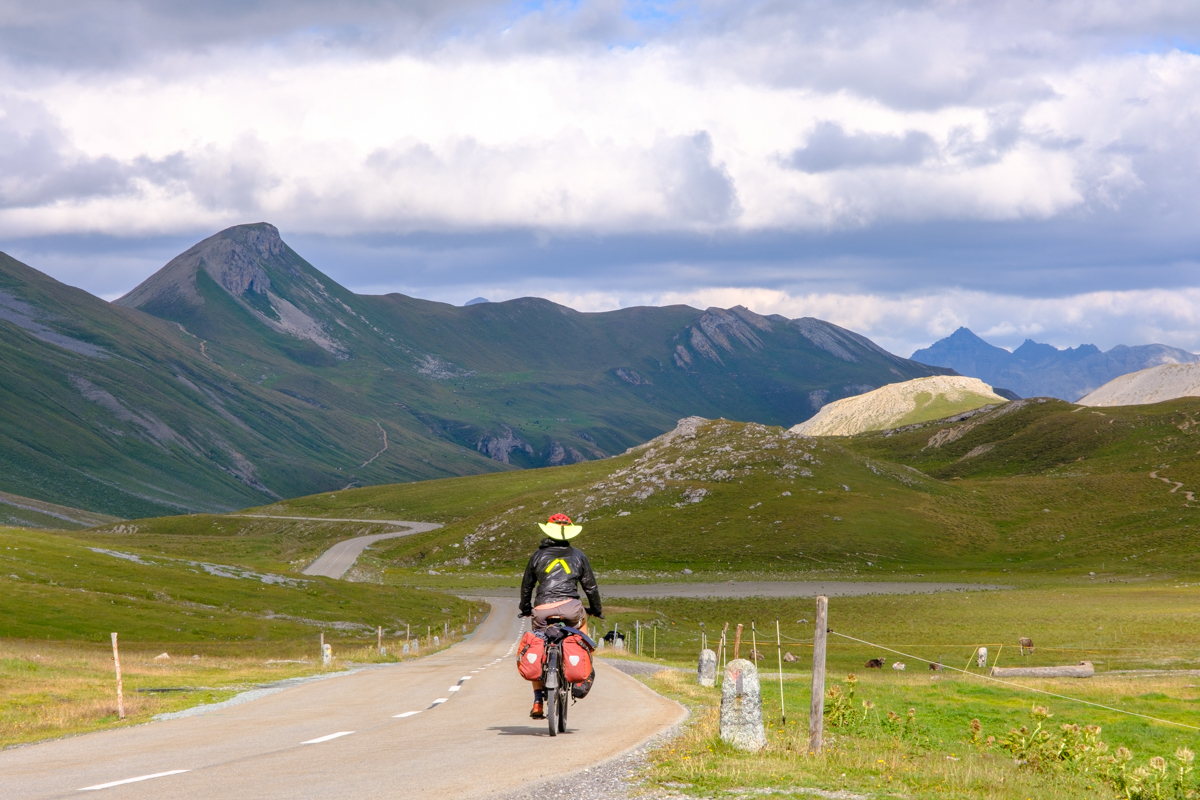 One morning near Zernez, we were woken up at our campsite by what sounded like a hundred bicycles going by on the gravel road below us. The train of cyclists continued, and we were extra glad that we'd hiked our bikes up into the forest to be hidden from the road. We eventually figured out that we were riding the same route as the National Park Bike Marathon. We took special care during the day to keep far to the the side of the trail, as the racers would easily speed past us on our heavy touring bikes.
As we rode through the small mountain villages on the route, we were greeted by crowds that were cheering for the racers but gave us lots of encouragement and waves as we rode through too!
Swiss Mobility
Switzerland has a ton of bicycling options, and we wound up piecing together several different routes based on where we wanted to go. The Switzerland Mobility website and accompanying phone app were helpful for planning a bike tour across the country. The free version of the phone app does not allow downloads for offline use unfortunately, but we used it when we had cell service.
The bicycle routes are also visible on the OSMand+ cycling route overlay. OSMand+ is hands-down the most useful navigation app we've used, and having the bicycle routes available for offline use was invaluable.
We rode sections of the Alps Panorama Route, Lakes Route, Rhine Route, North-South Route and Graubünden Route, as well as some smaller regional routes. They were all incredible and had varying levels of difficulty – the northern part of the country is fairly flat if you need a warm-up to the mountains. The vast number of cycling routes lends itself to customization, and there are plenty of options for loops and shorter tours.
Camping in Switzerland
Apart from a hotel night in Geneva and a few nights with some friends, we wild camped the whole time we were in Switzerland. Officially, it is legal to wild camp in Switzerland if you are above treeline. If you are below treeline, wild camping is technically not allowed but generally tolerated. We didn't have any problems camping in the mountains (even below treeline), as there was plenty of undeveloped space to discreetly set up our tent.
There was one night where we were stuck in a large stretch of agricultural land, and it was difficult to find a space that wasn't obviously on private property. Eventually, we found a patch of forest and had to climb up a steep slope until we found a flat spot, but in the end it worked out fine. As long as you're well outside of urban areas and busy tourist spots, you shouldn't have any major issues.
Food
Restaurants in Switzerland are very expensive. We were absolutely shocked when we crossed the border from France into Geneva – the prices immediately skyrocketed. Even bakeries, a much-loved fixture of our tour through France, became rather expensive (4 euros for a baguette). For this reason, we cooked our own food throughout our time in Switzerland. Exception: We stayed with some friends who cooked us delicious fondue and raclette, so we still got to try some traditional Swiss dishes! L&M, we are eternally grateful 🙂
Final Thoughts
Switzerland is a fantastic place to bicycle tour. The country boasts many bike routes for different skill levels and interests. While it is an expensive country, it's possible to stick to a reasonable budget if you wild camp and cook your own food. See our post on bicycle touring in Europe on a budget for more travel tips.
From beautiful mountain wilderness and sparkling blue lakes to quaint farming villages with gorgeous chalets, Switzerland has a lot to offer. As always, a bicycle is a wonderful way to visit its many sights!
Swiss Alps Videos: