Bicycle Touring in Europe on a Budget
How we cycled through many "expensive" countries without breaking the bank
Many people we've spoken to worry that traveling in Europe will be prohibitively expensive. We bicycle toured through several countries that are generally thought to be costly such as France, Switzerland, Italy, and Austria. In our experience, we found that we could stick to a $15 – $25 per person per day budget. This felt like a good balance between "spartan" and "splurging" – we had to forgo some comforts but we could still work in the occasional museum or restaurant.
The most crucial areas to save money are on lodging and food. Dialing in your spending in these categories is essential to making your money last. There are several ways to approach these expenses, and we'll go through each one in detail.
Lodging
Hotels in Europe can be quite expensive, especially if you're in a touristy area. Sometimes you can find good deals, but staying in a hotel every night gets pricey rapidly. Luckily, there are a few different ways that you can sleep for free or cheap so that your money takes you further.
Warm Showers
If you've already got some bike tours under your belt, you've probably heard of Warm Showers. It's similar to Couch Surfing, but it's exclusively for bicycle tourists. Once you've signed up, you can search the network of hosts and view their feedback before contacting them to see if they can host you.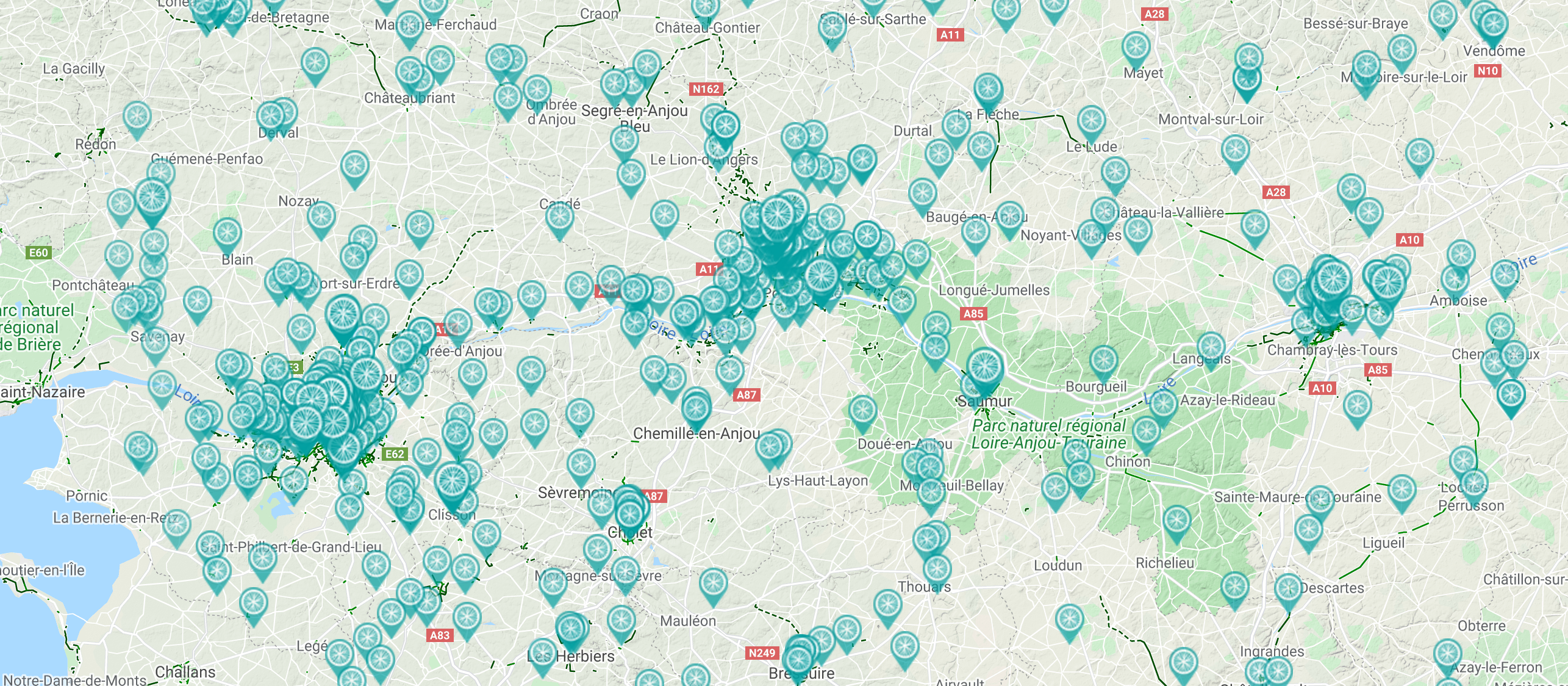 The site recently introduced a paywall where new users have to pay a one-time fee of $30 to sign up. Luckily for us, we were already members and weren't required to pay to continue using our account. There is a monthly fee for using the phone app, but you can use the desktop site without paying extra.
We've only used Warm Showers a handful of times, but we had great experiences when we did. For example, we stayed with a kind family in France that welcomed us despite having plans to throw a dinner party! It's a unique experience to stay with locals, and it can enhance your cultural understanding of the country you're visiting.
The main issue we had with Warm Showers was host availability. We were traveling in France and Switzerland during summer vacation season, and many hosts simply did not respond to our requests. Others were out of town themselves and couldn't host us. We recommend casting a wide net by messaging several different hosts in the city where you want to stay.
Free Camping Networks
We haven't used Welcome to My Garden yet personally, but we've had a couple different people recommend it to us. It's more focused on hosts that allow free camping on their property, and some have shower/kitchen/laundry access but it depends on the individual host. 1Nite Tent is similar and primarily in Germany, though there are a handful of hosts in other countries.
Wild Camping
We chose to wild camp for most of our time in Europe because it allowed us the most flexibility – we didn't have to worry too much about getting to a specific place to stop for the day. Our biggest concern was making sure that we were at least a few miles outside of urban areas. Camping in the mountains, where there are large swaths of undeveloped land, is generally easier than camping in agricultural areas, but in the end we've always found a place to pitch our tent.
We look for green space without any houses nearby as potential sites for wild camping. We use OSMand+ for cycling navigation, and it's very helpful for finding "green space" on our routes. Camping along bike paths or gravel roads is ideal because it decreases the likelihood of being disturbed by passersby.
We try our best to be discreet and out of sight of anyone who might be walking or biking past. It's important to follow Leave No Trace ethics and look for natural clearings rather than disturbing vegetation. Research the regulations on wild camping in each country you visit. We do not hop fences or camp in areas where it's clearly prohibited (such as national parks).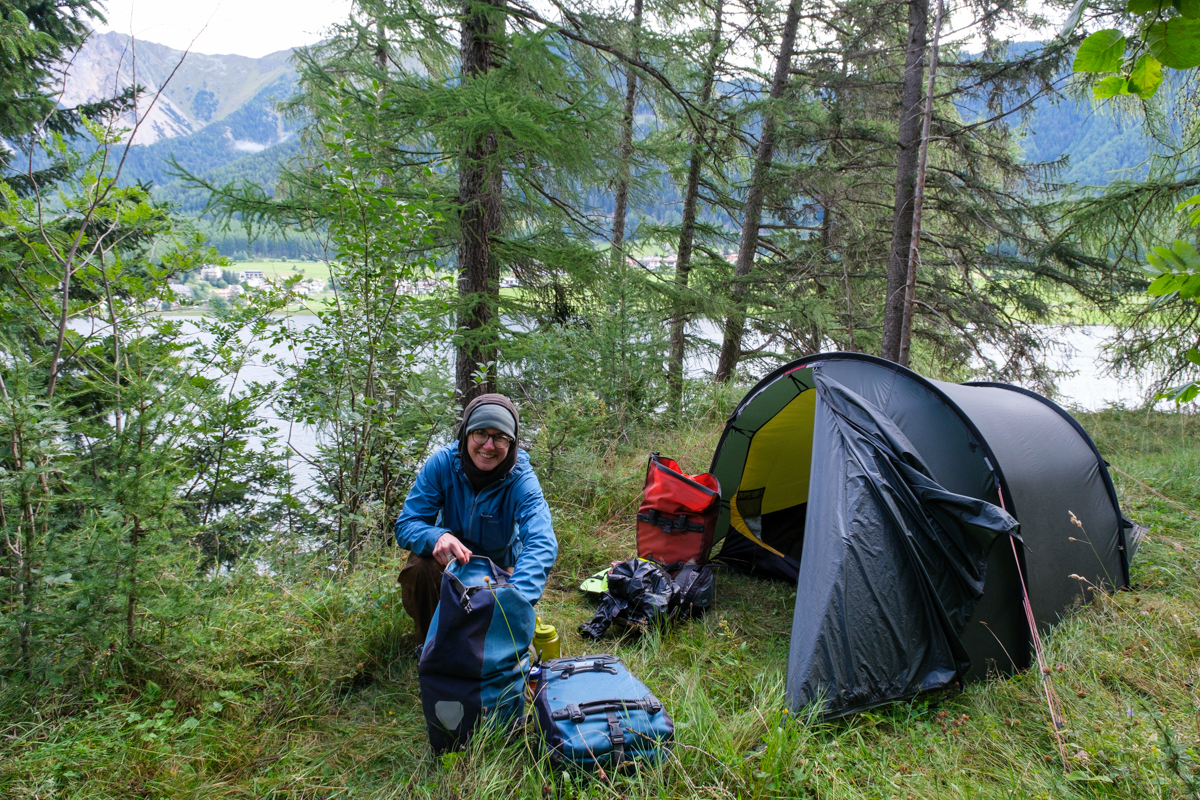 Established Campgrounds
The availability, cost, and quality of campgrounds vary quite a bit between countries. France has a few different tiers of campgrounds – the cheapest and most basic being municipal campgrounds. These are a good option if you'd feel more comfortable going to an established site with bathrooms, showers, and other amenities. Some campgrounds seem to cater more to motor homes and can be loud and unpleasant in a tent, so try to scope things out before paying for a site.
Food
For us, food is definitely the trickier area to maintain a strict budget. We love trying the local cuisine wherever we're traveling, so we certainly indulge in a restaurant every once in awhile! The price of eating out fluctuates between countries and regions, so it's important to reassess when you cross borders. Switzerland was far and away the most expensive, and we only ate out once the whole time we were there. We try to cook most of our own food and eat out in moderation to stay within our budget.
In France, we relied heavily on artisan bakeries because they were actually fairly cheap and incredibly high quality. A baguette would usually run about 1.10 euros, and pastries ranged from 1.50 – 4.50 euros depending on how fancy they were. We ate lots of make-your-own sandwiches with baguettes, lunch meat, and fancy cheese for breakfast and lunch. For dinner, we would cook pasta with bell peppers, mushrooms, and summer sausage and change up the type of sauce to keep things interesting. This was our staple dinner throughout Europe and was cheap no matter which country we were in.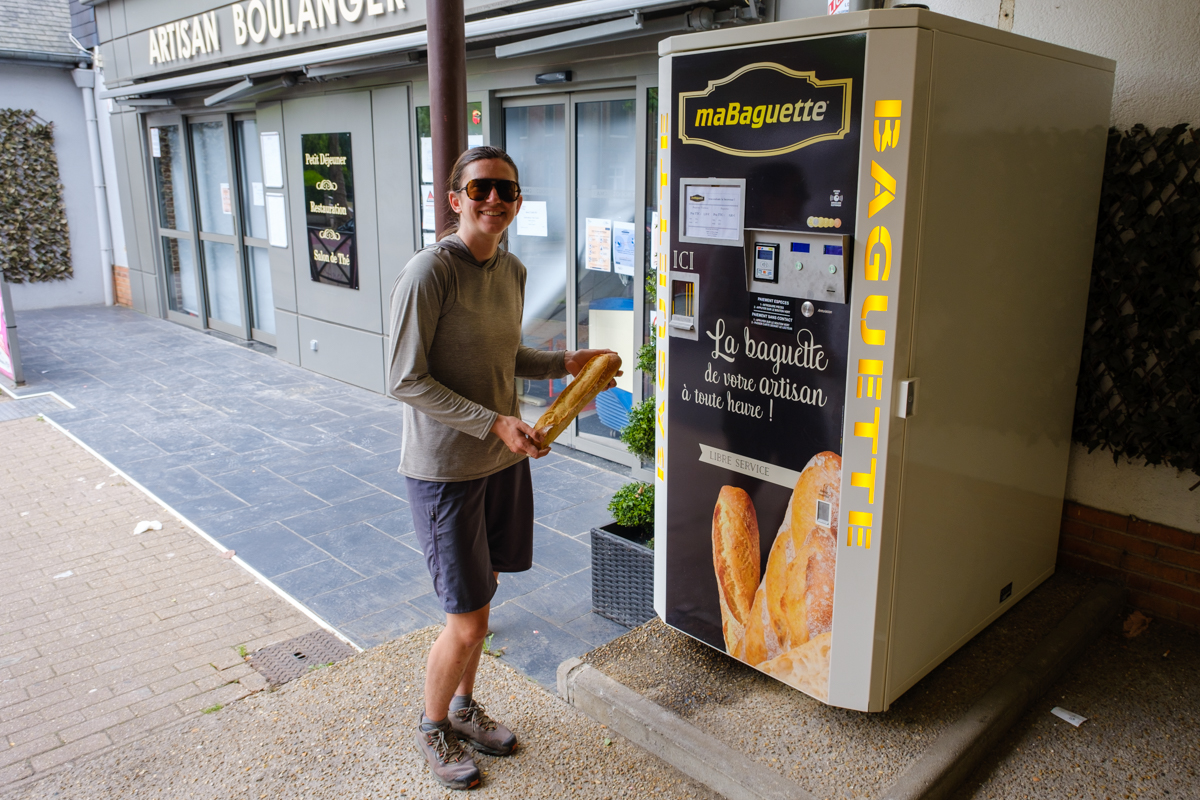 A consistently affordable option for eating out (except in Switzerland) was doner kebab. Kebab consists of a generous portion of slow cooked meat, fries, and salad. We could usually get a full plate for 10 euros or a sandwich for even less. In Italy, pizzas were affordable, delicious, and filling, and some places sold it by the slice – a great lunchtime snack!
Final Thoughts
Bicycle touring in Europe on a budget will invariably require some discipline and picking and choosing. We are on the road long term, and we would rather sacrifice some comforts so that we can travel longer. On the flip side, everyone has different levels of disposable income. Folks that are planning a shorter trip to Europe might want to see lots of museums and take in all the food – which is totally understandable! The goal of this post is to show that Europe is doable on any budget. You just have to do your research and regularly tally up your expenses to figure out if you're within budget or need to cut back on extras.