Our Around the World Touring Bicycles
We custom built our around the world touring bicycles to be as bombproof as possible since we want to ride for tens of thousands of miles. Andrew is the foremost bike mechanic and figured out the compatibility of all of the different parts, and we each assembled our own bikes so that we'd be familiar with them when maintenance was required. Below is a breakdown of the components and luggage that comprise our around-the-world touring bicycles.
The Bicycles
2020 Surly Ogres
36h Rohloff Speedhubs
36h Son 28 Dynamo hubs
Ryde Andra 40 rims
Marathon Mondial 29×2.0 DD tires
Avid BB7 brakes – 200mm front, 160mm rear
Sinewave Cycles Beacon headlight/USB charger
Son rear light
Jones handlebars (710mm)
Brooks B17 (Andrew) and Terry Butterfly Century (Jenny) saddles
Tubus racks (Duo in the front, Andrew has a Cargo Evo in the rear and Jenny has a Logo Classic)
Planet Bike AL fenders
Luggage
Rogue Panda roll-top frame bags
Ortlieb Back Rollers Plus rear panniers
Bedrock Bags Hermosa front panniers
Oveja Negra Snack Pack (Jenny)
Revelate Designs Gas Tank (Andrew)
Revelate Designs Egress Pocket
Rockgeist feed bag – can fit a 1L Nalgene or some snacks
4 liter MSR Dromedary for water storage
Repair/Maintenance Kit
Pedros tire levers
Lezyne Alloy Drive hand pump with ABS Pen Gauge hose
Spare tubes and patches
Shimano tire boots
Crankbrothers M19 multi-tool
Pedal wrench
Leatherman Squirt PS4 multi-tool with pliers
Chain lube and toothbrush/rag for cleaning
Avid BB7 disc brake pads
Spare 4mm and 5mm hex bolts
Spare Surly 10/12 adapter washers
Presta to Schrader valve adapters (our rims are cut for Schrader)
Spare Brooks saddle tension bolt with nuts
Blue Loctite
Schrader valve core remover
2 oz Stans tubeless tire sealant for inside of tubes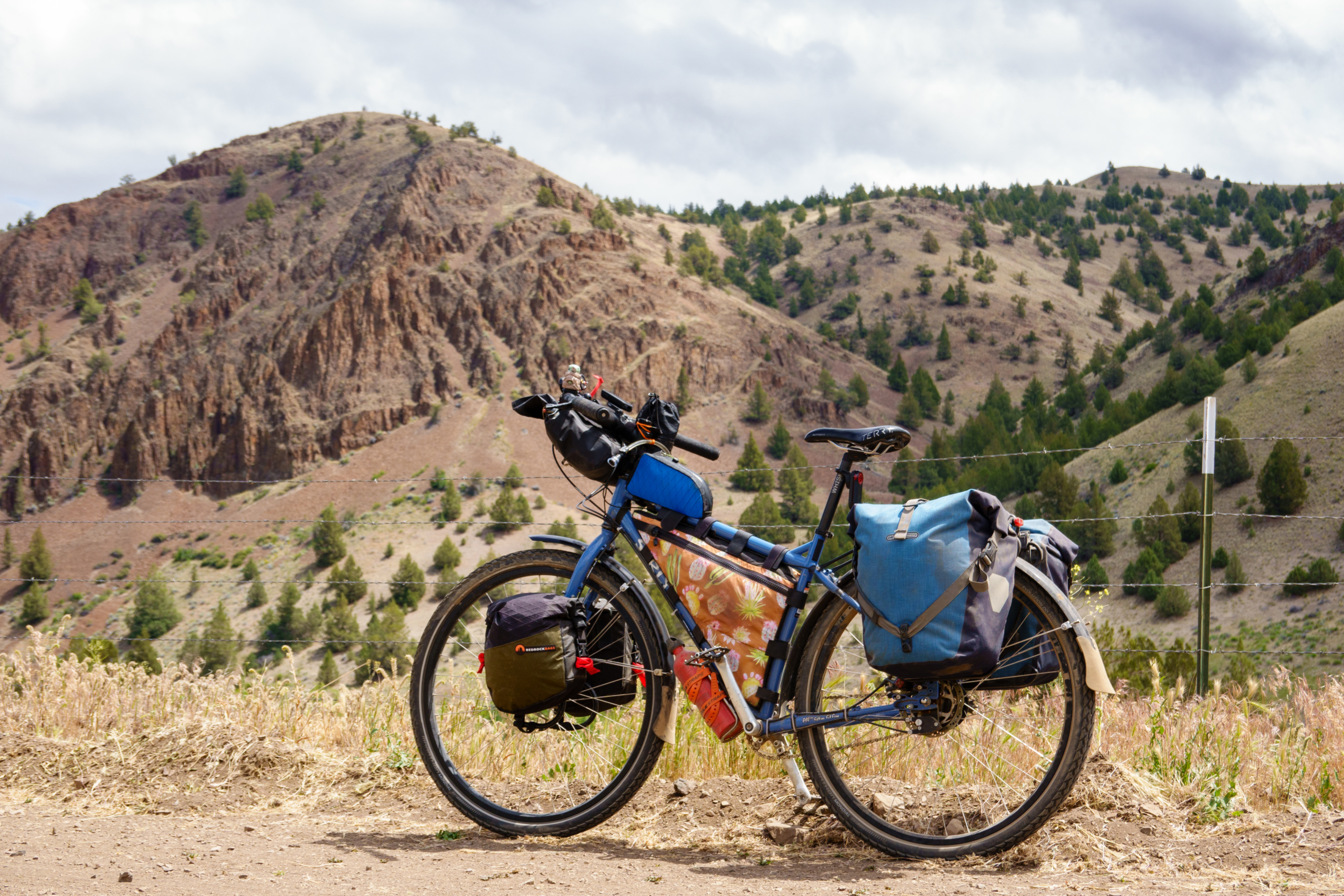 Overall we have been really pleased with this setup. The Rohloff speedhub, while expensive, is a game changer. No more fussing with derailleur adjustments or grease-clogged cassettes, fewer external moving parts, and shifting through many gears quickly are some of the major perks.
If we had to change one thing, we would have gotten Ortlieb panniers in the front as well as the rear. We opted for the Bedrock panniers because they're lighter and we wanted to support a cottage industry company, but they aren't waterproof and actually wind up holding water in heavy rainstorms. The Ortliebs, on the other hand, are always bone-dry and are practically like new after 6 years of use.
Feel free to leave a comment or send us an e-mail with any gear questions you might have! See Andrew's Packing list and Jenny's Packing list for more info on our camping and personal gear.