Cycling Patagonia: The Carretera Austral
The Carretera Austral is a renowned road in the bicycle touring world. This remote highway in Chilean Patagonia is an incredible journey that has gotten more and more popular over recent years. We spent about a month and a half bicycle touring the Carretera Austral, and then we crossed into Argentine Patagonia to do a few backpacking trips in Tierra del Fuego.
The Carretera Austral runs 750 miles (1200 km) from Puerto Montt to Villa O'Higgins past fjords, glaciers, blue lakes, and breath-taking mountains. Bicycle touring the Carretera Austral is a rewarding but challenging endeavor, as Patagonia is famous for its ferocious winds and unforgiving climate.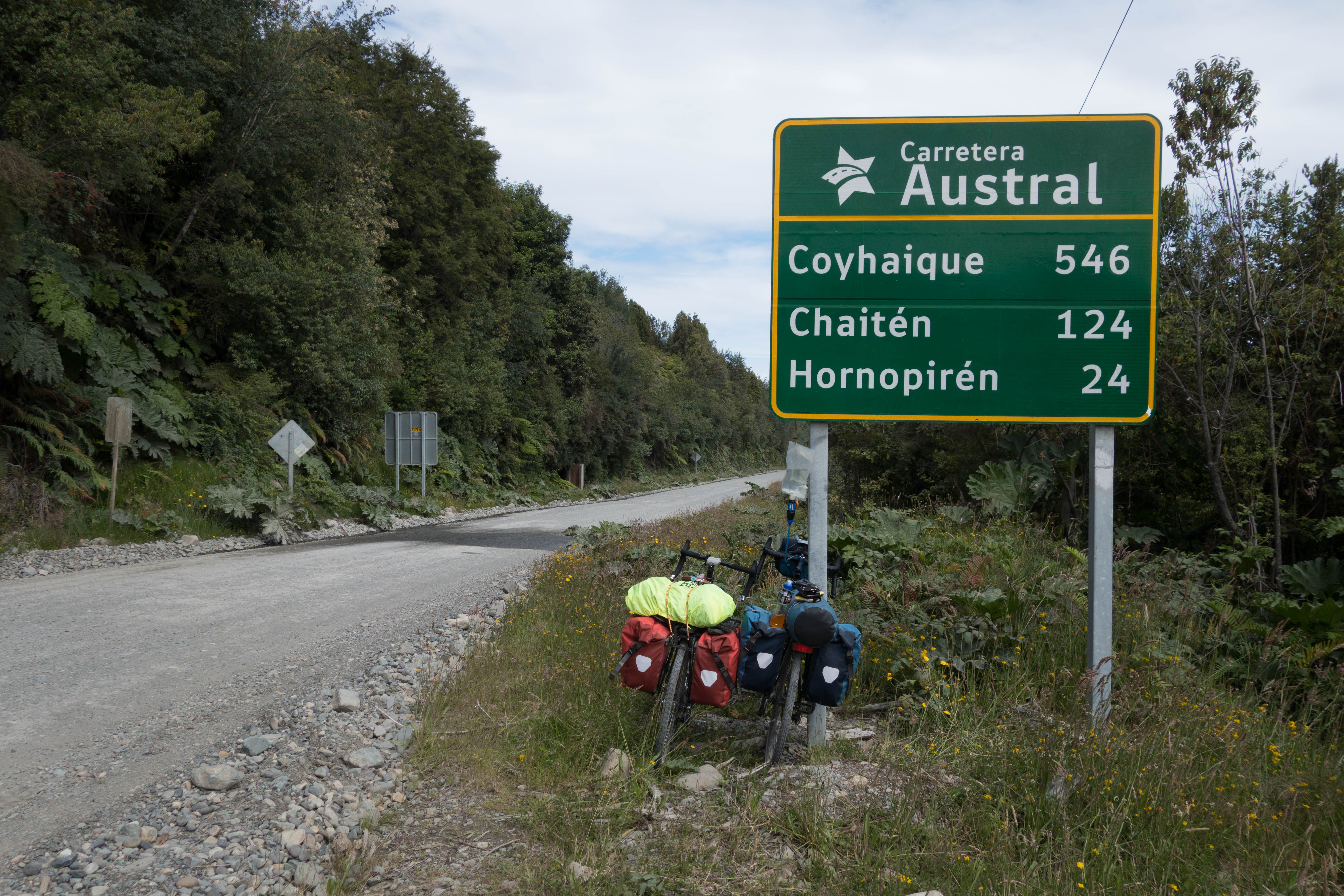 Route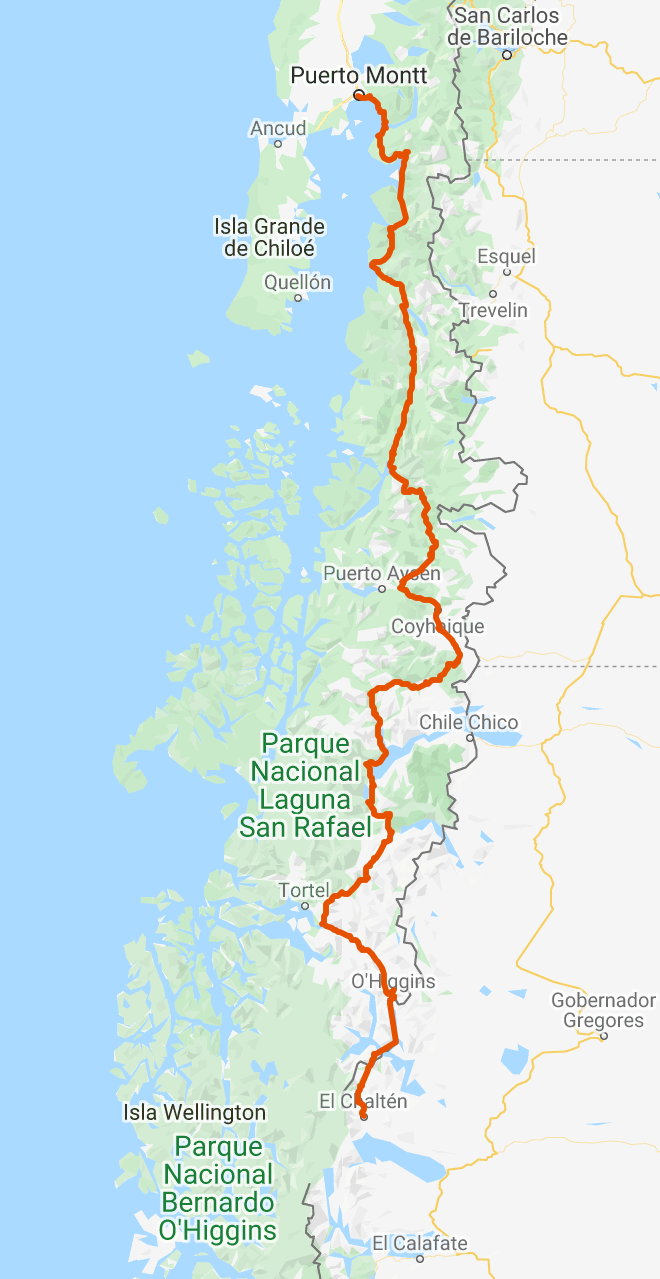 Since you're following one road the whole way, it's pretty impossible to get lost. Still, here you can download the GPX track of the Carretera Austral including the border crossing to Argentina.
Northern Carretera: Puerto Montt to Coyhaique
We flew into Puerto Montt and built our bikes in the airport rather than taking a taxi to our hotel. Maneuvering the bike boxes is always a pain, and putting them together in the airport is ideal as long as we can find a quiet corner.
We stayed a night in Puerto Montt before heading out on the Carretera. The highway is mostly gravel, with some stretches of pavement mixed in. There was a lot of road construction going on when we were there in 2017, so there will likely be more pavement in the future. Be sure to bring a buff or a bandana to protect yourself from dust – Jenny got really sick from breathing in the road dust that cars kicked up.
Pumalin and Queulat National Parks
Parque Nacional Pumalin is a beautiful area, and there are a couple required ferries through here as well. We also stopped in Parque Nacional Queulat to see the hanging glacier, but it was rainy and pretty cloudy so we only saw a sliver of it. We met some other cyclists at the campground and it was fun to chat with fellow bike travelers. There are a lot of cyclists on the Carretera and we wound up running into the same people again and again, which was a really cool aspect of the ride.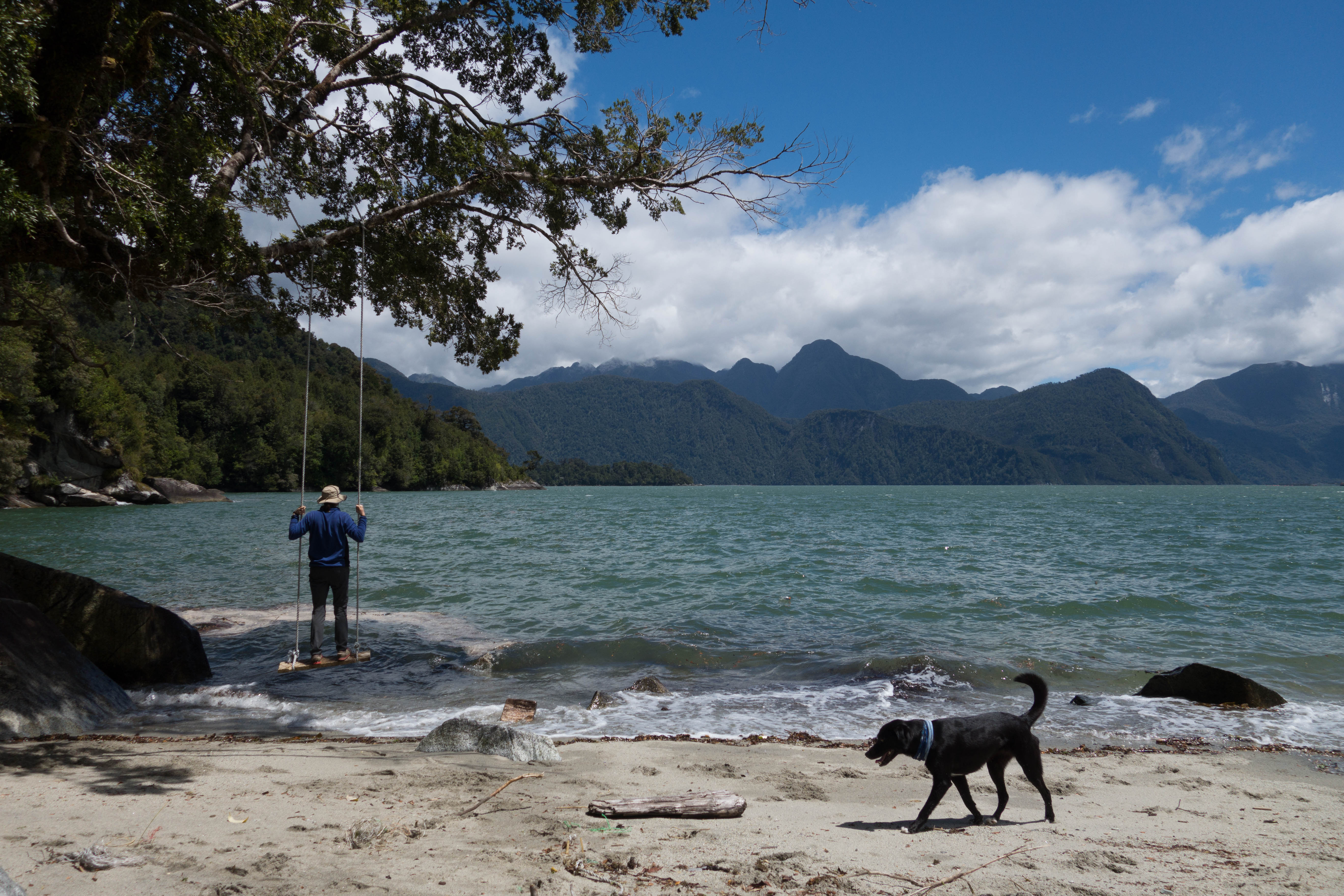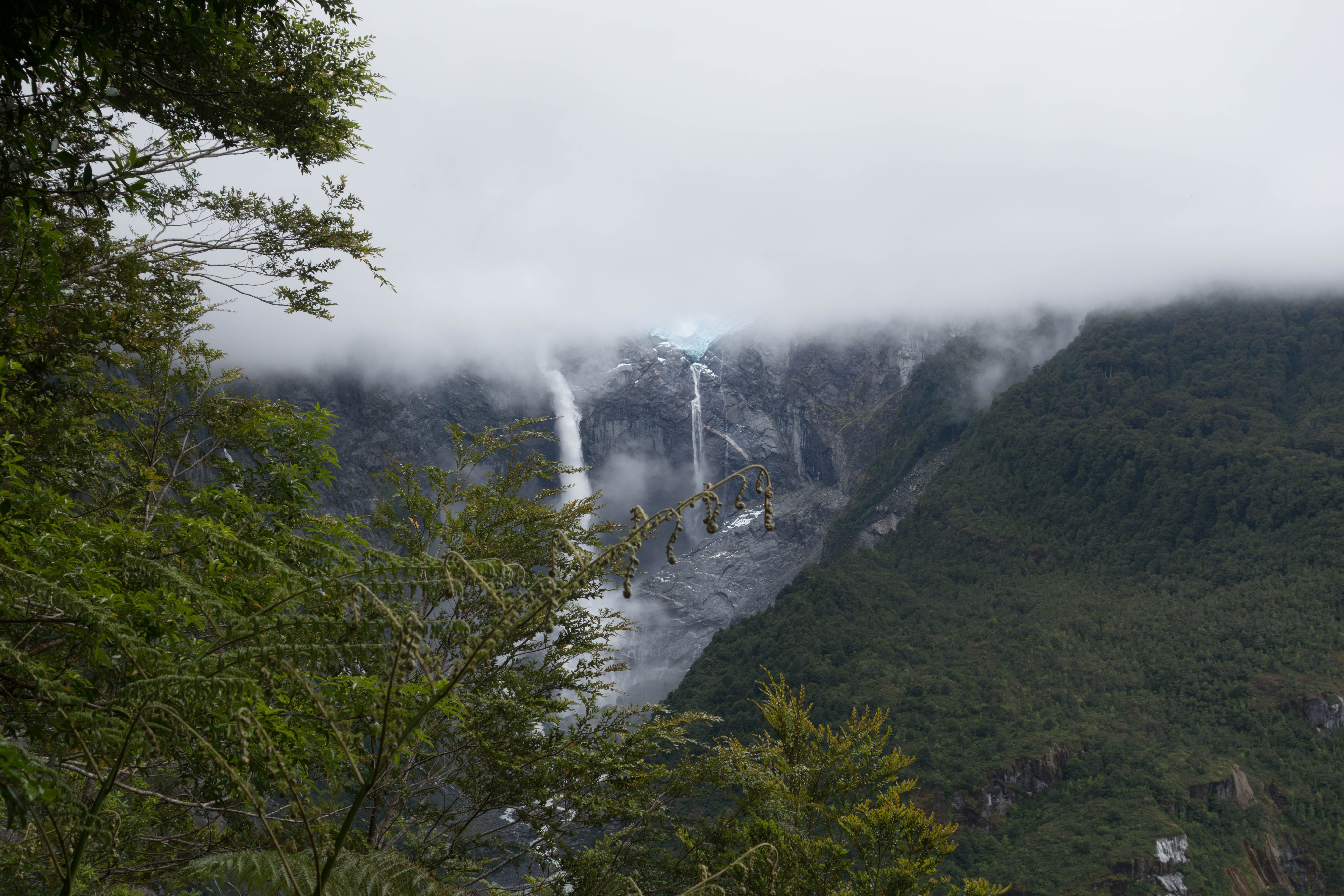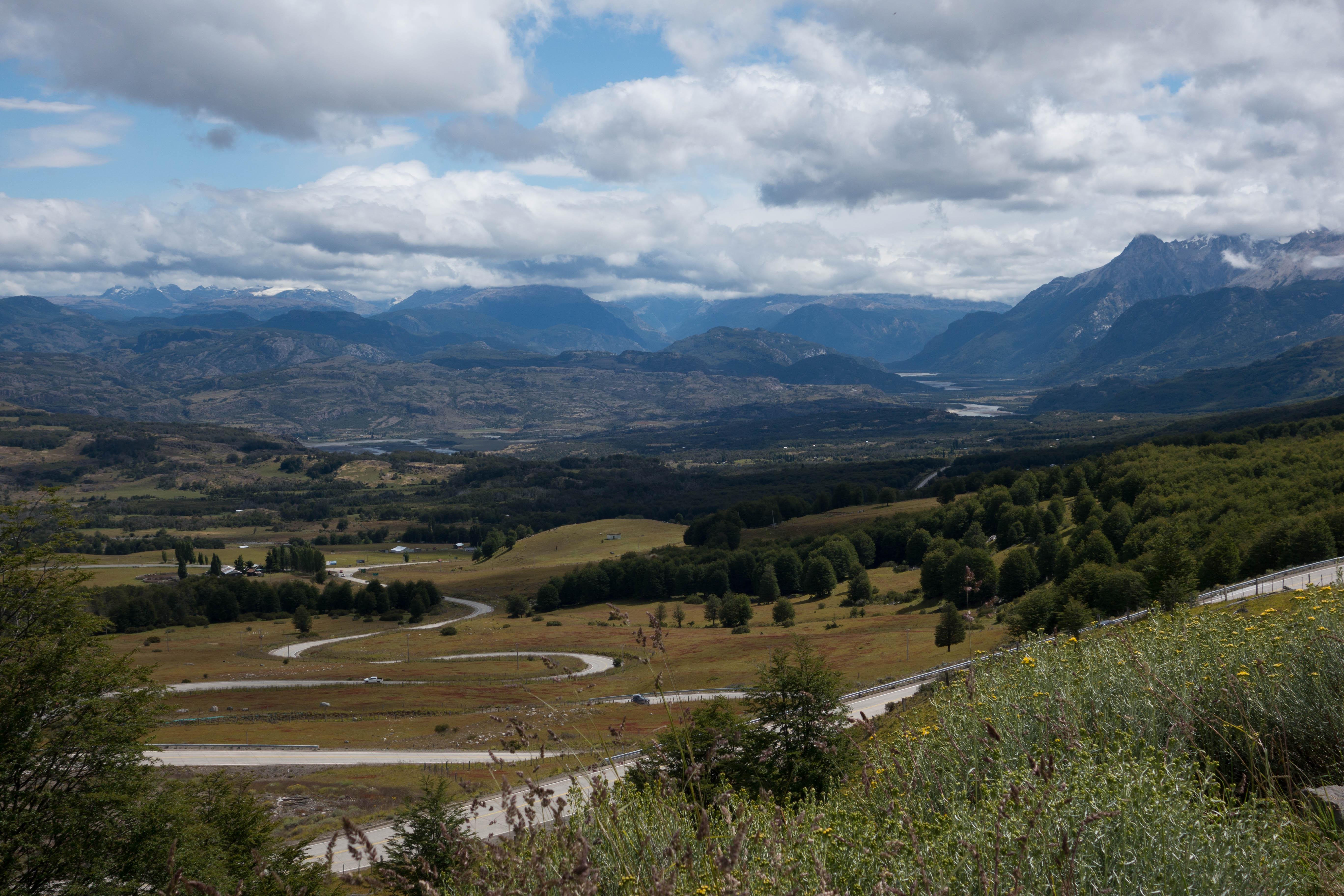 Southern Carretera: Coyhaique to Villa O'Higgins
The southern part of the Carretera was our favorite as far as scenery goes. It gets more remote the farther south you go, and the landscape just keeps getting more and more stunning.
Lago General Carrera and Las Capillas de Marmol
Lago General Carrera is an unbelievable shade of blue, and it's home to the famed Las Capillas de Marmol, or Marble Caves. We took a boat tour that brought us out to the beautiful caves and cliffs of marble located on the lake. Our tour guide told us that the water in the lake was so clean that you could drink it without filtering. Kind of unusual for a lake, but we didn't doubt its purity (didn't test it either though).
Parque Nacional Patagonia
We took a side trip to visit the Parque Nacional Patagonia north of Cochrane. We camped just off the entrance road because we got there kind of late, and a bunch of guanacos came through our camp at dusk. This area was lousy with guanacos, and they were really entertaining to watch.
The next day was moved to the actual park campground to set up a base camp so we could spend a full day hiking. We met an American couple that was doing a long distance backpacking trip, and it turned out that we lived in a similar area back in the states. The hike we did was full of magnificent vistas, as is pretty much anywhere in Patagonia.
Cochrane to Villa O'Higgins
South of Cochrane, there are even fewer towns and services, and the area feels very wild. We passed glaciers in view of the road, waterfalls, and gushing rivers. The landscape was unreal, and we found some awesome wild camp spots.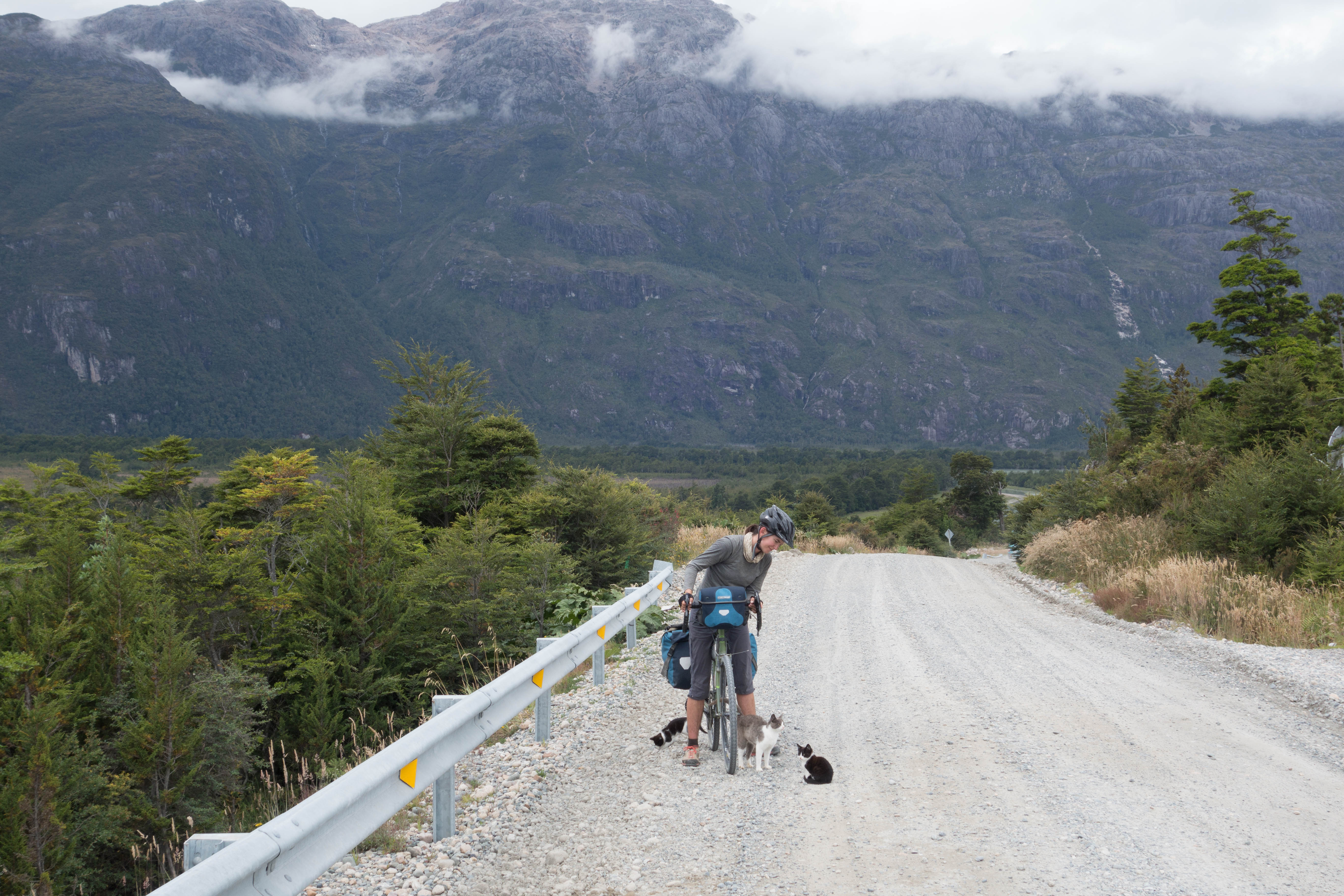 We stayed a few nights at a cabin in Villa O'Higgins to celebrate finishing the Carretera. We may have been a little overzealous in keeping the fireplace going, because the warmth of the cabin seemed to draw earwigs out of the woodwork. It was a nightmare. Earwigs were literally falling from the ceiling onto us as we slept. Finally we couldn't take it anymore and we set up our tent on top of the bed. We let the fire die the next day and that seemed to take care of the problem.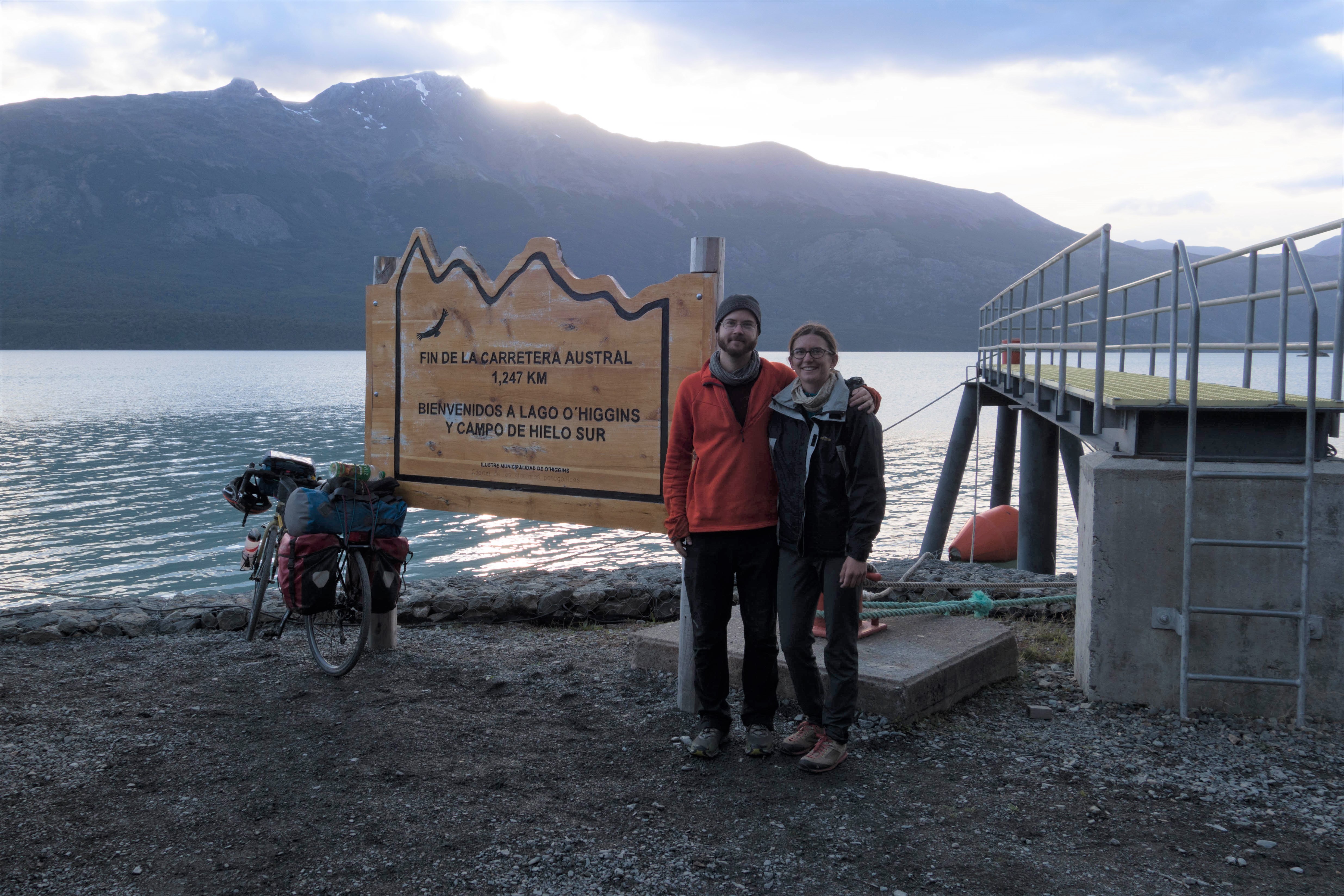 Crossing the Border to Argentina
The ferry from Villa O'Higgins to the small settlement of Candelario Mancilla only runs on certain days, and it can be delayed if the weather is bad. Luckily, the weather was in our favor, and we opted to pay a little extra to take the side excursion to see the Southern Patagonia Ice Field. It sounded way too cool to pass up.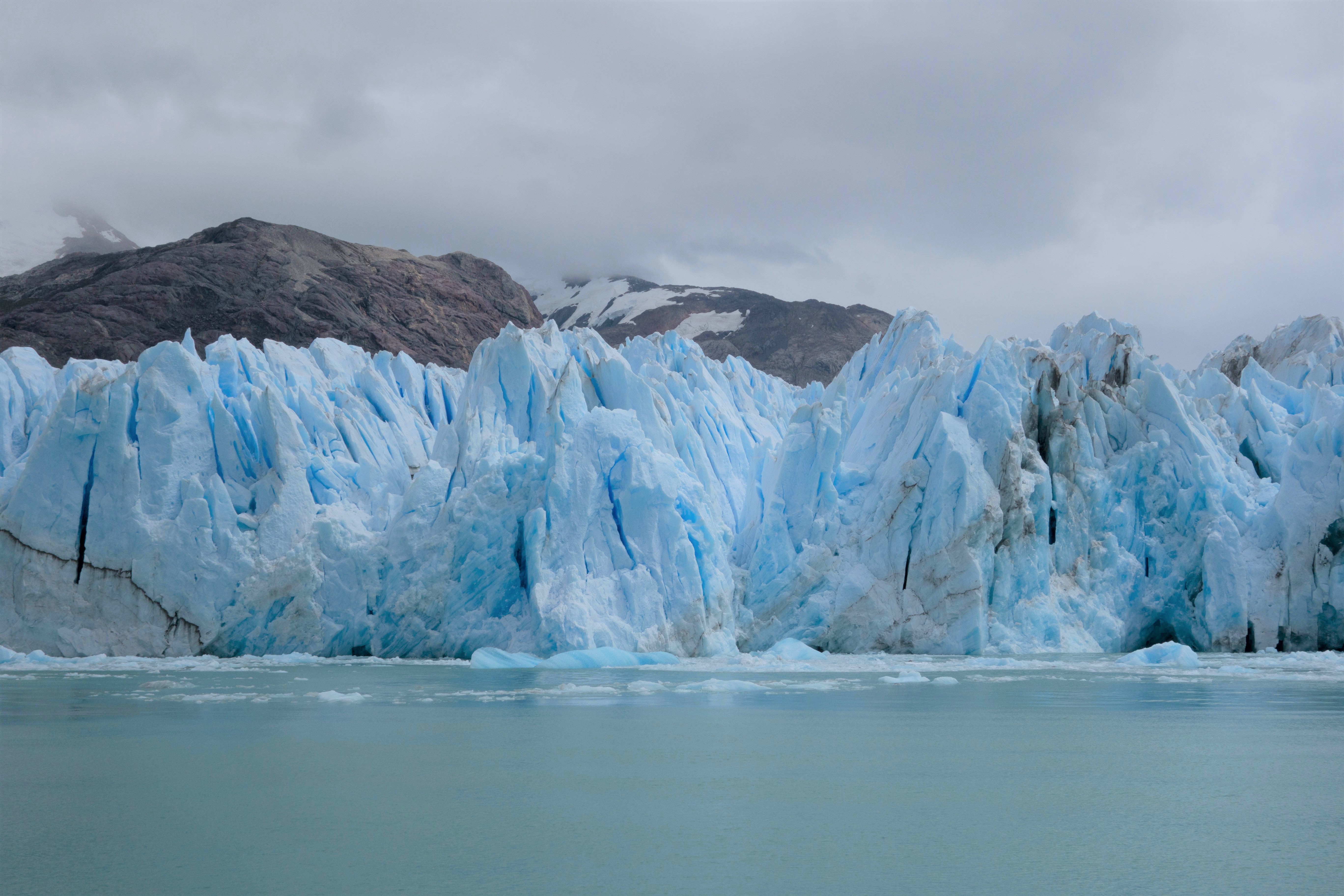 The ice field was absolutely mind blowing. A huge wall of ice with sharp peaks jutted way out into the lake, and it stretched out of view in the distance. The boat waited around so we could see a big section of glacier break off and crash into the water. Probably not great because…global warming? But it was really cool anyway. They even served us whiskey with glacier ice in it!
We camped in Candelario Mancilla before crossing the border. The route to Argentina started out as a dirt road but quickly turned into a singletrack path. We were able to ride some of it, but mostly wound up pushing our bikes through mud and stream crossings. We made good progress and reached a clearing that had an incredible view of Mount Fitz Roy, and we felt lucky that we were there on a clear day.
Argentine Patagonia
We camped at the border station on the Argentinian side before taking a boat across Lago del Desierto the next day. We met another American couple on our way into El Chalten. They were older and told us about all the Adventure Cycling routes they'd done, and then smoked us into town despite being more than twice our age.
El Chalten marked the end of our cycling journey. Andrew was having some knee problems and we were excited about doing some backpacking anyway, so we took buses between El Chalten, Punta Arenas, Ushuaia, and then a ferry to Puerto Williams on the very southern tip of South America.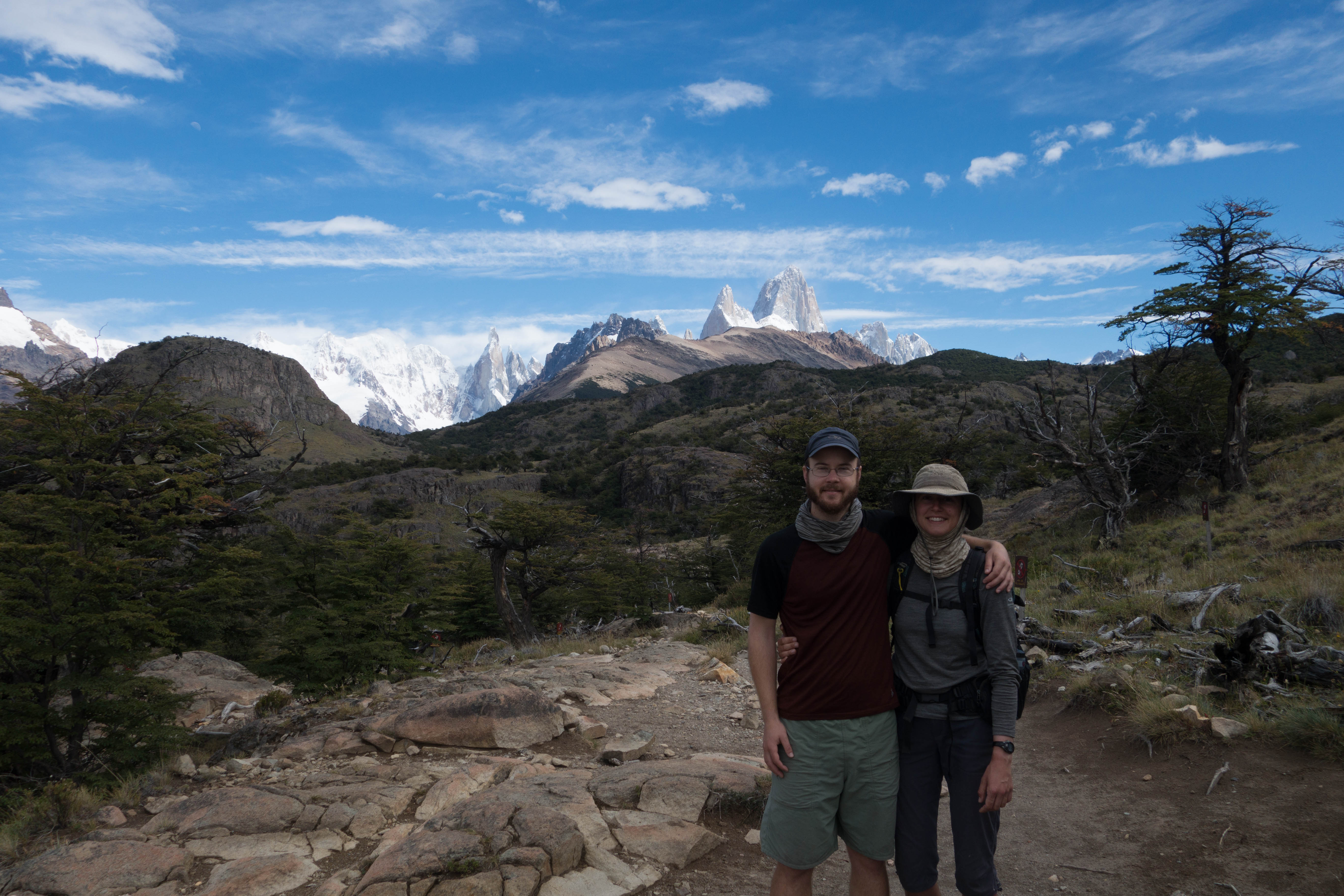 Penguins on Isla Magdalena
Upon returning to Punta Arenas after our backpacking trips, we took a boat to Isla Magdalena to look at the penguins. The walking paths were roped off so people wouldn't disturb the penguins, and they were pretty strict about not crossing the line. Seemed like it would be hard to manage with such a big crowd of people, but Jenny immediately got yelled at for getting her camera too close to a penguin. It was a touristy place but definitely worth it – the penguins were adorable.
Camping on the Carretera Austral
We did a mix of wild camping and staying at established campgrounds along the road. The campgrounds were usually pretty nice and not too expensive, and most of them had some sort of shelter to hang out in if it was raining. All of the campgrounds we went to were basically just somebody's field that they'd turned into pay camping, so at least you're directly supporting locals.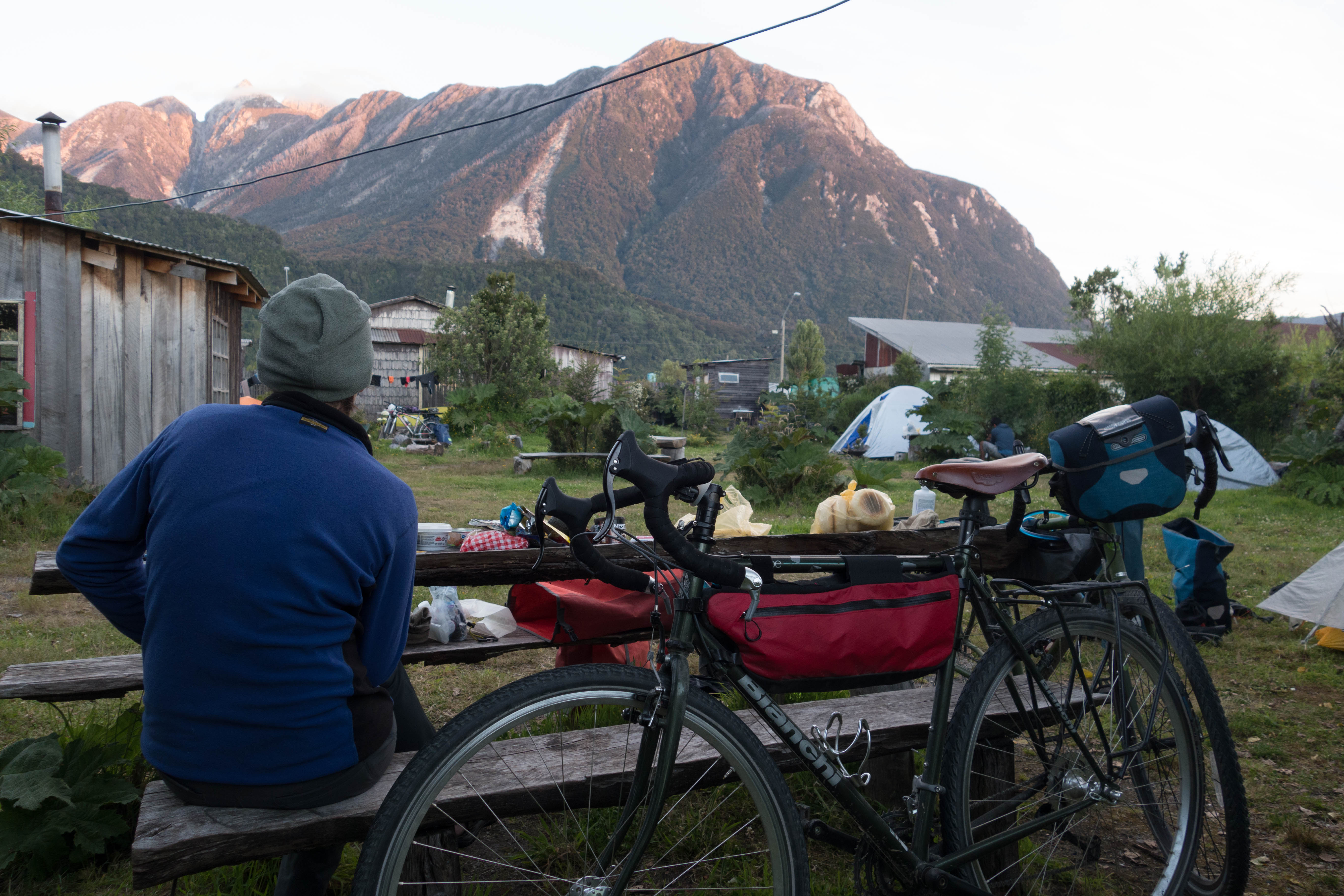 We did have a couple bad experiences at campgrounds in towns, because the "campground" was somebody's small backyard, and they wanted to cram as many people in as possible to make the most money. This led to crowded conditions, and at times there were 20+ people sharing one bathroom. Not good. The campsites in rural areas were solid though, and wild camping is especially easy in the remote southern regions.
Food
Chilean food is a mixed bag – Andrew was less of a fan than Jenny. Sandwich and hot dog shops are frequent, and usually they are really good. They use a special sandwich bread and include lots of avocado along with tomato and chicken or beef. We also had a lot of good barbecue and a popular dish comprised of chunks of steak, fries, and fried eggs on top. Good seafood can also be found in the bigger towns along the coast. Empanadas are a delicious and common snack throughout the region.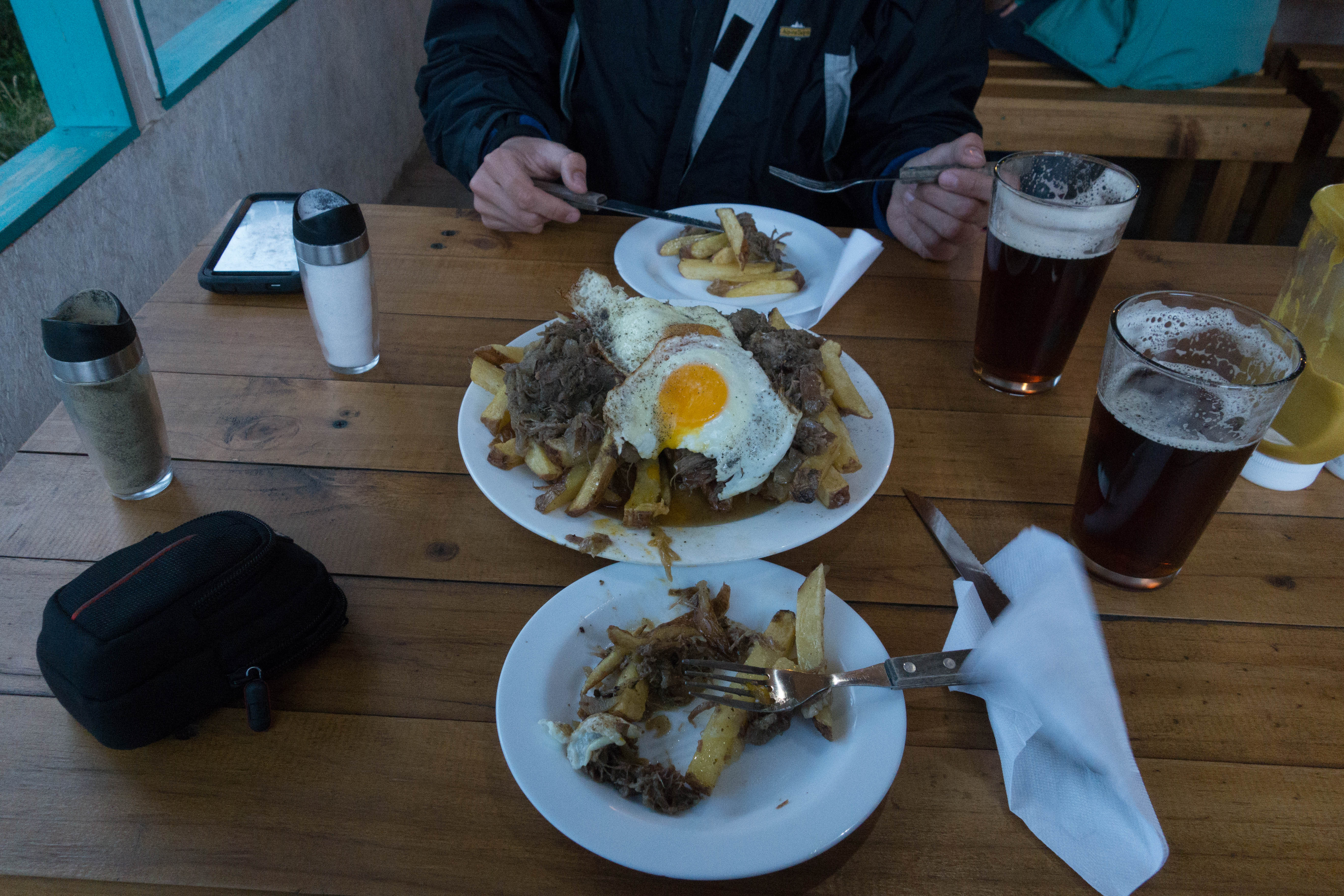 We cooked a lot of our own dinners to save money, and our staple meal was pasta with summer sausage or hot dogs and whatever sauce we could find. Often the sauce was just pureed tomatoes, which was not great, but the small grocery stores in the rural towns weren't super well stocked.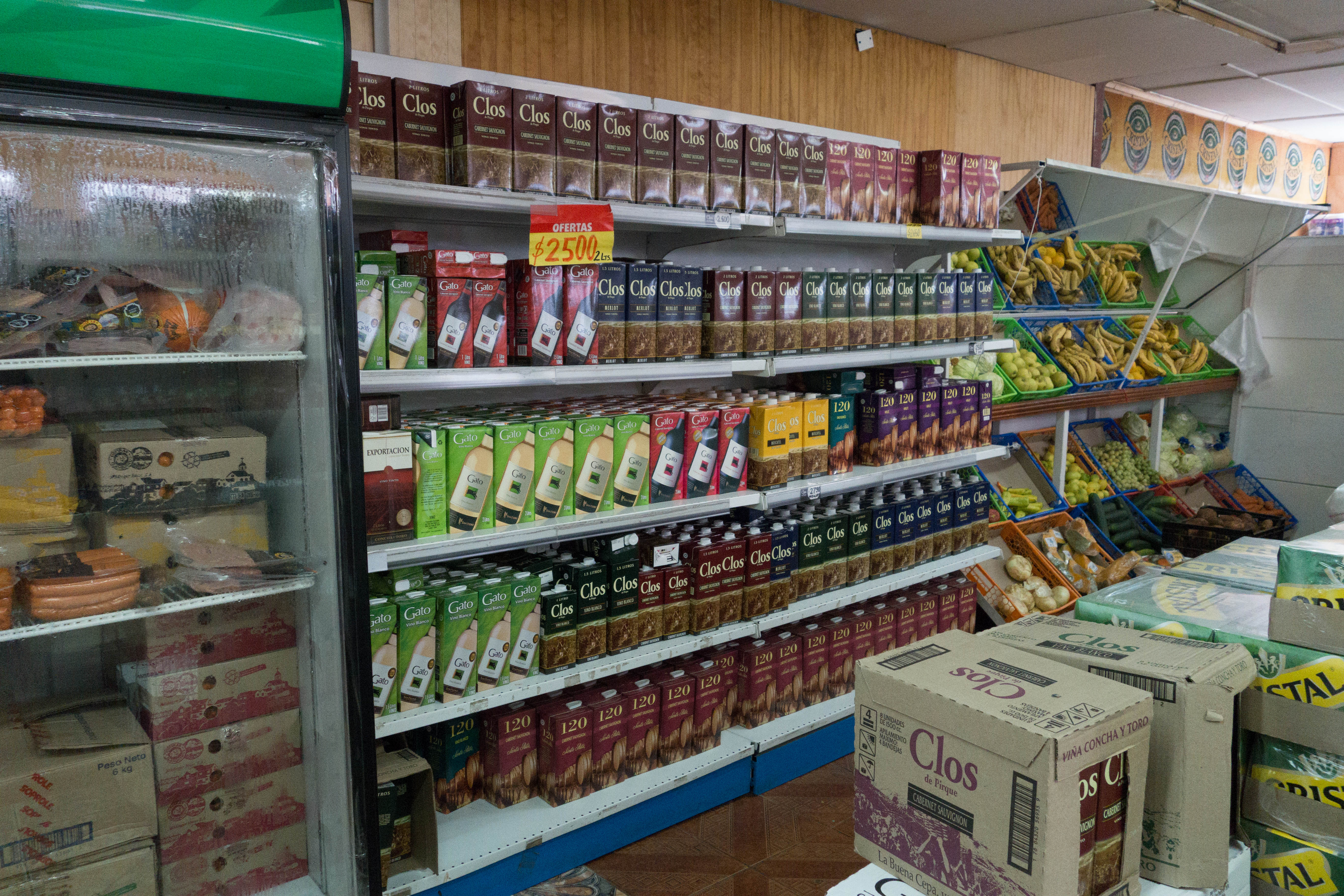 Final Thoughts
Bicycle touring the Carretera Austral was one of our favorite biking adventures. The scenery is unparalleled, camping options are fantastic, and there are many remote corners to discover. It's a place that we definitely want to return to – there is so much to see in a relatively small slice of the region.