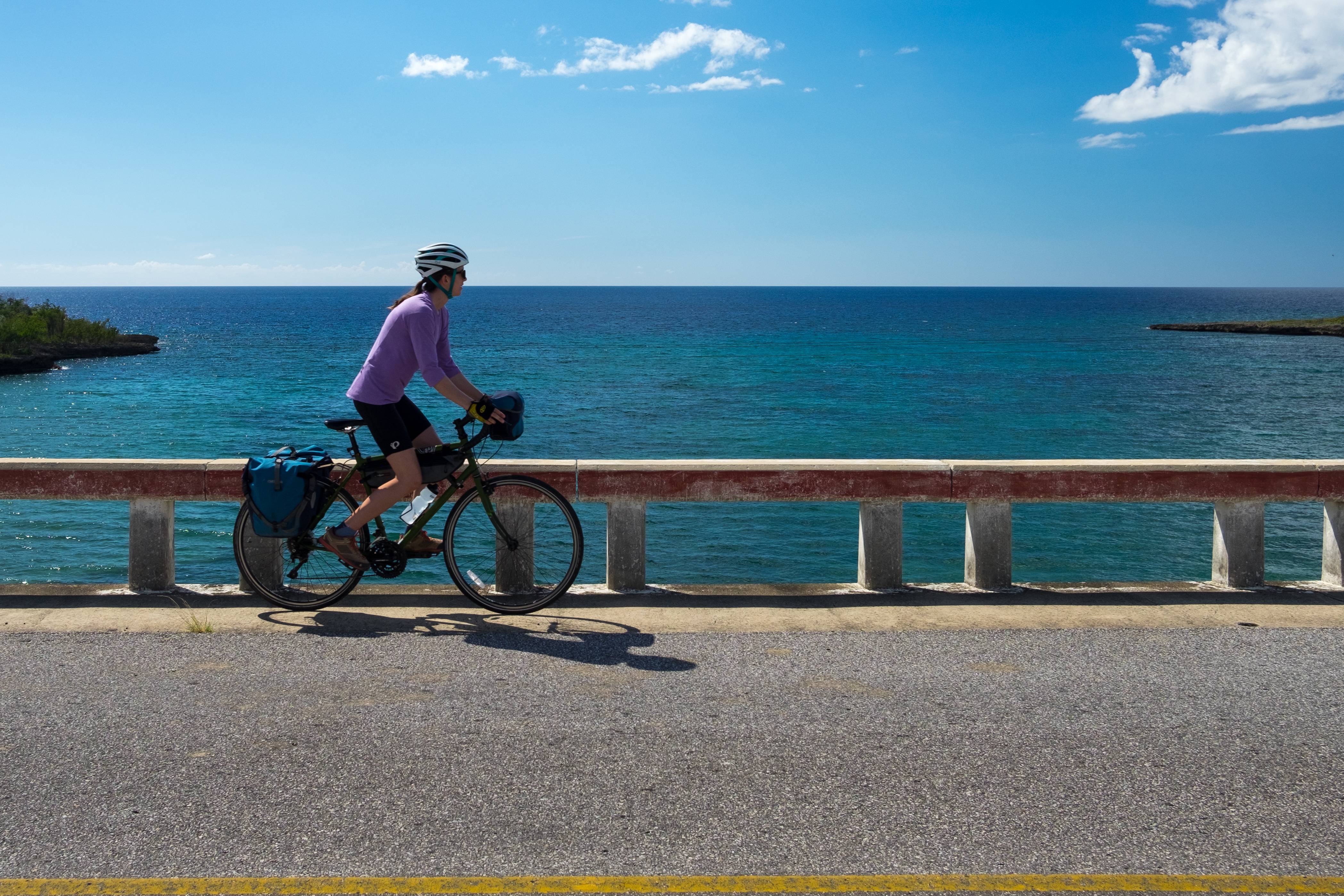 Bicycle Touring in Cuba 2019
We went bicycle touring in Cuba for about two and half weeks in January of 2019. We've always been drawn to traveling in Cuba and round trip tickets were amazingly cheap, so it was an easy pick.
We knew Cuba was going to be a little more difficult than many other touring destinations, because as Americans, we have to deal with our country's frustrating sanctions and regulations about travel to Cuba. The biggest issue is that as of January 2019, American debit cards don't work in Cuba, so you have to bring every cent with you and carry it around everywhere you go.
Our usual procedure when traveling in a foreign country is to take money out in $100 increments so that we never have too much cash on hand. Cuba was quite a bit different – we traveled there with $2700 cash and had to pay a 13% exchange fee every time we changed money. Pretty frustrating when you're used to going to an ATM and taking out local money for free.
Route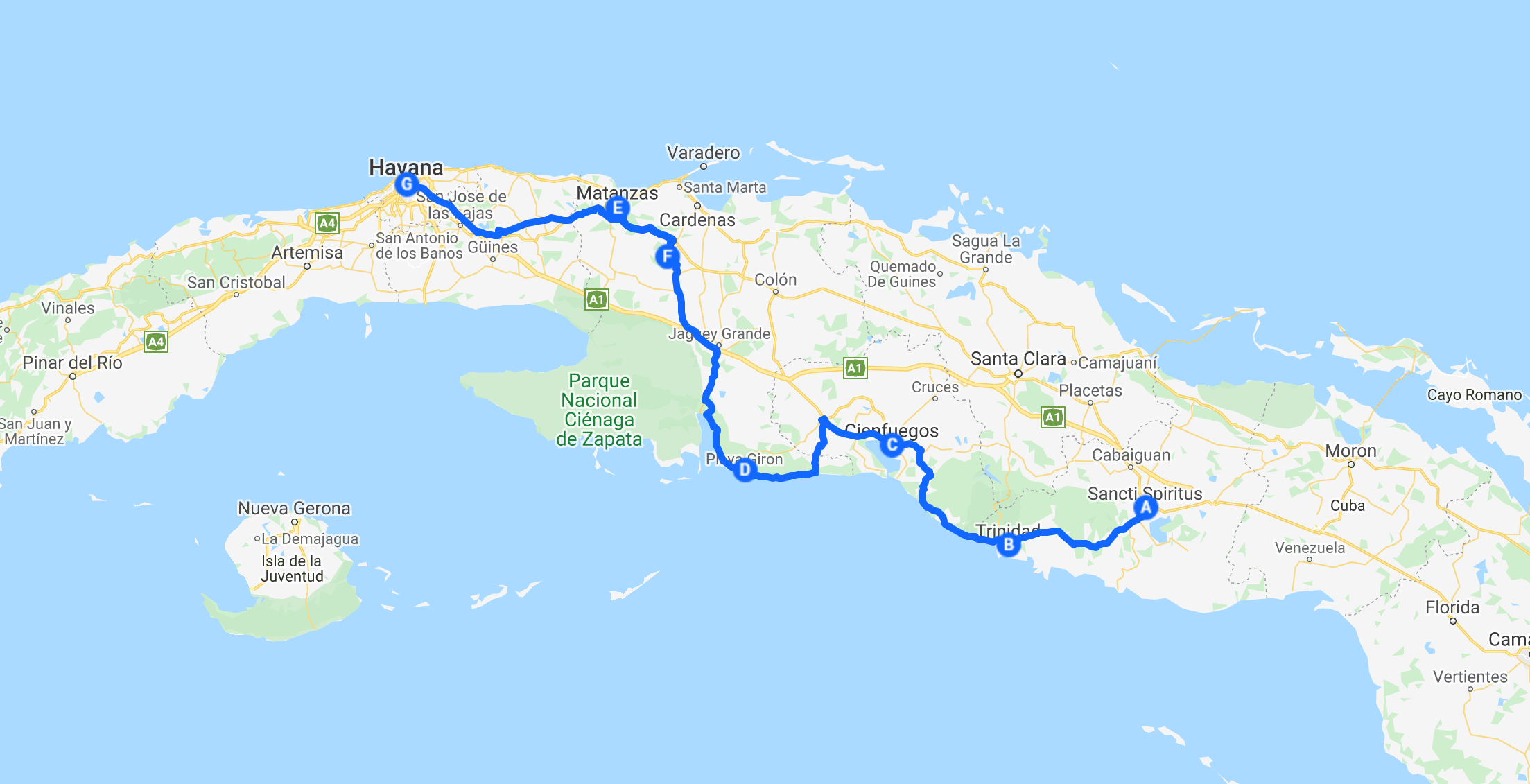 Havana
Immediately upon arriving in Havana, Jenny came down with the flu and was bedridden for the better part of three days. Luckily we found a nice casa particular, Maya and Enrique's, on AirBnb. It was in central Havana, not the old Havana that most people visit. Our hosts were really helpful in taking care of Jenny, and we were super grateful for their hospitality.
After three days of recovering from sickness in Havana, we took a bus to Sancti Spiritus and started our ride back to Havana. We decided to chop off a chunk of the trip (the Camaguey to Sancti Spiritus section) because of the illness delay. The bus ride went smoothly – we had to take the front wheels off our bikes to get them in the cargo hold, and they made it through the drive unscathed.
Sancti Spiritus
After arriving in Sancti Spiritus, Jenny got hit with a final bout of flu so we took another rest day. Again our hosts were amazing. The casa particular system is fantastic and we easily found great accommodations. The casa we went with was right in the main square and we could easily walk to lots of food options. We spent a day doing touristy things, walking around the main square and checking out all the main sights in town. Sancti Spiritus has a lot of fascinating colonial architecture and an awesome laid-back Caribbean vibe.
Eventually we got on the road and headed towards Trinidad. The riding was easy with gently rolling hills and little traffic on a good quality road surface. We passed farmland and small towns with mountains on our right and the ocean somewhere off to our left.
Trinidad
We ended up spending an extra day in Trinidad. We found a casa particular by showing up, sweaty and tired, in the main square and we were quickly approached by a nice older Cuban woman. She invited us to stay at her casa and she seemed nice, so she walked us back to her place which had a beautiful terrace overlooking the town. It worked out very well for being approached by a stranger and taken back to their house.
Trinidad was a fun town to hang out in with lots of cool museums and old buildings to check out. Andrew had a strange medical episode brought on by the high power antibiotics he was on, or maybe it was just placebo, but either way he about passed out in a square while some Cuban musicians did a great rendition of Buena Vista Social Club songs. Jenny ran back to the casa and got a cliff bar, which saved the day.
Cienfuegos
We arrived in Cienfuegos after spending a night in Playa Yaguanabo. Cienfuegos is a beautiful town with great architecture but we struggled to find a decent place to eat and ended up getting some pretty bad pizza.
The next day we headed out towards Playa Giron. We started out trying to avoid the main road for as long as we could, and we ended up on an industrial side road that went by a lot of large factories or shipyards. It was interesting riding with almost no traffic and it was nice to be off the main road. The best bicycle touring experiences tend to be on roads that don't get us where we're going as quickly.
Playa Giron
We ended up staying in Playa Giron for two nights at a casa particular called Tres Hermanas. It was some of the best food we had in the whole country, and the casa had a wonderful relaxing courtyard to hang out in.
On the second day we rented some snorkeling gear and rode out to a resort in a small cove to check out some coral and tropical fish. It was $15 for a wonderful buffet lunch and all you can drink mojitos, such a good deal!
After relaxing in Playa Giron for an extra day, we headed on towards Playa Larga. Easy coastal riding with light traffic and beautiful views of the Bay of Pigs the whole way.
Playa Larga
When we arrived in town we had a bit of a struggle picking a casa – it seemed like every other house down by the coast was a casa particular and it was tough to choose when they all looked pretty nice. The one we went with was great (as they've all been) and our host was very accommodating.
Back to Havana
After leaving the Bay of Pigs, we crossed to the other side of the island via San Miguel de los Banos, lots of small towns, and Matanzas.
Finally, we made it back to Havana, where we stayed for a couple days while we boxed up our bikes and got ready to fly home. It was nice to spend a little more time there since Jenny was sick the first time around.
Check out our Routes page if you're interested in our current world bike tour!