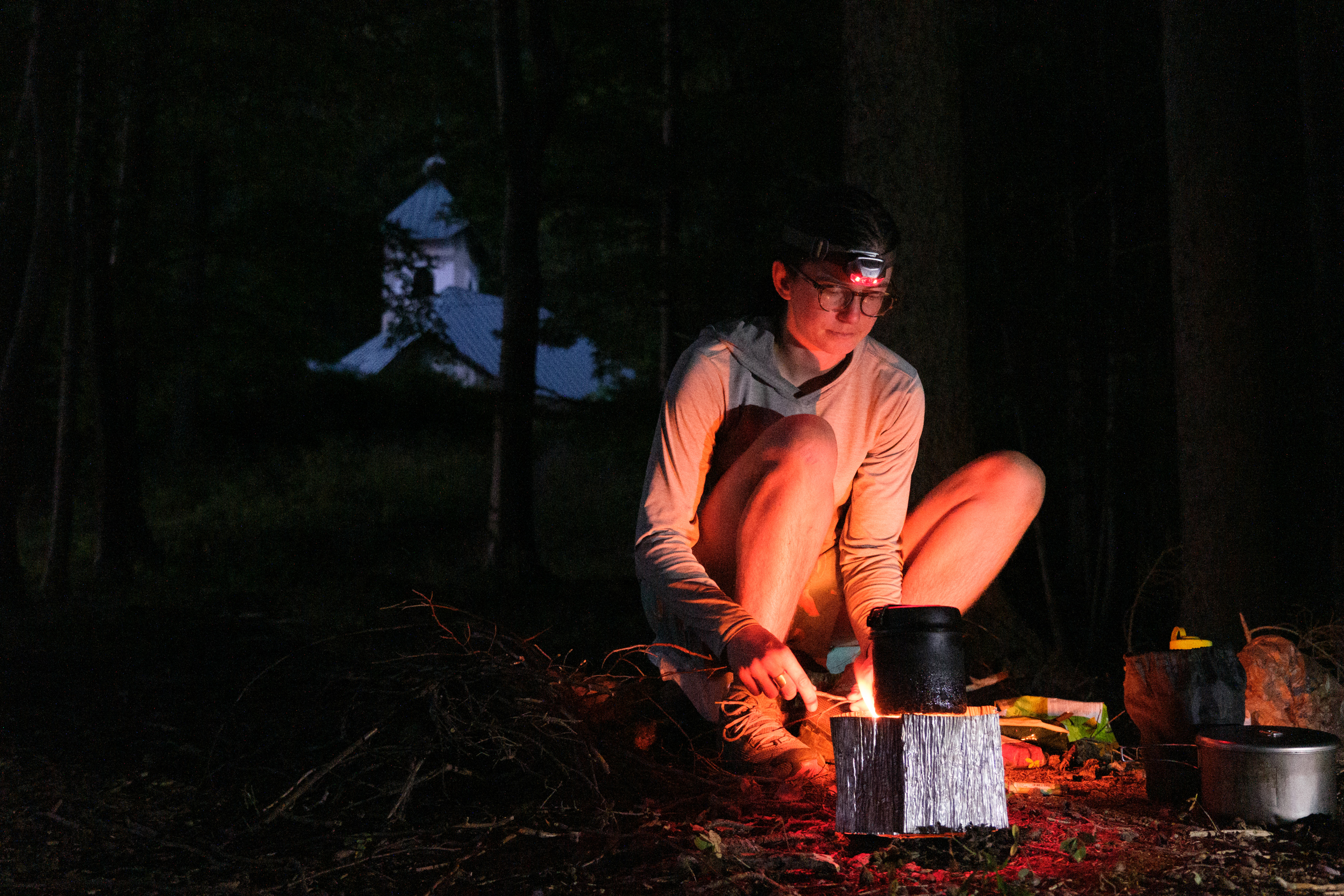 Camp Kitchen: Cooking on a Bicycle Tour
Cooking gear is essential on a long bicycle tour, especially if you're on a budget. Eating out at restaurants adds up quickly, so the ability to prepare your own meals is crucial. There are many different kitchen setups to choose from, and in this post we'll go over the kitchen gear we use and why we chose it.
Stoves
There are tons of stoves out there, and first you'll need to figure out the accessible fuel types for where you're touring. Canister stoves are popular in many countries, but they don't last very long and aren't available everywhere in the world. We're carrying two stoves for our around-the-world tour: a Bushbuddy wood burning stove (5.5oz) and an MSR Dragonfly (20oz including the fuel bottle).
Wood-burning Stove
A wood burning stove has a lot of advantages. Fuel (i.e. sticks that you find around your campsite) is free and plentiful in most places, and cooking over a fire can be a fun pastime at camp. We use the Bushbuddy as much as possible to conserve the fuel for our MSR stove.
The only time we don't use the wood-burning stove is if it's been raining a ton and all the sticks are saturated, in which case starting a fire is a lot of work. The other downside to a wood-burning stove is that it creates smoke and can draw attention to your campsite, which isn't ideal if you're stealth camping. This wasn't a major issue for us, as we usually camped well out of sight and weren't too concerned about people seeing the smoke. If you're camping in an area with strict fire bans, use your best judgement and follow local regulations.
MSR Dragonfly
We chose the Dragonfly for its range of compatible fuel types and ability to simmer. The stove connects to a refillable fuel bottle and can burn white gas, kerosene, unleaded auto fuel, diesel, and jet fuel. The different fuel types is a great feature if you're planning to tour in remote areas that aren't likely to have an outdoor store.
White gas is our first choice for fuel because it burns the cleanest, and so far we have been able to find it everywhere we've toured. In South America, we were able to get it in hardware stores by asking for bencina blanca. In Europe, we bought Coleman fuel in liter increments at outdoor stores. Do your research ahead of time and see if/where you can find fuel in the country you're visiting. Having the option to burn other fuel types gives us peace of mind while on an extended tour.
Cookware
All of our cookware (apart from our chopping knife) is titanium, because it's incredibly lightweight. Below is a list of our cooking gear:
Snow Peak 2 liter pot with lid (8.11oz) for cooking on the Dragonfly. This is a good size for making 2-person dinners.
Snow Peak 0.9 liter pot with lid that doubles as a fry pan (6.2oz) for cooking on the Bushbuddy. This is the only pot we use for cooking on the wood-burning stove, because it does get very sooty.
Long-handled spoon (0.53oz). The long handle is a game changer, highly recommend.
Victorinox 3.25 inch paring knife (0.71oz) for chopping vegetables
Miscellaneous
We carry a various assortment of spices to add extra flavor to our dishes. Salt and pepper are the obvious necessities, and we also carry a general spice mix that a friend gave us. We sometimes carry a small Nalgene travel bottle of olive oil – definitely keep an eye on oil containers because they're a real bummer if they leak.
Conclusion
This kitchen setup works well for us and gets a lot of points for its versatility. We're happy with the Dragonfly and its many compatible fuel types, because we don't have to worry too much about finding specific fuel in a remote location. Canister stoves are popular and convenient for short trips, and we've used them on bikepacking ventures where we can estimate how much fuel we'll go through. If you're using a canister stove on a longer tour, however, make sure you've planned out the spots where you can buy new ones.
We hope this breakdown has been helpful – don't hesitate to leave a comment below if you've got any questions!