Bicycle Touring the Istrian Peninsula
We arrived in Trieste and planned to spend four days there – the longest amount of time we'd spent in one place since our week in Paris. The city has a fascinating and tumultuous history, with various regimes and countries laying claim to it at different periods of time. Unfortunately, we had a bit of bad luck in the city, with Andrew suffering from the first bout of food poisoning that we've dealt with in Europe. We're still not quite sure what did it, but our time in Trieste was marked by fitful nights and Gatorade runs.
Route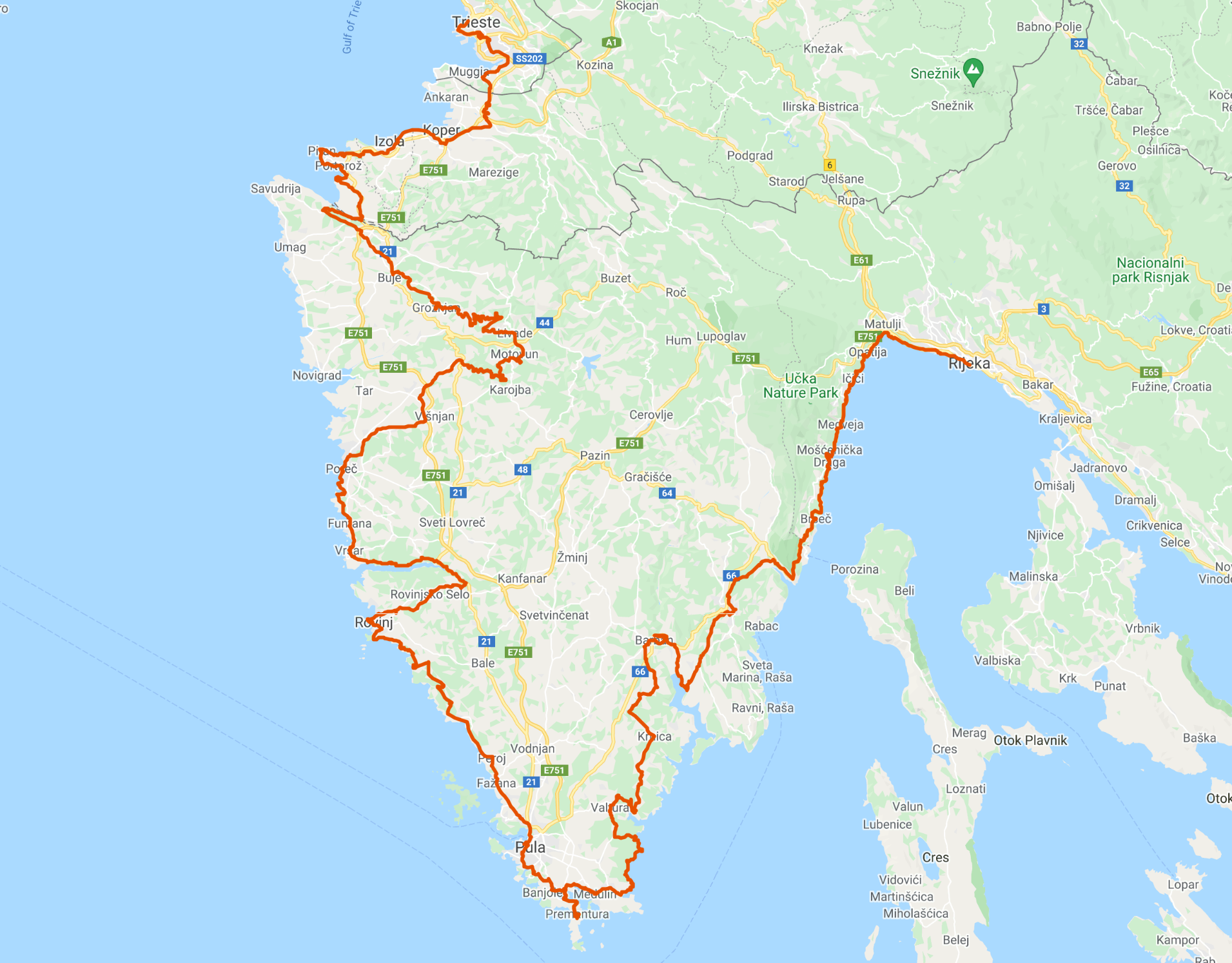 Download the GPX track of our ride around the Istrian Peninsula. NOTE: This is not a polished route and is intended for research and planning purposes only.
From Trieste, we rode the EuroVelo 8 to Piran, which is on the small slice of of Slovene Istria. Andrew was still feeling a bit under the weather, so we decided to get an apartment for the night in Piran since prices were fairly cheap. We were immediately enchanted by the city's winding alleys and brightly painted buildings. We watched a beautiful sunset from St. George's Parish Church, which is situated at the top of a hill overlooking the city.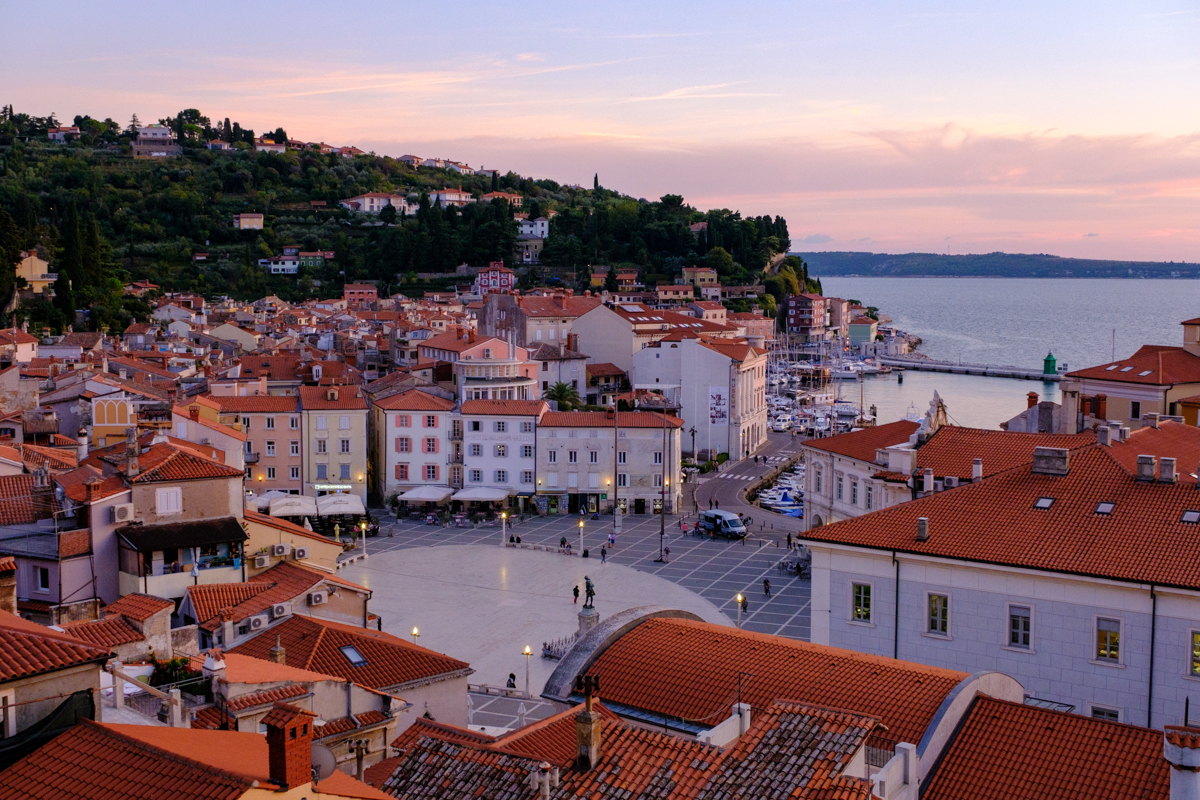 Parenzana Trail
Soon after Piran, we began the Parenzana Trail, which follows the route of a narrow-gauge railway that operated between 1902 and 1935. The route is mostly on gravel roads and bike paths, with some stretches of pavement. The Parenzana website recommends mountain bikes due to rough road surfaces, but our touring bikes with 2″ Marathon Mondials did just fine. The gravel was loose and chunky in some places, but we'd rather deal with bumpy bike paths than busy roads.
The Parenzana took us away from the coast and through small mountain towns built onto hilltops. We rode through olive groves, vineyards, and old railway tunnels.
Read our guide on cycling the Parenzana Trail here.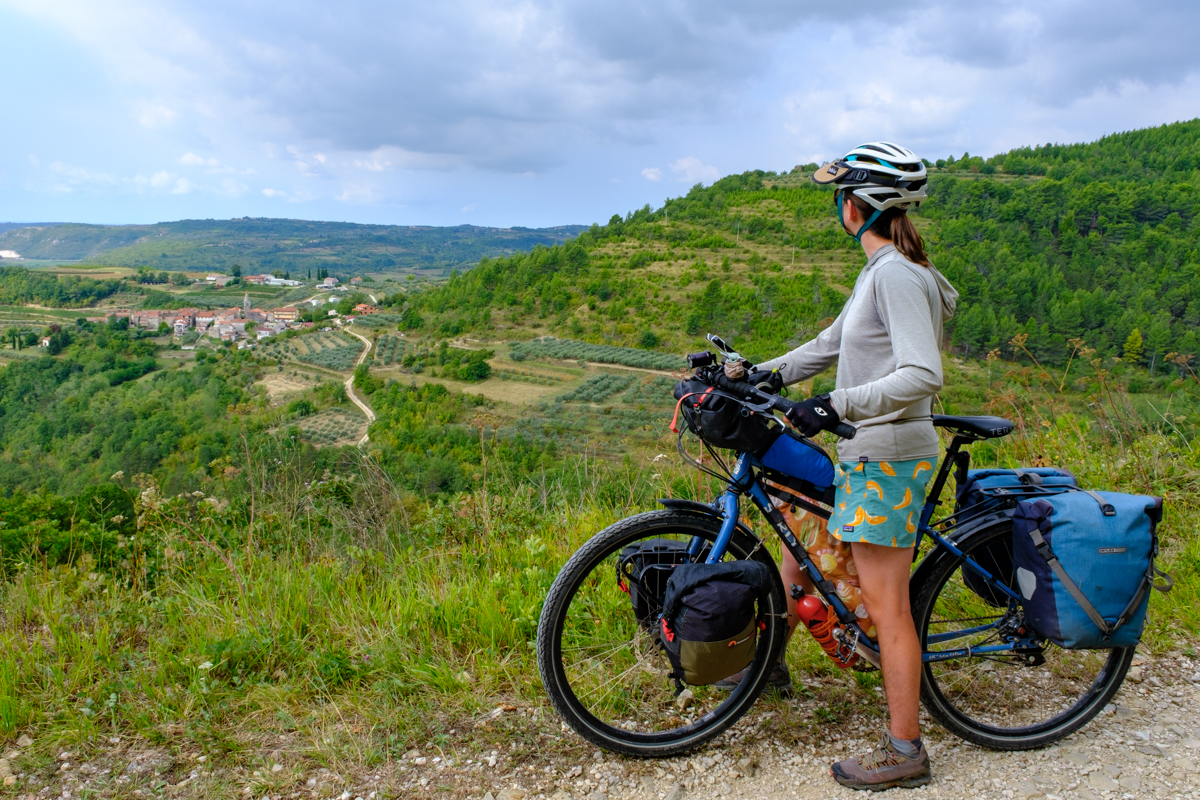 EuroVelo 8
After riding the Parenzana Trail to Poreč, we joined back up with the EuroVelo 8. We were pleasantly surprised at how often the EV8 utilized gravel and dirt roads. We had heard some nightmare stories about how bad the traffic was in Croatia, and while there were certainly some busy sections of coastal road with no shoulder, we really enjoyed the gravel backroads of the EV8.
Rovinj
We rode through Rovinj on a Friday night, which was very crowded and a little bit stressful on a bulky touring bike. Nevertheless, the town was incredibly charming, and its Venetian influence was apparent in its colorful buildings that were built right next to the sea. The streets were made of large, white polished cobblestones that were novel at the time but turned out to be a common style throughout Dalmatia.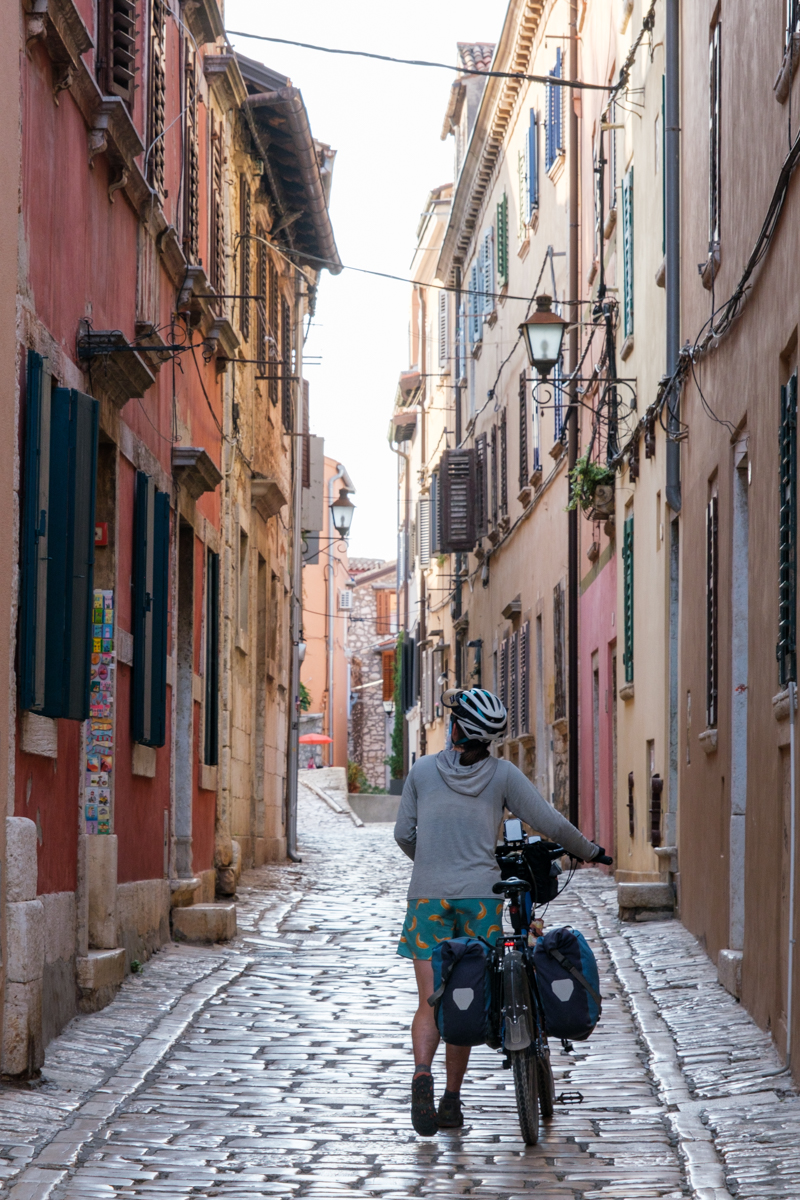 Pula
We didn't know very much about Pula before visiting, and the first landmark we noticed brought us to a screeching halt – a huge Roman colosseum that we learned was one of the world's six largest remaining Roman arenas.
Pula is full of Roman ruins, and we continued to stumble upon more as we wandered through the town center. We visited the Roman temple and forum as well as a couple Roman gates with intricate carvings.
Premantura Detour
We rode down to Premantura for Jenny's birthday and stayed at an apartment so that we could explore Cape Kamenjak. Kamenjak is at the southern tip of the Istrian Peninsula and is known for its rocky, wild beaches and preserved nature. We took our first swim in the Adriatic, which is incredibly clear and a perfect temperature for swimming. Late September seemed like an ideal time to be there, as the beaches weren't crowded but the weather was still quite warm.
Local Cycling Routes Along the Coast
We had plenty of time to take a meandering route around the peninsula, so we tried out a few local cycling routes in addition to the EuroVelo 8. We learned about these trails through OSMand+, our GPS app which includes cycling route overlays. The Istria Bike website is a great resource for information on Istria cycle routes. We particularly enjoyed the coastal section of Route 333, which was on a dirt road that passed many beautiful coves and beaches as well as archaeological sites.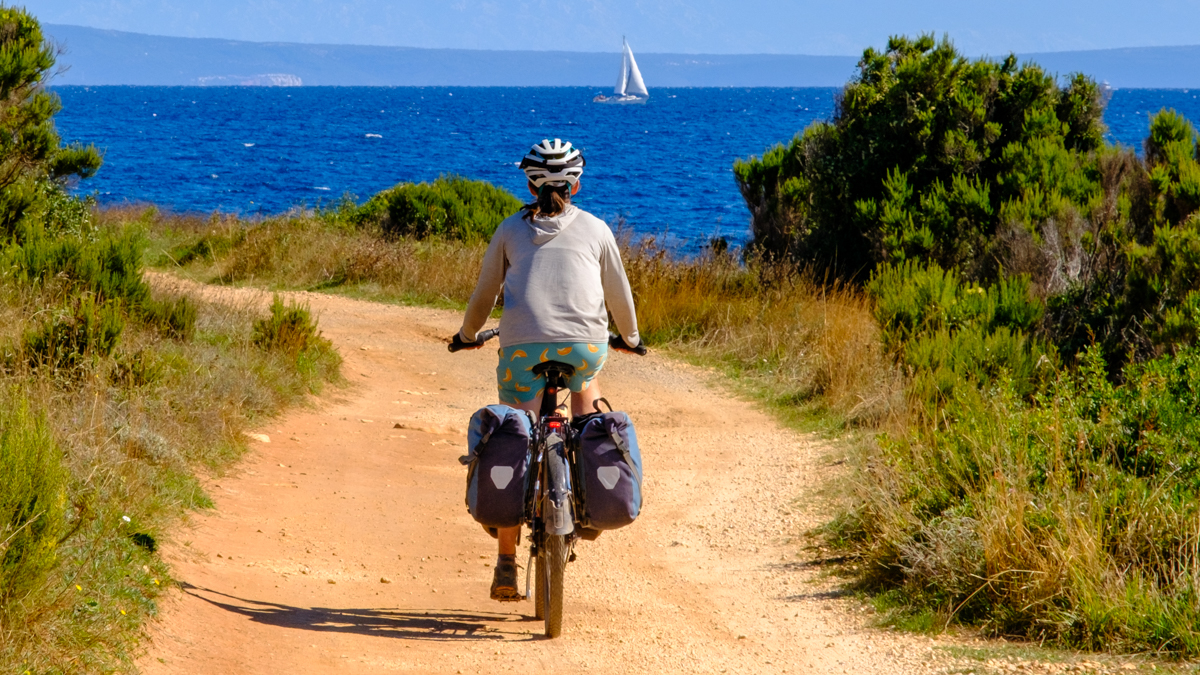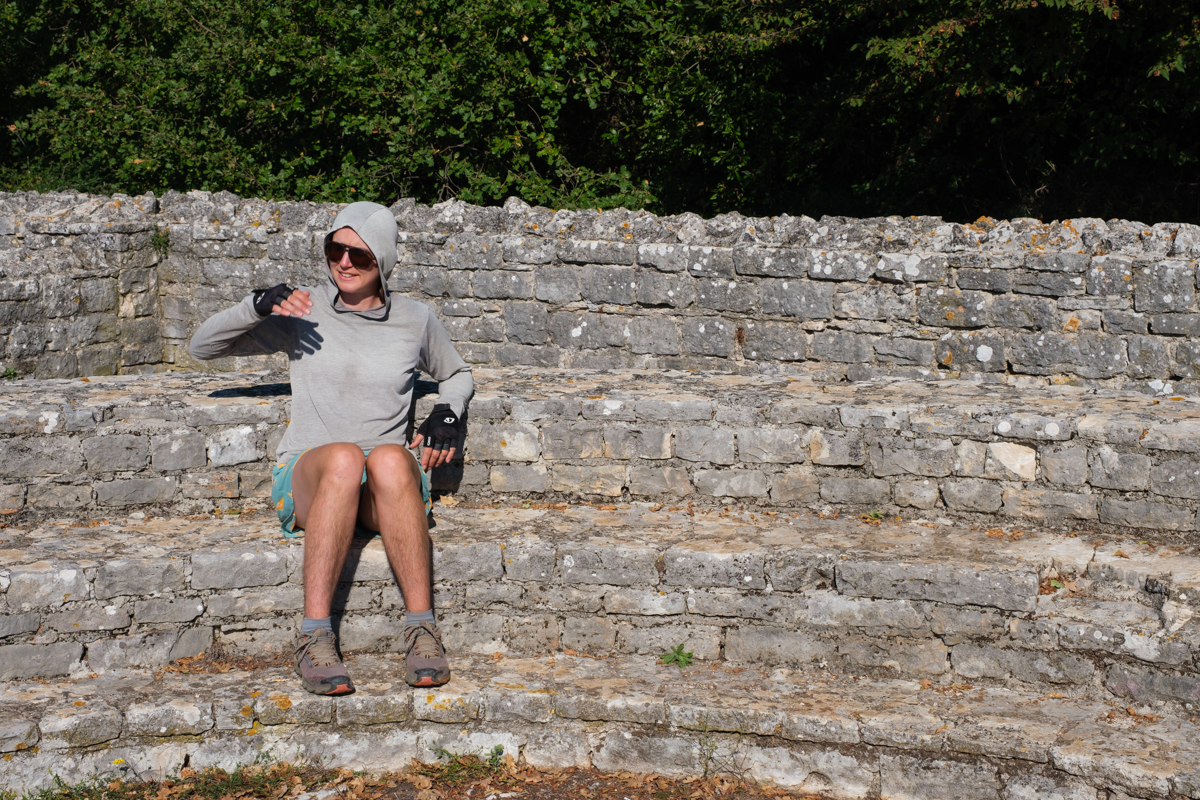 Eastern Peninsula to Rijeka
The EV8 follows a larger highway as the route gets closer to Rijeka, a bustling port city. This was the busiest section of road that we traveled on the peninsula, and there wasn't much of a shoulder. There was a sidewalk in some places, but it was bumpy and narrow. Drivers were courteous overall, but it's best to avoid riding this road on the weekend or during the tourist season. Despite the traffic, there were beautiful views of the Adriatic coast and towns built along the steep cliffs running down to the ocean.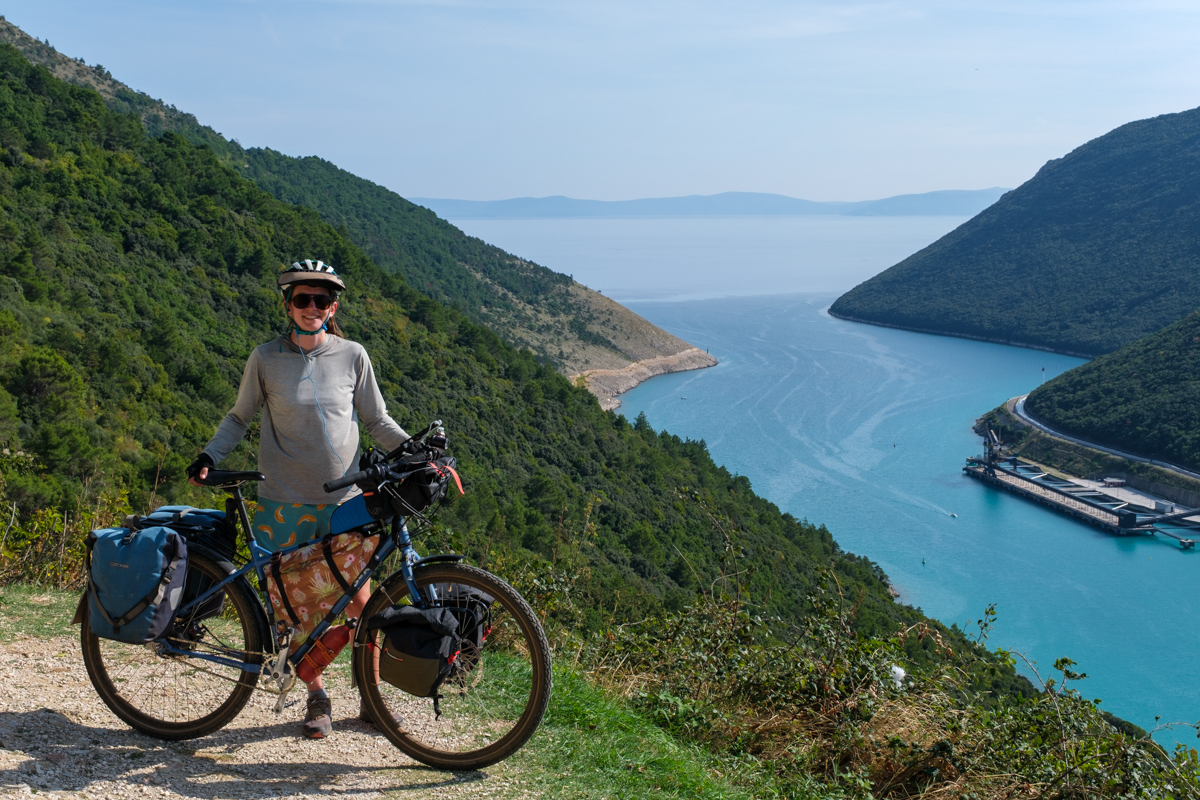 Camping
We wild camped while we were riding around the Istrian Peninsula, with the exception of our apartment stay in Piran and a beach stay for Jenny's birthday in Premantura. The prevalence of gravel side roads made stealth camping fairly easy, and we were even able to find a good spot in a developed area near Rijeka. However, we had our first experience with wild boars here, so make sure your food is stored properly before going to bed. The boars came right up to our tent and growled at us, which was rather disconcerting.
Video from the Istrian Peninsula