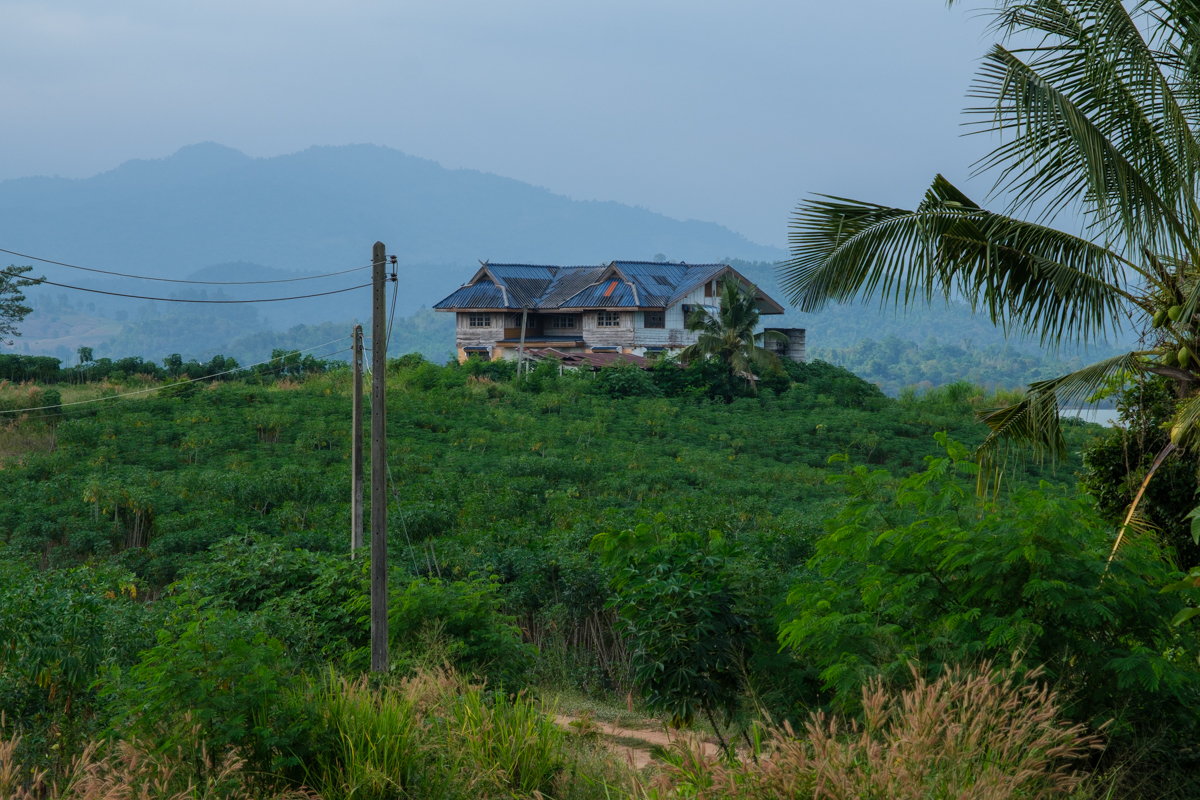 Cycling Central Thailand
We cycled north along the Gulf of Thailand before heading into the western interior, skirting around Bangkok since we'd visited previously and wanted to avoid the intense city traffic. There were many interesting towns and cultural sites in this section, and the weather turned much drier and cooler as we moved north.
Our Bike Touring Route
Download the GPX track for our cycle tour through Central Thailand. NOTE: This is not a polished route and is intended for research and planning purposes only.
Gulf of Thailand
At its narrowest point, Thailand is only about 7 miles wide – with Myanmar to the west and the Gulf of Thailand to the east. We tried to stay off the highway but there were few road options in this narrow stretch. For awhile we were able to take a wonderful dirt road along the beach, but it got worse and worse before ending at a river forge that was way too high to cross. We ended up backtracking for a few miles and had to take the highway for a short while, but luckily there was a big shoulder.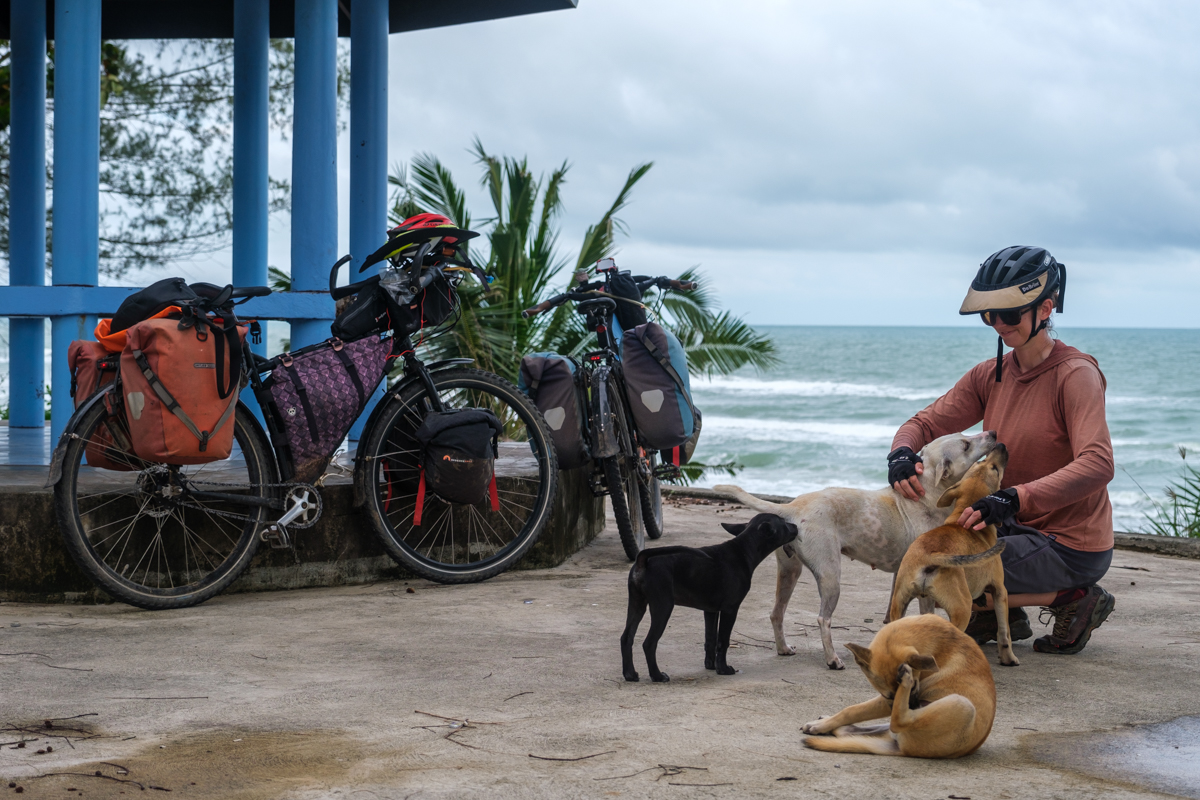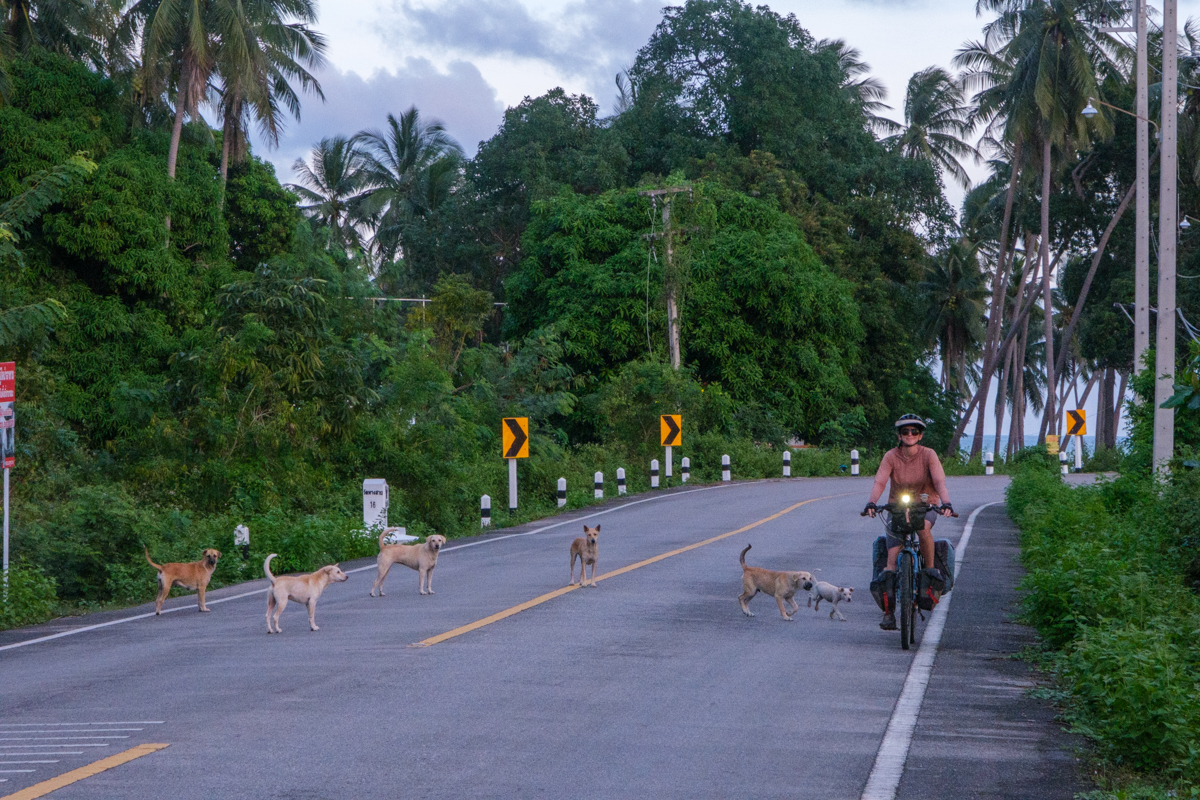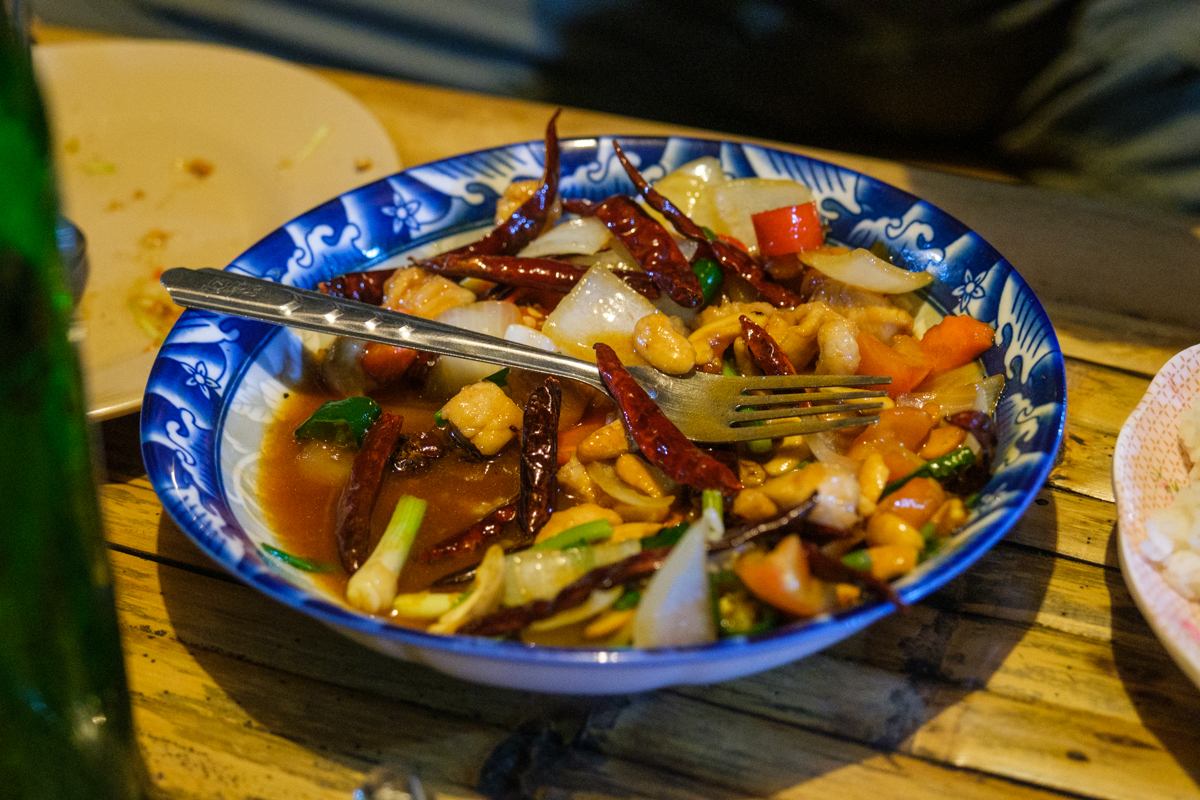 There was a big military base on the way into Prachuap Khiri Khan, and we were unsure if bikes could actually travel through it. We gave it a go and it turned out to be a really nice path along the beach that was open to the public. We took a day off in Prachuap Khiri Khan, which was a laid-back beach town with a neat strip of heritage buildings and walking paths along the ocean.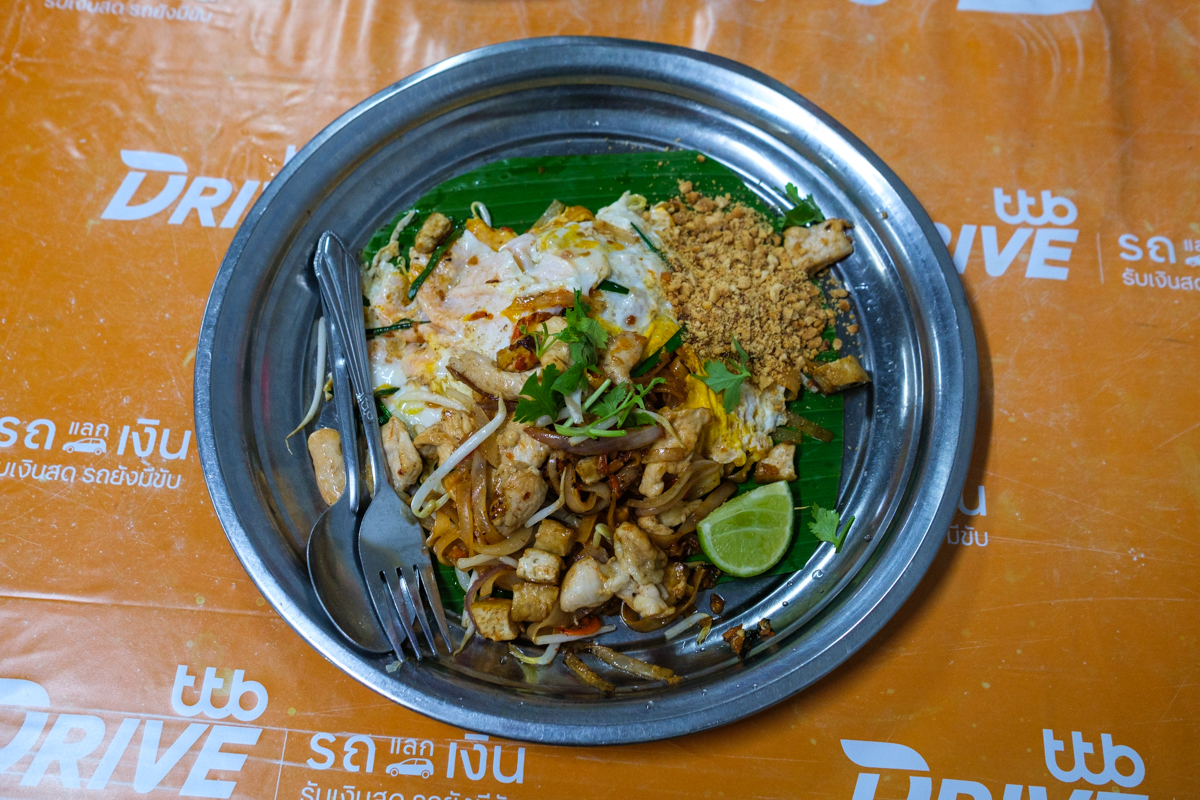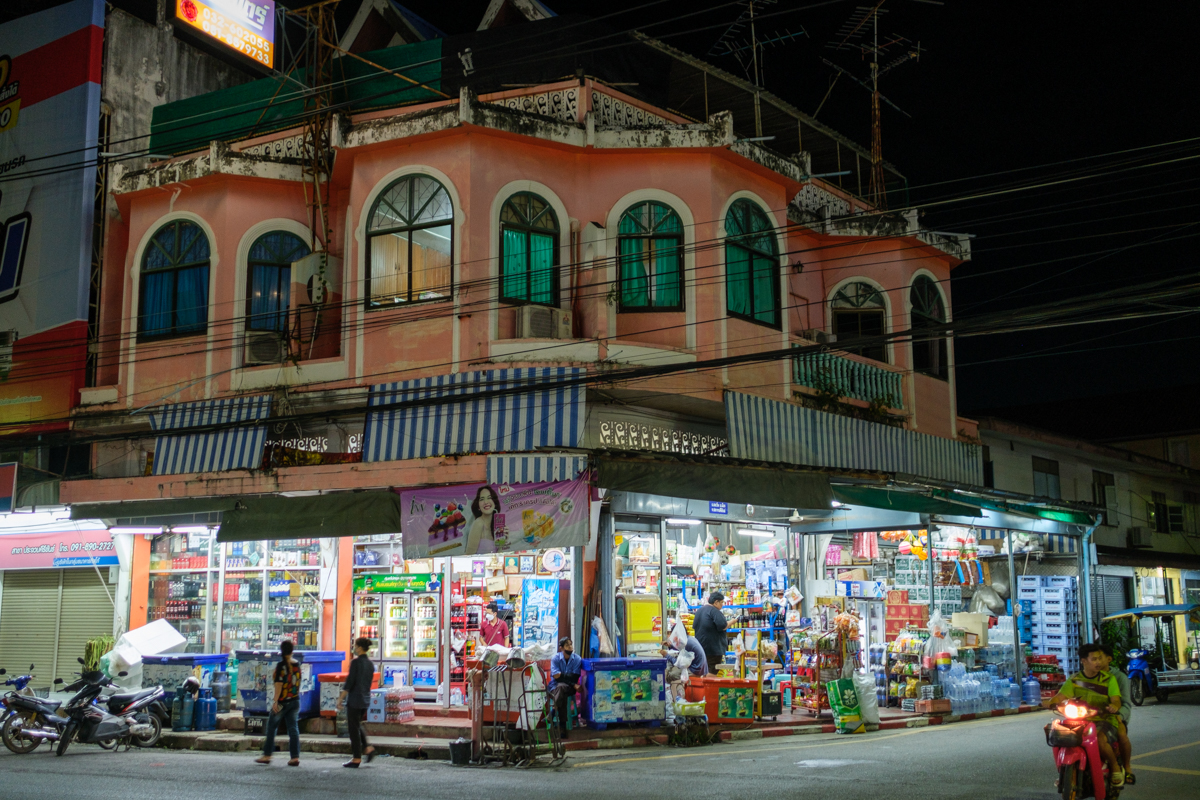 The cycling along this part of the coast was wonderful, with many calm bays and beautifully painted fishing boats in the harbors. There were also some gorgeous national parks to see along the way.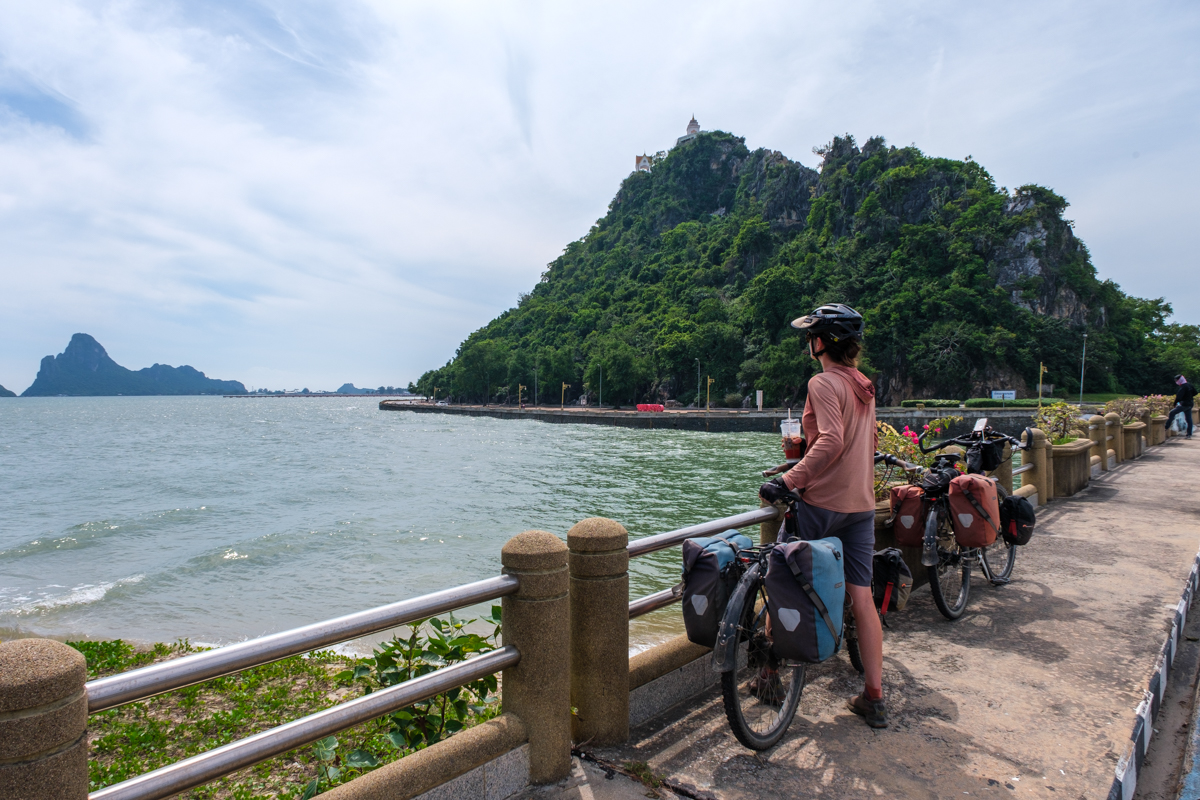 Phetchaburi
We only stayed in Phetchaburi for a night, but it was a charming river city and we really enjoyed wandering around the town center. There was a very tall, unique white temple (Wat Mahathat Worawihan) that could be seen all over town, and a riverside market with lots of lanterns and street art. We ate at a restaurant in an old teak house that was right on the river and had a great ambiance.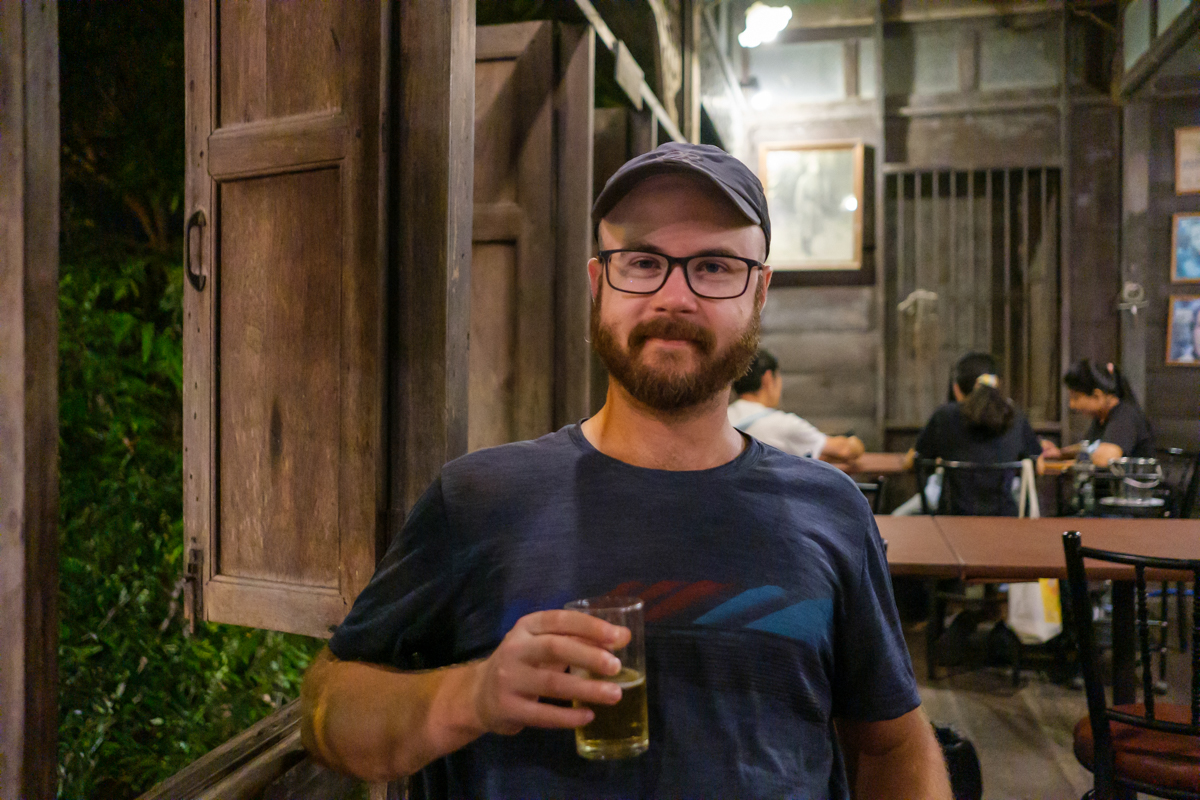 Inland Provinces
As we moved inland, we took lots of farmland roads and didn't have any problems finding low traffic options. This area was pretty flat so there were numerous roads to choose from.
Kanchanaburi
We realized that we'd be going nearby the famous Bridge Over the River Kwai, so we decided to take a detour to check it out. The town of Kanchanaburi is very touristy, and there were more foreigners around than we'd seen in a long time. The main strip had a ton of bars but the vibe was kind of seedy, and we felt pretty out of place. The food here was also some of the worst we had in Thailand – it was very bland compared to the spicy and flavorful dishes we'd gotten used to. Maybe the cooks were worried about making the food too spicy since much of the clientele was western…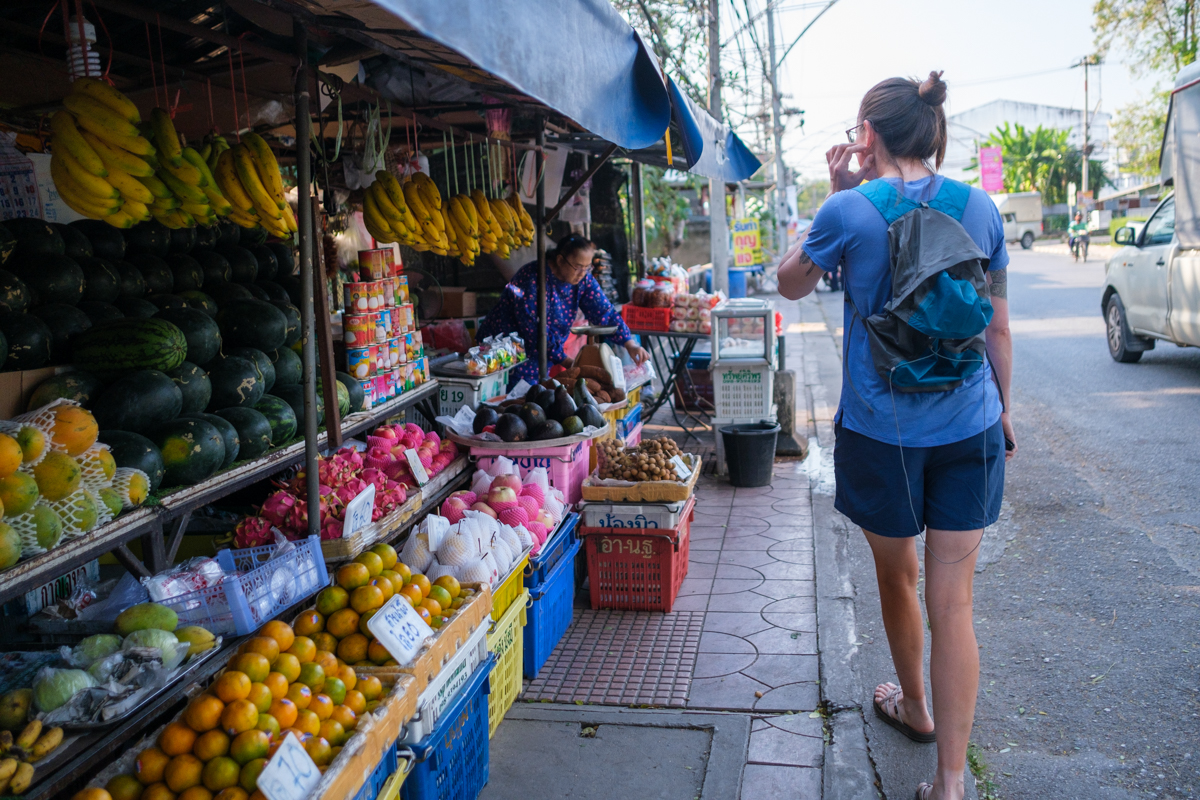 Remote Farmland and Thai Hospitality
Much of the riding through this section involved linking roads through farmland and remote villages. We were treated to an endless parade of cool farm equipment and plenty of nice gravel riding through fields of cassava, corn, and hot peppers.
An Unforgettable Lunch Break
One day we were riding through rubber tree plantations in the middle of nowhere, and a family on a motorcycle and sidecar setup flagged us down while we were taking some photos. They didn't speak English, but they made eating motions and conveyed that they wanted to invite us to their home for lunch. We were hesitant at first, but they were very insistent and we eventually accepted their gracious offer.
We started following them down increasingly technical dirt roads until we were totally off the map on our GPS, and we were growing concerned about how the heck we were going to find our way out of there. Finally, we arrived at their home, which was a classic Thai-style house where the bottom floor is open air with a big seating area, and the upper floor is the sleeping quarters.
The dad promptly sent his son out to gather a sack of fresh pineapple from a nearby field as well as a big jack fruit. He encouraged us to eat and eat and we obliged, not realizing that there was so much more food to come! We communicated as much as we could with the language barrier, and then the family started bringing out different curries and soups, rice, noodles, boiled yams, and sodas and energy drinks. We ate until we were so stuffed that we didn't think we'd be able to bike again.
The family was incredibly kind to us and showed us such amazing hospitality. They even rode with us back to the main road so that we wouldn't get lost!
Kamphaeng Phet
We stayed a couple nights in Kamphaeng Phet so that we could visit the historical park just outside the city, which is a World Heritage Site with structures dating back to the 14th century. The historical park is perfect for exploring by bike, and we enjoyed riding around without our bags for a change and checking out all the different temple ruins.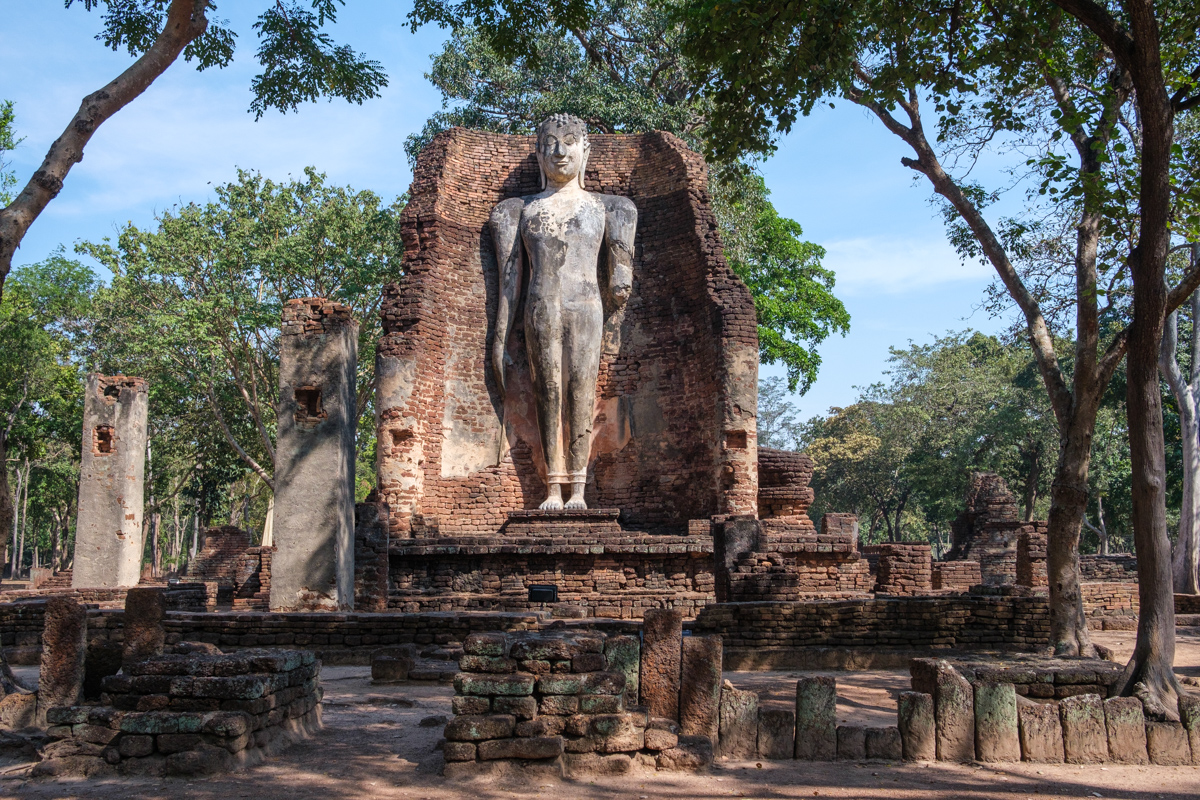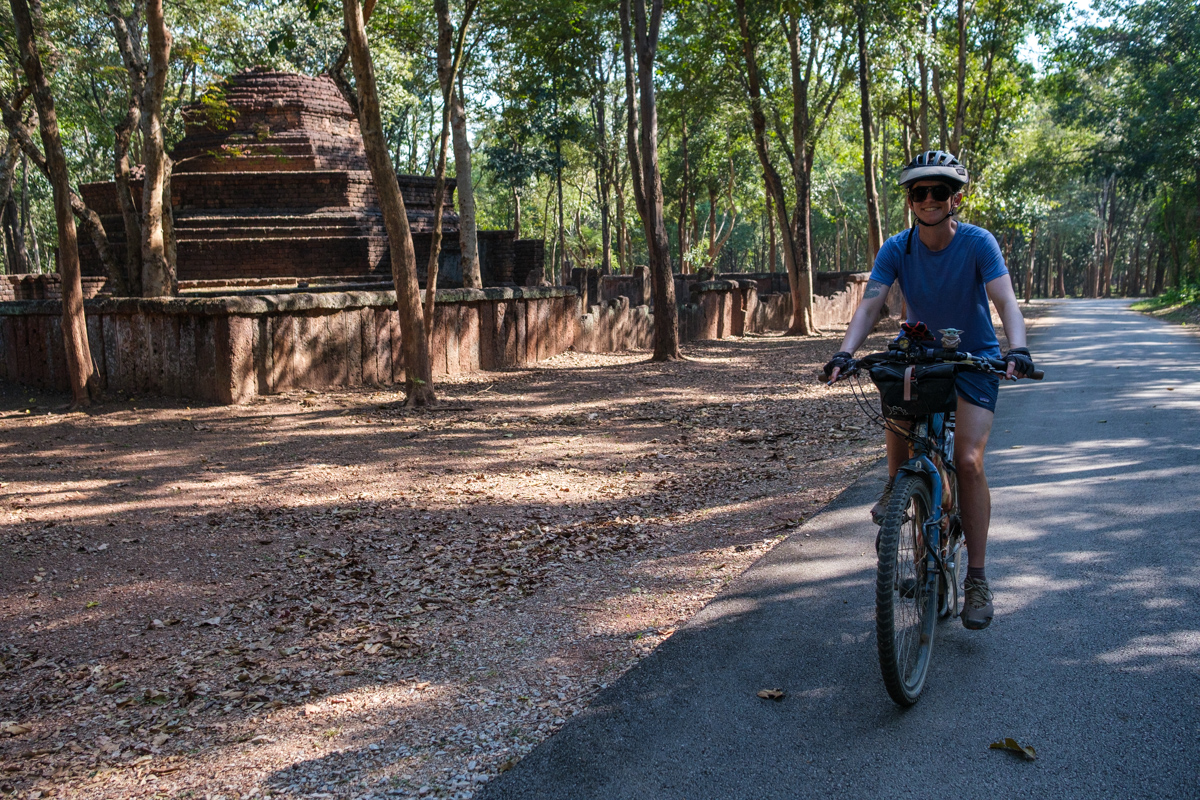 The town of Kamphaeng Phet also has an awesome night market, with a dense concentration of food stalls cooking up everything you could want.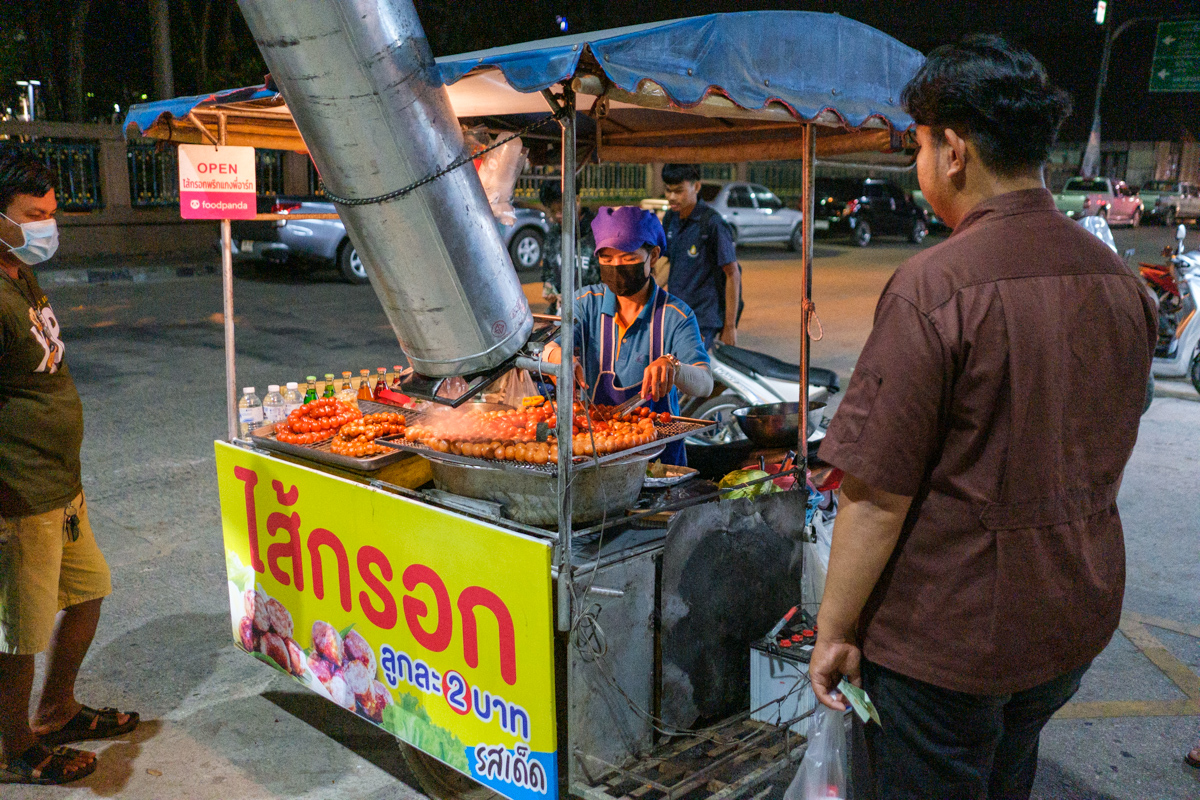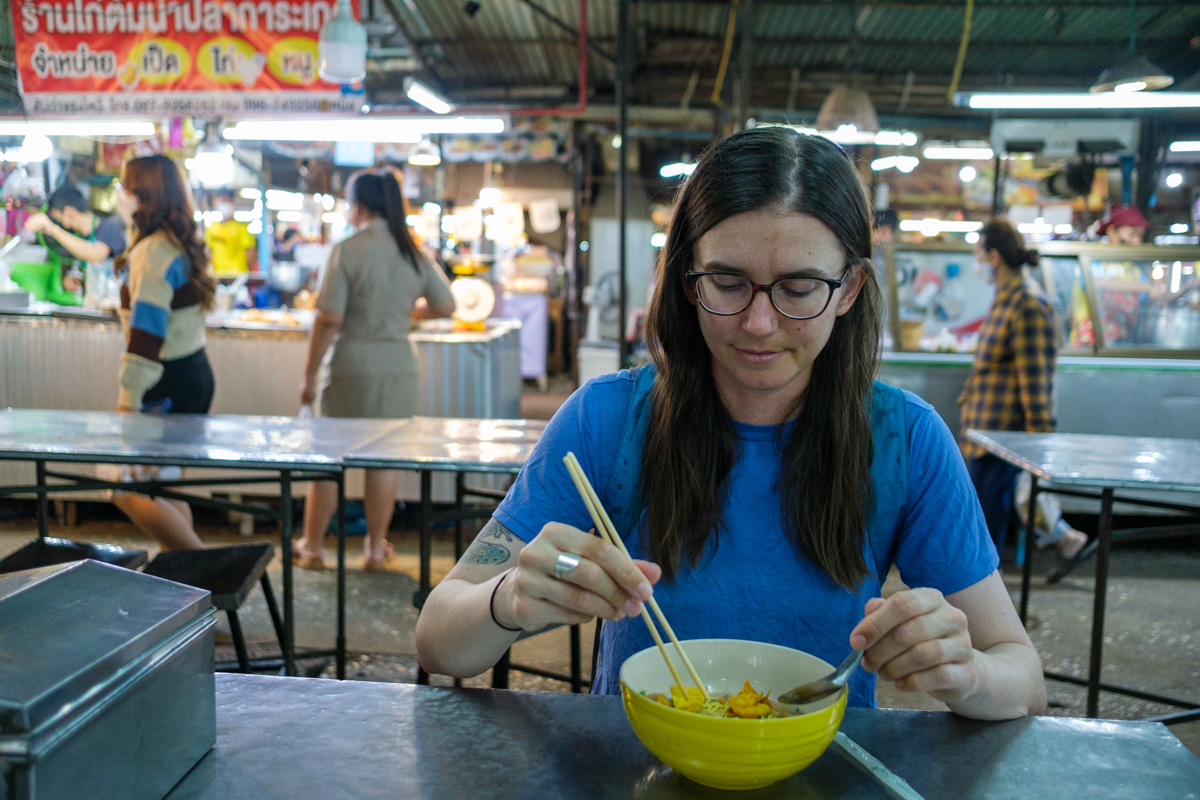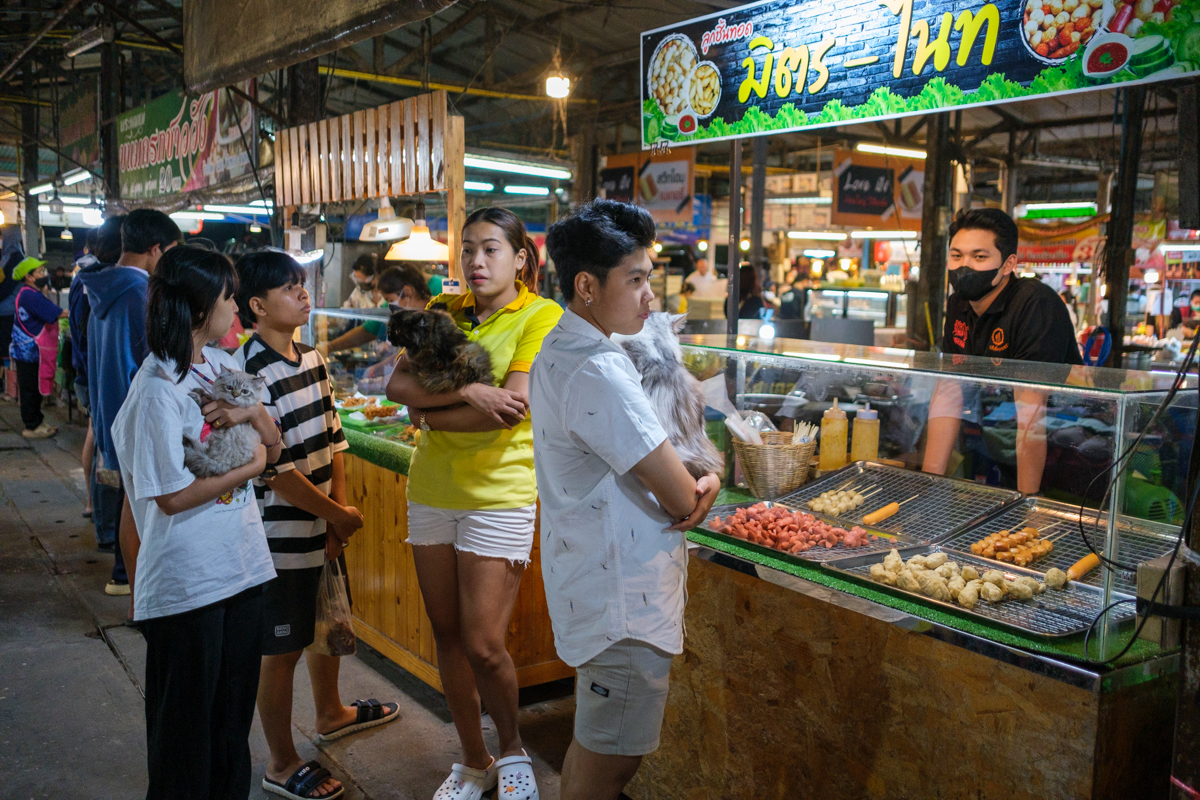 Videos from Central Thailand