Cycling Northern Thailand
We cycled from Tak to the Laos border via Chiang Mai and Chiang Rai in late December/early January. Northern Thailand is full of fascinating cultural sites and towns, and the weather is generally much cooler than Southern Thailand, making it a fairly popular bike touring destination.
Our Bicycle Touring Route
Download the GPX track of our Northern Thailand bicycle tour. NOTE: This is not a polished route and is intended for research and planning purposes only. If you are interested in other areas of Thailand, you can check out our posts about Central and Southern Thailand.
Tak
The town of Tak is a charming city located along the Ping River in northwestern Thailand. The highlight of our evening in town was walking around Ban Chin Alley, which is a long row of beautiful historic teak houses, some of which had ornate wooden carvings. As we got further north we started to see large teak forests, and consequently more and more houses made of teak wood.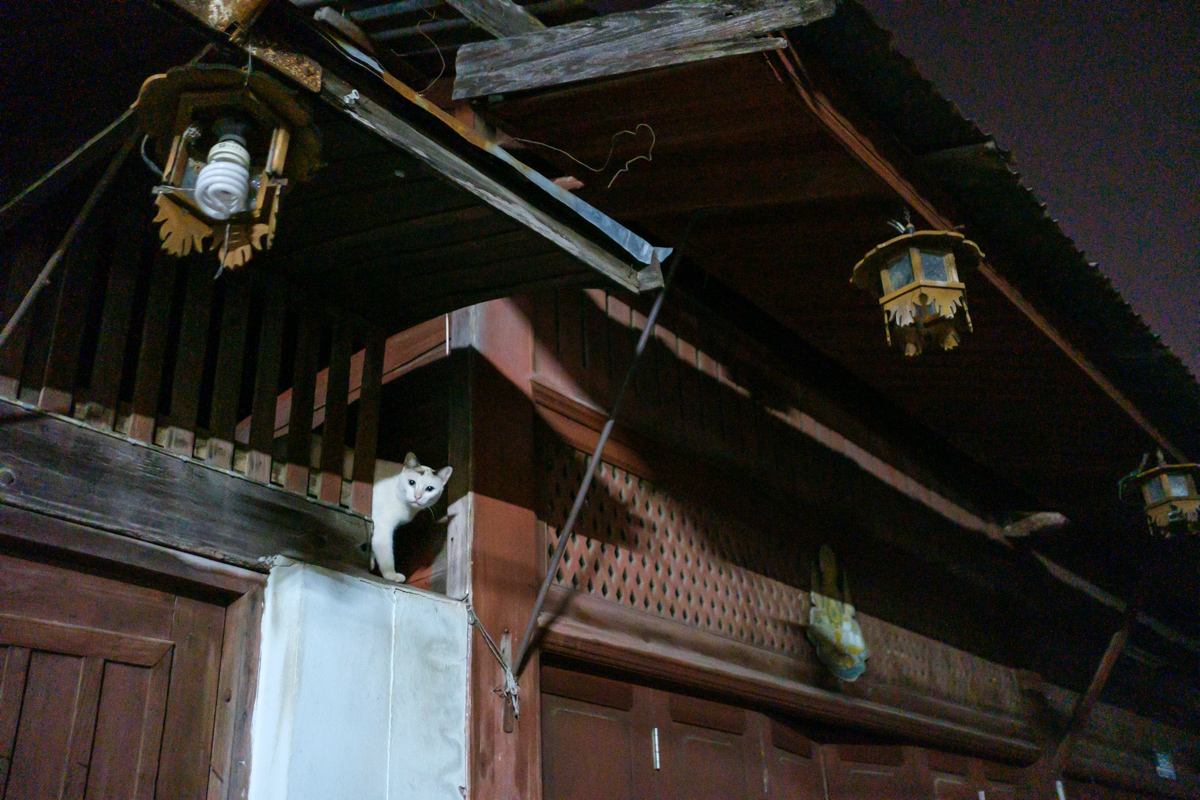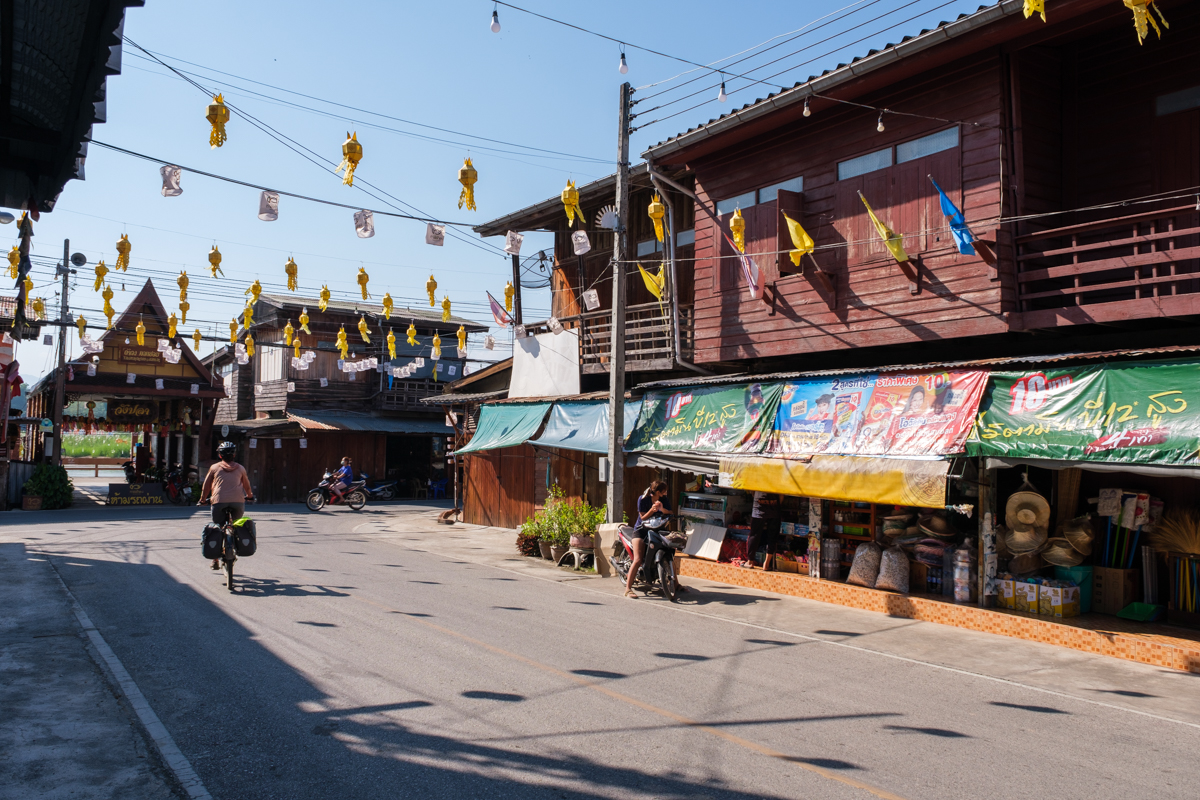 Lamphun
The highlight of our time in Lamphun was running into an American expat at a restaurant and chatting with him and his wife, who invited us to their house for coffee the next day. We had a great time sharing stories and relaxing at their beautiful home, and it had been awhile since we'd been able to have a long conversation in English!
We ended up in the town of Lamphun for Christmas and had a fun dinner at the expansive night market.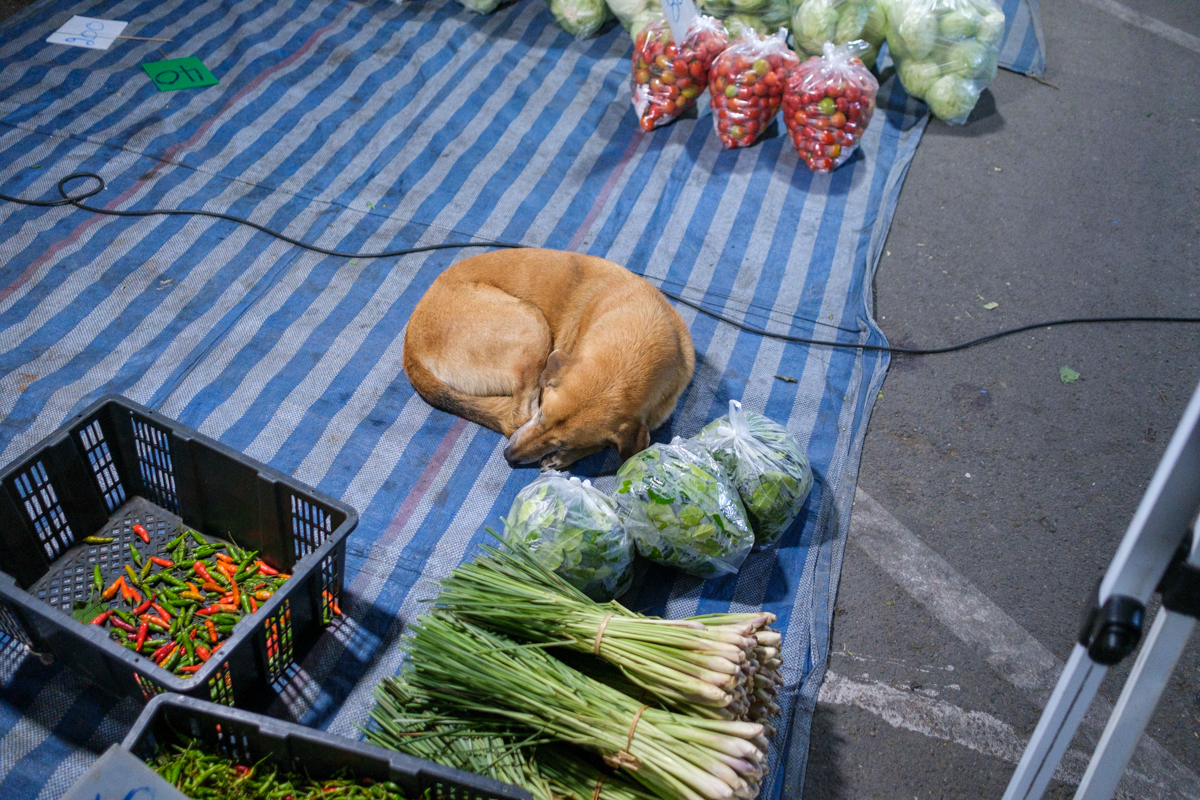 Chiang Mai
We took a week off in Chiang Mai to rest and stick around for the New Year's Eve festivities. Many people use Chiang Mai as a base for exploring Northern Thailand, but it didn't really feel overrun with tourists or inauthentic. It was a great place to relax and check out some markets and temples, and the city center is relatively compact and easy to get around.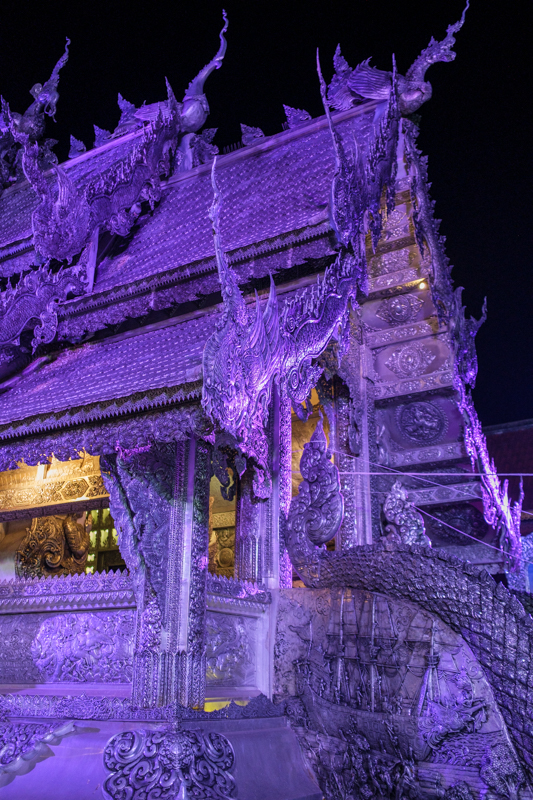 For New Year's Eve, we went to Tha Phae Gate to watch people set off paper lanterns. It was pretty entertaining, and there were also tons of food stalls set up along the road.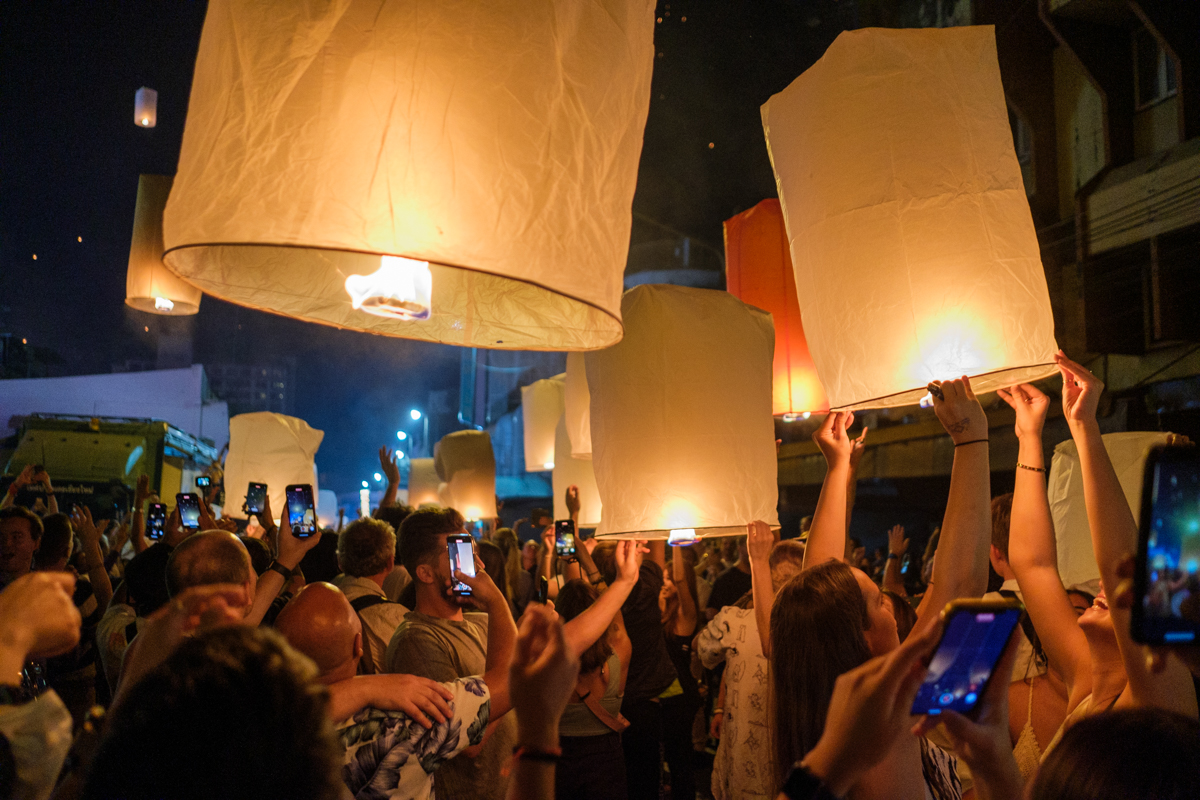 Chiang Dao and Fang Valleys
After leaving Chiang Mai, we were on a relatively busy road through the Chiang Dao valley. The scenery was nice but it was hard to appreciate with all the traffic and minimal shoulder. The valley to the east (through Phrao) might have been less busy but we can't speak to that personally.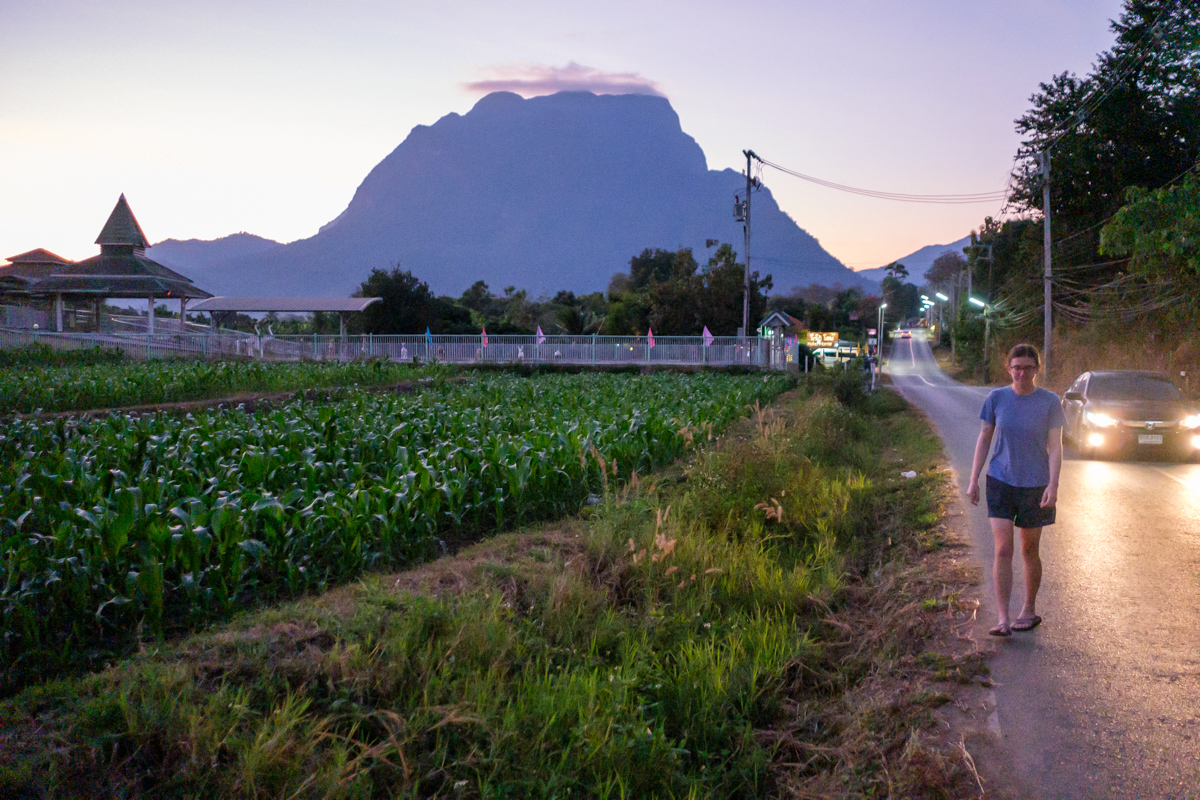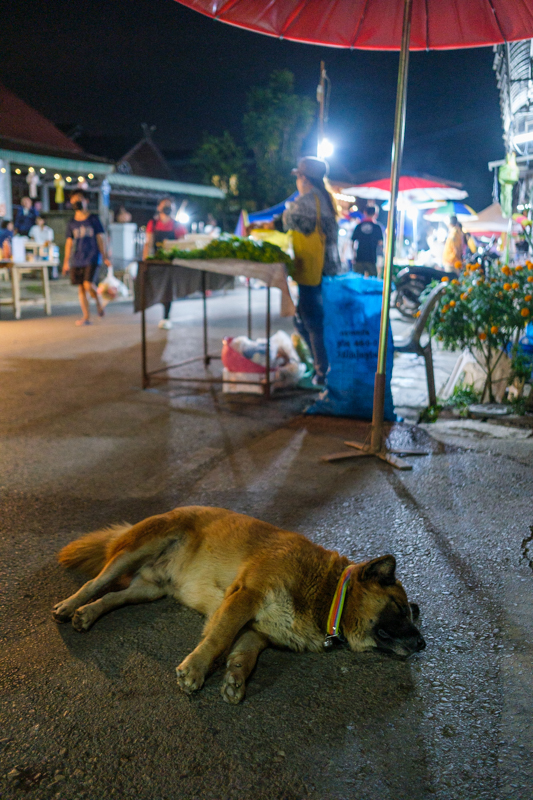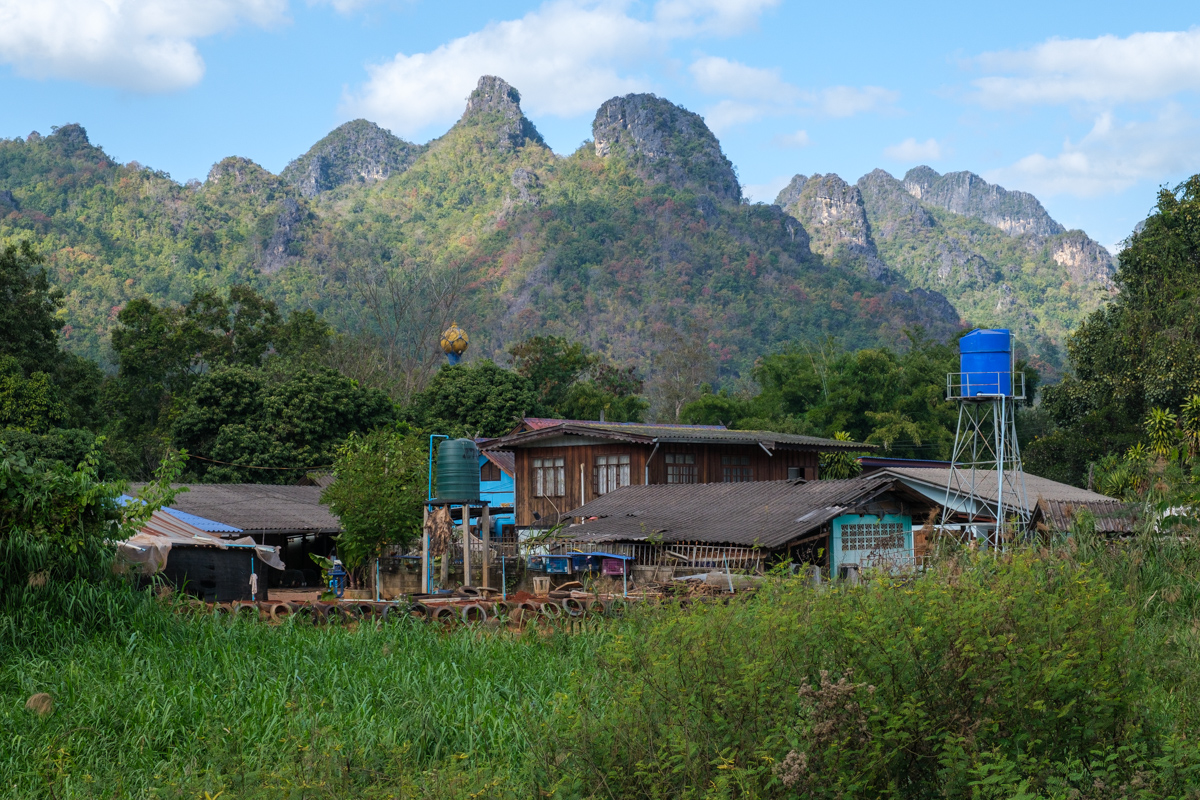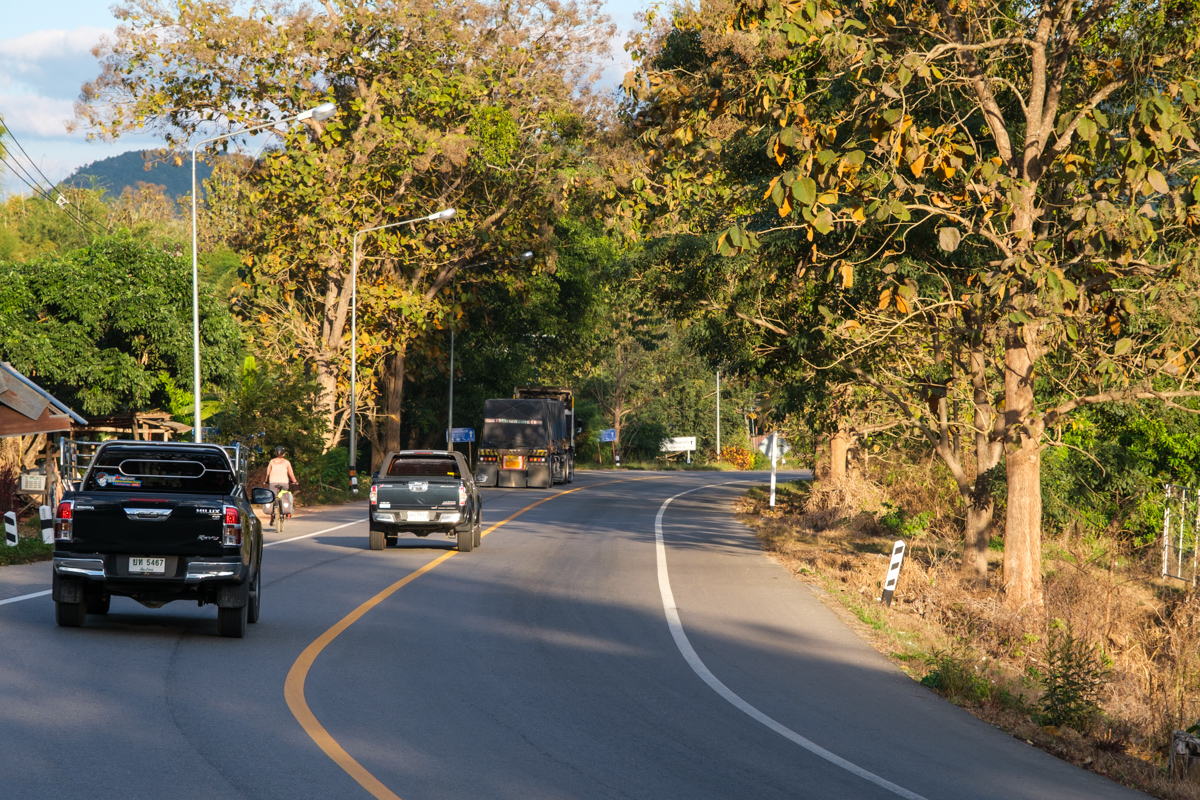 Once we got past Chai Prakan, the valley opened up a lot and there were more farm road options that were very enjoyable. We also ran into a British couple going the opposite direction that gave us some beta on the dirt road along the Kok River that we planned to try. A local restaurant owner convinced us all to stop at his place for a drink before going our separate ways, and it ended up being a nice rest and chat with a great view of the valley.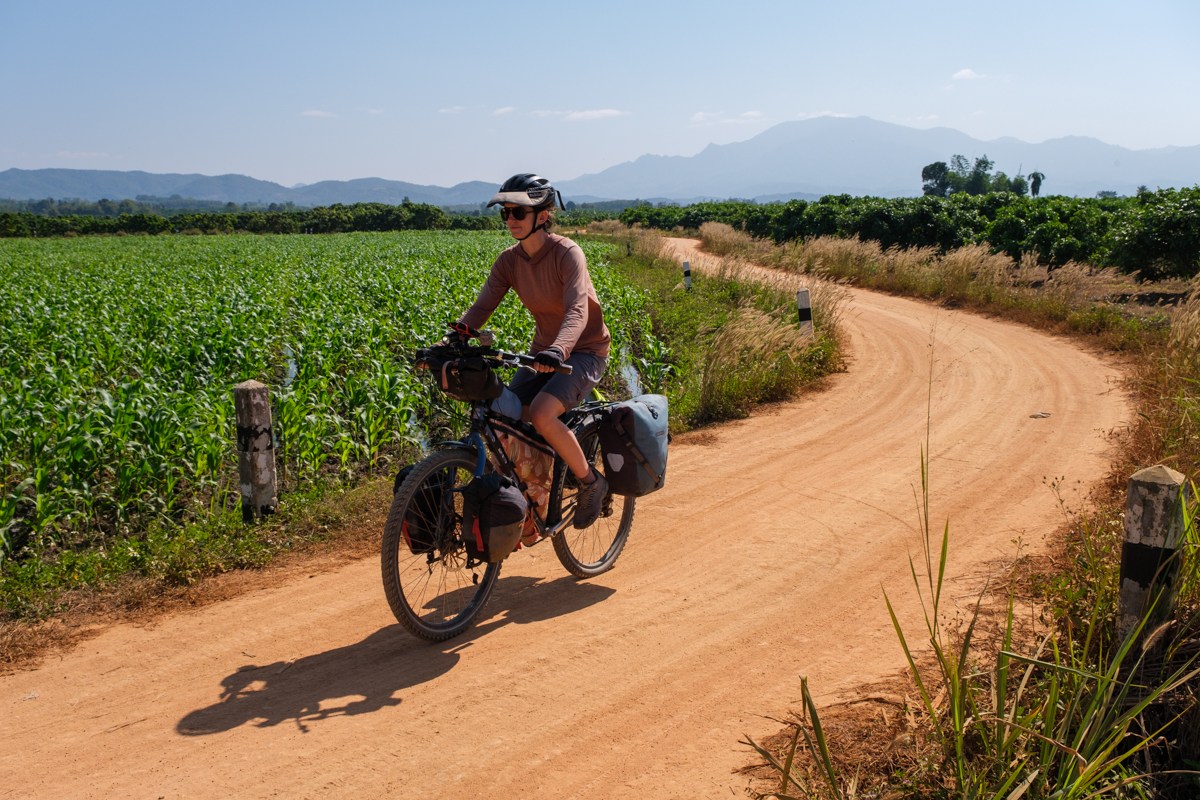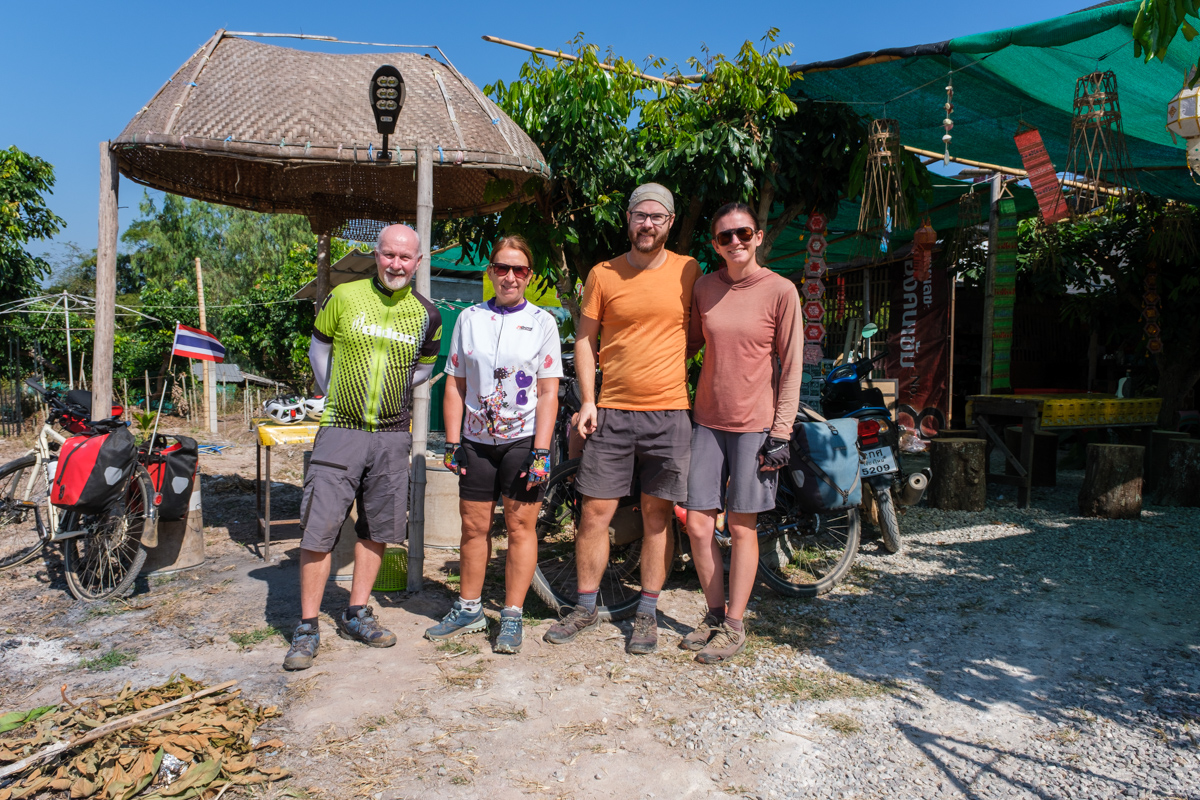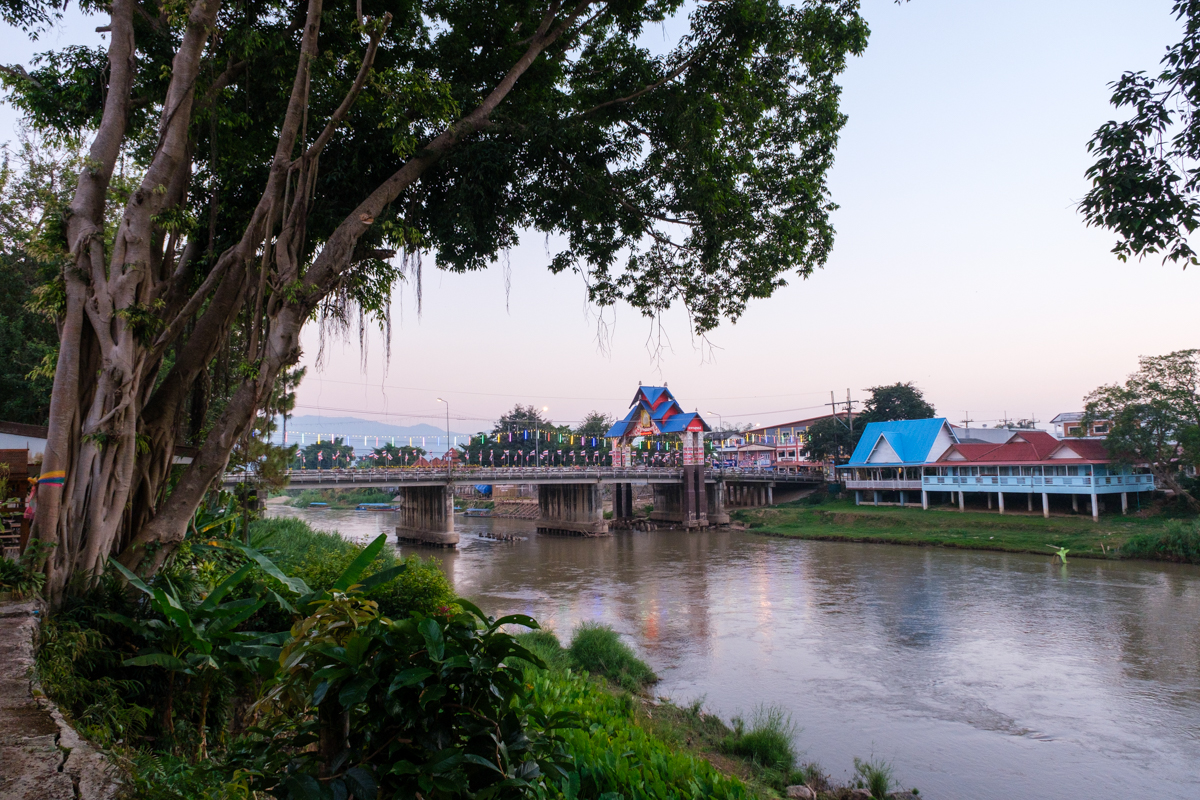 Backroad Along the Kok River
The dirt road along the Kok River wound up being a big highlight of our time in Northern Thailand. It was very steep and loose in places and we wound up having to push up several hills, but the scenery was beautiful and the small settlements were interesting to ride through.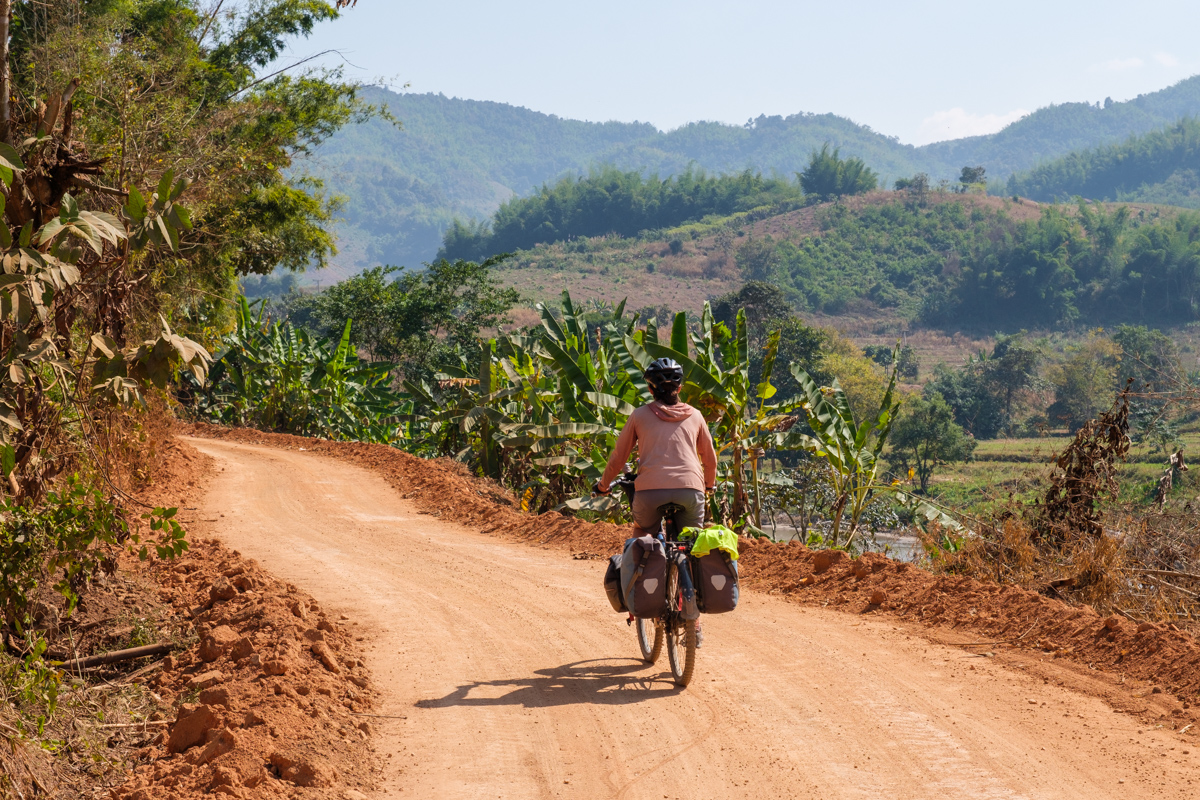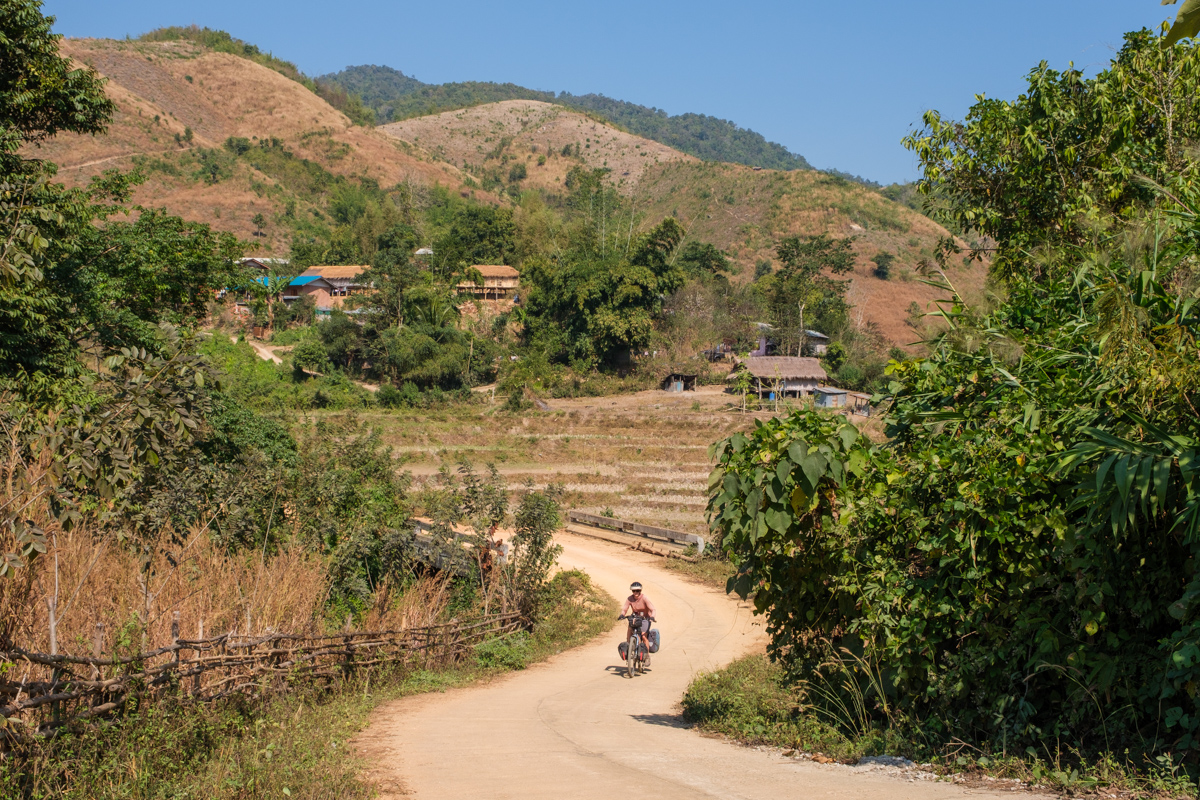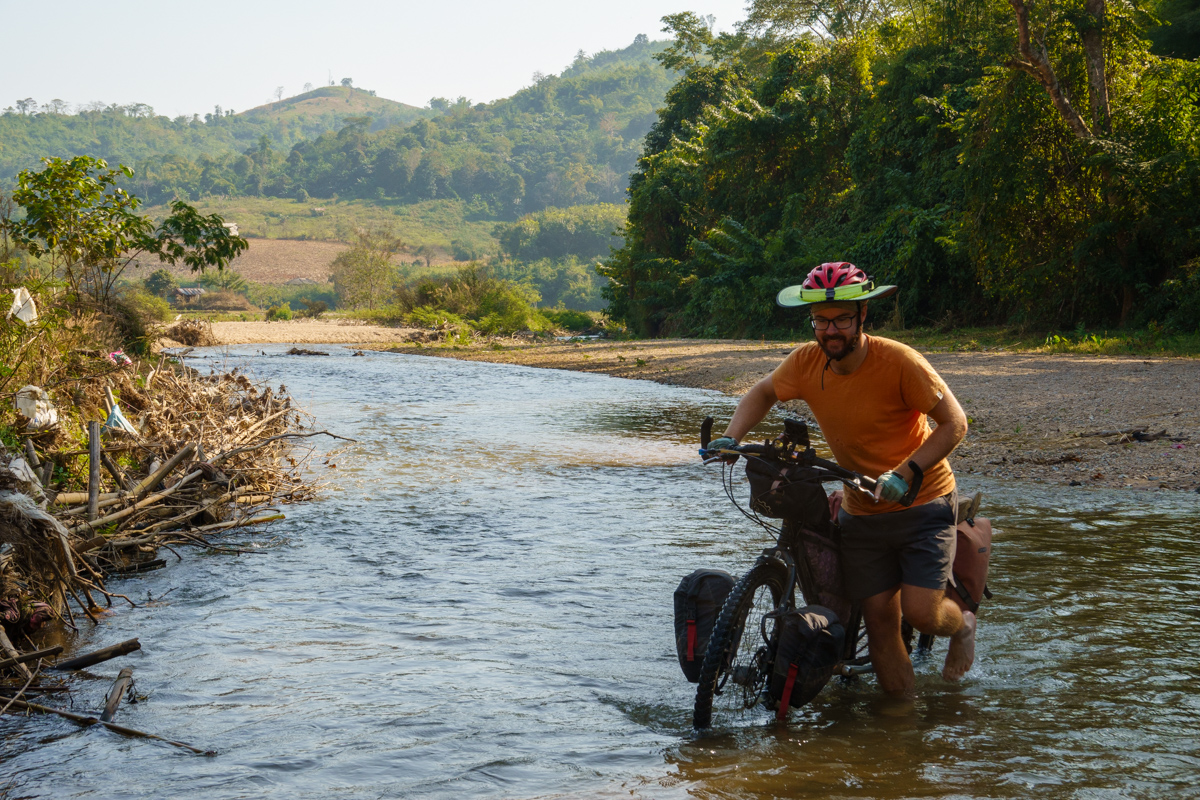 Chiang Rai
We took another break in Chiang Rai, and we were pleasantly surprised to realize that we'd arrived during the annual flower festival. There were so many incredible displays and flower sculptures, including an orchid tunnel! Entry was free and we went several times to admire the flowers at different times of the day.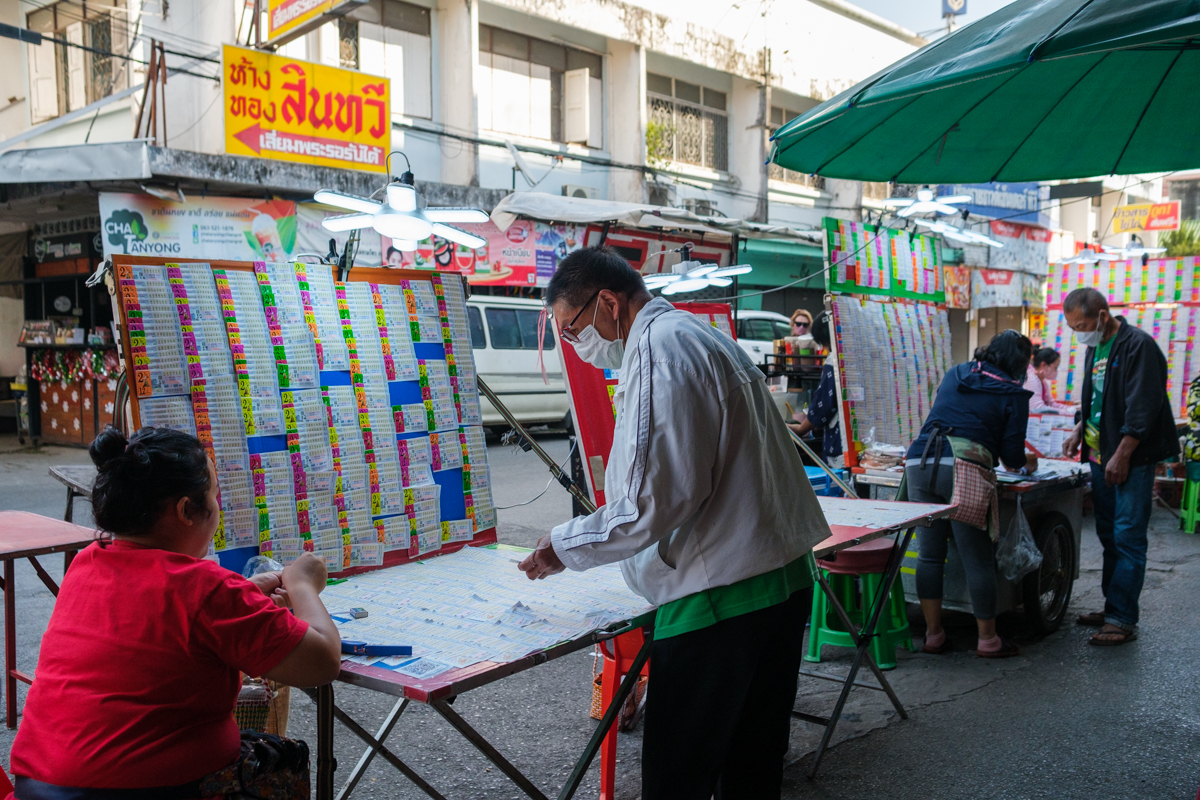 The Golden Triangle
The Golden Triangle is where the borders of Myanmar, Thailand, and Laos meet at the intersection of the Ruak and Mekong Rivers. The area is infamous for drug trafficking, but these days it is also a thriving tourist trap. Since we were pretty close, we decided to take a detour to visit it. It was, as expected, kind of underwhelming and we wouldn't recommend going out of your way to see it. But it was fun walking around all the weird sculptures and stuff at night when the rest of the tourists were gone.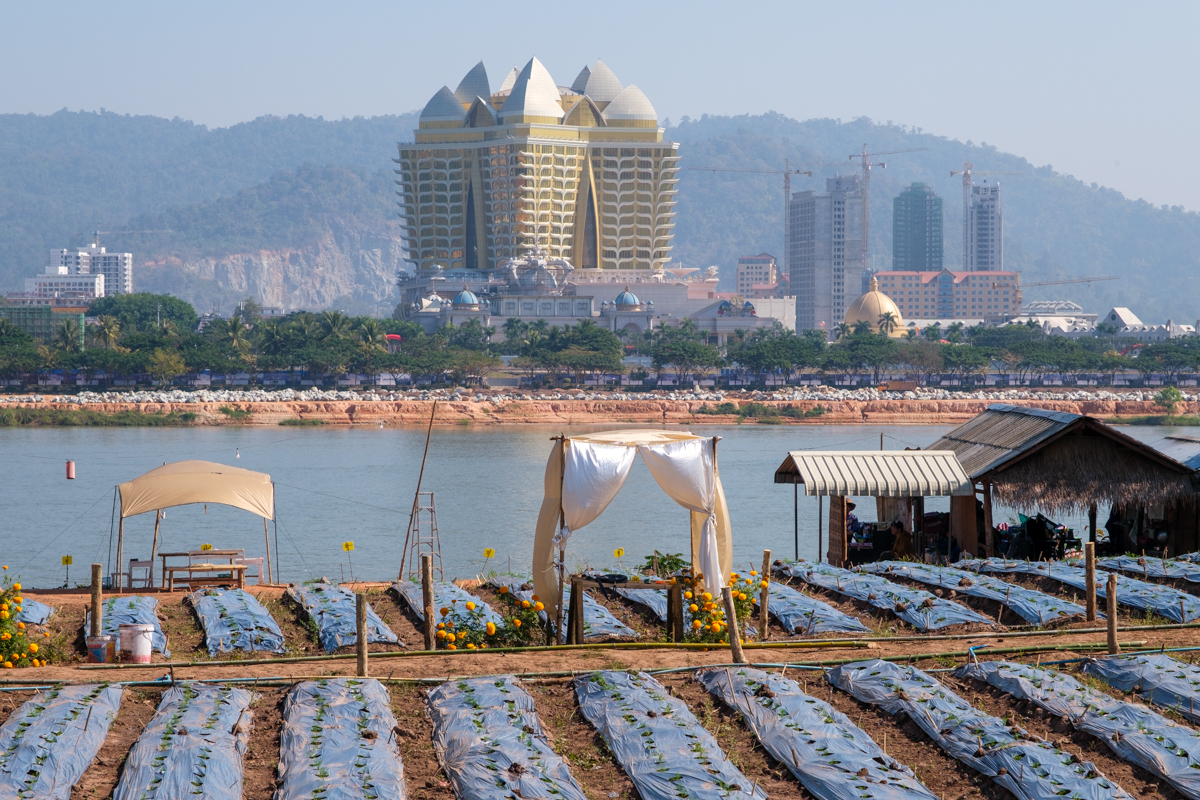 Following the Mekong to the Laos Border
The ride along the Mekong to Chiang Khong was pretty mellow, apart from one crazy steep hill that we had to walk even though it was paved. The scenery was pleasant and it was fun to watch narrow fishing boats navigating up and down the river. We stayed in a teak wood hostel on our last night in Thailand that was charming, though teak doesn't help much with sound proofing and we could hear our neighbors anytime they moved slightly.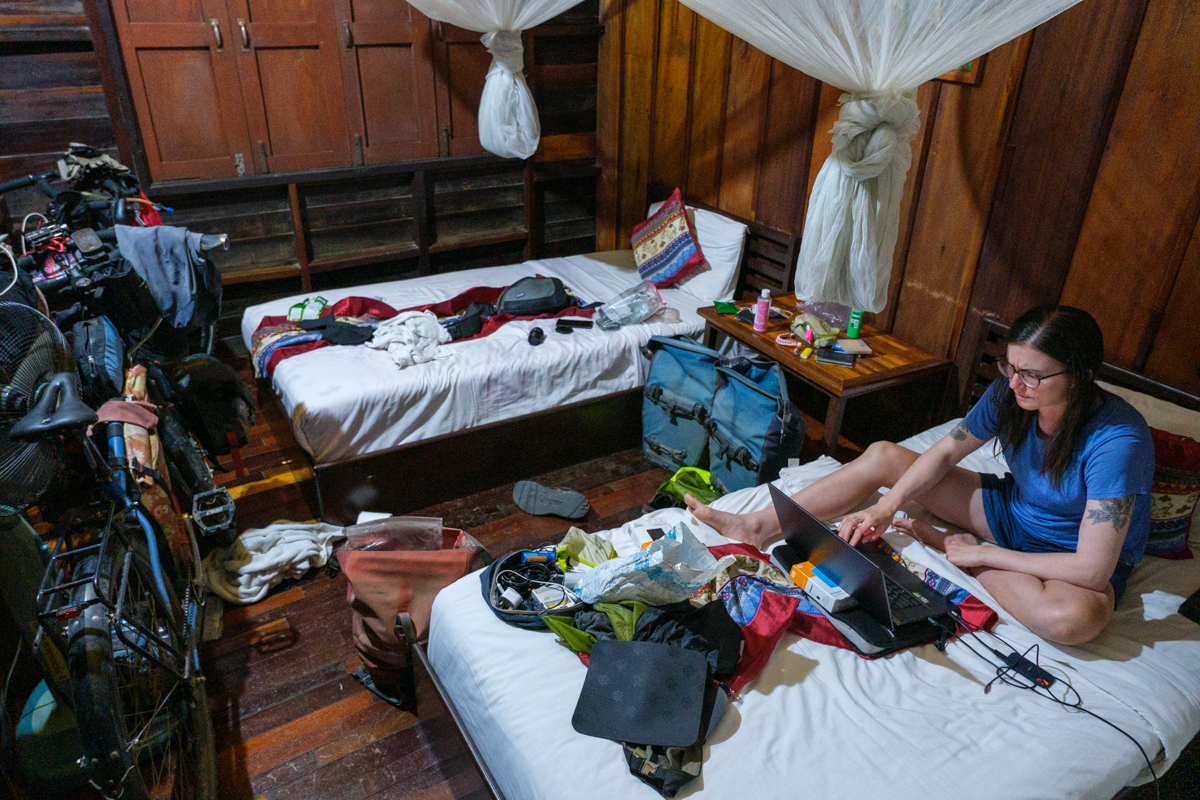 We approached the Laos border the next morning and were informed that bicycles weren't allowed on the Friendship Bridge between Thailand and Laos, so we'd have to take a bus across. We paid for our bus tickets and the driver loaded our bikes into the back of the bus along with another cyclist's. Apart from all that, the visa-on-arrival process was easy and pretty quick!
Video from Northern Thailand